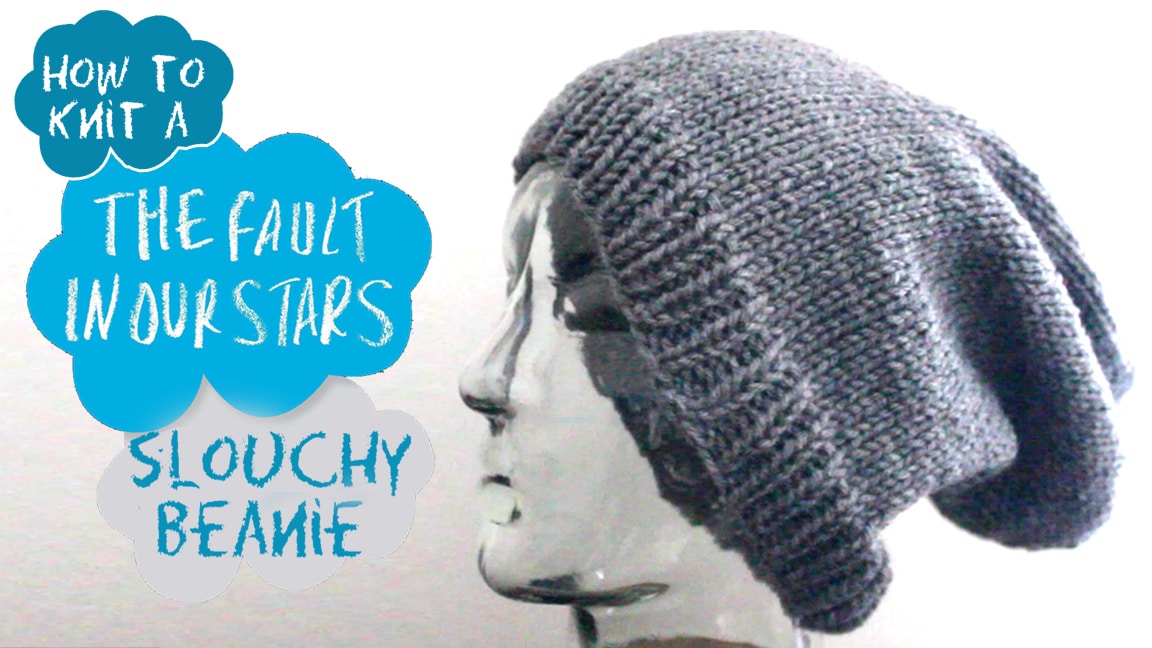 My popular Slouchy Beanie Knitting Pattern will help you make great gifts with my free knitting pattern and video tutorial. This is a classic design for adults that can be customized with various yarn colors and even stripes. Looks great on men and women alike. I was inspired to design this simple hat after seeing the character Hazel wearing a similar beanie in 'The Fault in Our Stars' movie.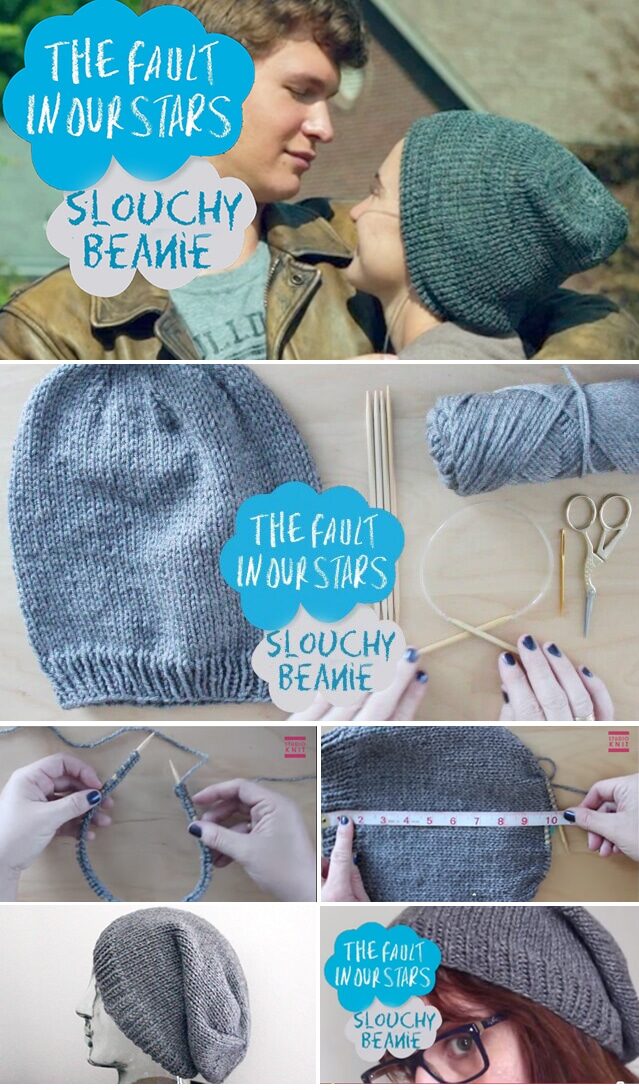 ---
KNITTING MATERIALS

As an Amazon Associate and member of other affiliate programs, I earn commissions from qualifying purchases at no additional cost to you.
---
KNITTING TECHNIQUES
Need to brush up or learn a new technique? Check out my entire library of Knitting Techniques to help you along as you knit up this project. If you're new to knitting, you'll love my Absolute Beginners Knitting Series!
• Slip Knot
• CO = Cast On Long Tail Method
• K = Knit Stitch
• P = Purl Stitch
• How to Knit on a Circular Needle in 5 Easy Steps
• How to Knit on DPNs
• K2TOG = Knit 2 Sts Together to Decrease
• Bind Off
• Weave in Yarn Tails
---
WATCH STEP-BY-STEP VIDEO to Knit Slouchy Beanie
---
PRINTABLE KNITTING PATTERN
Slouchy Beanie Hat
JUST WANT THE PATTERN ON THIS WEBSITE PAGE?
Keep scrolling, it's up next!
EMAIL SUBSCRIBERS: Download Your Ad-Free Printable .PDF Pattern
You will receive an email invitation to my "Knitting Freebies" page.


---
KNITTING PATTERN INSTRUCTIONS
Adult Sized Beanie
Cast On 73 Stitches with the Long Tail Cast On Method
Join in the Round: K2Tog, K71 Stitches
Knit in the 1×1 Rib Stitch Pattern for 8 Rows (2 inches)
* K1, P1 * repeat from * to end
Knit all Rows in the Round until your entire piece measures 9 or 10 inches, depending on your length preference. And make sure to switch to Double Pointed Needles when necessary.
Decrease Rows:
1 – * K2Tog, K7, * repeat from * to end ( 64 stitches remain)
2 – Knit Entire Row
3 – * K2Tog, K6, * repeat from * to end ( 56 stitches remain)
4 – Knit Entire Row
5 – * K2Tog, K5, * repeat from * to end ( 48 stitches remain)
6 – Knit Entire Row
7 – * K2Tog, K4, * repeat from * to end ( 40 stitches remain)
8 – Knit Entire Row
9 – * K2Tog, K3, * repeat from * to end ( 32 stitches remain)
10 – Knit Entire Row
11 – * K2Tog, K2, * repeat from * to end ( 24 stitches remain)
12 – Knit Entire Row
13 – * K2Tog, K1, * repeat from * to end ( 16 stitches remain)
14 – * K2Tog * repeat from * to end ( 8 stitches remain)
Cut yarn, weave through remaining 8 stitches, and pull tight.
Weave-in ends… and you are done!
---
THANK YOU FOR VISITING STUDIO KNIT
I hope you are inspired to knit up this Slouchy Beanie Hat. I just love seeing all the color combinations you all are using to make your knitted hats. Once you've knitted your hat up, I'd love to see it. Uploading your pics on my Ravelry pattern page is a great way you can share with other knitters, too!
If you'd like even more, please make sure you join my mailing list. Subscribing to my YouTube channel Studio Knit is another easy way for us to stay connected and help support my work for free.