This Bubble Beanie Hat knitting pattern is my new favorite fashion accessory! My Bubble Knit Stitch Pattern is really popular right now, so I thought it would be great if I designed a hat that we can all knit up together.
This knitted hat pattern is perfect if you enjoy changing yarn colors and are comfortable knitting on circular needles. This is also a great yarn stash buster.
Get your free written pattern instructions with video tutorials below. You may also purchase my ad-free printable pdf pattern in my Studio Knit Pattern Shop.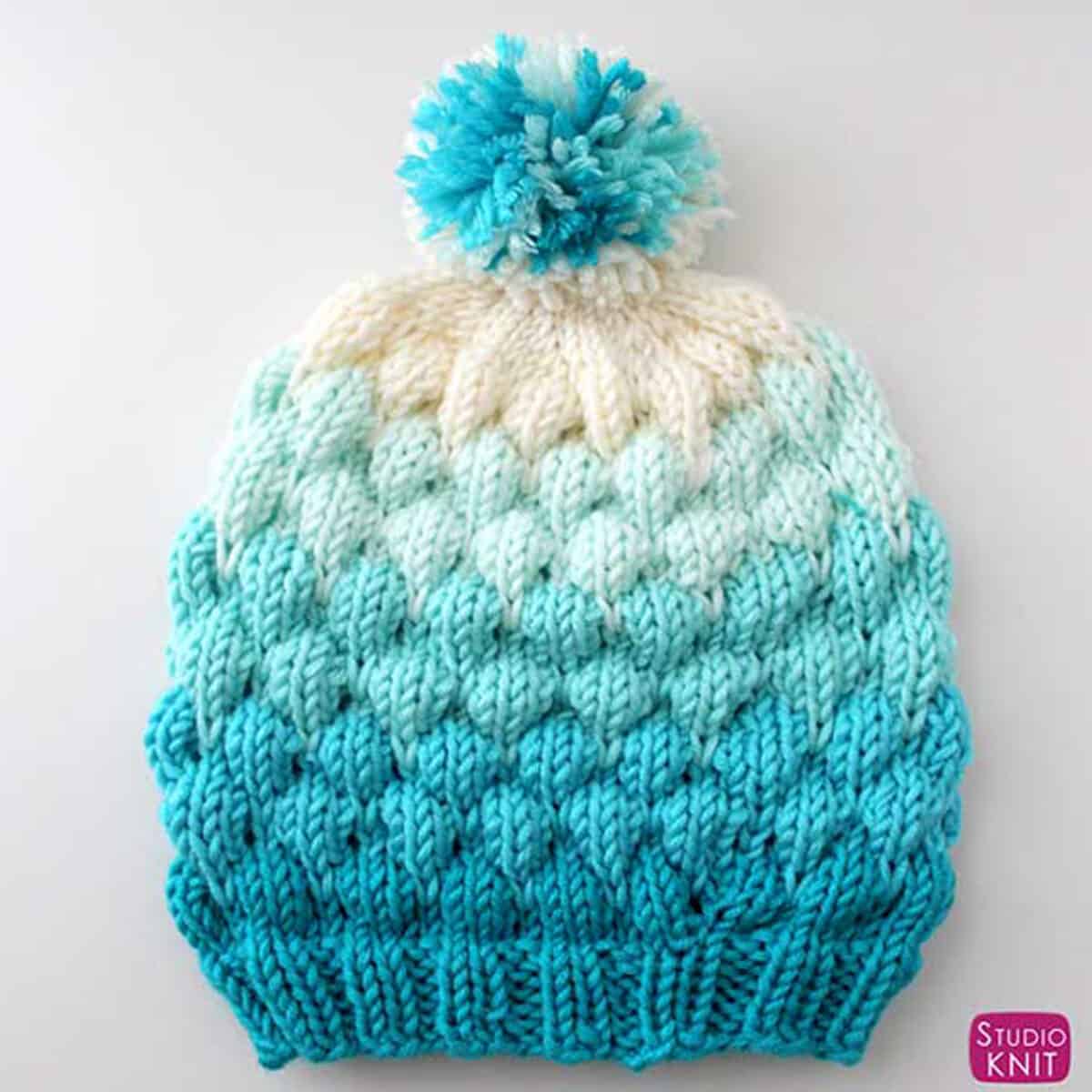 Love this Bubble Stitch? Knit up my Chunky Bubble Stitch Blanket and Bubble Stitch Heart Pillow!
Table of Contents
---
🧶 Knitting Supplies
As an Amazon Associate I earn from qualifying purchases.
Favorite Yarn to Knit Up the Bubble Beanie: Caron X Pantone
This is a great yarn buster, knitted in any colors and fiber of worsted or bulky weight yarns. My favorite yarn to knit up my beanies is the Caron X Pantone collection because one skein provides the exact amount of required yarn. Their color selection is so gorgeous, too! The blue ombre yarn I used was from their Faerie Cakes skein available on Amazon.

---
💡 Knitting Techniques
Need to brush up or learn a new technique? Check out my entire library of Knitting Techniques to help you along as you knit up this project.
• Slip Knot
• CO = Cast On Long Tail Method
• K = Knit Stitch
• P = Purl Stitch
• How to Knit on a Circular Needle in 5 Easy Steps
• How to Knit on DPNs
• How to Change Yarn Color
• KFB = Knit Front + Back to Increase
• K2TOG = Knit 2 Sts Together to Decrease
• K4B = Knit 4 Below
• Bind Off
• Weave in Yarn Tails
---
📖 Printable Knitting Pattern (ad-free)
WANT THE FREE PATTERN? Keep scrolling, it's up next!
PRINTABLE DOWNLOAD: Purchase the ad-free printable pdf pattern in my Studio Knit Pattern Shop. Also available on Etsy, LoveCrafts, or Ravelry. A great way to support my knitting work!
NEW HAT COLLECTION BOOK: My popular Bubble Beanie Hat Pattern is among 12 designs in the newly printed book Heads Up Knit Hats.
(while quantities last, ships US only)

---
📘 Knitting Instructions
KNITTING GAUGE: 20 Sts x 24 Rows = 4" x 4" / 10 x 10 cm in 2×2 Rib Stitch Pattern
SIZE: Fits adults heads measuring 21" – 24" circumference.
CAST ON: With Size 8 US 16″ Length Circular Needle, Cast On 64 Stitches.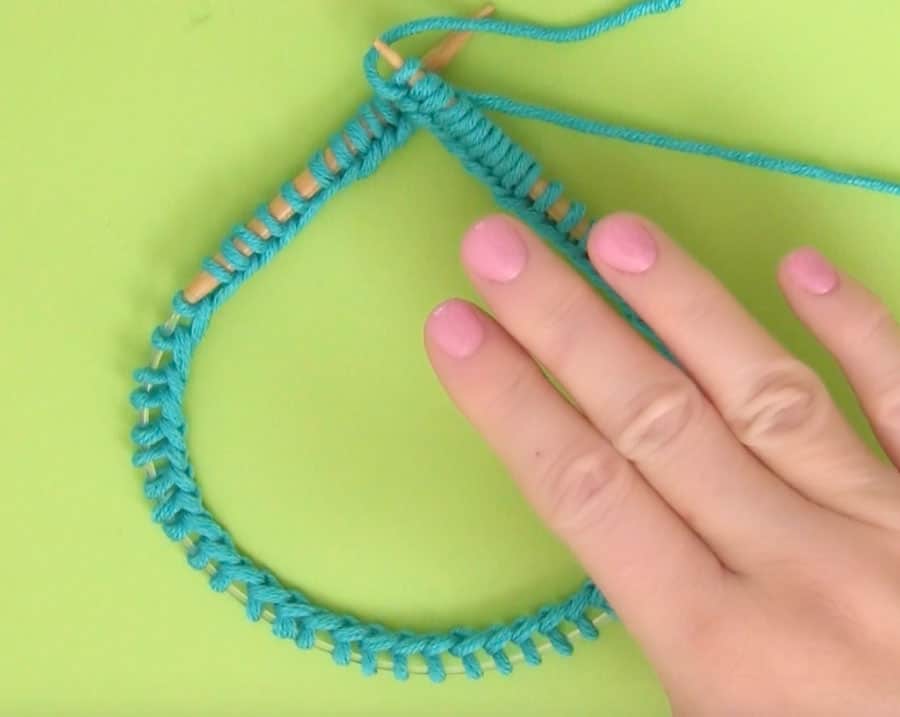 _____
HAT BRIM
Rows 1 – 6: * K2, P2 * (repeat pattern btwn * *)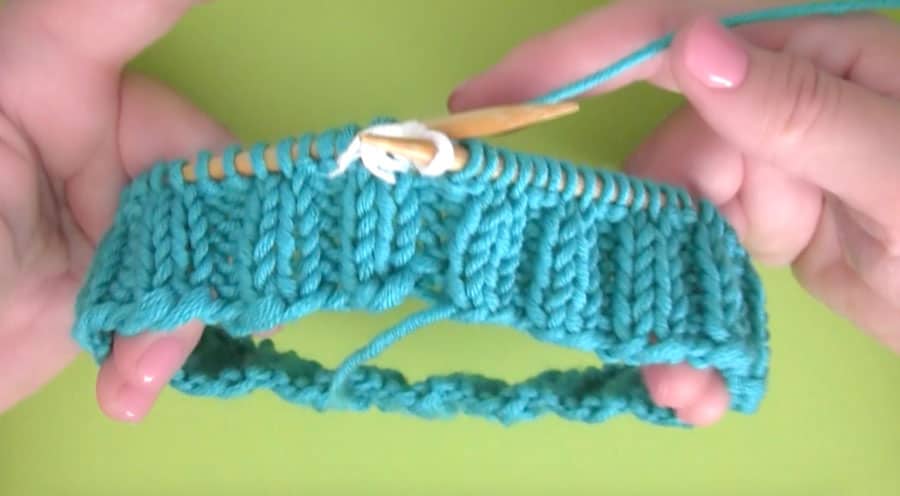 _____
HAT INCREASE SECTION WITH KNIT FRONT BACK
Change yarn color now, if desired.
Row 1: * KFB, K15 * (68 sts)
Rows 2 – 6: Knit All
_____
KNIT 4 BELOW (K4B) TECHNIQUE
To see a complete step-by-step tutorial of this knitting technique, please watch my video on the Knit 4 Below Technique. I'm using a swatch of pink yarn with white as my working yarn to best demonstrate this knitting technique.
As with everything in knitting, once you understand clearly how this K4B technique is performed, it's super simple to knit up your new Bubble Beanie Hat.
---
BUBBLE PATTERN SECTION
Change yarn color now, if desired.
Row 1: K2, * K4B, K3 *, last 2 stitches K4B, K1
Rows 2 – 6: Knit All Change yarn color now, if desired.
Row 7: * K4B, K3 *
Rows 8 – 12: Knit All
Repeat Rows 1 – 12 until length desired.
From Brim's Edge: 7" Beanie or 9" Slouchy Beanie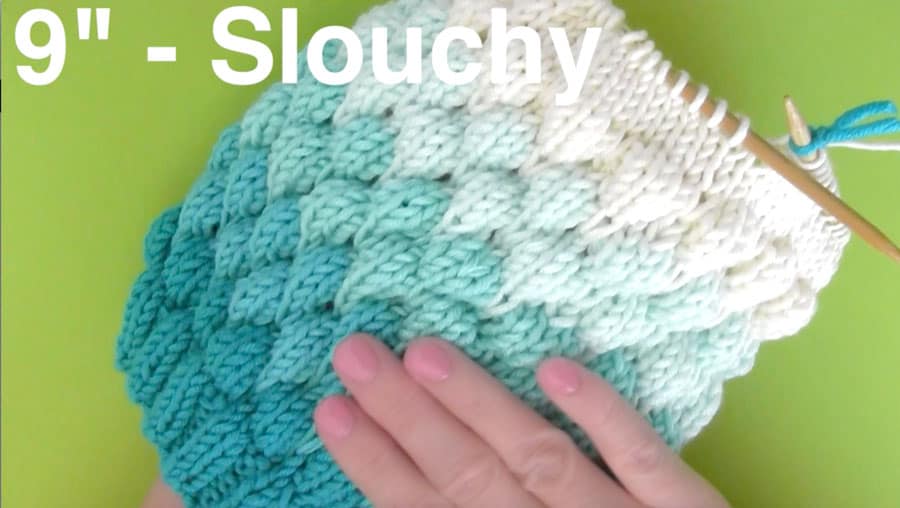 _____
CROWN DECREASE SECTION
Switch to DPNs when needed.
Change yarn color now, if desired.
Row 1: Repeat either Row 1 or 7 from the above Bubble Beanie Hat Pattern, depending on where you stopped knitting.
Row 2: * K2TOG, K6 *, last 4 sts K2TOG, K2 (59 sts rem)
Row 3: * K2TOG, K5 *, last 3 sts K2TOG, K1 (50 sts rem)
Row 4: * K2TOG, K4 *, last 2 sts K2TOG (41 sts rem)
Row 5: * K2TOG, K3 *, K1 (33 sts rem)
Row 6: * K2TOG, K2 *, K1 (25 sts rem)
Row 7: * K2TOG, K1 *, K1 (17 sts rem)
Row 8: * K2TOG *, K1 (9 sts rem)
Row 9: * K2TOG, K1 * (6 sts rem)
Break Yarn + Weave Thru Remaining Stitches.
Weave In All Yarn Ends… and you are DONE!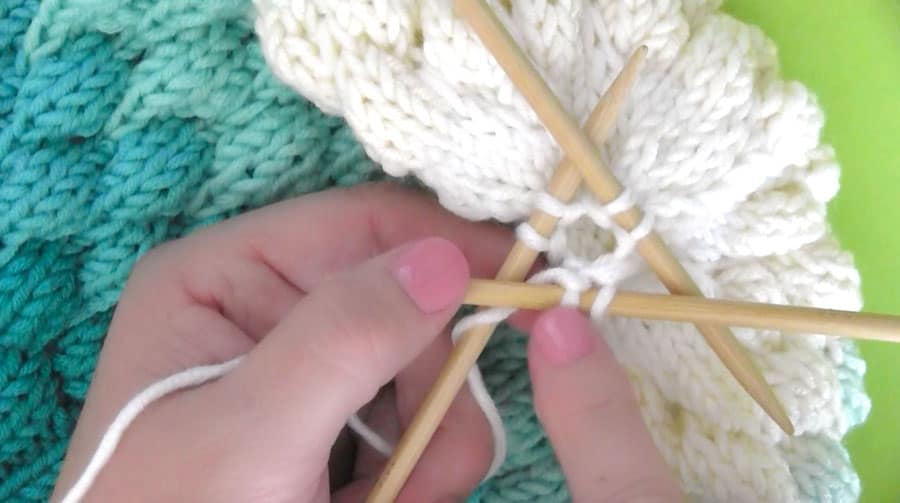 ---
THANK YOU FOR VISITING STUDIO KNIT
I hope you are inspired to knit up this Bubble Stitch Beanie Hat. I just love seeing all the color combinations you all are using to make your knitted hats. Once you've knitted your hat up, I'd love to see it. Uploading your pics on my Ravelry pattern page is a great way you can share with other knitters, too!
If you'd like even more, please make sure you join my mailing list. Subscribing to my YouTube channel Studio Knit is another easy way for us to stay connected and help support my work for free.
Happy knitting to you!