2×2 Rib Stitch Knitting Pattern for Beginners
The 2×2 Rib Stitch is a versatile knitting pattern that lends itself beautifully to a variety of projects, including scarves, hats, and blankets. With an easy sequence of alternating knit and purl stitches, this textured fabric displays a distinctive vertical ribbing effect.
Get your free written pattern instructions with a video tutorial below. You may also purchase my ad-free Knit Stitch Pattern Book in both hardcopy and e-book formats.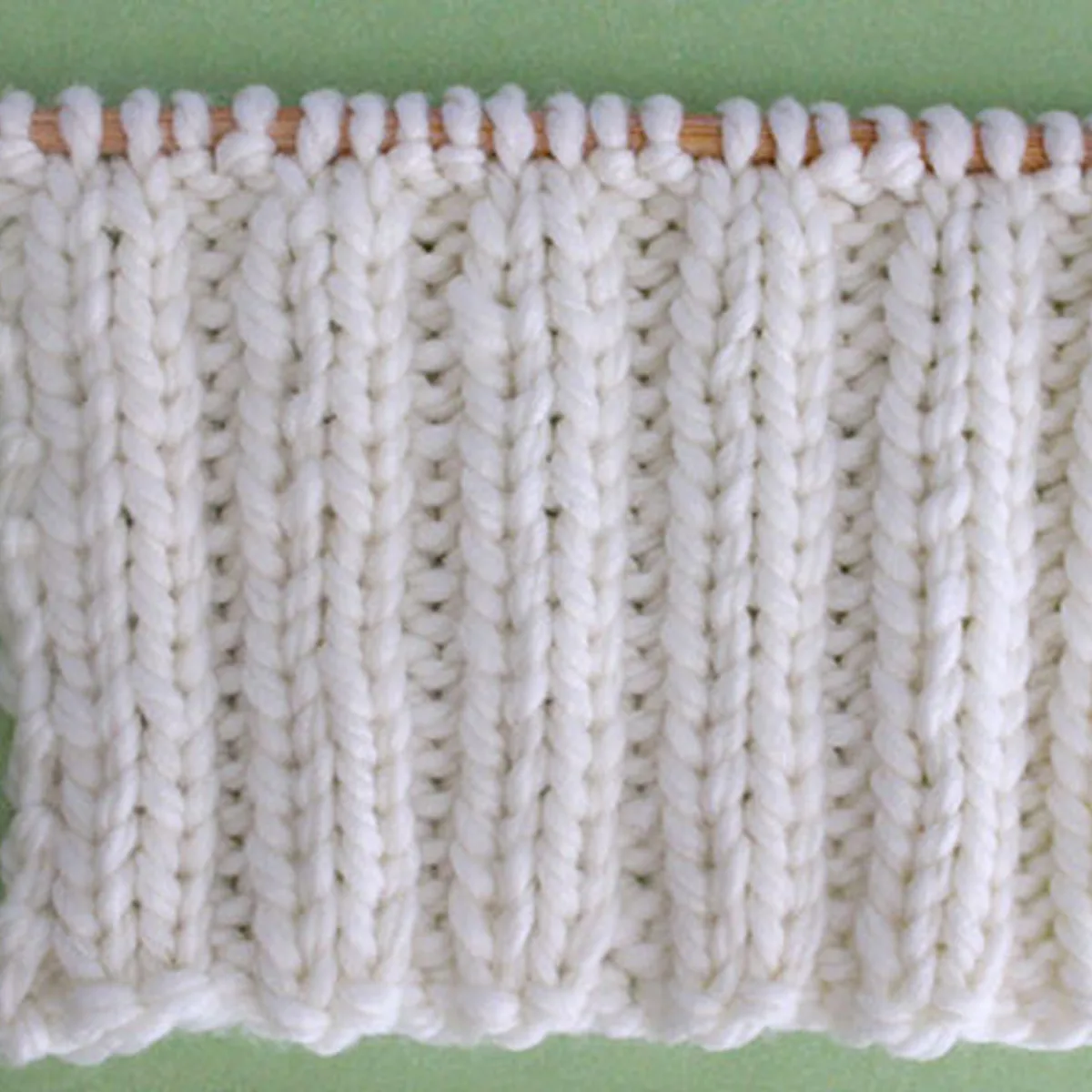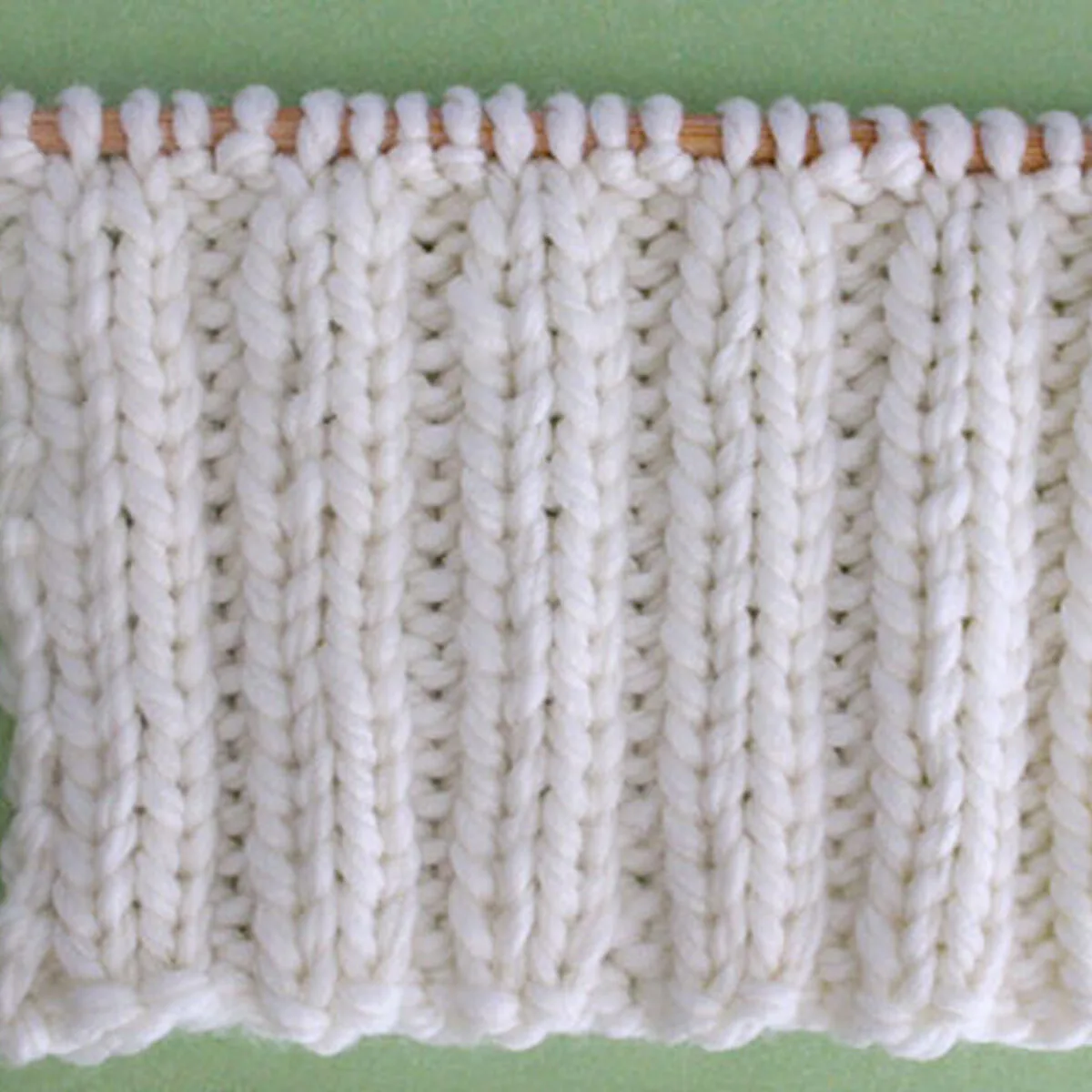 Classic Ribbing Texture
This vintage favorite is known for its simplicity, making it an ideal choice for both beginners and seasoned knitters.
Row Repeat: Knit up the 2×2 Rib Stitch in a simple 2-row repeat.
Stitch Techniques: A series of easy knits and purls create the ribbed pattern.
Stretchy: It's a favorite choice for comfortable elasticity, making it perfect for projects that require a bit of stretch. The brims of hats and cuffs of sweaters often use this pattern.
Easy-to-Memorize: As we are knitting just two rows with simple knits and purls, this texture is easy to knit on the go, as you can memorize the pattern without needing to refer to the written pattern.
Reversible: This is a reversible pattern, meaning that both sides of your work, the right and wrong sides, are identical.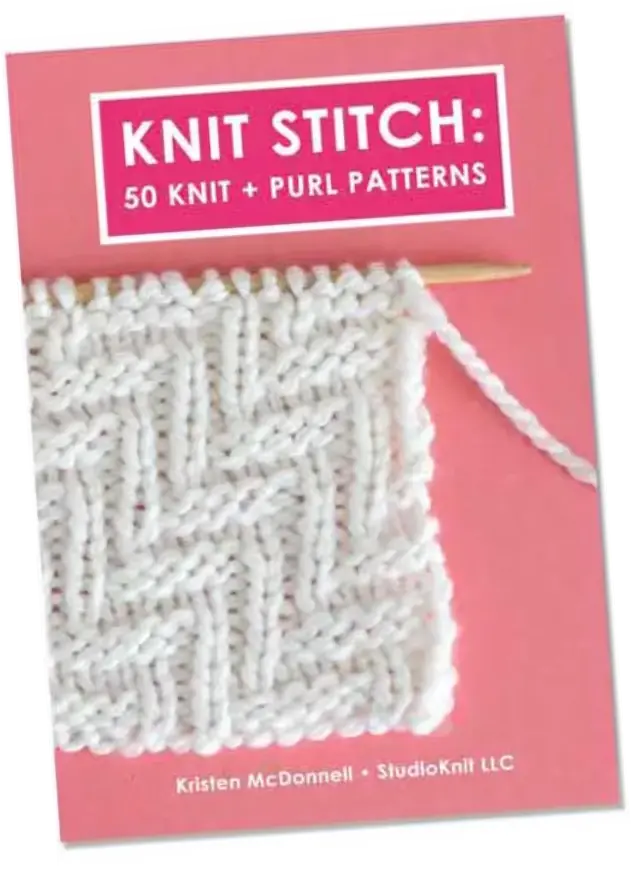 Knit Stitch Pattern Book
Love easy knitting? Get 50 stitch patterns from my Knit Stitch Pattern Book available in both print and digital formats.
Knitting Techniques
The 2×2 Rib Stitch is an easy combination of simple Knit and Purl Stitches. Find my entire library of Knitting Techniques to help knit up this project.
Watch Video Tutorial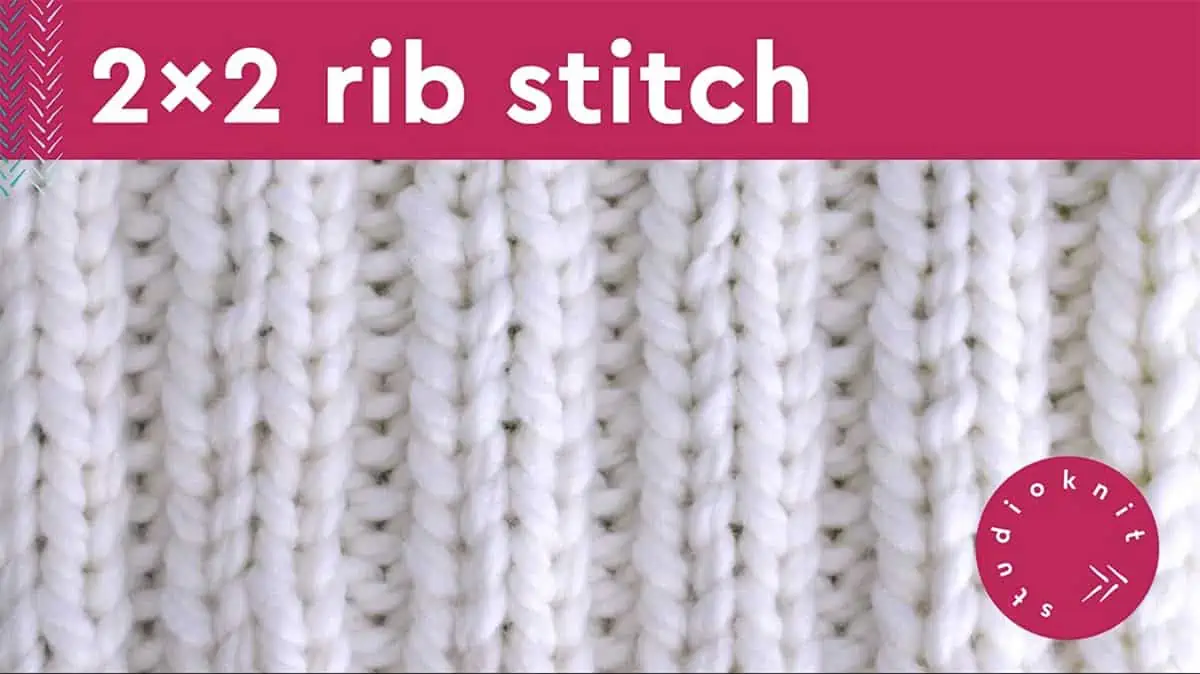 Cast On and Cast Off Ribbing
When beginning and ending Rib Stitch Patterns, you may wish to do so "in pattern." This creates the ribbed texture along the edge for knitted items like sleeves and necks, rather than a solid horizontal edge.
Casting On: Alternating the Long-Tail Cast On Knitwise and Cast On Purlwise stitches in pattern to begin your project.
Casting Off: Alternating the Basic Cast Off Knitwise and Cast Off Purlwise gives the finished edge the same texture as your ribbing.
Printable Knitting Instructions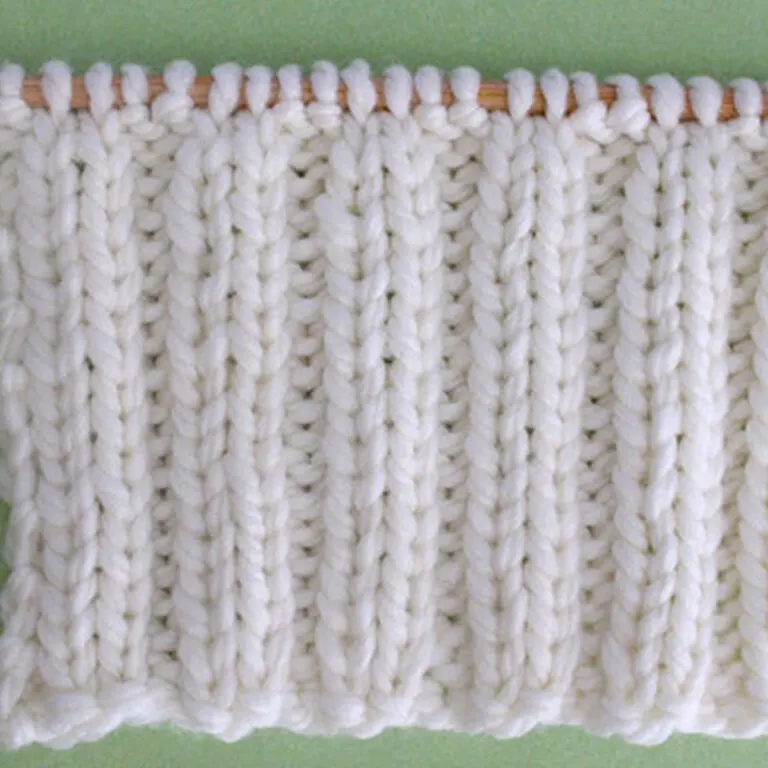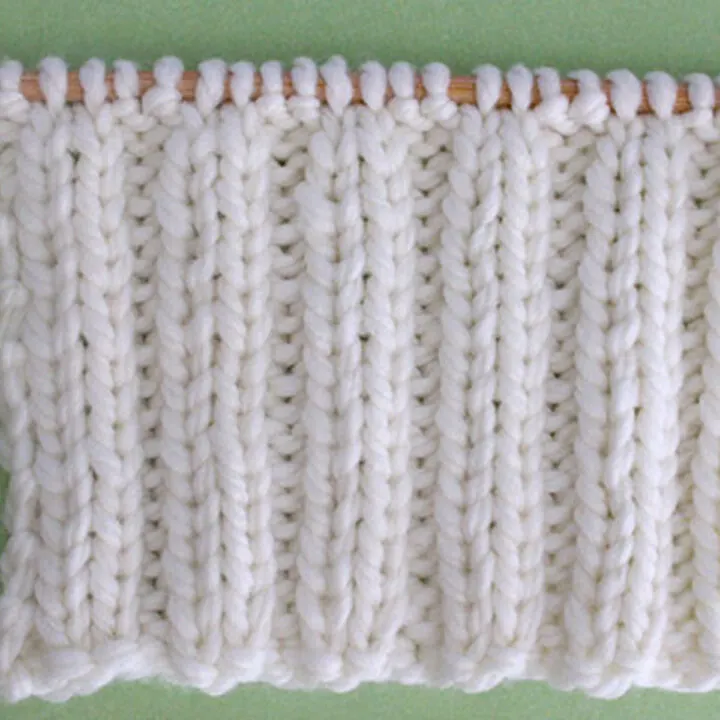 Printable Knitting Pattern
The 2x2 Rib Stitch is a 2-Row repeating pattern of knit and purl techniques. Great stitch to create a simple, stretchy project like the brim edge of a hat.
Additional Time:
10 minutes
Total Time:
2 hours
20 minutes
Difficulty:
Experienced Beginner
Tools
Knitting Needles - Appropriate Size for Yarn
Tapestry Needle
Scissors
Instructions
KNITTED FLAT ON STRAIGHT NEEDLES:
Cast On: Multiples of 4
Row 1 (Right Side): * K2, P2 *
Row 2 (Wrong Side): * K2, P2 *
or
IN THE ROUND ON CIRCULAR NEEDLES:
Cast On: Multiples of 4
Row 1 (Right Side): * K2, P2 *
Row 2: * K2, P2 *
Notes
Repeat Rows 1 – 2 until your piece is the length you desire.
Repeat pattern between the * * asterisks
Reversible Knit Stitch Pattern
2-Row Repeat
Does Not Lie Flat
_____
KNITTING TECHNIQUES
Slip Knot
CO = Cast On Long Tail Method
K = Knit Stitch
P = Purl Stitch
BO = Bind Off
Weave In Ends
_____
KNITTING CHART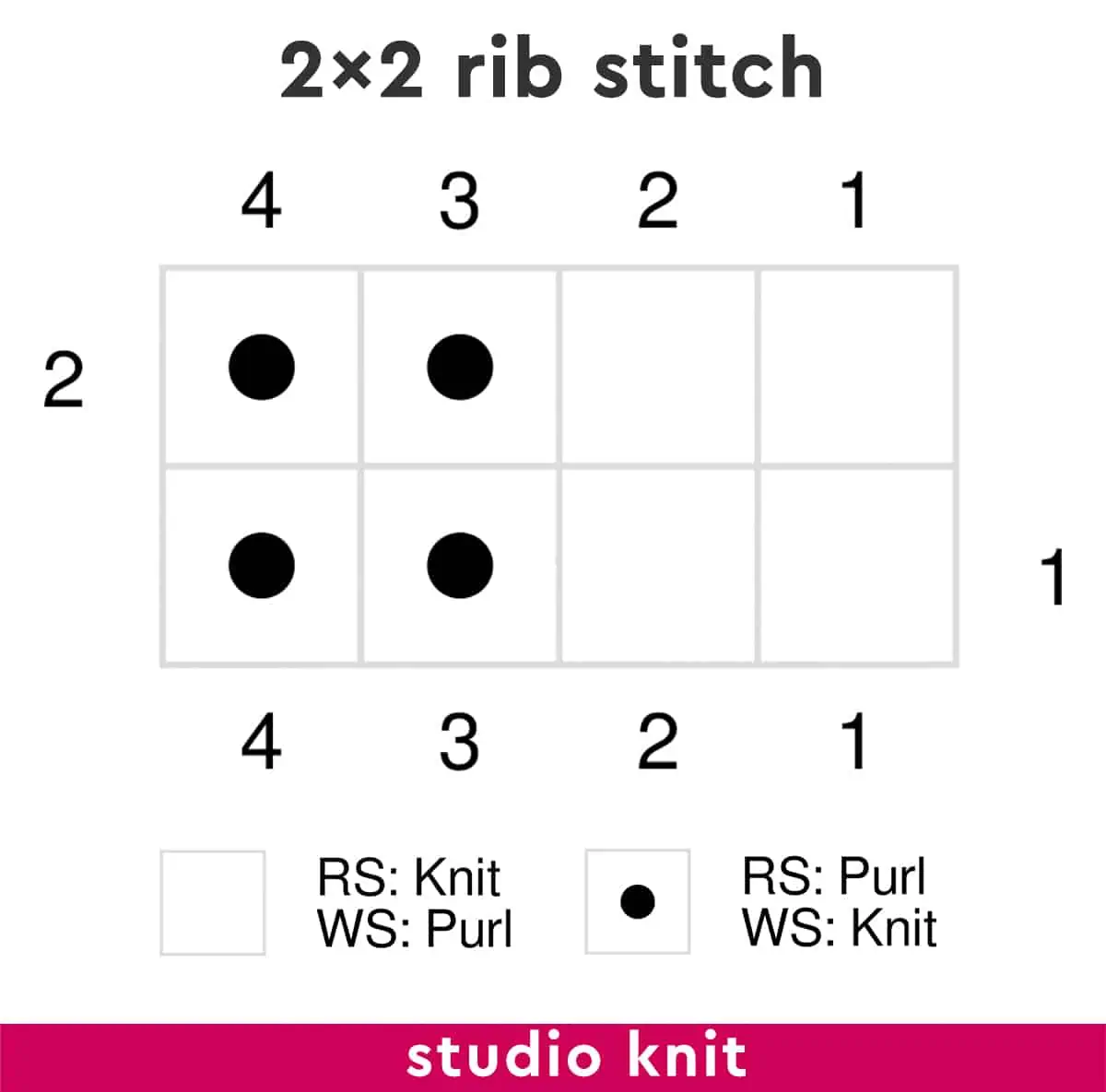 Thank You for Visiting Studio Knit
I hope you are inspired to knit up this 2×2 Rib Stitch Pattern. Check out my entire library of free stitch patterns!
If you'd like even more great ideas, please make sure you join my mailing list. It's a free and easy way for us to stay connected.