Bamboo Ribbing Stitch Knitting Pattern
This Bamboo Ribbing Stitch Knitting Pattern adds depth and dimension to your knitting project. The texture with raised lines and ridges has a unique and natural look, like you have woven actual bamboo into your knitting.
Get your free printable written pattern instructions, video, and knitting chart below.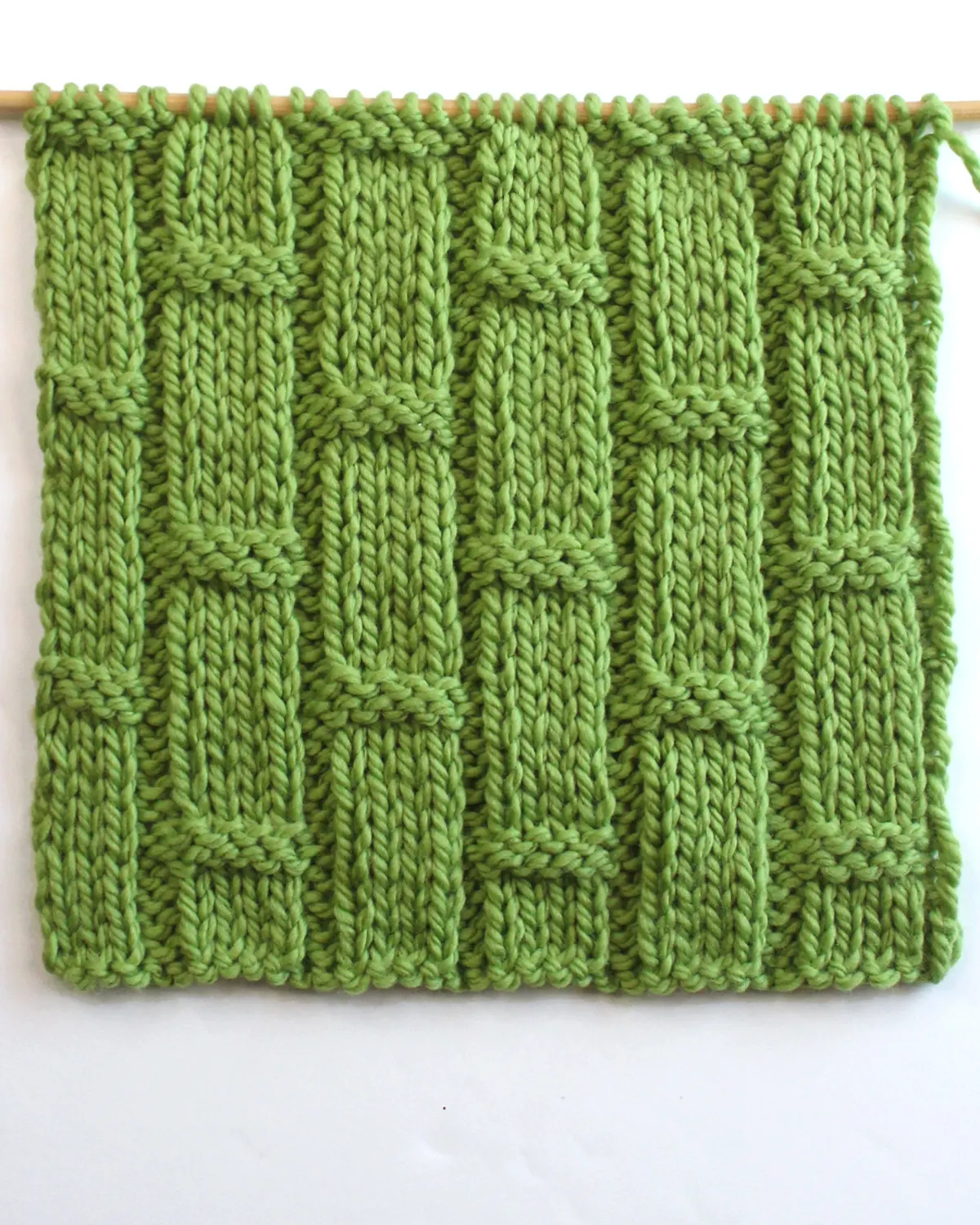 Table of Contents
---
About the Bamboo Ribbing Stitch
Knitting Level: Beginning
A series of easy knits and purls creates this calming pattern making it a great choice for beginner-level knitters.
Texture Design
This stitch is an easy-level project created with a simple combination of alternating knit and purl stitches to create a ribbed effect that mimics the look of bamboo stalks. It is created with a combination of the Stockinette and Reverse Stockinette Stitches creating staggered columns of 4×2 ribbing.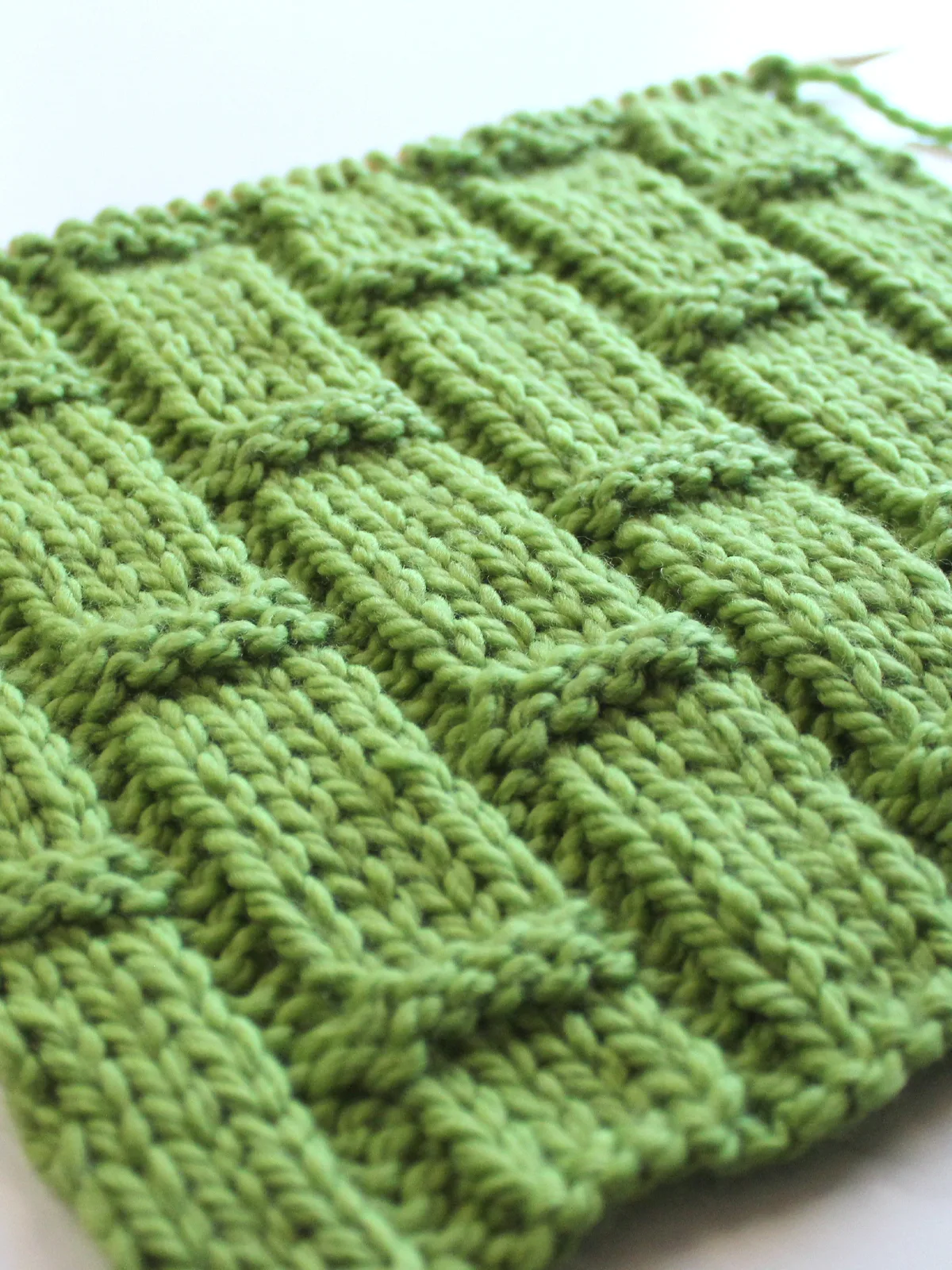 Row Repeat
Knit up the Bamboo Ribbing Stitch in a simple 12-row repeat.
Not Reversible
This is not a reversible pattern, because both sides of your work, the right and wrong sides, are not identical. You can see in this sample that the bamboo stalk design is displayed on the front side of your piece, however the back side displays little vertical squiggles.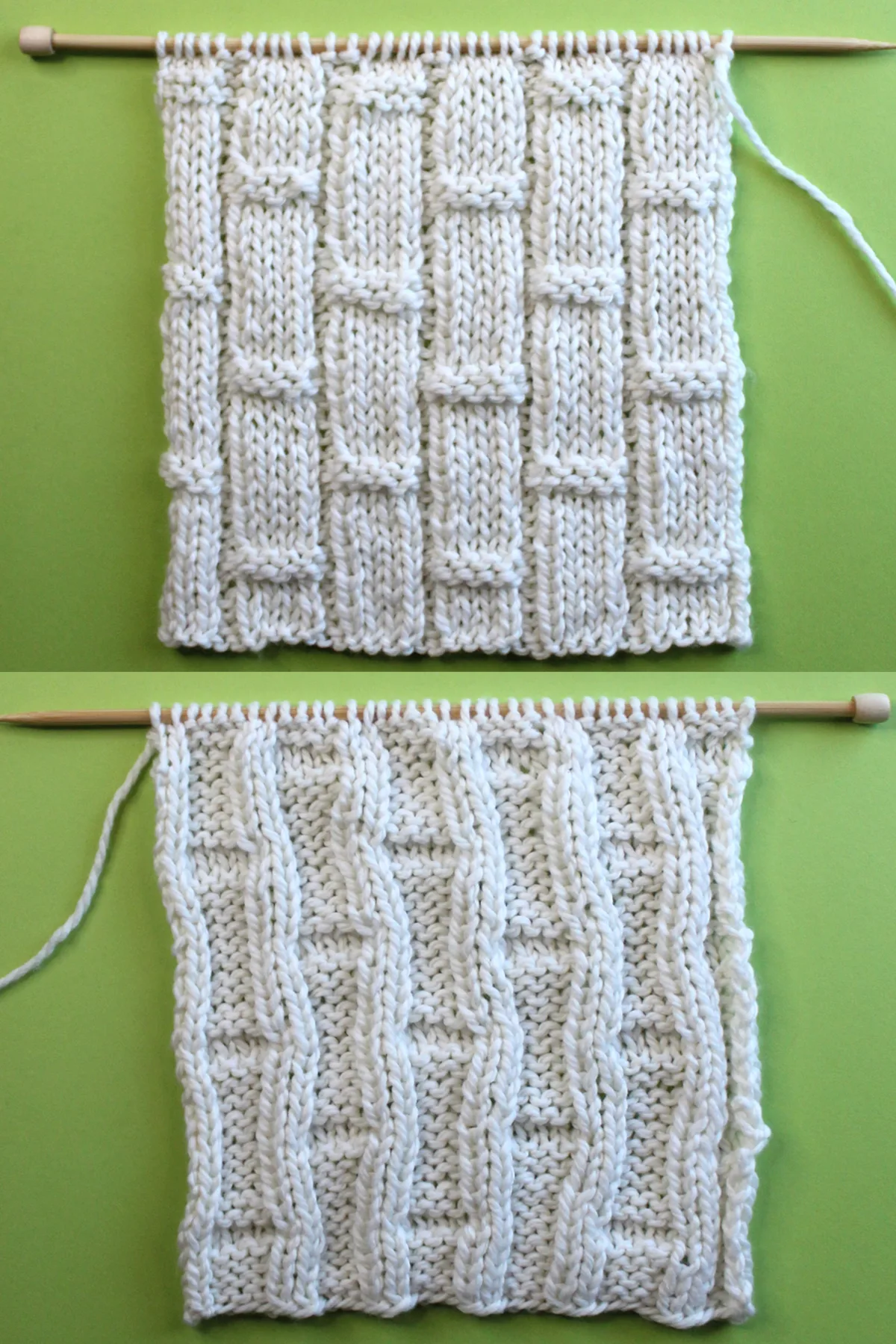 Curls Slightly
This is primarily a Stockinette Stitch, which typically curls. As such I suggest you consider blocking or adding a border to your piece to help it lie flat. My favorite border stitches are Garter and Seed stitches. Both adding a border and blocking your piece helps it lie flat the best!
Can the Bamboo Ribbing Stitch be knit in the round on circular needles?
Yes, with a simple adjustment to the even-numbered rows, this pattern includes written instructions to knit it in the round. Try it out with either circular or double-pointed needles.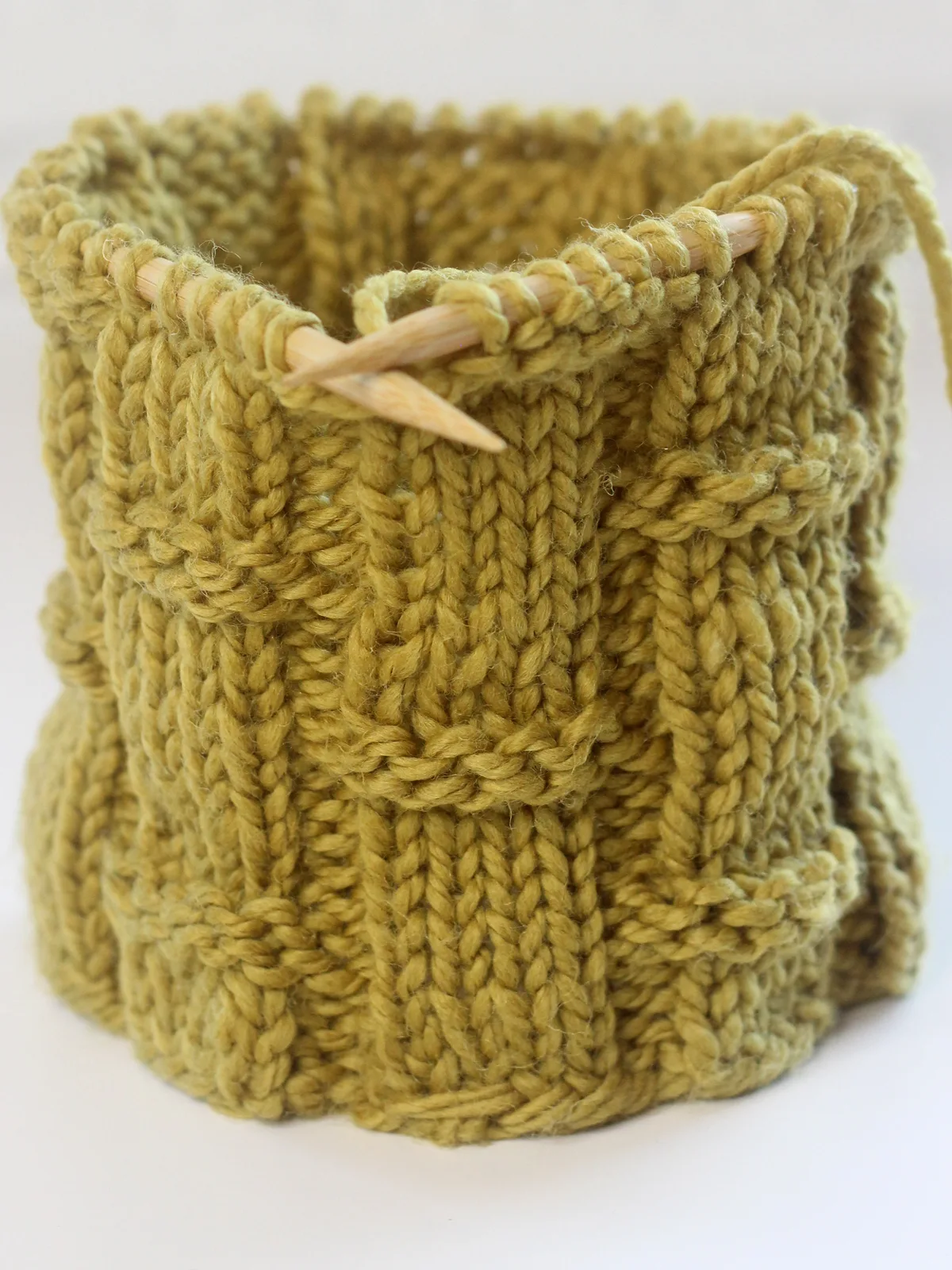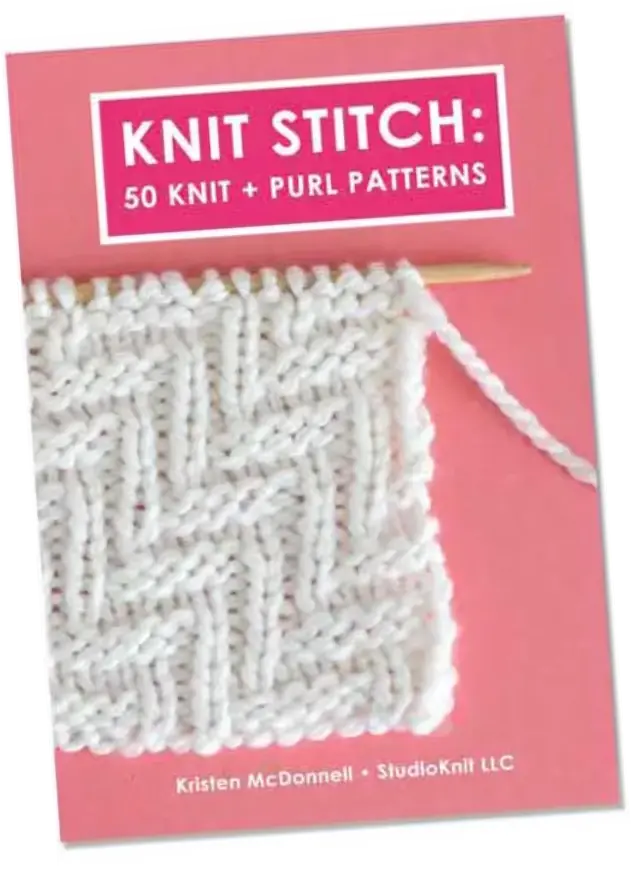 Knit Stitch Pattern Book
Love easy knitting? Get 50 more stitch patterns from my Knit Stitch Pattern Book available in both print and digital formats.
Project Ideas
Bamboo Forest Blanket: Create a cozy and textured blanket, ideal for snuggling up on the couch or giving your bed a stylish upgrade. Select among seven blanket sizes and have fun knitting up your new heirloom today.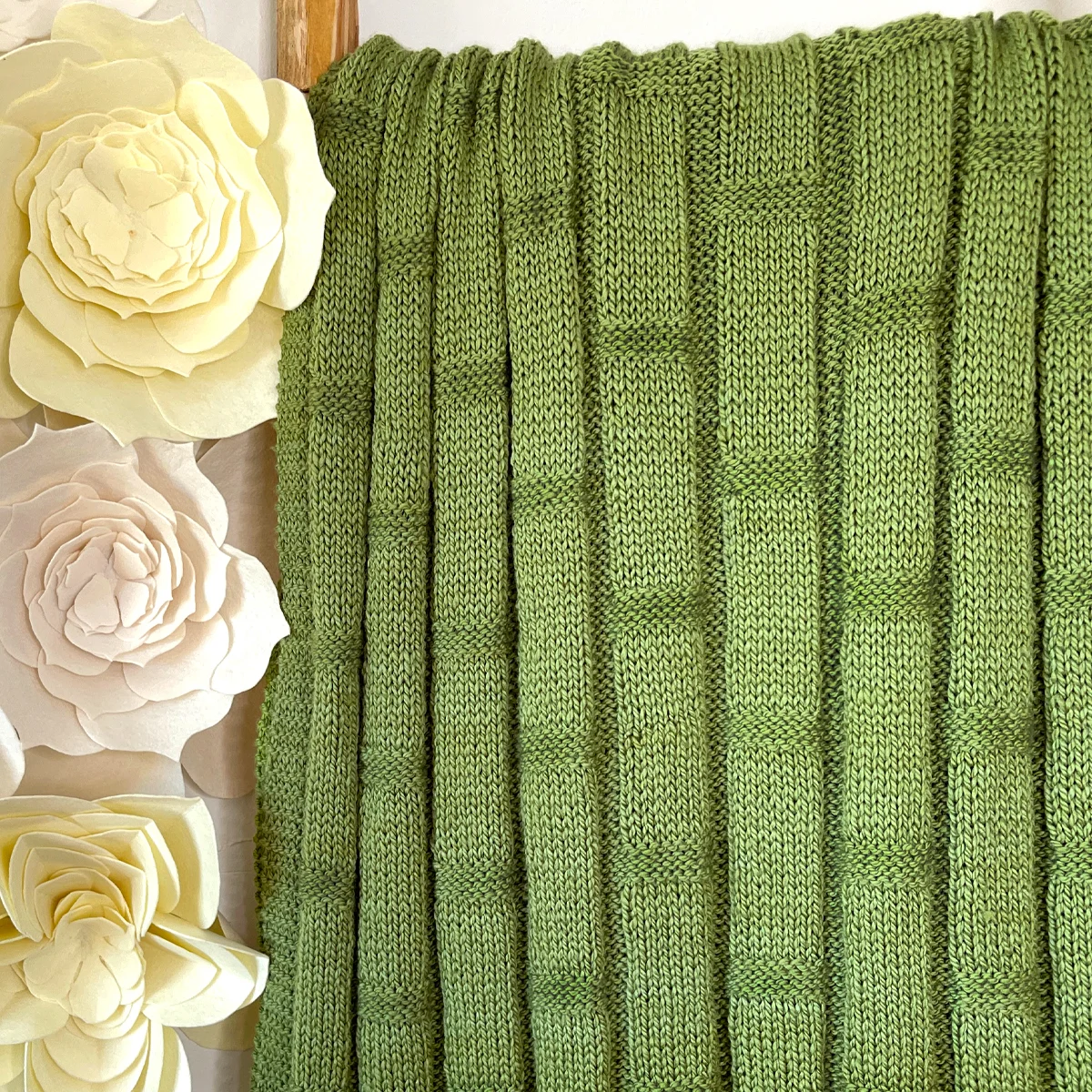 Dishcloths: This knit and purl texture easily make dishcloths and washcloths that showcase the bamboo texture.
Cozy Scarf: Knit a warm and stylish scarf with the bamboo texture, perfect for chilly days and adding a touch of elegance to your outfits.
Cushion Covers: Transform your living space by knitting cushion covers with this texture, adding a touch of visual interest and comfort.
Flower Pot Cozy: Create a stylish home decor accent by knitting in-the-round or seaming your flat piece to wrap around any vase or plant pot.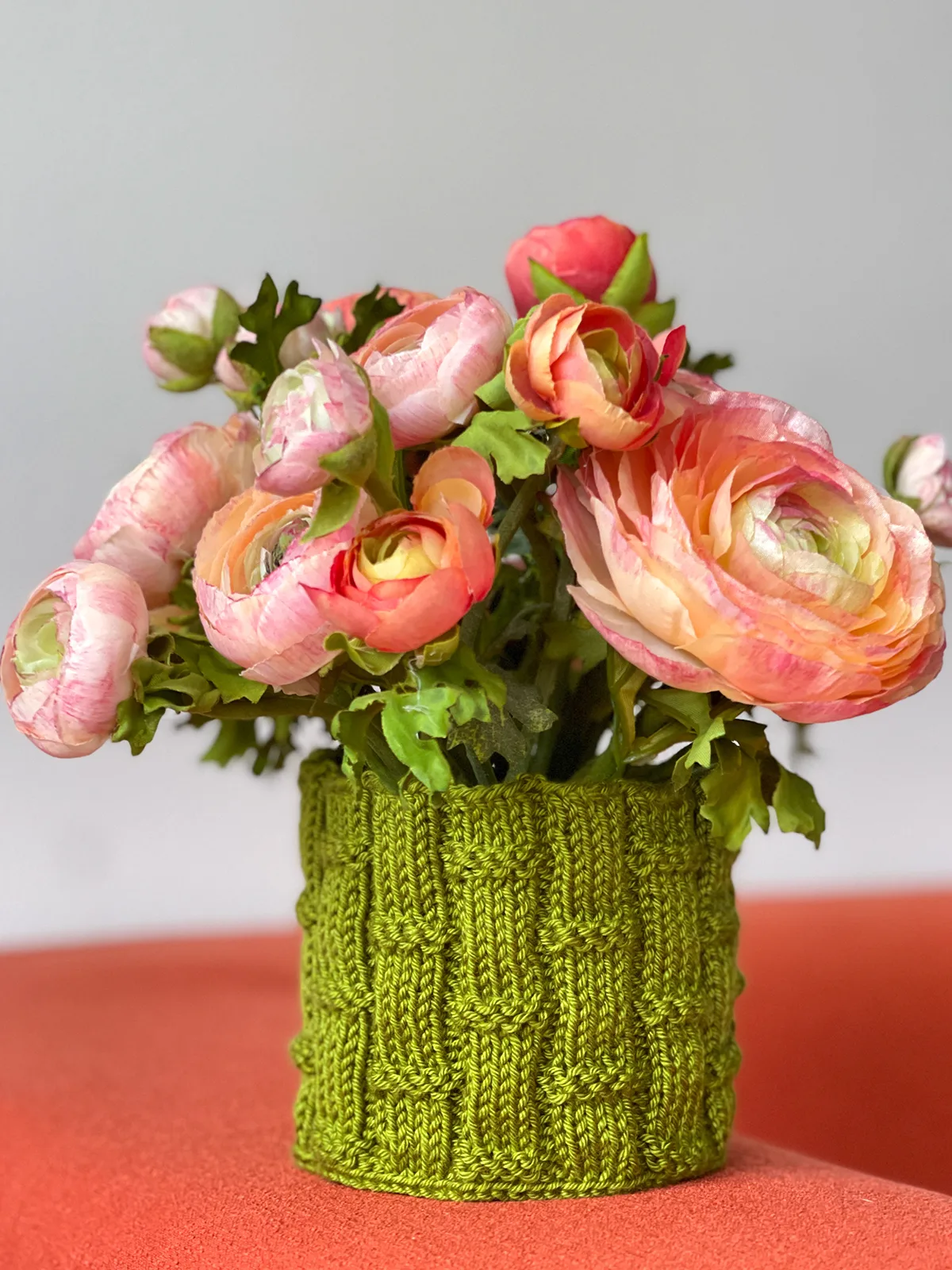 ---
Knitting Techniques
Find my entire library of Knitting Techniques to help knit up this project. To best understand the knitting techniques, make certain to watch my full video tutorial further down on this page.
---
More Bamboo Stitch Ideas
Looking for more? Give this intermediate-level Bamboo Stitch a try, as well. Create pretty rows that look like stalks of bamboo. This stitch is easy to memorize as a 2-row repeat and requires basic knitting stitches, along with a few yarn overs.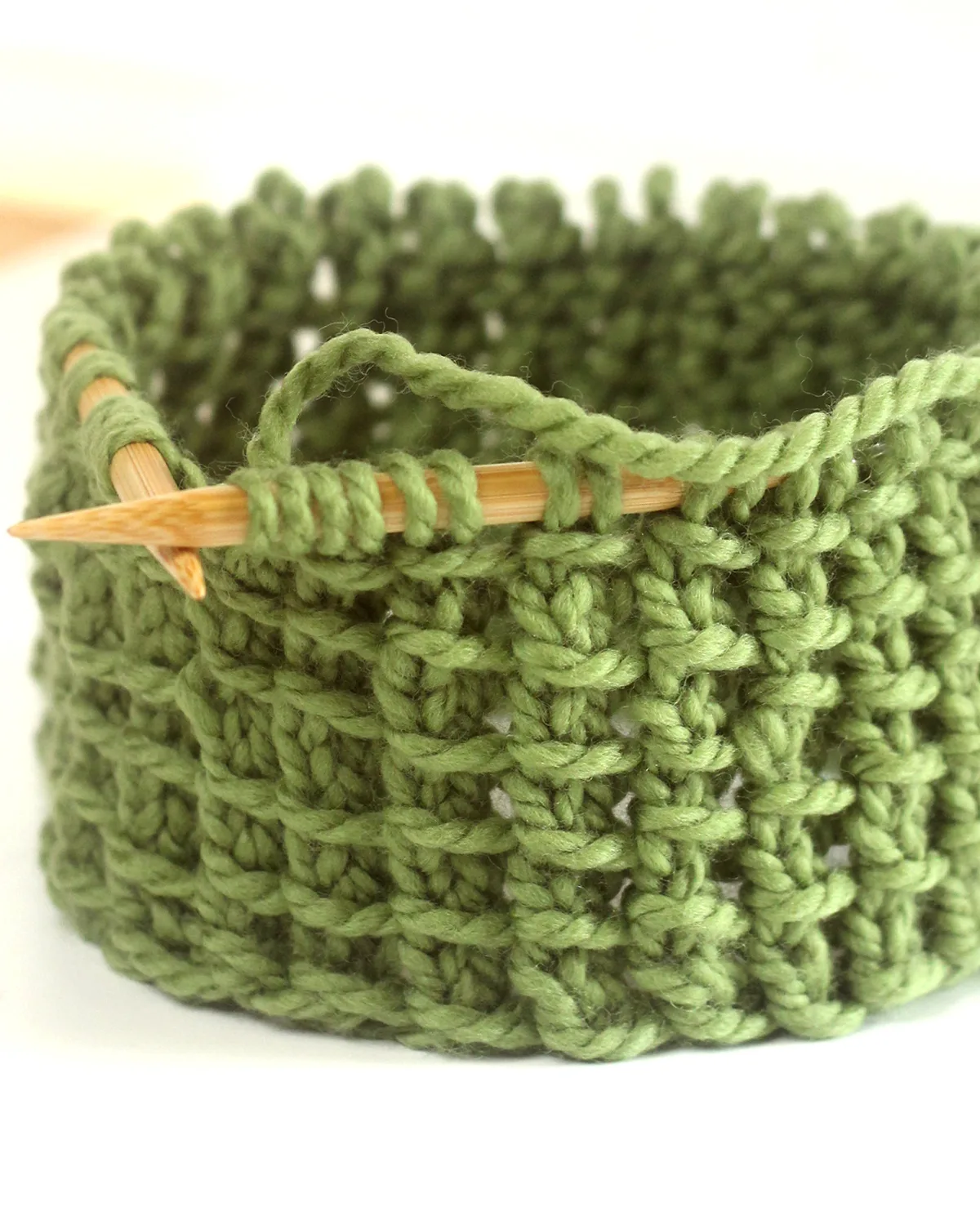 Printable Knitting Instructions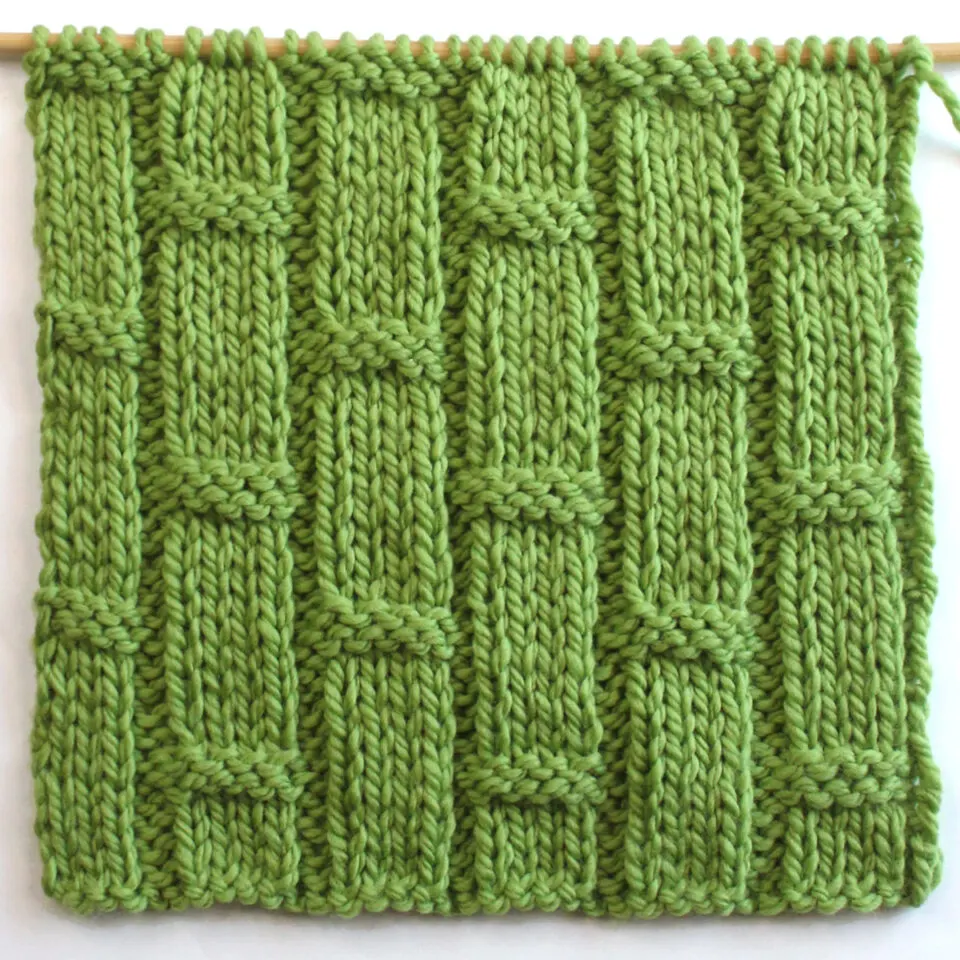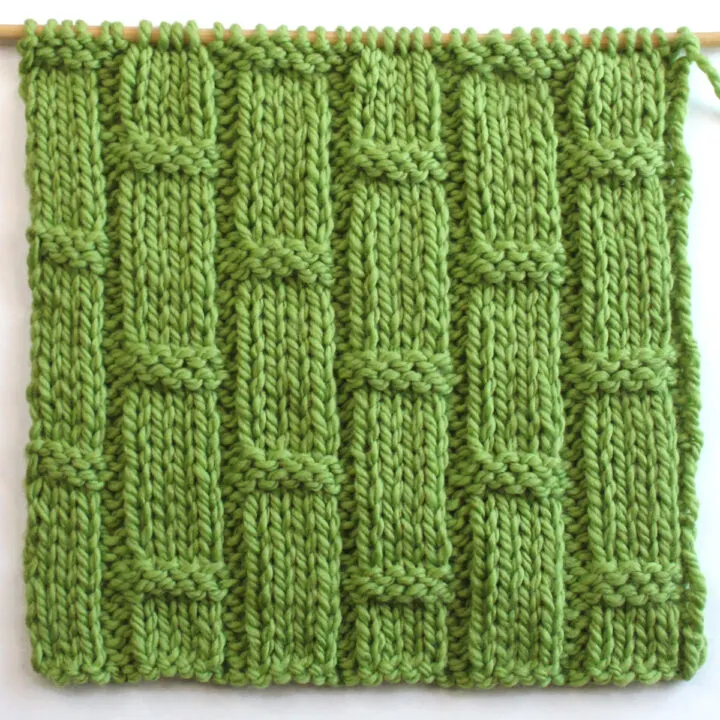 Printable Knitting Pattern
The Big Bamboo Stitch Knitting Pattern
Makes:
Bamboo Ribbing Stitch
Additional Time:
10 minutes
Total Time:
2 hours
20 minutes
Difficulty:
Experienced Beginner
Tools
Knitting Needles - Appropriate Size for Yarn
Tapestry Needle
Scissors
Instructions
KNITTED FLAT ON STRAIGHT NEEDLES:
Cast On: Multiples of 12
Row 1 (Right Side): * P2, K4 *
Row 2 (Wrong Side): * P4, K2 *
Row 3: * P2, K4 *
Row 4: * P4, K2 *
Row 5: * P8, K4 *
Row 6: * P4, K8 *
Row 7: * P2, K4 *
Row 8: * P4, K2 *
Row 9: * P2, K4 *
Row 10: * P4, K2 *
Row 11: * P2, K4, P6 *
Row 12: * K6, P4, K2 *
_____
IN THE ROUND ON CIRCULAR NEEDLES:
Cast On: Multiples of 12
Row 1 (Right Side): * P2, K4 *
Row 2 : * P2, K4 *
Row 3: * P2, K4 *
Row 4: * P2, K4 *
Row 5: * P8, K4 *
Row 6: * P8, K4 *
Row 7: * P2, K4 *
Row 8: * P2, K4 *
Row 9: * P2, K4 *
Row 10: * P2, K4 *
Row 11: * P2, K4, P6 *
Row 12: * P2, K4, P6 *
Notes
Repeat Rows 1 – 12 until your piece is the length you desire
Repeat pattern between the * * asterisks
Not a Reversible Knit Stitch Pattern
12-Row Repeat
_____
KNITTING TECHNIQUES
Slip Knot
CO = Cast On Long Tail Method
K = Knit Stitch
P = Purl Stitch
BO = Bind Off
Weave In Ends
_____
KNITTING CHART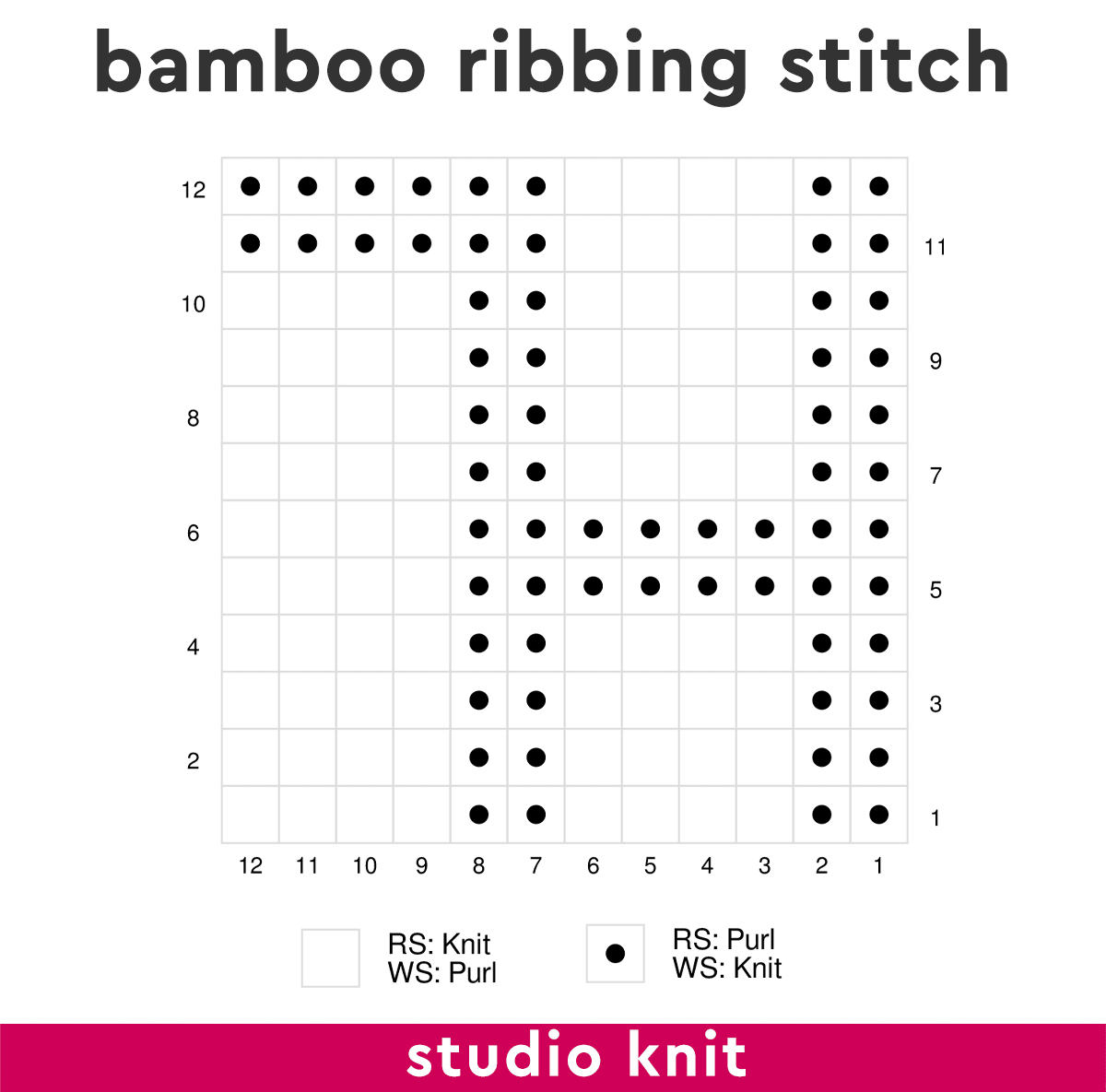 ---
Thank You for Visiting Studio Knit
I hope you are inspired to knit up this Bamboo Ribbing stitch pattern in your next knitting project. Check out my entire library of free stitch patterns!
If you'd like even more great ideas, please make sure you join my mailing list. It's a free and easy way for us to stay connected.
Happy knitting to you!