It's time to learn the Knit Stitch today in our Absolute Beginner Knitting Series.
---
AMERICAN METHOD / ENGLISH METHOD
In this Knitting Series, I am teaching the American Method of Knitting, also called the English Method. There is another way to knit you may come across called the Continental Method.
Since I am an American, and this is the technique I use while teaching all of my knitting tutorials, this series will only use this method of knitting.
All of my videos teach how to knit right-handed, as well. Sorry, lefties!
---
CREATING A KNITTING SWATCH
For this Series, we will be knitting up a little sample swatch. Let's focus on enjoying the process of knitting. Knitting for Knitting's Sake, as it were.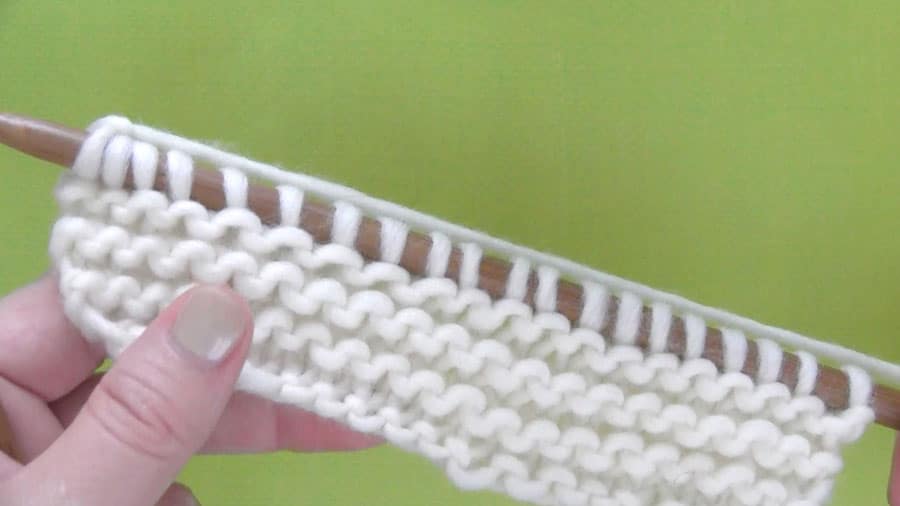 I encourage each individual knitter to develop at your own pace, finishing your knitted swatch when you are ready to do so, rather than furiously knitting a specified number of rows to keep up with the rest of your fellow Studio Knitters.
In Weeks 3 and 4, I will share many cute Favorite Beginning Knitting patterns and projects that you'll be ready to tackle at the end of this Series.
---
PREPARING TO KNIT
Before we begin knitting, first take your yarn and create a Slip Knot.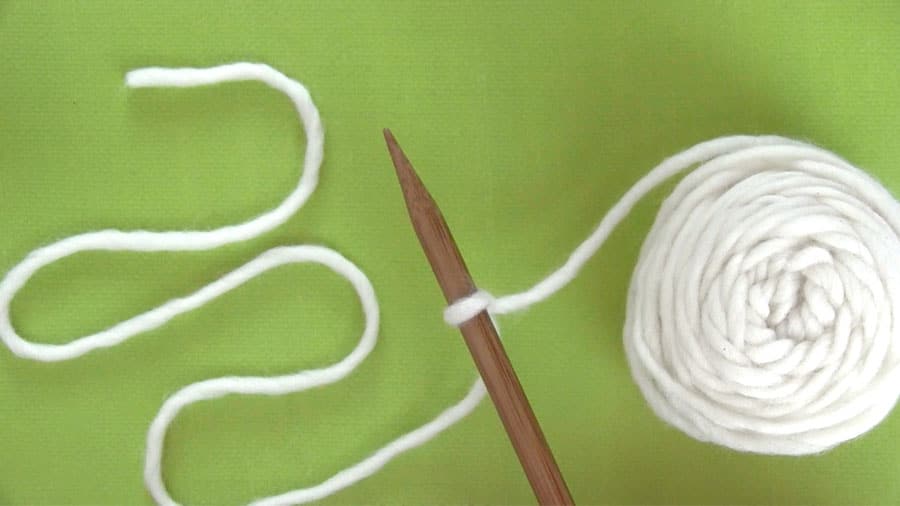 Then Cast On your stitches onto one knitting needle using the long-tail cast on method.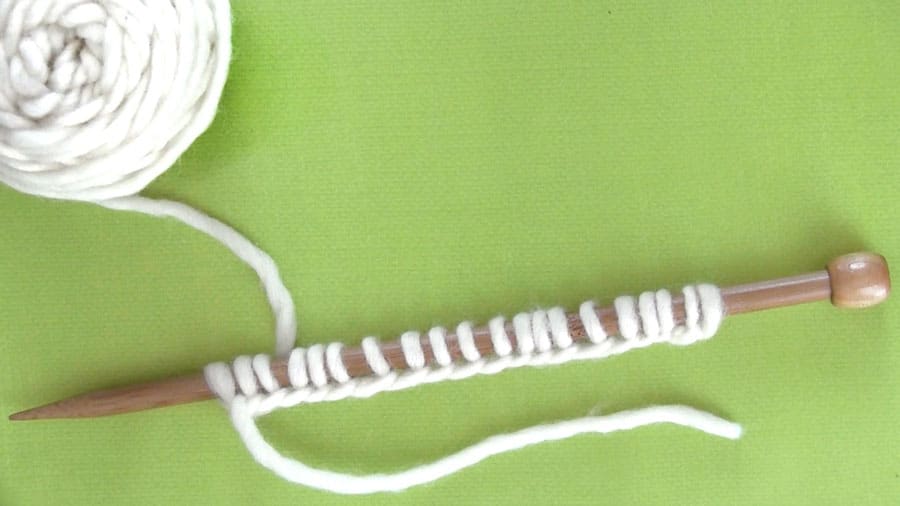 KNITTING STEP 1
Hold the knitting needle with the cast on stitches in your left hand.
Hold the knitting needle without any stitches in your right hand.
With the yarn in the back of your work, insert the right needle into the front of the first stitch. You'll insert your needle to the left of that stitch and through. Your right knitting needle will be underneath your left needle.
KNITTING STEP 2
Wrap your yarn around the right needle from back to front, so that it rests between the two needles.
KNITTING STEP 3
Slide the right needle down and bring the point forward through the stitch, bringing the yarn with it.
KNITTING STEP 4
Slip the old stitch off the left needle. Make sure you only slip that first stitch off of the needle, don't let any of the others off the needle yet.
Now the new stitch is on your right needle.
CONTINUE KNITTING THE ENTIRE ROW
Repeat these four steps for each stitch on your left needle.
At the end of the row, all the new stitches are on your right needle now and your left knitting needle is empty.
KNIT MORE ROWS
Switch your knitting needles so that the empty needle is in your right hand.
Continue knitting each stitch on your needle, switching your knitting needles at the end of every row.
---
VIDEO How to Knit Stitch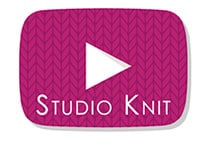 For a complete look at how to knit the Knit Stitch, you can watch my video above. Subscribe to my YouTube channel Studio Knit for more fun knitting ideas and check out the Absolute Beginner Knitting Series Playlist on YouTube.
---
ACTION ITEM OF THE DAY
KEEP KNITTING
Here's a simple suggestion for what to do next that will help you stay on track in the Series.
Keep knitting the knit stitch row after row. There's no limit to how much to knit, just keep knitting and proudly watch your knitted swatch grow.  NextTomorrow in Day 8, we will take a closer look at the difference between a knit stitch and a knit row.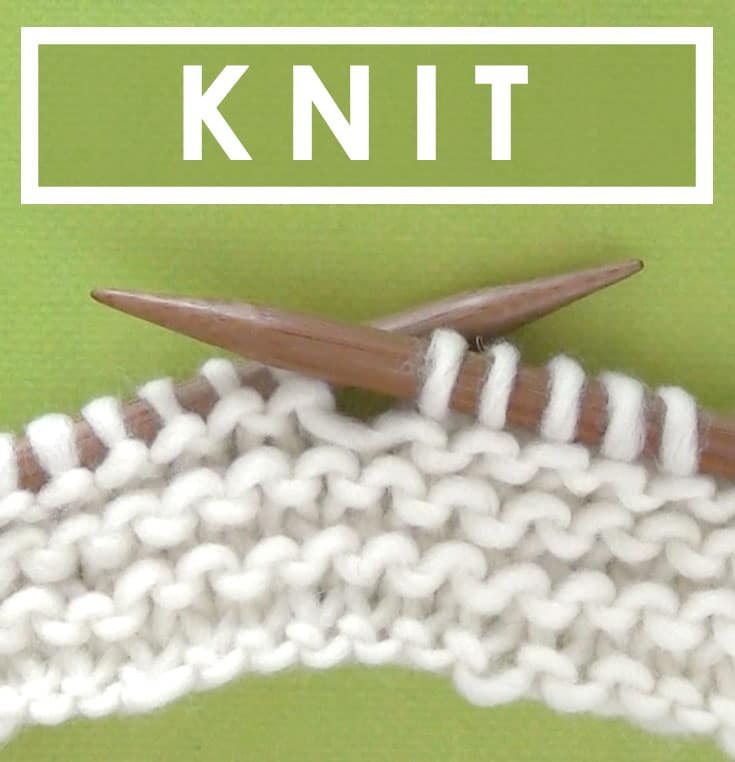 ---
KNITTING KIT
Here is a basic, affordable knitting kit you can purchase online. Or just select the individual items directly from Amazon that you need below. Hope it helps!


---
---

GET LIFETIME ACCESS TO VIDEOS + KNITTING BOOKS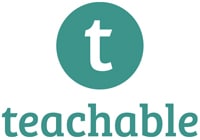 Get my entire video Series completely ad-free in an easy to follow format on desktop, mobile, and tablet. Plus — available exclusively through my Teachable course — you will also receive my new printable resources to help you shop, learn, and create:
Knitting Tools Shopping Guide (7 pages)
Knitting Workbook (9 pages)
Knit Stitch Pattern Book (12 pages)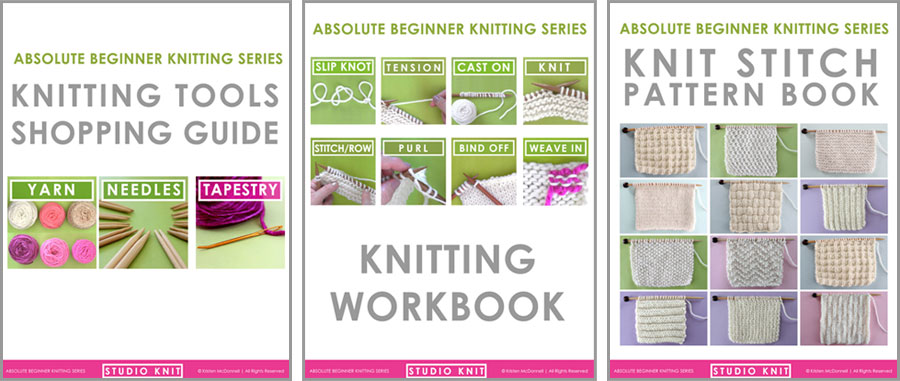 ---