This vintage Seed Stitch Pattern gets its name from the raised bumps from your purl stitches that resemble seeds. My pattern shows you the easiest way to knit it up without keeping track of the right and wrong sides of your work.
Get your free written pattern instructions with video tutorials below. You may also purchase my ad-free Knit Stitch Pattern Book in both hardcopy and e-book formats.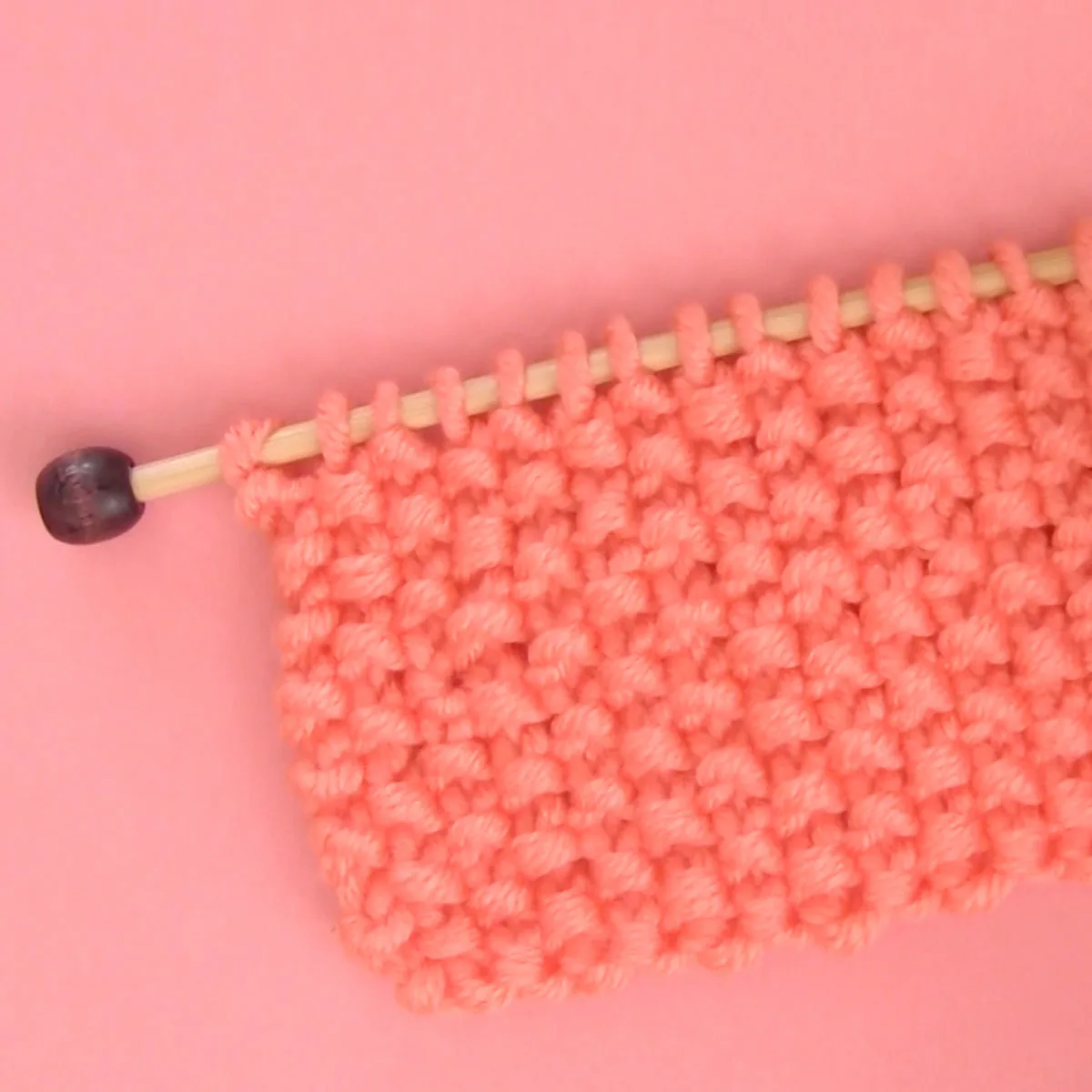 Table of Contents
---
Vintage Knitting Stitch
Texture Design: Each row of your knitting consists of alternating knit and purl Stitches, creating little bumps that look like seeds. Easily adds a pop texture to knitting projects when designing blankets, scarves, and hats.
Lies Flat: It is a favorite stitch choice because this pattern easily lies flat, often used for the borders of blankets that tend to curl up.
Row Repeat: Knit up the Seed Stitch in a simple 2-row repeat.
Stitch Techniques: A series of easy knits and purls create the raised pattern.
Reversible: The Seed Stitch is a reversible pattern, meaning that both sides of your work, the Right and Wrong sides, are identical.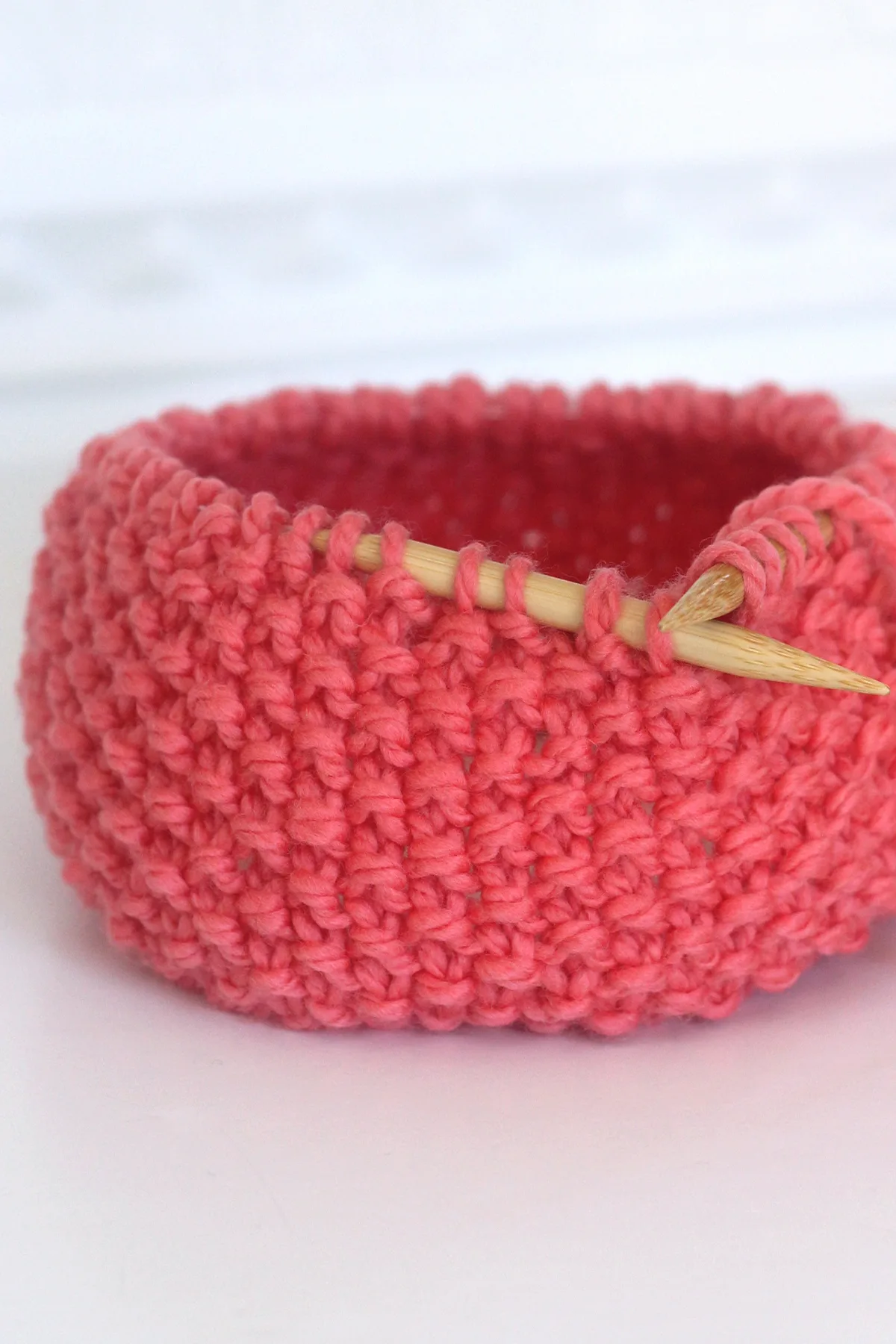 ---
Knitting Techniques
The Seed Stitch is an easy combination of simple Knit and Purl Stitches. Find my entire library of Knitting Techniques to help knit up this project.

---
Knitting Instructions
Step 1: Cast On an Odd Number of Stitches
Casting on an odd number of stitches makes this the easiest way to knit the Seed Stitch. Doing so allows you to knit the same pattern on every row, both the right and wrong sides of your work.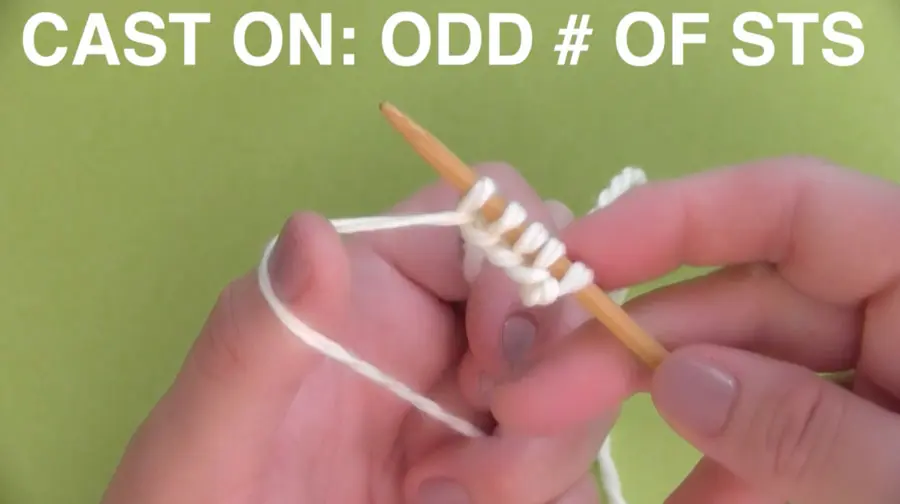 _____
Step 2: Stitch Pattern for Every Row
Your knitting pattern ( * K1, P1 * K1 ) is repeated on every row.
Repeat the Knit 1, Purl 1 pattern all the way down the row, finishing with just one knit stitch at the very end of the row.
Continue this pattern on every row. So easy and no need to track if you're on the right or wrong side of your work! Told you this was easy-peasy!

---
Knit Stitch Pattern Book (ad-free)
Find this Easy Seed Stitch on page 9 of my Knit Stitch Pattern Book. You may also get your free printable pattern below!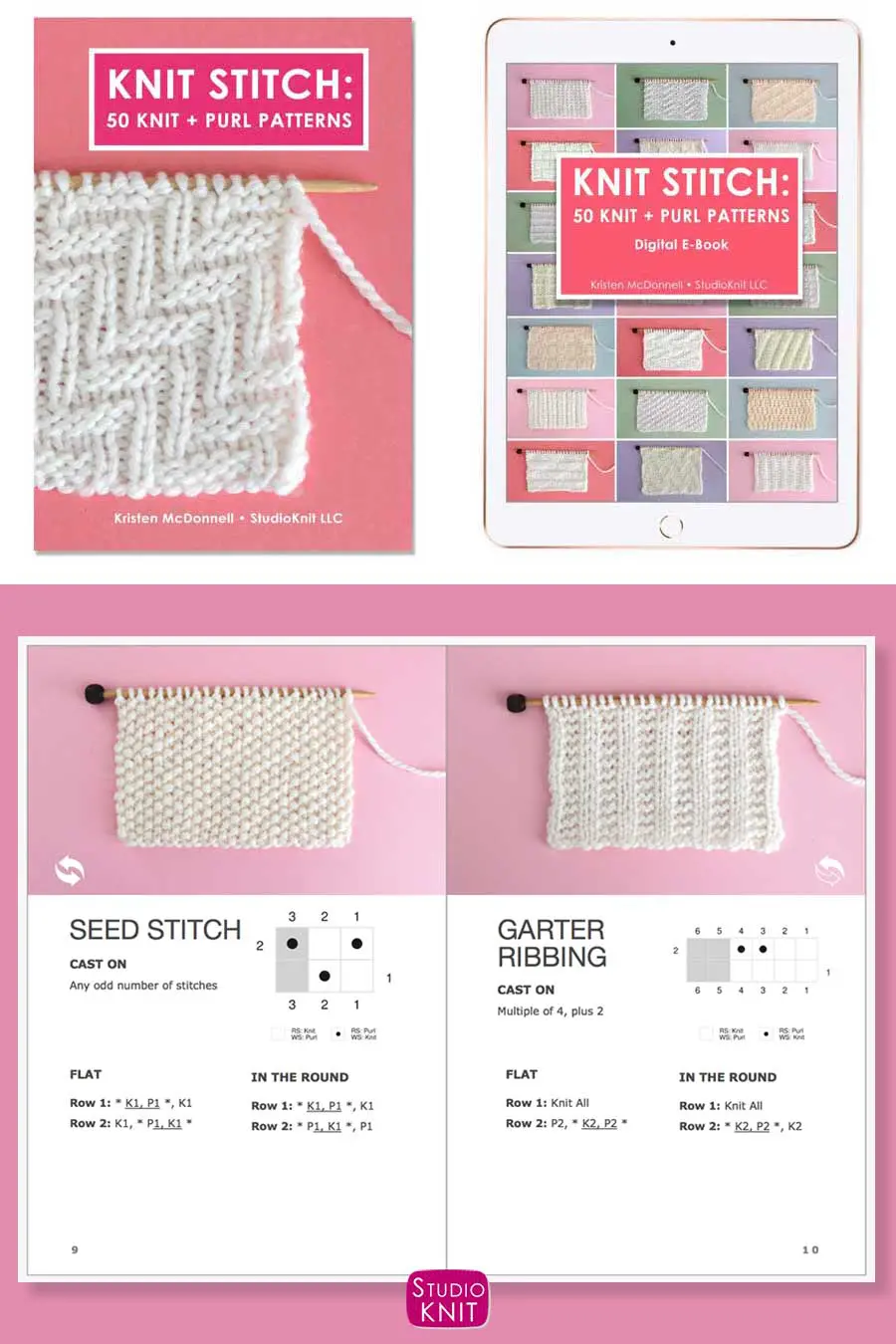 ---
Printable Knitting Instructions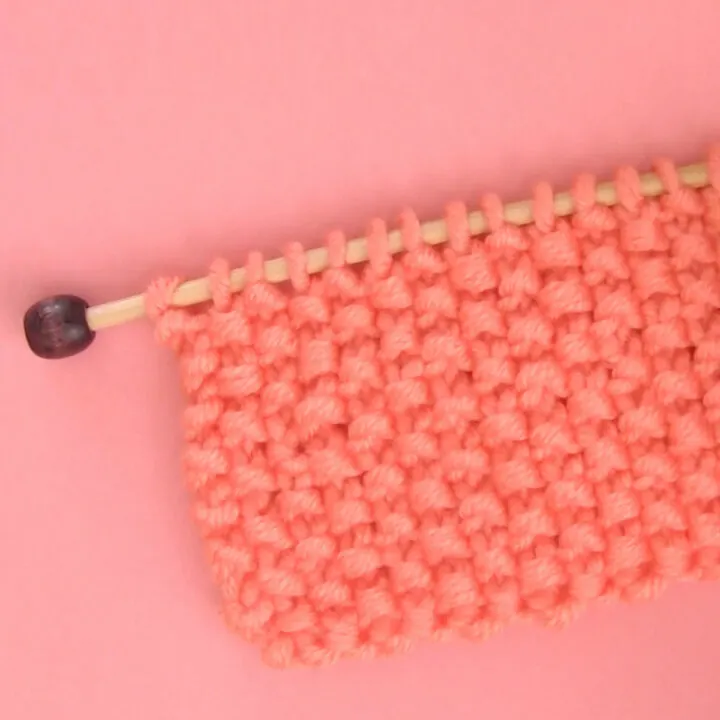 Seed Stitch Printable Knitting Pattern
Yield:
Seed Knit Stitch Pattern
Additional Time:
10 minutes
Total Time:
2 hours
20 minutes
Difficulty:
Experienced Beginner
The Seed Knit Stitch Pattern is a 2-Row Repeat, Reversible pattern.
Tools
Knitting Needles - Appropriate Size for Yarn
Tapestry Needle
Scissors
Instructions
KNITTED FLAT ON STRAIGHT NEEDLES:
Cast On: An Odd Number of Stitches
Row 1: (Right Side) * K1, P1 *, K1
Row 2: (Wrong Side) K1, * P1, K1 *
or
IN THE ROUND ON CIRCULAR NEEDLES:
Cast On: An Even Number of Stitches
Row 1: (Right Side) * K1, P1 *
Row 2: * P1, K1 *
Notes
Repeat Rows 1 – 2 until your piece is the length you desire
Repeat pattern between the * * asterisks
Reversible Knit Stitch Pattern
2-Row Repeat
Lies Flat
_____
KNITTING TECHNIQUES
Slip Knot
CO = Cast On Long Tail Method
K = Knit Stitch
P = Purl Stitch
BO = Bind Off
Weave In Ends
_____
KNITTING CHART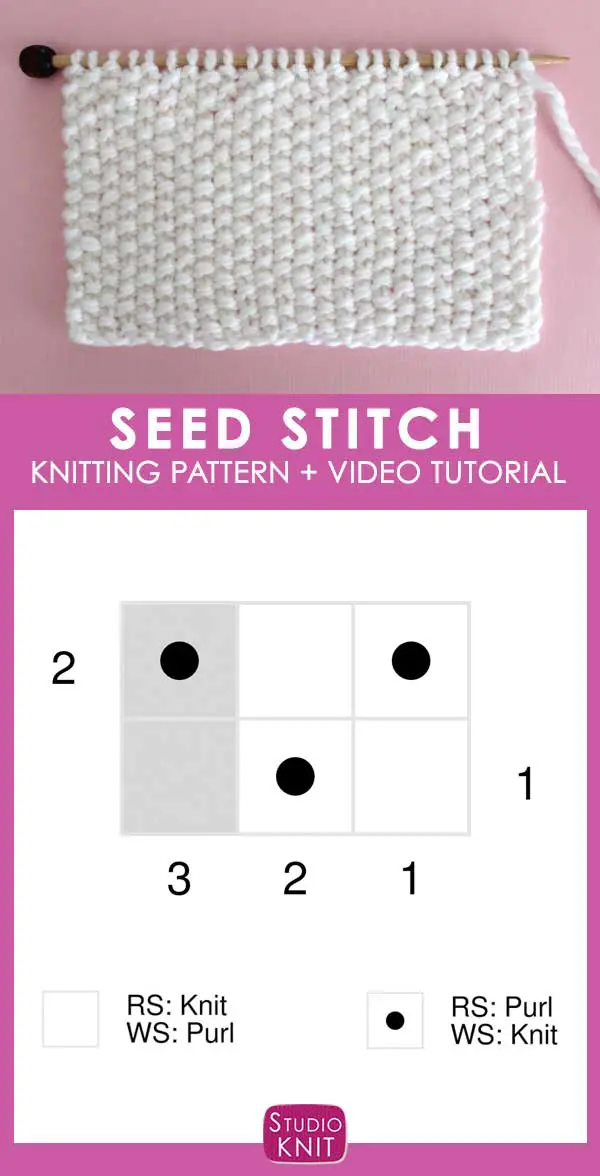 Thank You for Visiting Studio Knit
I hope you are inspired to knit up this Seed Stitch Pattern in your next knitting project. Check out my entire library of free stitch patterns!
If you'd like even more great ideas, please make sure you join my mailing list. It's a free and easy way for us to stay connected.
Happy knitting to you!