Knitting a tie is one of my favorite quick-knit gifts for the knit-worthy men in my life. This knitting project is an easy-level project using the Seed Stitch texture.
Get your free written pattern instructions with video tutorials below. You may also purchase my ad-free printable pdf pattern in my Studio Knit Pattern Shop.
My Men's Seed Stitch Necktie Knitting Pattern is one of the most popular gifts for Father's Day. As knitters, we needn't bore him with a store-bought tie. For under ten dollars, give a classic knit tie made with love.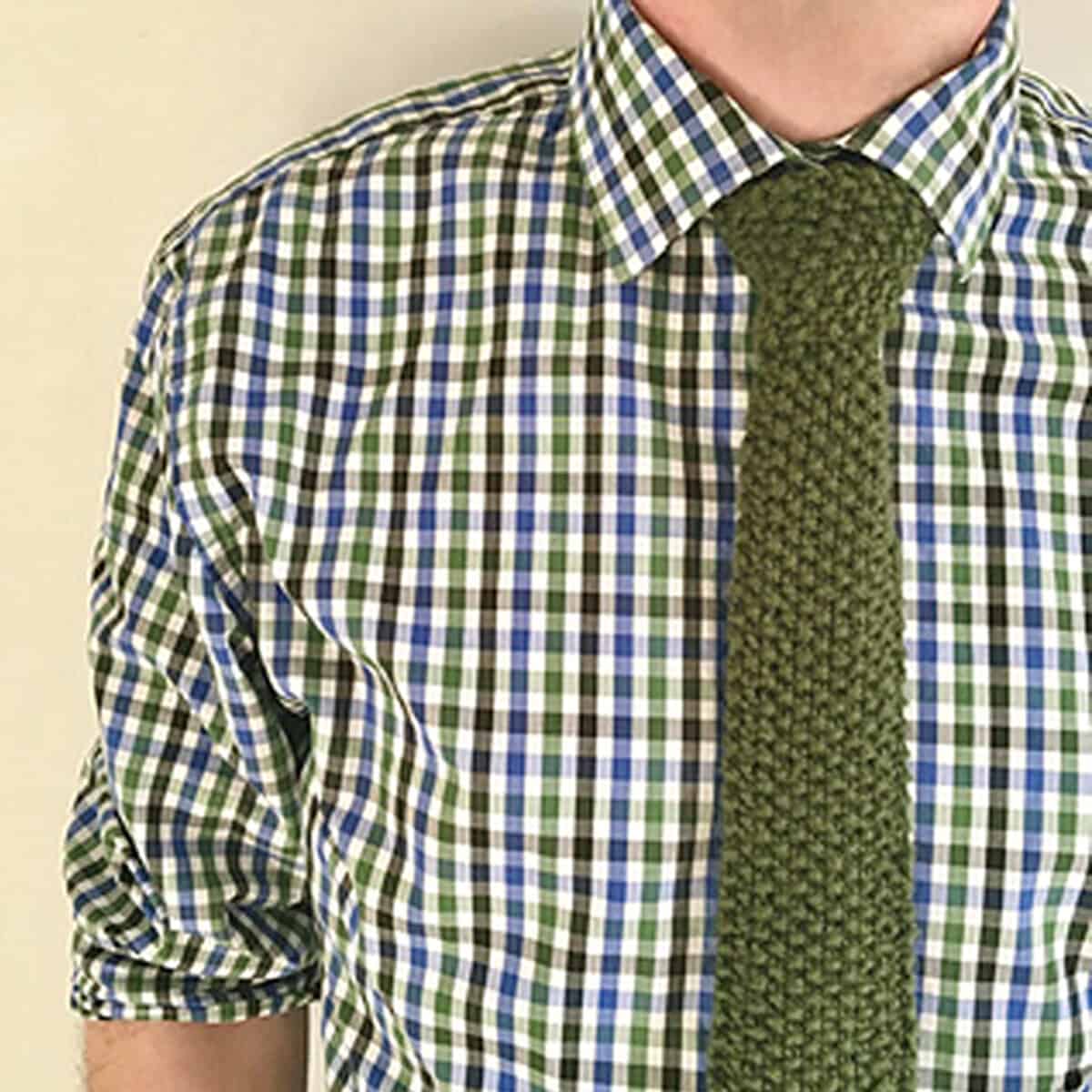 ---
HOW MY DAD INSPIRED THIS KNITTING TIE PATTERN
When I was a kid, my Dad was studying for the Bar Exam and accidentally got yellow highlighter ink on the cream cable hand-knit sweater my Grandmother had gifted him. Mortified, he immediately jumped up from his studies to remove the stain. Yes, I lucked out with an amazingly knit-worthy Dad.
Throughout recent years, he's proudly worn all of my knitwear gifts. My beanie hats are his go-to item when it's getting chilly for his daily walks on the beach. He's worn this necktie pattern for celebrations like his retirement party and my wedding rehearsal dinner. They've also given him strength during the tough times of medical treatments and memorial services.
This necktie pattern looks great in a variety of fiber options and color combinations. Check out the other cool Dads proudly wearing their ties on my Ravelry pattern page!
---
KNITTING MATERIALS to Make a Necktie
• Worsted Weighted Yarn (any fiber) – My Sample was knit with "Wool of the Andes" in medium olive green color Thyme
• Straight Knitting Needles Size 8 US
• Scissors
• Tapestry Needle
• Measuring Tape
---
TECHNIQUES for Knitting a Tie
Need to brush up or learn a new technique? Check out my entire library of Knitting Techniques to help you along as you knit up this project. If you're new to knitting, you'll love my Absolute Beginners Knitting Series!
• Slip Knot
• CO = Cast On Long Tail Method
• K = Knit Stitch
• K2Tog = Knit 2 Together
• P = Purl Stitch
• BO = Bind Off
• Weave In Ends
---

PRINTABLE TIE IN SEED STITCH PATTERN
WANT THE FREE PATTERN? Keep scrolling, it's up next!
PRINTABLE DOWNLOAD: Purchase the ad-free printable pdf pattern in my Studio Knit Pattern Shop. Also available on Etsy and Ravelry.
A great way to support my knitting work!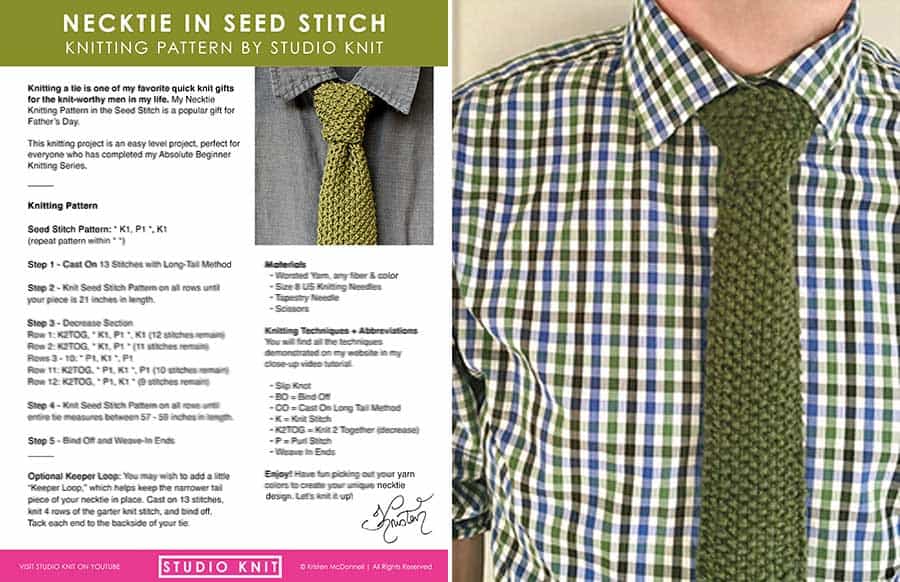 ---
WATCH NECKTIE PATTERN
Click to Play Step-by-Step Video Tutorial
---
WRITTEN INSTRUCTIONS TO KNIT NECKTIE
Size Available: Standard necktie measuring 2.25″ wide and between 57" – 59" in length.
Skill Level: Experienced Beginner.
Seed Stitch Pattern: * K1, P1 *, K1 (repeat pattern within * *)
Step 1 – Cast On 13 Stitches with Long-Tail Method
Step 2 – Knit Seed Stitch Pattern on all rows until your piece is 21 inches in length.
Step 3 – Decrease Section
Row 1: K2TOG, * K1, P1 *, K1 (12 stitches remain)
Row 2: K2TOG, * K1, P1 * (11 stitches remain)
Rows 3 – 10: * P1, K1 *, P1
Row 11: K2TOG, * P1, K1 *, P1 (10 stitches remain)
Row 12: K2TOG, * P1, K1 * (9 stitches remain)
Step 4 – Knit Seed Stitch Pattern on all rows until entire tie measures between 57 – 59 inches in length.
Step 5 – Bind Off and Weave-In Ends
_____
Keeper Loop (optional)
You may wish to add a little "Keeper Loop," which helps keep the narrower tailpiece of your necktie in place.
Cast on 13 stitches, knit 4 rows of the garter knit stitch, and bind off.
Tack each end to the backside of your tie.
---
THANK YOU FOR VISITING STUDIO KNIT
I hope you are inspired to knit up this Seed Stitch Necktie Pattern for your next knitting project. Check out my entire collection of Father's Day Knitting Ideas!
If you'd like even more great knitting ideas, please make sure you join my mailing list. Subscribing to my YouTube channel Studio Knit is another easy way for us to stay connected and help support my work for free.
Happy Knitting to You!