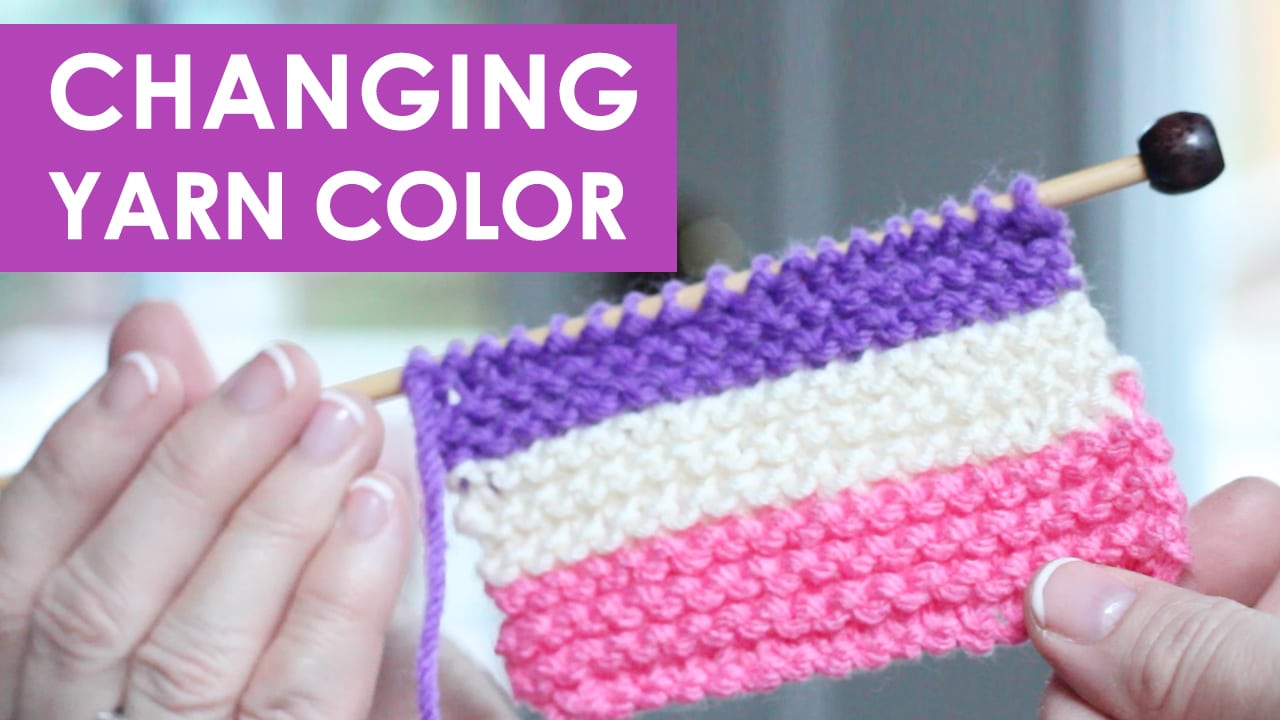 Today, we are going to change yarn colors while you are knitting. It's so much simpler than you think! Changing yarn colors is a really fun way to personalize any knitting pattern of your choice. Of course, this technique helps when you're starting a new ball of yarn of the same color, too.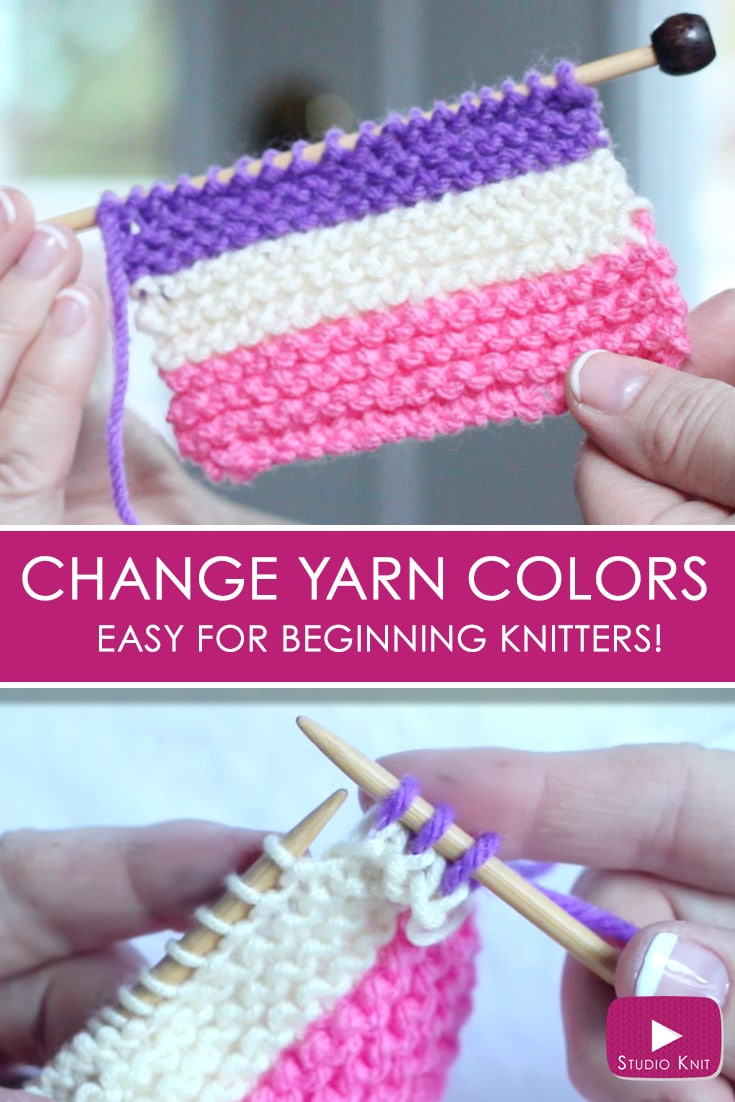 ---
MATERIALS for How to Change Yarn Colors
As an Amazon Associate and member of other affiliate programs, I earn commissions from qualifying purchases at no additional cost to you.
My sample was created with size 7 US knitting needles and worsted weighted yarns. Feel free to use any size yarn and needles for your creative project.
• Yarn in any weight, fiber, & color(s) of your choice
• Knitting Needles, sized appropriately for your yarn
• Scissors
• Tapestry Needle
---
KNITTING TECHNIQUES for Changing Yarn Colors
Need to brush up or learn a new technique? Check out my entire library of Knitting Techniques to help you along as you knit up this project.
• Slip Knot
• Cast On Long Tail Method
• Knit Stitch
• Purl
• Bind Off
• Weave In Ends
---
WATCH STEP-BY-STEP VIDEO TUTORIAL ON HOW TO CHANGE YARN COLORS
---
WRITTEN STEP-BY-STEP INSTRUCTIONS ON HOW TO CHANGE YARN COLORS
We have our little swatch of pink and are ready to change colors. Instead of using the pink yarn we normally would that's attached to the ball, we are going to bring it and introduce our new color, which is white.

STEP 1: INTRODUCE NEW YARN
To begin to change yarn colors, we're simply just going to just make a little bit of a hook. Just like that. No tying, nothing difficult at all. Just a little hook right there that we are going to put over our knitting needle.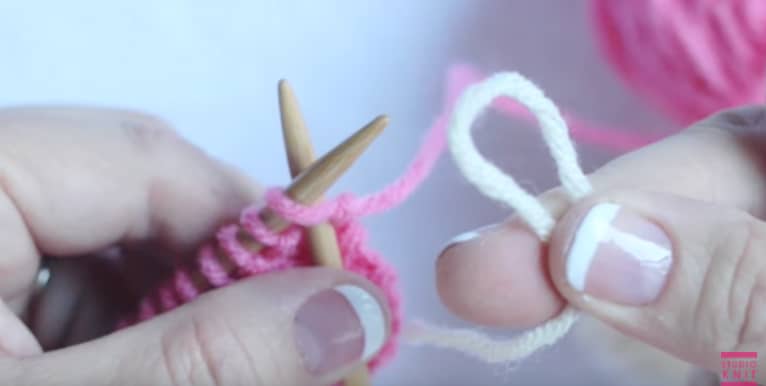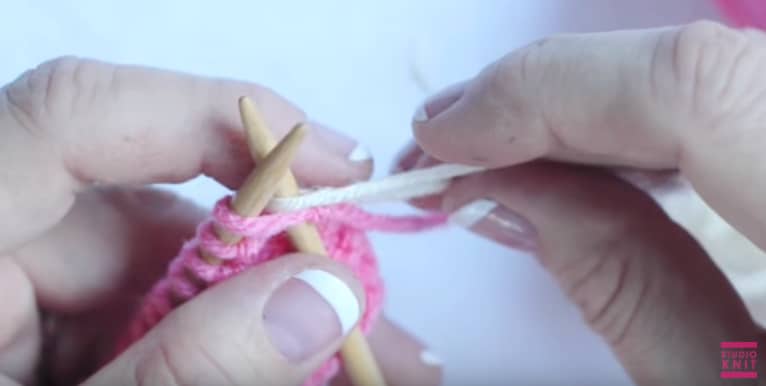 STEP 2: KNIT NEW YARN THROUGH
We are going to knit that white yarn color through and I like to keep these nice and taught and tense while I'm doing it. Just knit through and there is that one new white yarn color. And we are no longer using the pink. We have a white tail and we just continue knitting all the way down the row with our new white yarn. How simple is that?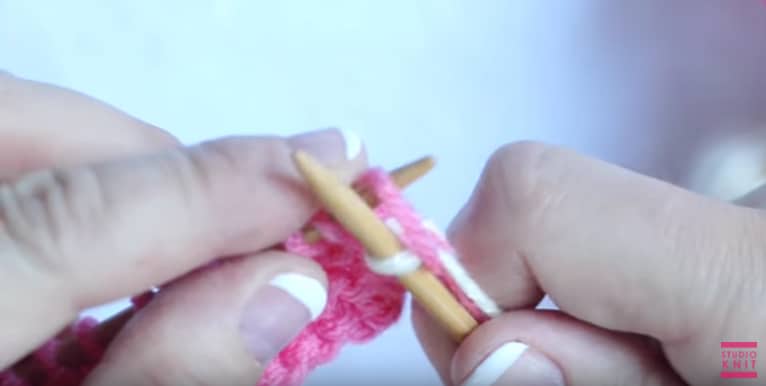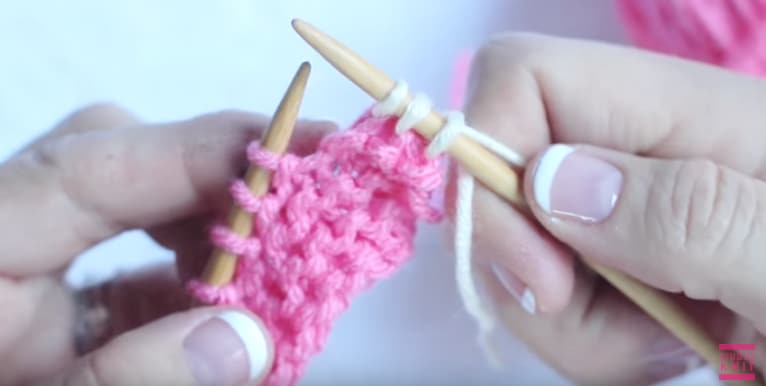 STEP 3: CONTINUE KNITTING WITH THE NEW YARN
So we are going to go all the way across the row, and then I want you to see that on the back there is a wrong side and a right side.
And once we come around, we are just going to knit into that very first white stitch that we made and hold everything nice and tight.
STEP 4: CUT AND WEAVE IN OLD YARN ENDS
We are now done with the pink so we can go ahead and just cut that off and we have a pink yarn tail and a white yarn tail. I am not going to call the knitting police if you simply tie them together, however to be more professional, go ahead and weave in your ends. It's totally your choice.
LEARN MORE ABOUT KNITTING HORIZONTAL STRIPES
Now that you're ready to change yarn colors, you may be interested in taking a close look at the easiest ways to create horizontal stripes knitted flat on straight knitting needles with really simple knit and purl stitch patterns.
---
THANK YOU FOR VISITING STUDIO KNIT
You've got it, guys, you have totally got this. Have fun changing your yarn colors, it's a really fun way to personalize any knitting pattern of your choice. And make sure you check out my 5 Best Tips for Knitting Stripes for even more really simple tricks. I hope you are inspired to get a little bit brave and change some yarn colors.
If you'd like even more, please make sure you join my mailing list. Subscribing to my YouTube channel Studio Knit is another free and easy way for us to stay connected and help support my work.