This beautiful Cable Heart Stitch Pattern is an interlocking design in vertical panels that can be knitted to make up so many fun projects.
Get your free written pattern instructions with video tutorials below. You may also purchase my ad-free printable 6-pattern Knit Hearts E-Book in my Studio Knit Pattern Shop.
It's fun to see the cable heart design emerge as you knit. Knitting heart designs make it an extra special project filled with love. See how pretty they look in my new Cable Heart Knit Scarf Pattern! Additionally, multiple panels create a blanket of any size.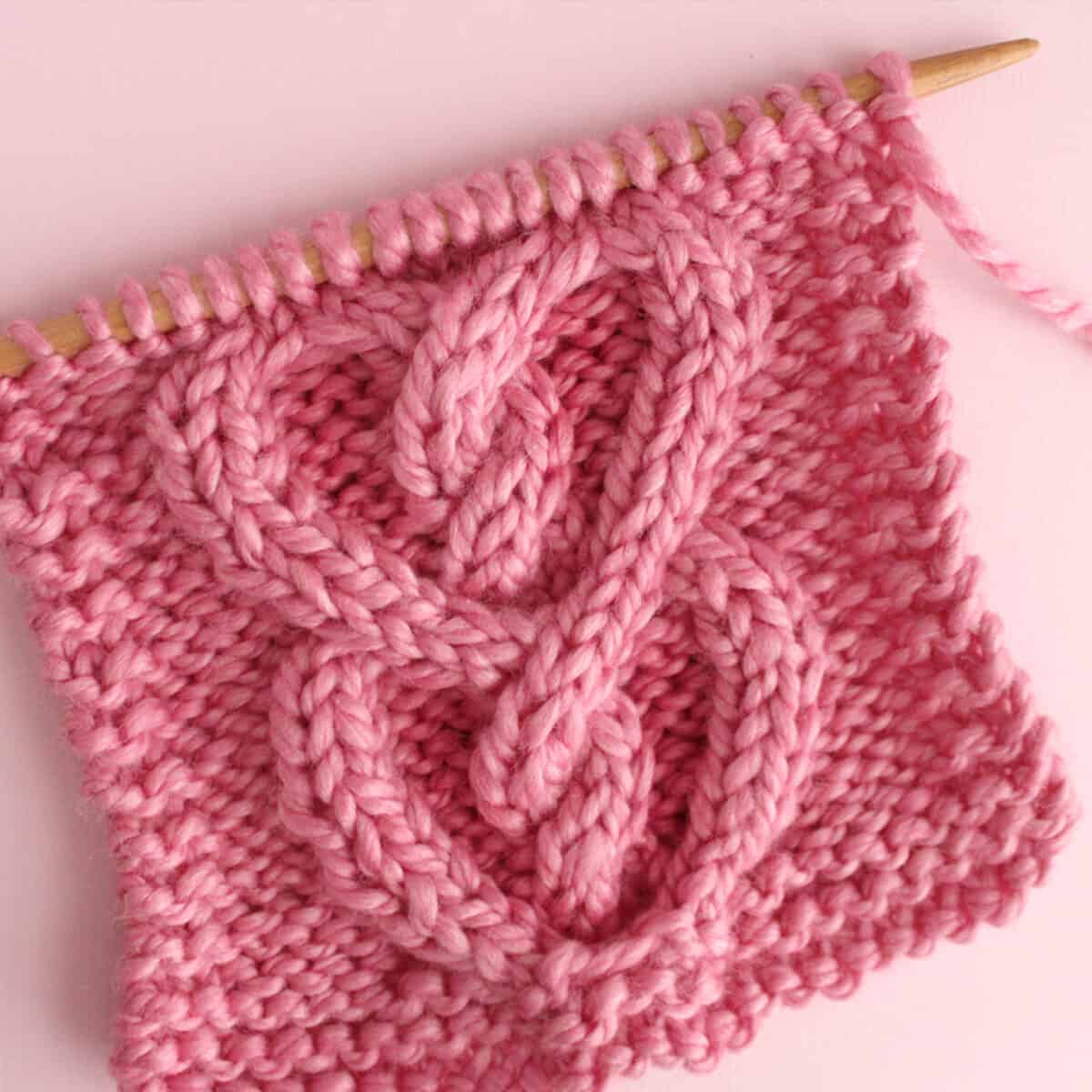 ---
MATERIALS for the Cable Heart Stitch Pattern
My featured samples were created with size 11 US knitting needles and #5 bulky weight yarns, resulting in a 7″ wide knitting piece.
• Yarn in any weight, fiber, & color of your choice
• Knitting Needles sized appropriately for your yarn
• Cable Needle
• Scissors
• Tapestry Needle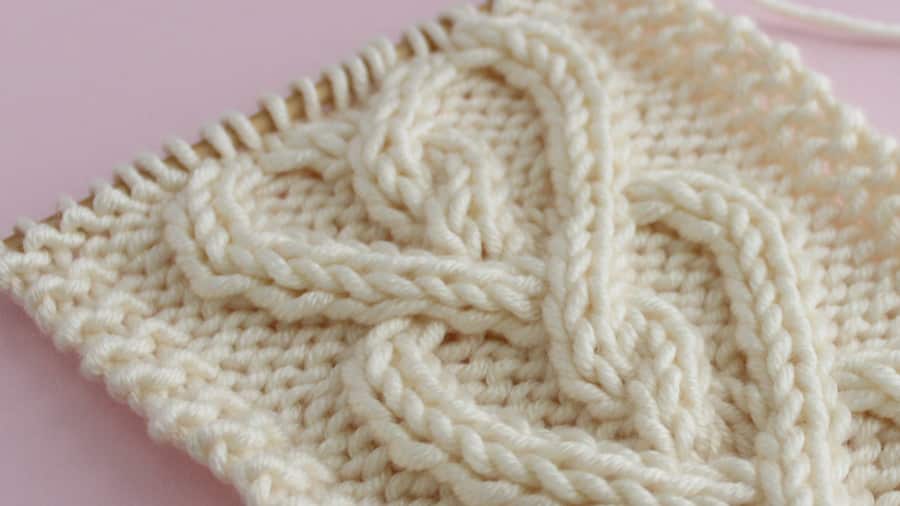 ---
CABLE HEART KNITTING PATTERN
Click to Play Step-by-Step Video Tutorial
---

PRINTABLE KNITTING PATTERN for the Cable Heart
WANT THE FREE WRITTEN PATTERN? Keep scrolling, it's up next!
GET PRINTABLE PATTERNS! Download my entire digital Knit Hearts Pattern E-Book to get this Cable Heart pattern, along with 5 more popular heart designs in one printable digital e-book.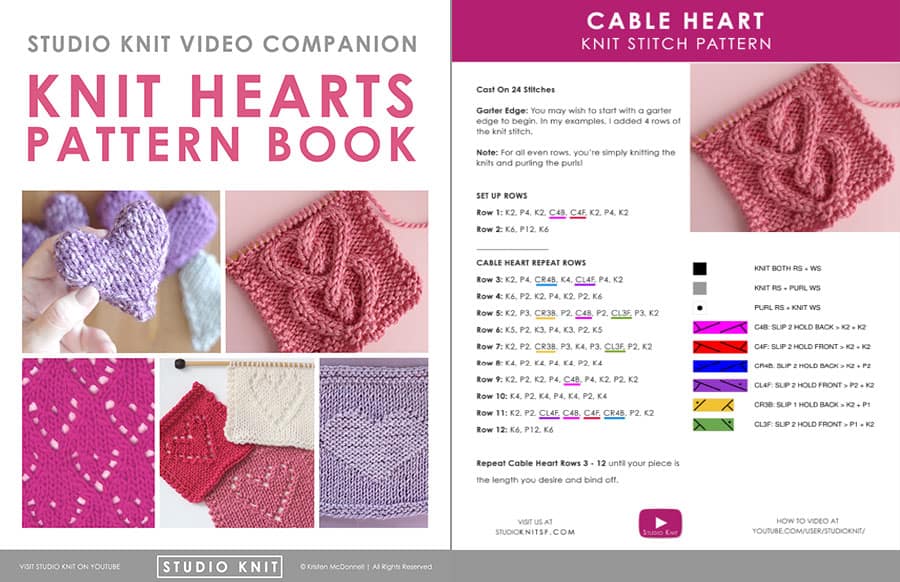 ---
TECHNIQUES + ABBREVIATIONS for CABLE HEART
Find my entire library of Knitting Techniques to help knit up this project.
There are 6 different cable stitches in this pattern. I have created the pattern with a color-coded system to easily discern the different cable stitches. Hope it helps you!
WATCH VIDEO FOR HELP WITH THESE CABLE STITCHES
C4B = Slip 2 Hold Back > Knit 2 + Knit 2 from Cable Needle
C4F = Slip 2 Hold Front > Knit 2 + Knit 2 from Cable Needle
CR4B = Slip 2 Hold Back > Knit 2 + Purl 2 from Cable Needle
CL4F = Slip 2 Hold Front > Purl 2 + Knit 2 from Cable Needle
CR3B = Slip 1 Hold Back > Knit 2 + Purl 1 from Cable Needle
CL3F = Slip 2 Hold Front > Purl 1 + Knit 2 from Cable Needle
---
WRITTEN INSTRUCTIONS for CABLE HEART
Cast On in Multiples 24
Garter Edge: You may wish to start with a garter edge to begin. In my examples, I added 4 rows of the knit stitch before starting the cable heart pattern.
SET UP ROWS
Row 1: K2, P4, K2, C4B, C4F, K2, P4, K2
Row 2: K6, P12, K6
_________________
CABLE HEART REPEAT ROWS
Row 3: K2, P4, CR4B, K4, CL4F, P4, K2
Row 4: K6, P2, K2, P4, K2, P2, K6
Row 5: K2, P3, CR3B, P2, C4B, P2, CL3F, P3, K2
Row 6: K5, P2, K3, P4, K3, P2, K5
Row 7: K2, P2, CR3B, P3, K4, P3, CL3F, P2, K2
Row 8: K4, P2, K4, P4, K4, P2, K4
Row 9: K2, P2, K2, P4, C4B, P4, K2, P2, K2
Row 10: K4, P2, K4, P4, K4, P2, K4
Row 11: K2, P2, CL4F, C4B, C4F, CR4B, P2, K2
Row 12: K6, P12, K6
Repeat Cable Heart Rows 3 – 12 until your piece is the length you desire and bind off.
---
KNITTING CHART for CABLE HEART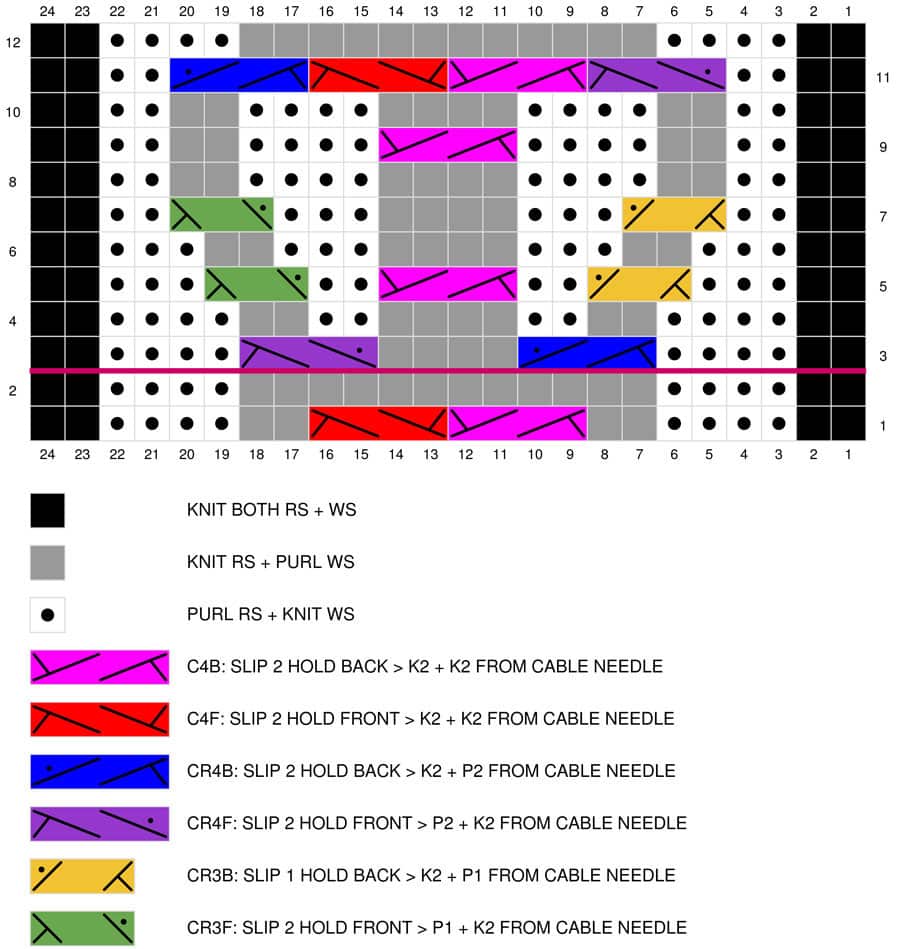 ---
THANK YOU FOR VISITING STUDIO KNIT
I hope you are inspired to give this sweet Cable Heart pattern a try in your next knitting project. For more knitting full of love, check out my 5 Most Popular Heart Knitting Patterns!
Please make sure you join my mailing list. Subscribing to my YouTube channel Studio Knit is another easy way for us to stay connected and help support my work for free.
Happy Knitting to You!