Hop aboard for my best air travel knitting needles tips! This is a great time to travel and I'm sure you would love to knit your favorite project on your next flight.
Find out if you can carry-on knitting needles and in which countries they are easily allowed on airlines. So, let's take a look at all of your allowed knitting tools before take-off!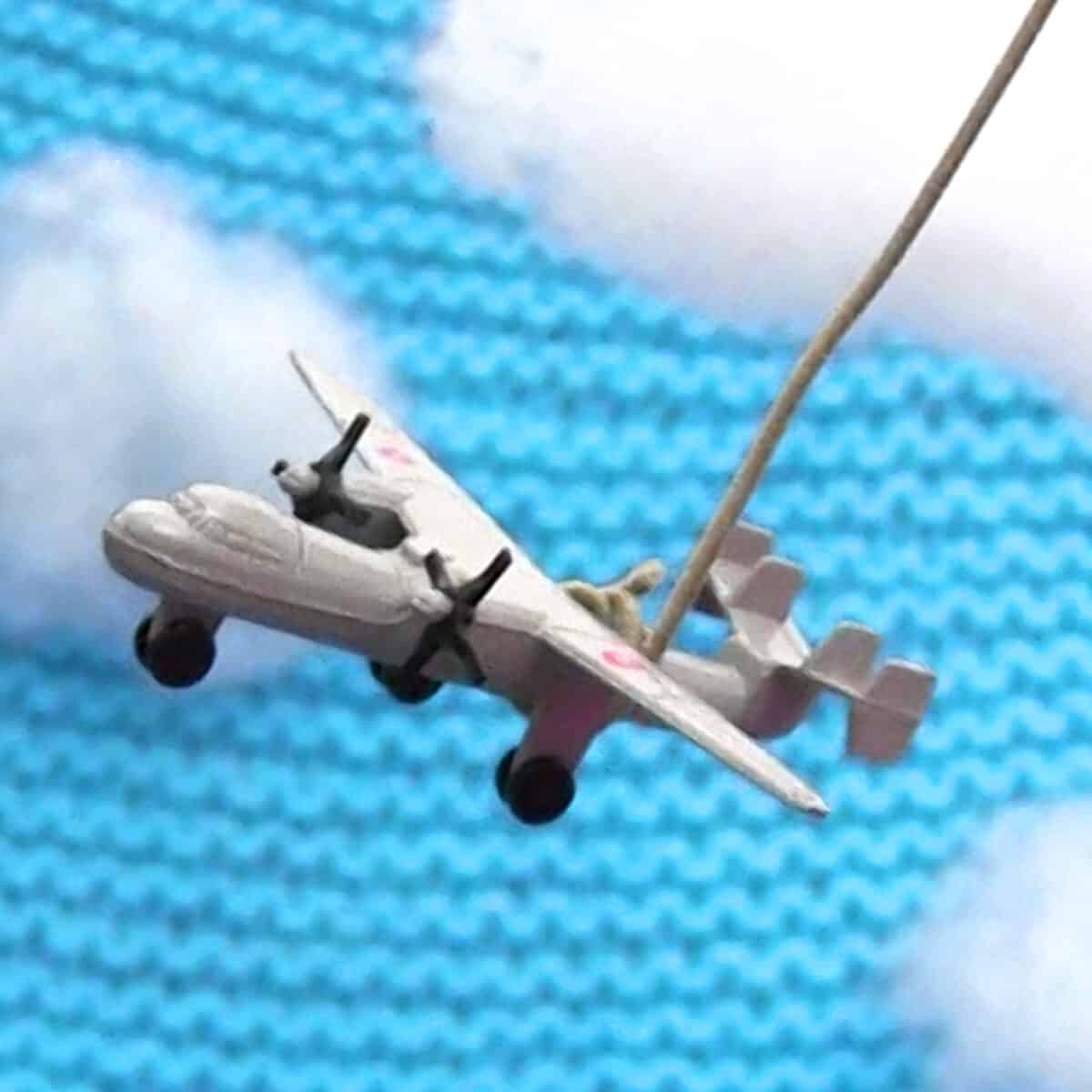 ---
TRAVEL KNITTING ITEMS CONFISCATED BY TSA
Which of the knitting items below do you think were confiscated by TSA on my last flight? This is a little game I like to call the 'TSA TRAVEL CHALLENGE FOR KNITTERS.'
It was this cute little yarn cutting pendant that got confiscated. I suppose they do not appreciate weaponized jewelry…. whoops! The thing is, I feel like a superhero with this little gadget, being able to cut yarn with this little pendant on my necklace, but I learned my lesson.
---
TSA APPROVED KNITTING NEEDLES
None of these rules are hard and fast and they often change, especially with a TSA agent's disposition that day. So, let's look at the ways to maximize our opportunity that we will be able to carry our favorite knitting tools onto our plane.
KNITTING NEEDLES IN THE USA
Luckily, knitting needles are totally fine! Hooray! The preferred knitting needle materials are plastic or wood, rather than metal.
There's no specific length limit. However, when it comes to tools, TSA seems to prefer any tool under 7 inches. If you can knit with really short needles, that's great.
Circular needles are your perfect choice. They really seem to treat those less like daggers if a vampire happens to be on the plane. And you can knit with circular needles exactly as you do with your straight needles. So, that is a really good bet, especially with these really cute bamboo circular needles.
INTERNATIONAL AIR TRAVEL WITH KNITTING NEEDLES
The United States, United Kingdom, and Canada specifically allow knitting needles in your carry-on. Before flying abroad to or from other countries, check out this wonderful official policy on knitting needles as carry-on baggage by country that my friends at Knitting Needle Guide have compiled for you!
SCISSORS
Yes, you actually can carry scissors! If you want to be extra safe, bring nail clippers instead.
They prefer scissors to be 4 inches in length or less and to be very considerate to your TSA agent, it is preferred to wrap the pointy edges of any tools that you're bringing so that they don't accidentally poke themselves.
GETTING TAPESTRY NEEDLES THROUGH SECURITY CHECK-POINTS
Little tapestry needles, as well, are totally fine. Just make sure that they're packed in something that will not poke your friendly TSA agent at all.
PACKING YARN FOR TRAVEL
You can bring any kind of yarn you want! Basically, weight restrictions are really the only thing that holds me back from packing as much yarn as I possibly can.
I always like to pack my yarn in plastic and then into a little travel bag because if it's being handled, I really don't like the idea of other people touching my yarn.
TRAVEL PACKING HACK FOR KNITTERS
If you want to be super prepared, do not pack anything that has great sentimental value or is super expensive. You could also bring a self-addressed stamped envelope, like a padded envelope, and then if anything like my little pendant does get confiscated, you can slip it into that, mail it back home.
LEARN MORE ABOUT TODAY'S TRAVEL RULES FOR KNITTERS
Transportation Security Administration – TSA Prohibited Items List
---
HAPPY TRAVELS, KNITTERS!
Whether it is a quick little island-hop or a long international flight, I hope you feel a little bit more prepared to board your flight with appropriate knitting tools that are totally allowed on your plane. Thanks so much for visiting and happy travels!
If you'd like even more great knitting ideas, please make sure you join my mailing list. Subscribing to my YouTube channel Studio Knit is another free and easy way for us to stay connected and help support my work.
Happy Knitting to You!