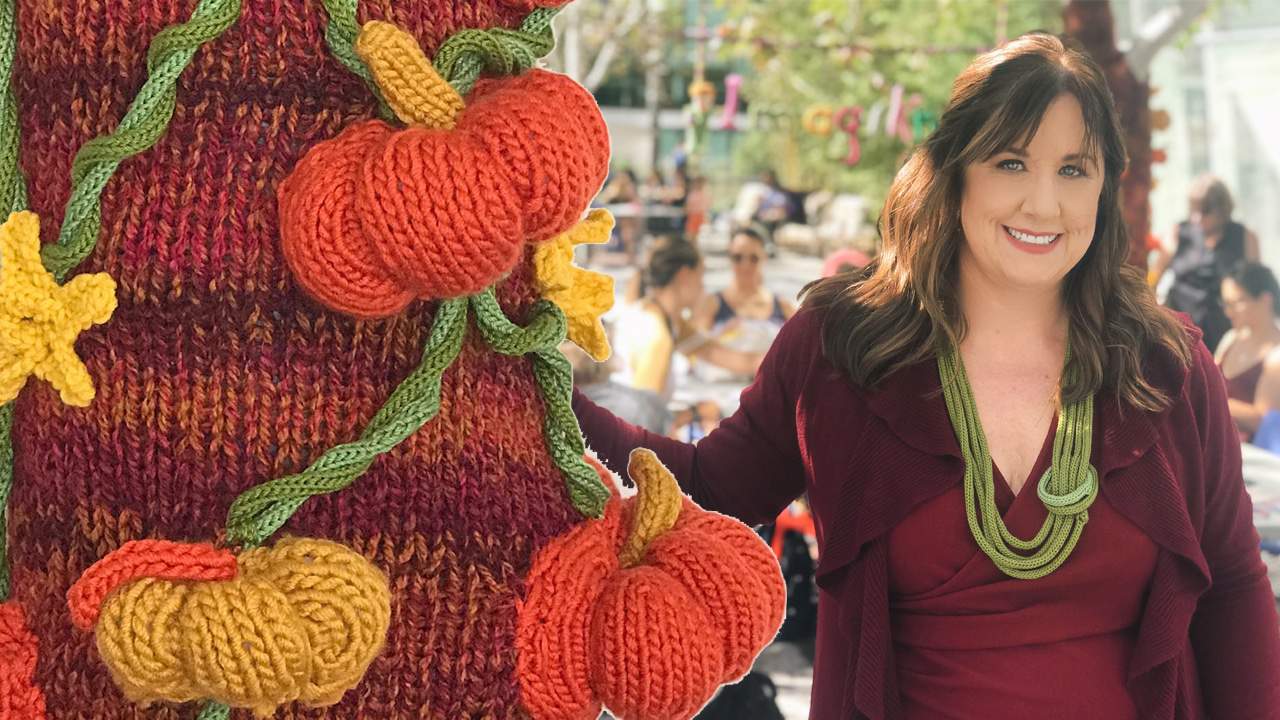 YouTuber Studio Knit Yarn Bombing in Salesforce Park
San Francisco resident Kristen McDonnell of YouTube channel "Studio Knit" presented her hand-knit public art installation commissioned by Salesforce Park, the public park atop Salesforce Transit Center. On display from October 19 through 31, 2019, the whimsically yarn-bombed trees surrounded the Art Cart in the park's Main Plaza.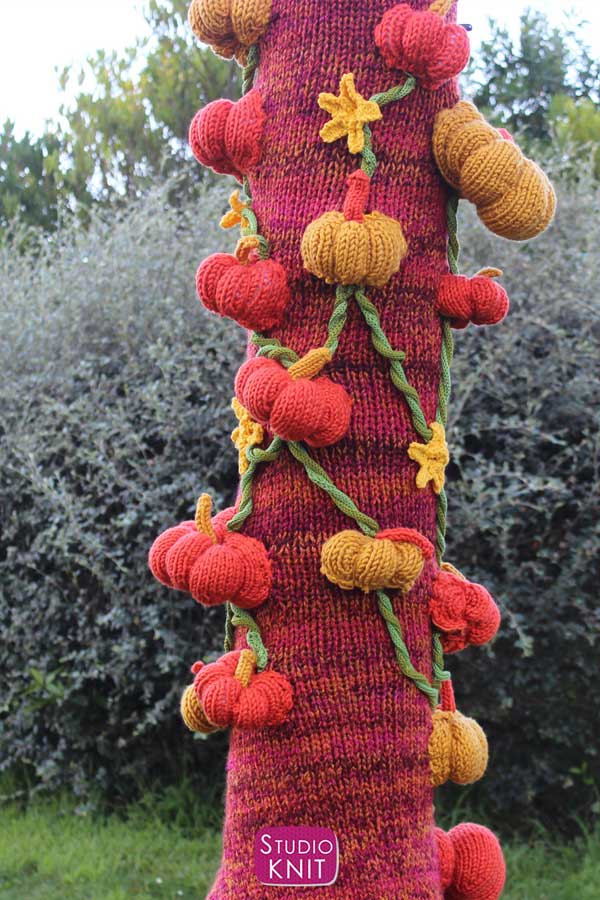 ---
Public Art Display of Hand-Knitted Yarn-Bombed Trees by fiber artist Kristen McDonnell
Salesforce Park managers selected McDonnell to create a knitted Halloween-themed exhibit in one of the park's botanical feature areas. While touring the park during its 2017 construction phase, McDonnell was impressed by the hundreds of live trees being hoisted by cranes seventy feet above the Grand Hall. "There is just one thing missing from this stunning array of plant life," she thought, "— A Pumpkin Patch!"
Kristen began designing her project to delight park visitors. She began by measuring each of the trees. Both the heights and circumferences of each tree were noted, making sure to get the measurements of their bases, mid-sections, and highest points.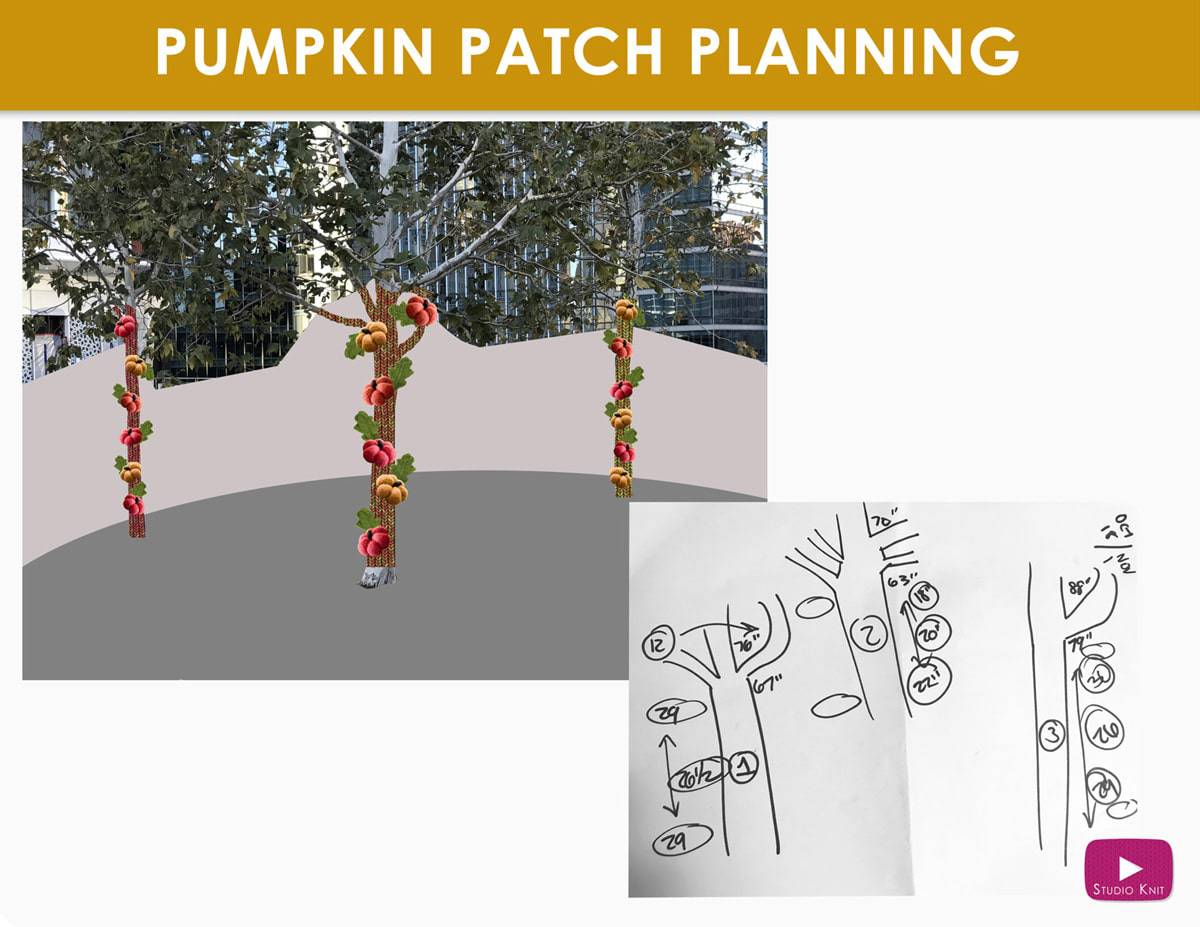 Using over 16,000 feet of high-quality, vibrant acrylic yarn sourced at local knitting shop "Imagiknit," she has spent over 300 hours knitting 180,000 stitches by hand. Trees will be wrapped in multi-colors of harvest corn and adorned with vibrant three-dimensional pumpkins, vines, and flowers.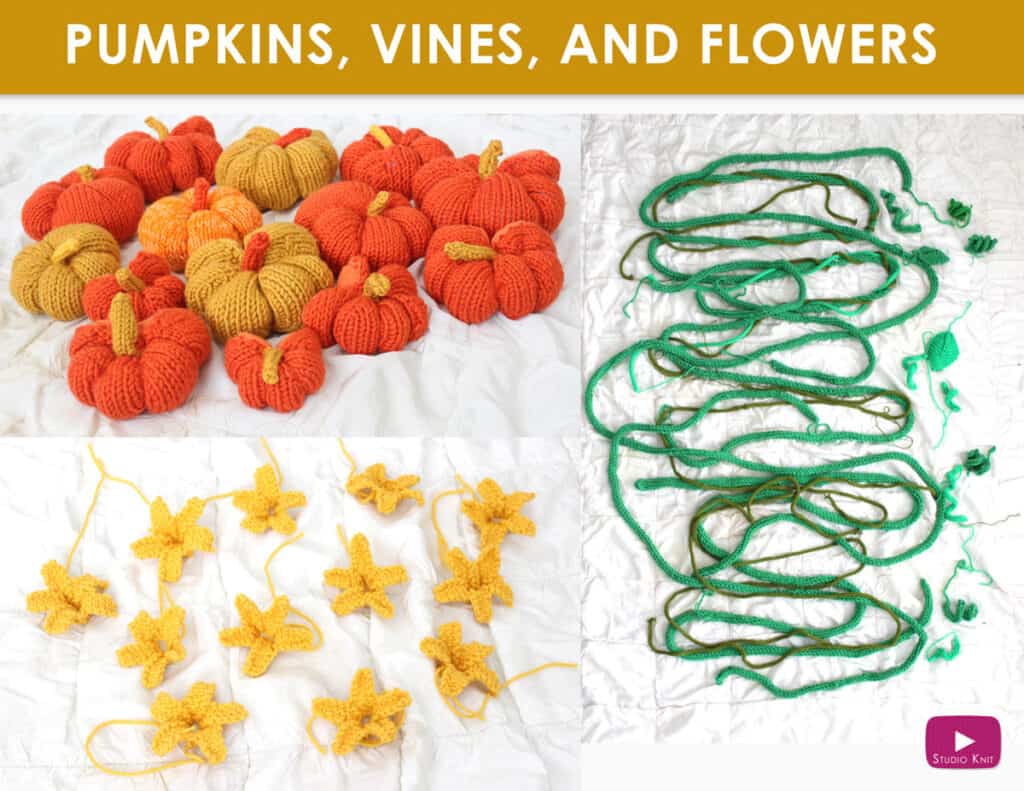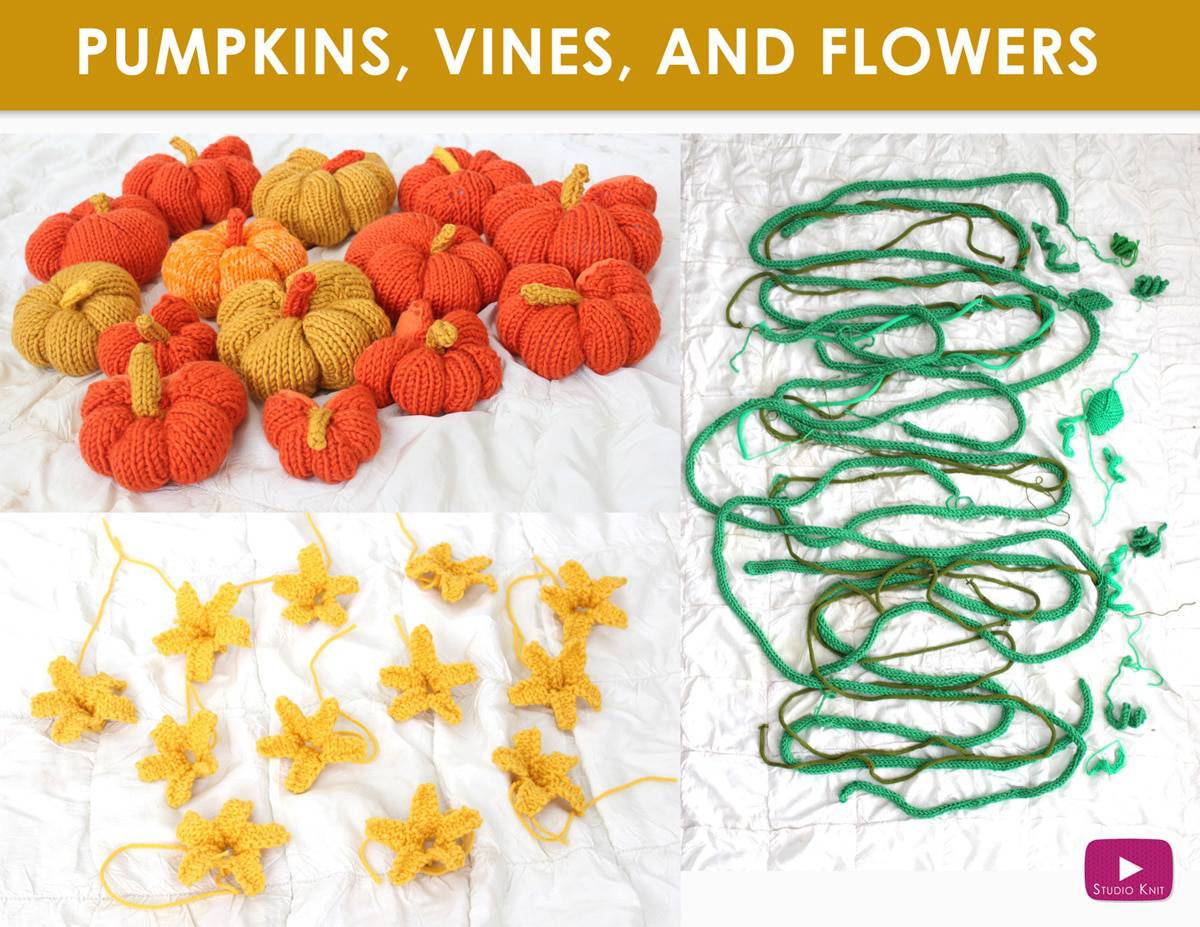 Visitors enjoyed "The Knitted Pumpkin Patch Forest" from October 19th through the 31st, 2019. To meet Kristen McDonnell in person and learn about her creative process, the public attended the park's Beginner Knitting program on October 23, 2019 from 1:00 to 2:30 pm.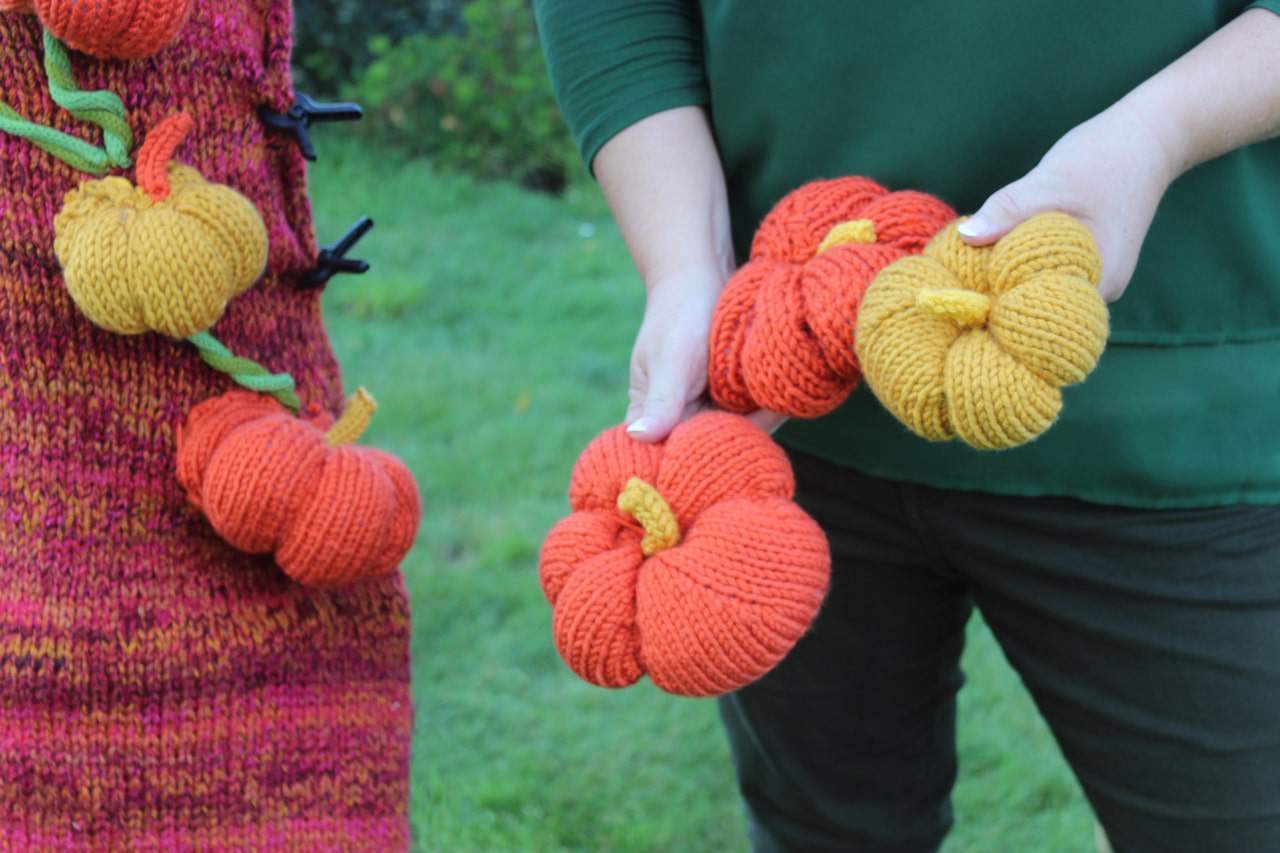 ---
WATCH VIDEO OF CREATIVE PROCESS TO YARN BOMB TREES
---
ABOUT STUDIO KNIT CREATOR KRISTEN MCDONNELL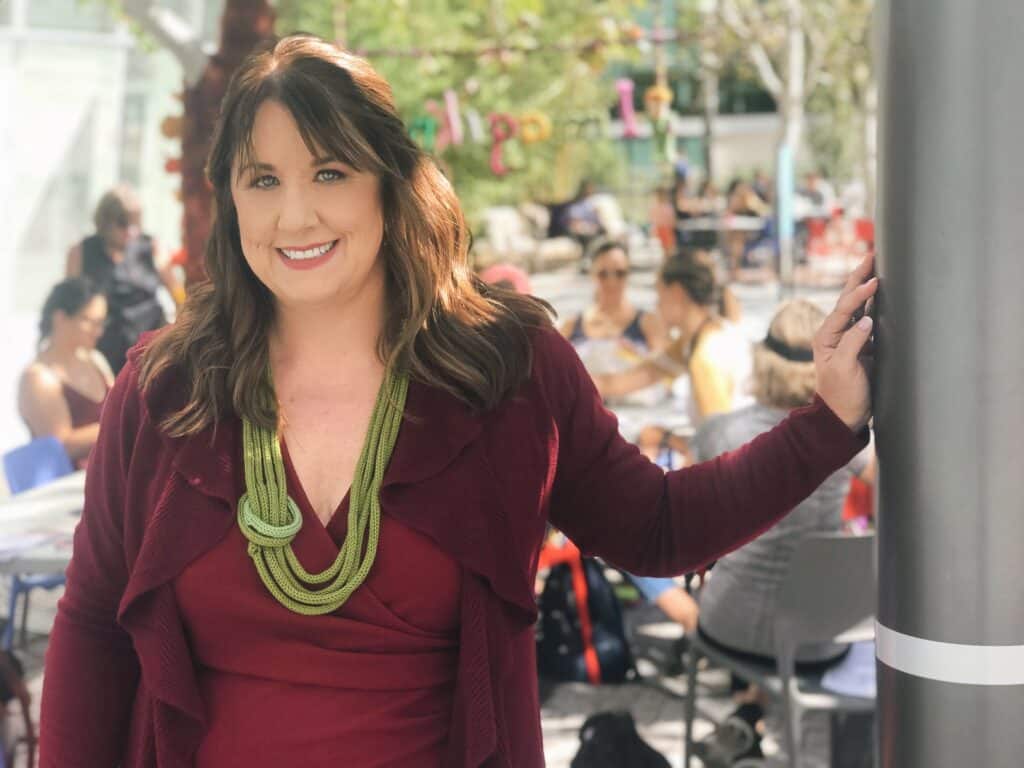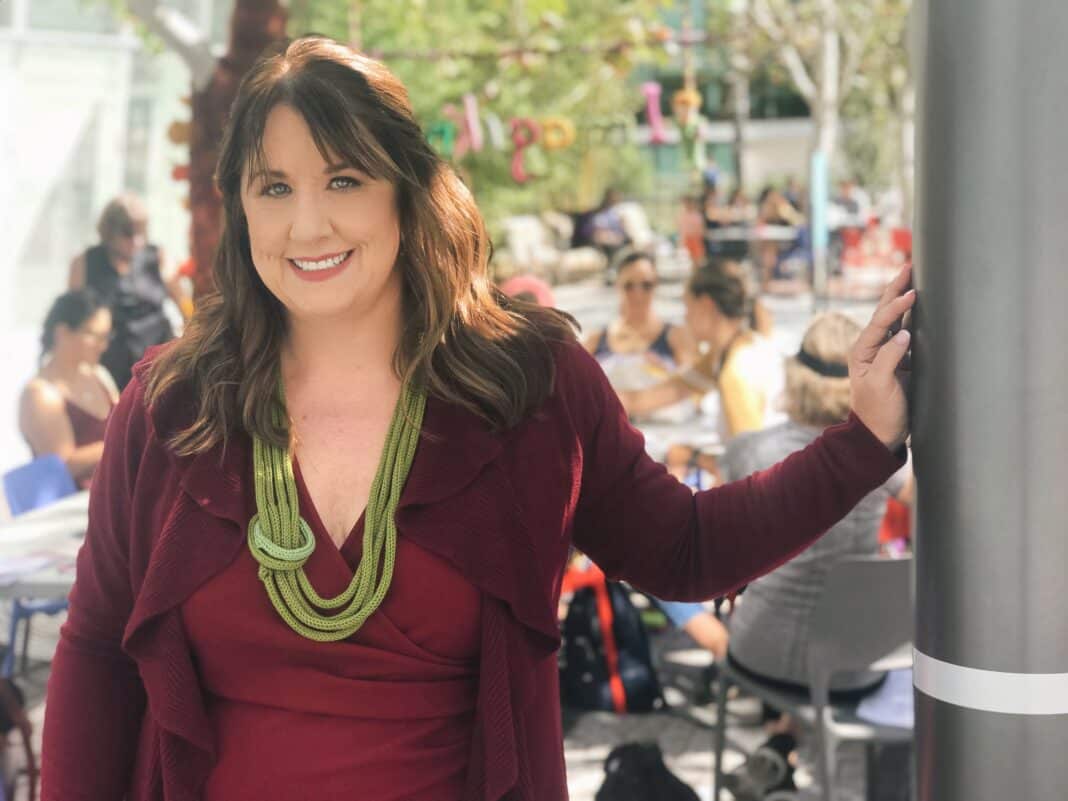 San Francisco resident Kristen McDonnell founded the popular YouTube channel Studio Knit in January 2014. Today with over 17 million video views, her accolades include being named 'Best Knitting Feeds on Instagram and YouTube' by Mashfeed, 'Five Emerging Crafts/DIY Channels on YouTube' by Video Ink, and '7 Top Growing YouTube Channels by Women' by Video Influencers. A 2016 YouTube NextUp graduate, she has recently been the knitting host for JOANN and Yarnspirations. Her professional success is currently featured in the October 2019 issue of First for Women.
---
GET FREE KNITTED PUMPKIN PATTERN
Knit up pumpkins easily flat with straight needles and any yarn fiber of your choice. This free knitting pattern also includes my fun video tutorial that gives you an overview of everything you need to know, so make sure to get your free knitted pumpkin pattern now.
---
ABOUT SALESFORCE PARK
Salesforce Park is a 5.2-acre rooftop park with free events and activities; programming year-round, open daily. Seventy feet above the Grand Hall, the Park runs the entire length of the Transit Center's nearly four-block stretch. Home to 600 trees and 16,000 plants arranged in 13 different botanical feature areas, the newest public park in the San Francisco Bay Area is for the benefit and enjoyment of all… and there's nothing else like it anywhere.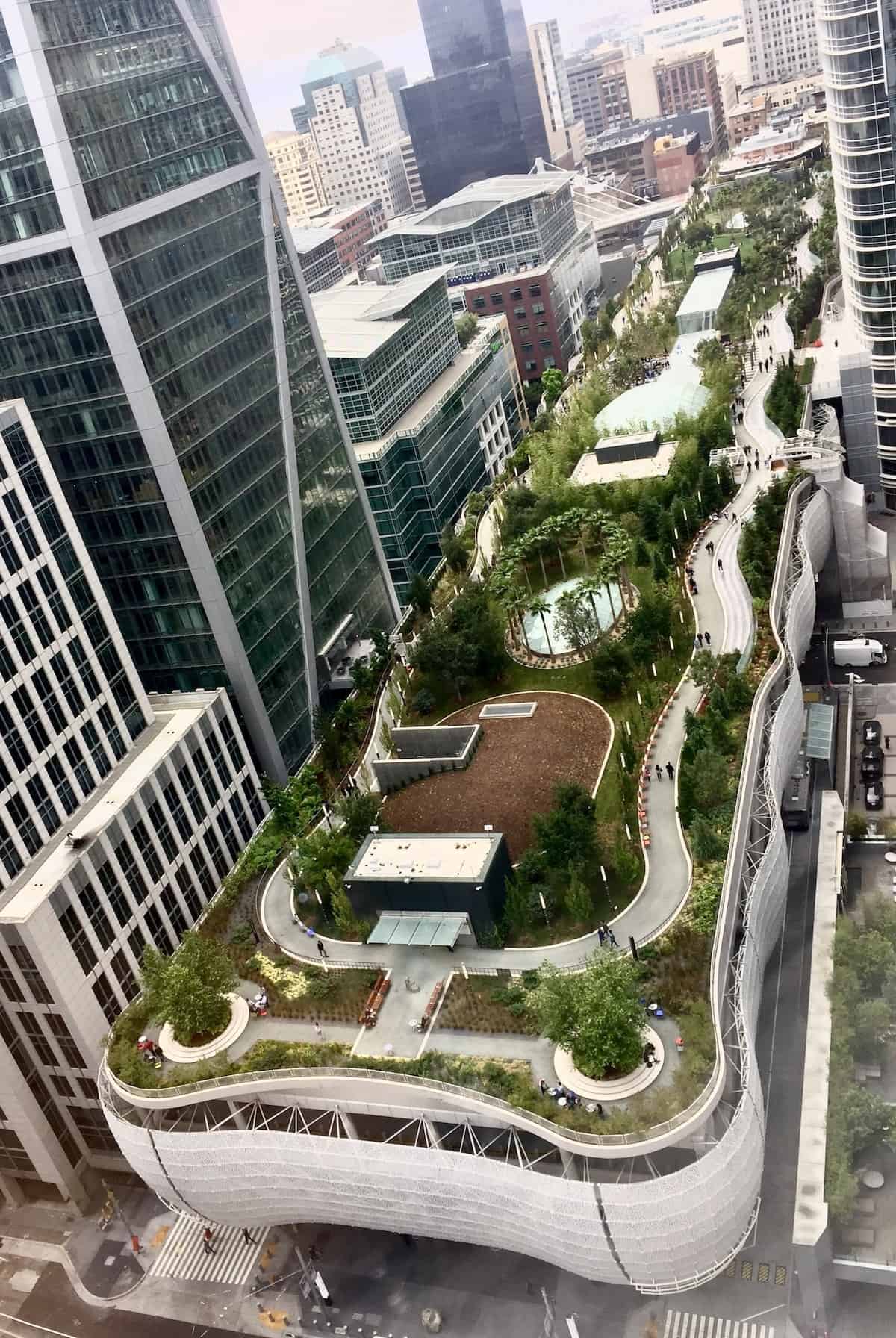 ---
STUDIO KNIT'S YARN BOMBING EVENT DETAILS
WHAT: Public Art Exhibit "The Knitted Pumpkin Patch Forest"
Created by Kristen McDonnell from YouTube Channel "Studio Knit"
Free Admission!
WHERE: 425 Mission Street, San Francisco, CA 94105
Salesforce Park's Main Plaza, atop Salesforce Transit Center
Visit Salesforce Park's website for more information
VISIT EXHIBIT: October 19 – October 31, 2019 between 6 am – 9 pm
MEET-UP IN PERSON WITH KRISTEN: October 23, 2019 from 1:00pm – 2:30pm
---
PRESS AND MEDIA
PRESS RELEASE: YouTuber "Studio Knit" Exhibits Pumpkin Patch Forest at Salesforce Park
PHOTO OPPORTUNITY: October 23, 2019 from 12:00pm – 3:30pm
CONTACT: Kristen McDonnell
Email kristen at studioknitsf.com
---
THANK YOU FOR VISITING STUDIO KNIT
I hope you are inspired to visit my upcoming knitting installation of a pumpkin patch forest at Salesforce Park in San Francisco!
If you'd like even more great knitting ideas, please make sure you join my mailing list. Subscribing to my YouTube channel Studio Knit is another free and easy way for us to stay connected and help support my work.
Happy Knitting to You!