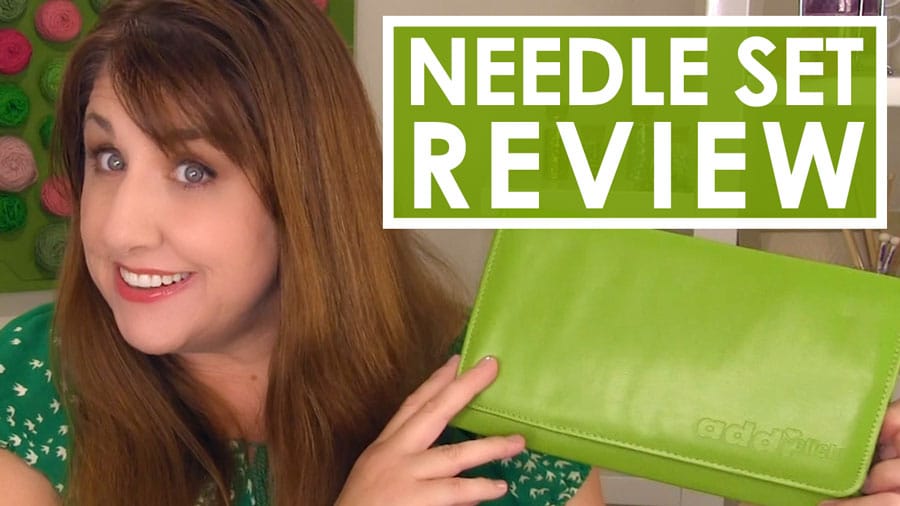 Find out how Interchangeable Knitting Needles can help you stay organized while being budget-friendly in the long run. This Addi Click set creates 24 different circular knitting needle combinations. Purchasing this set, rather than individual needles, helps you save money, is great for travel, and the high quality of the needles makes knitting with them a pleasure!
As an Amazon Associate I earn from qualifying purchases.
This needle set is available to buy now from my Studio Knit Shop over on Amazon at a great price with Prime Membership free shipping.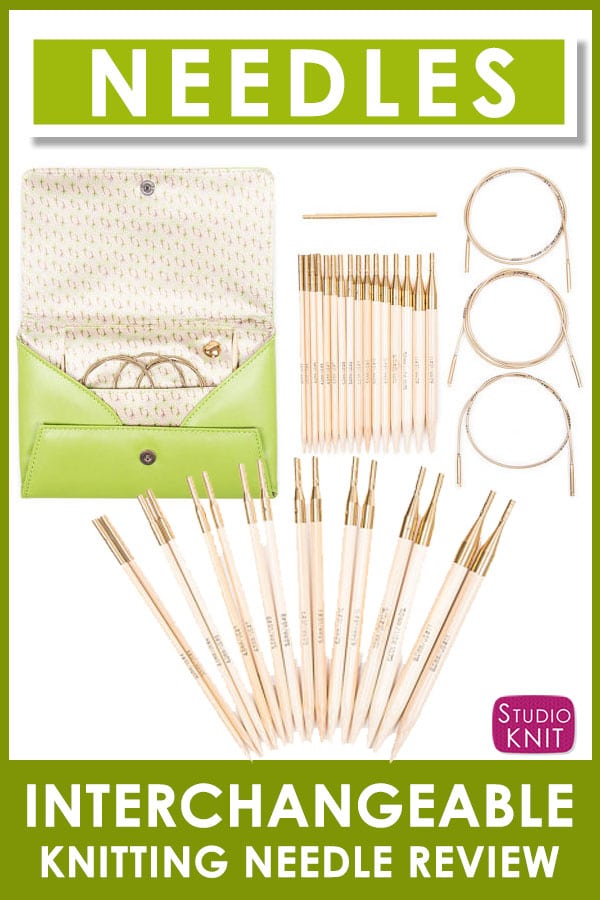 ---
CLOSER LOOK at Interchangeable Knitting Needles
Let's take a closer look at the Interchangeable Knitting Needle Set that I just bought. I am reviewing a the Addi Click set by a company based in Germany. I have unboxed this before reviewing the set because I wanted to have a chance to knit with them and make sure they were as good as I hoped. And, hooray, the Addi Click set actually exceeded my expectations!


If you are new to knitting in the round, I have a great post and video all about how to knit on Circular Knitting Needles in 5 Easy Steps.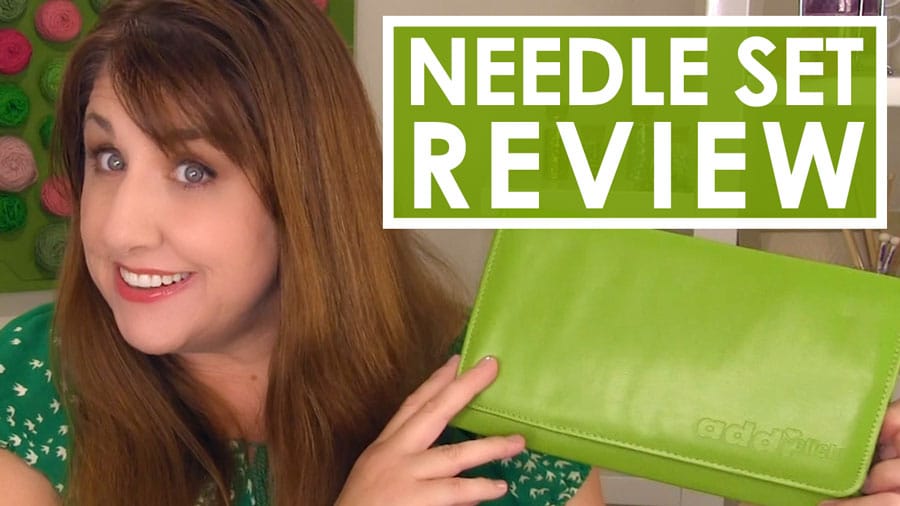 ---
UNBOXING Interchangeable Knitting Needles
For starters, right out of the Addi Click box, you'll receive a couple of brochures that show you exactly how to use them. They're in the languages of German English and French. The set comes in a cute little purse. The company name "Addi Click" is embossed on the front. Turning it to the back, you'll find a zipper that holds some goodies. I love this avocado green case color. It seems like right now it only comes in this one color without other color options.
If we flip the case to the back, we can open up the zipper to find more goodies. You'll find three different lengths of cords. The shortest is 24″, the middle size is 32″, with the largest at 40″ in length. I like to knit with a 16″ length, which isn't included in this kit, but they do offer it as an add-on, so I'm going to order it. I love the 16″ length to knit up hats.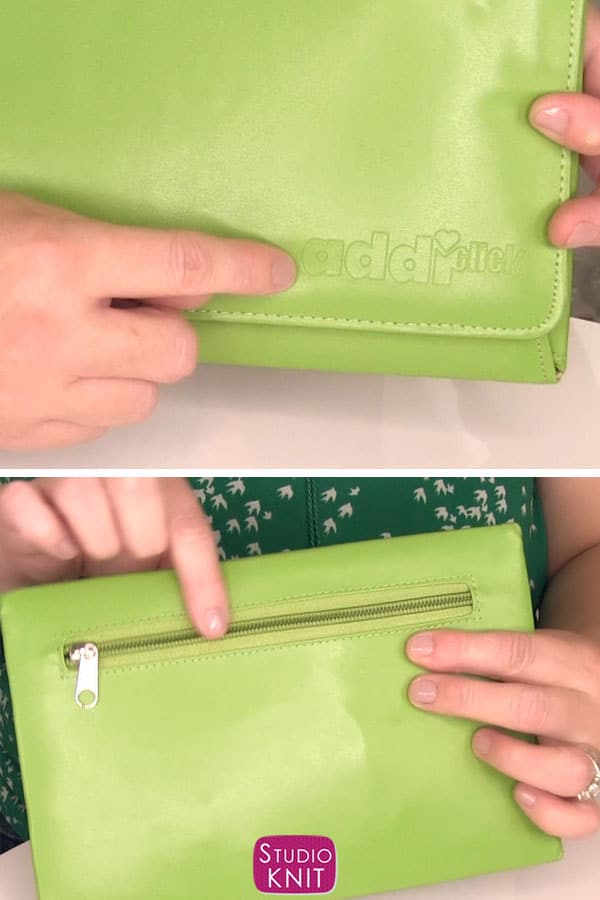 As soon as you begin to open it, you'll see that it opens and unfolds with snaps to stay tightly closed. And look, they've included jewelry of a gold heart pin with a little rhinestone. I suppose we can all wear it and be in our own Addi Click Clique. Very sweet little bonus!
The interior of the knitting needle case is lined in really pretty satin with a light pink and green graphic pattern design. A little flap of material is protecting our needles which are all held in place with a band of elastic. You can easily keep your knitting needles organized by taking them out and putting them right back in where they belong.
The different knitting needle sizes included are placed from smaller to larger sizes. They range from US sizes 4, 6, 7, 8, 9, 10, 10.75, and 11.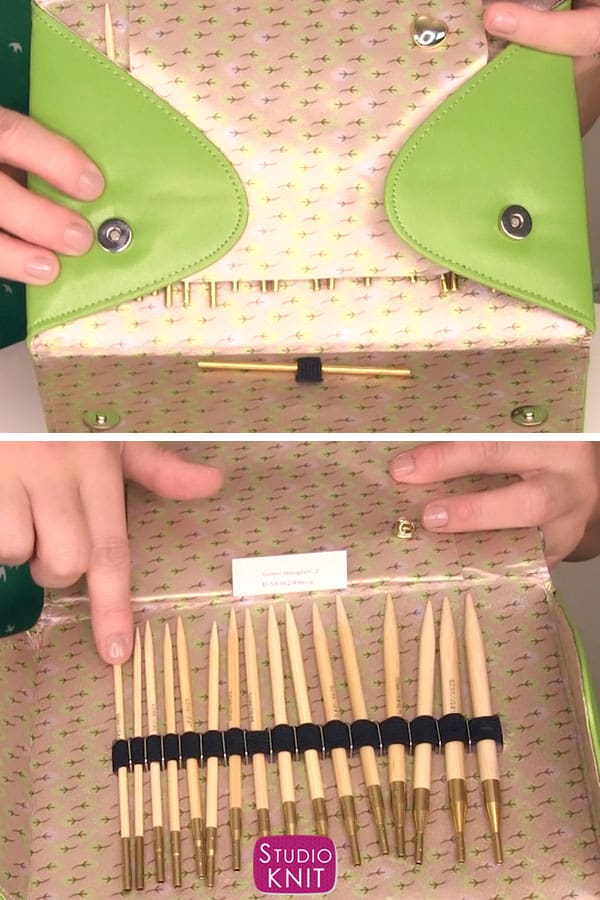 ---
CONNECTING Interchangeable Knitting Needles
Let's take a look at how Interchangeable Knitting Needles fit together. First, let's select our needle size and then the length of your cord. Take the cord in one hand and your needle in the other. The cord inserts into the needle and pressing lightly, you'll feel that there's a little bounce like a little spring is in there. So, lightly press your needle within the cord, twist it to the right, and you'll hear that it clicks in place.
Your kit also has one little connector for your cords. It's a little gold bar held in place with elastic at the bottom. It connects your cords to make an even longer cord.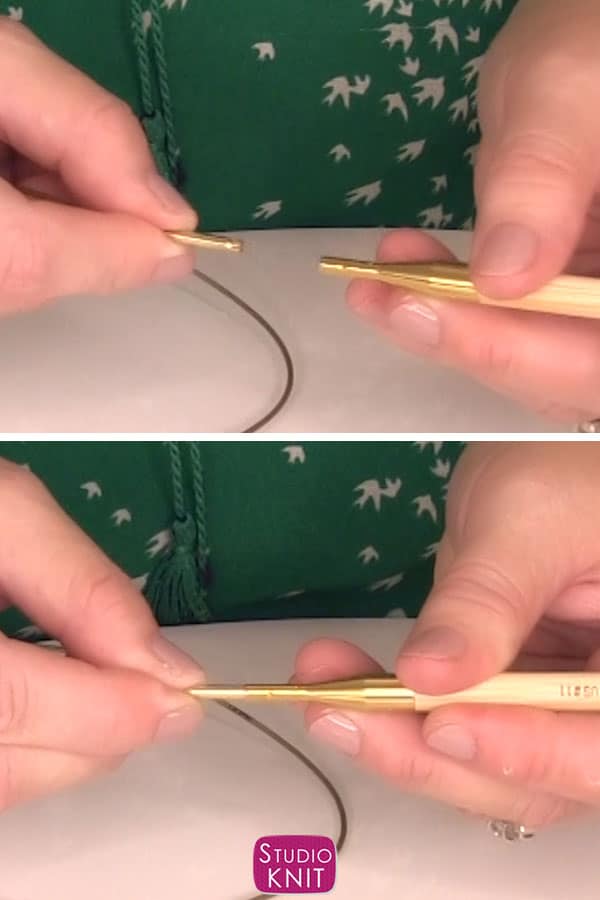 To release your needle from the cord, again just press straight inward a little bit, twist it the opposite way to the left, and pull apart. If your fingers are a little bit sweaty, they included little rubber grips to help with the connection process.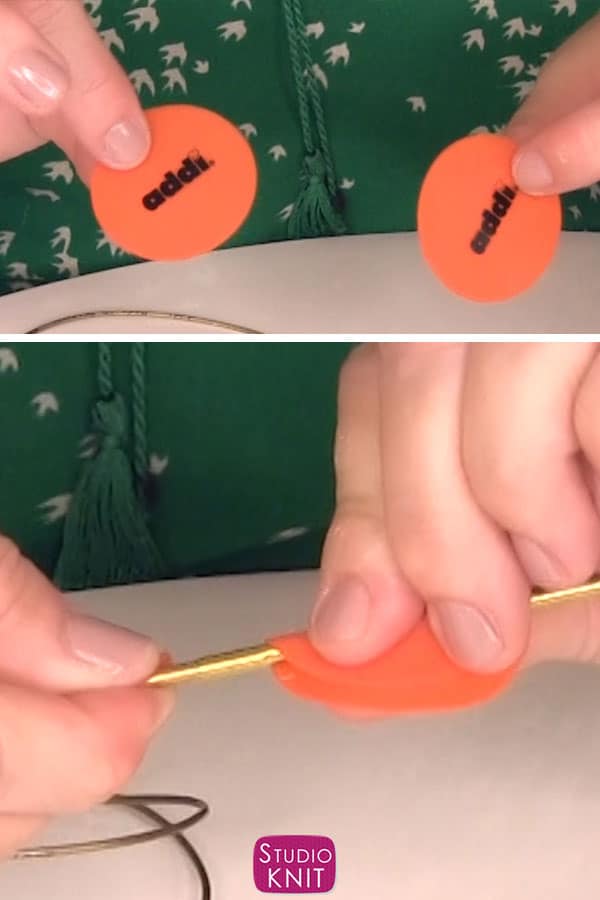 ---
TESTING Interchangeable Knitting Needles
I've been knitting up a new baby blanket this week using this Addi Click set with great success. The smooth wooden bamboo needles feel great in my fingers and along the yarn. The connection between the needles and the cords is tight and hasn't loosened, giving me a lot of confidence. The join area between the two remains smooth and catch-free.
---
BUDGET VALUE of Interchangeable Knitting Needles
Individual Circular Knitting Needles
I have a stash of many circular needles. Some are special to me because they were passed down from my late grandmother who was an amazing knitter. But overall, it's a total mishmash and I do not have a good inventory of my sizes and lengths of circular needles.
If each circular needle is approximately ten dollars, and I have about twenty in my stash, so what I've collected is well over $200. From these individual pairs, I definitely do not have the 24 individual combinations that the Addi Click set provides. When it comes to organization and cost, having an interchangeable circular needle set it definitely wins out.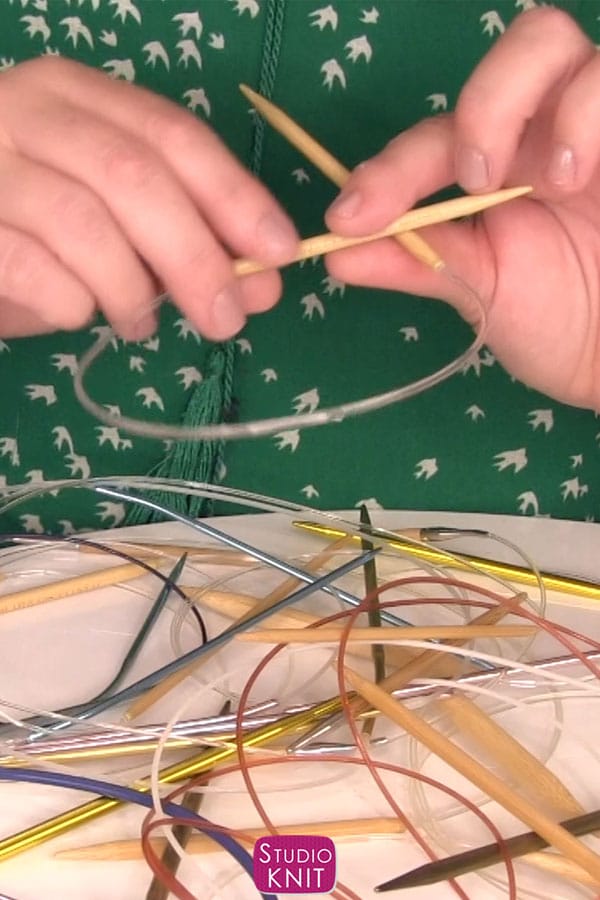 About Cheaper Interchangeable Knitting Needle Sets
A few years ago purchased a really cheap plastic interchangeable circular needle set. I wound up never using it because the yarn would catch on the little connectors and the cords would accidentally twist just a little bit and release my needle in the middle of knitting. So, I got really frustrated and they found their way into the recycling bin. This is just to say that although there are cheaper options than the Addi Click set I'm recommending, but you might regret getting them if they're not really good quality and make knitting more difficult than easier.
---
PURCHASING Interchangeable Knitting Needles
If you are interested in getting your own set of Interchangeable Knitting Needles, I suggest that you first go to your local yarn shop, see what they have, and what they recommend for you.
The big-box craft stores usually do not have the higher quality interchangeable knitting needle sets in stock, so I am including online links to purchase your Addi Click set over on Amazon.
Check out my Studio Knit Shop on Amazon! I have all of my favorite knitting items that Amazon currently has in stock. I continually search through Amazon and include lots of really great quality knitting tools at a great value for your future projects. I've also selected products available on Prime so that you can get free shipping if you're a Prime member, as well. Please check it out to find fun little gifts that you can give to yourself you can add to your wish list.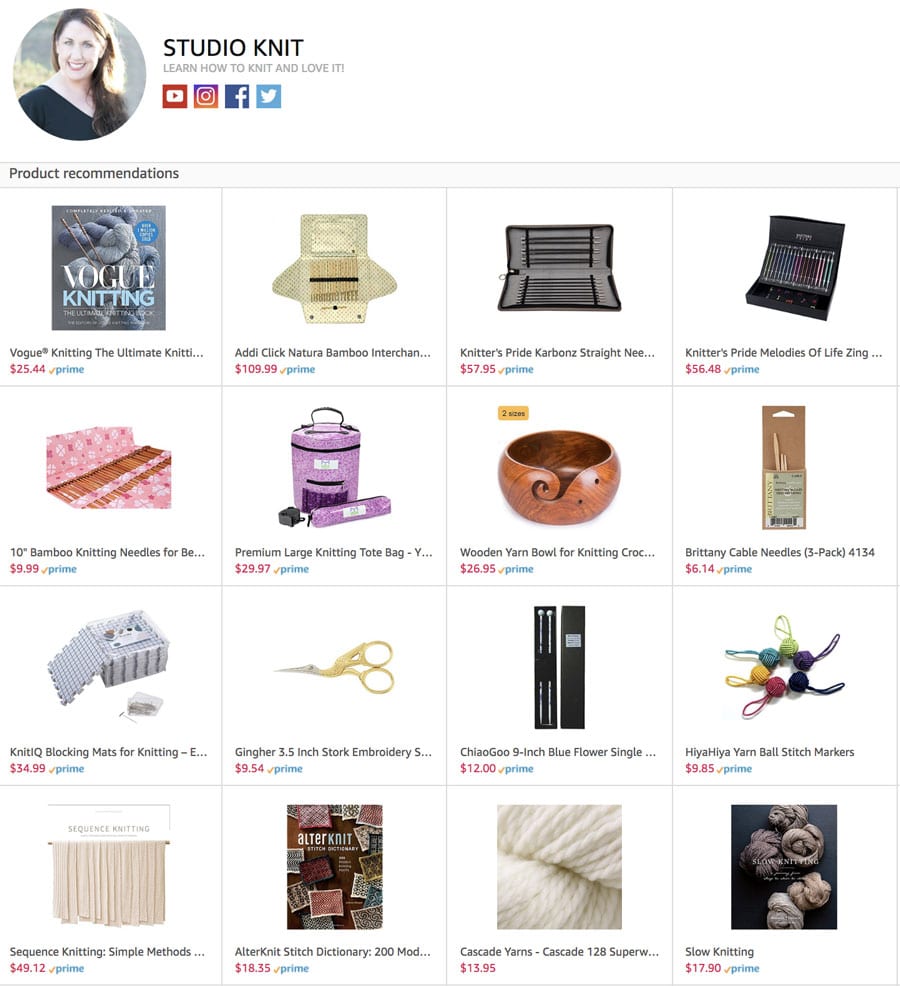 ---
WATCH VIDEO TUTORIAL
Interchangeable Knitting Needles Review of Addi Click
For a complete tutorial of this knitting idea, you can watch my video. Subscribe to my YouTube channel Studio Knit for more fun knitting ideas!
---
THANK YOU FOR VISITING STUDIO KNIT
I hope you are inspired to select your own set of interchangeable knitting needles your next project.
If you'd like even more great knitting ideas, please make sure you join my mailing list. Subscribing to my YouTube channel Studio Knit is another easy way for us to stay connected and help support my work for free.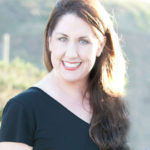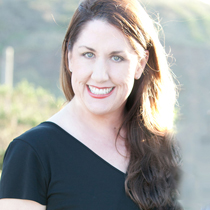 Happy Knitting to You!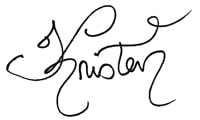 ---