Fleur De Lys Stitch Knitting Pattern
This Fleur de Lys stitch knitting pattern creates a vibrant tapestry of colors coming together to form an elegant and timeless motif. The stylized French Lily design emerges beautifully within a smooth stockinette texture using stranded colorwork to create the little upsidedown "Vs" of the stitches.
Get your free printable written pattern instructions, video, and knitting chart below.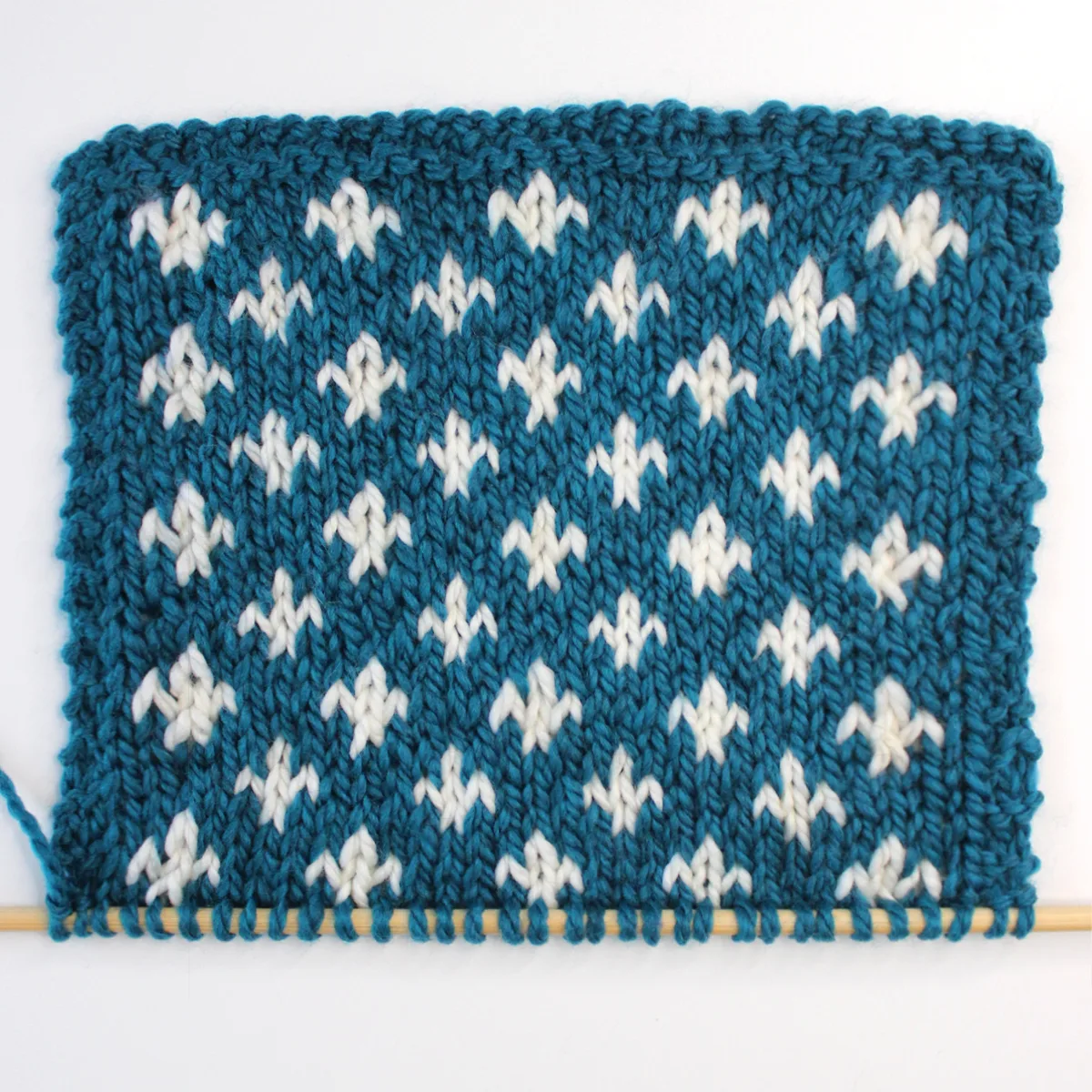 About the Fleur de Lys Stitch
Fleur de Lys Symbol
The fleur de lys means "lily flower" in French. This design has been a symbol of royalty, goodness, and grace for ages because its three petals stand for faith, wisdom, and chivalry. Whether on royal flags, fancy buildings, or beautiful fabrics, the fleur de lys keeps on inspiring us with its timeless beauty and meaning.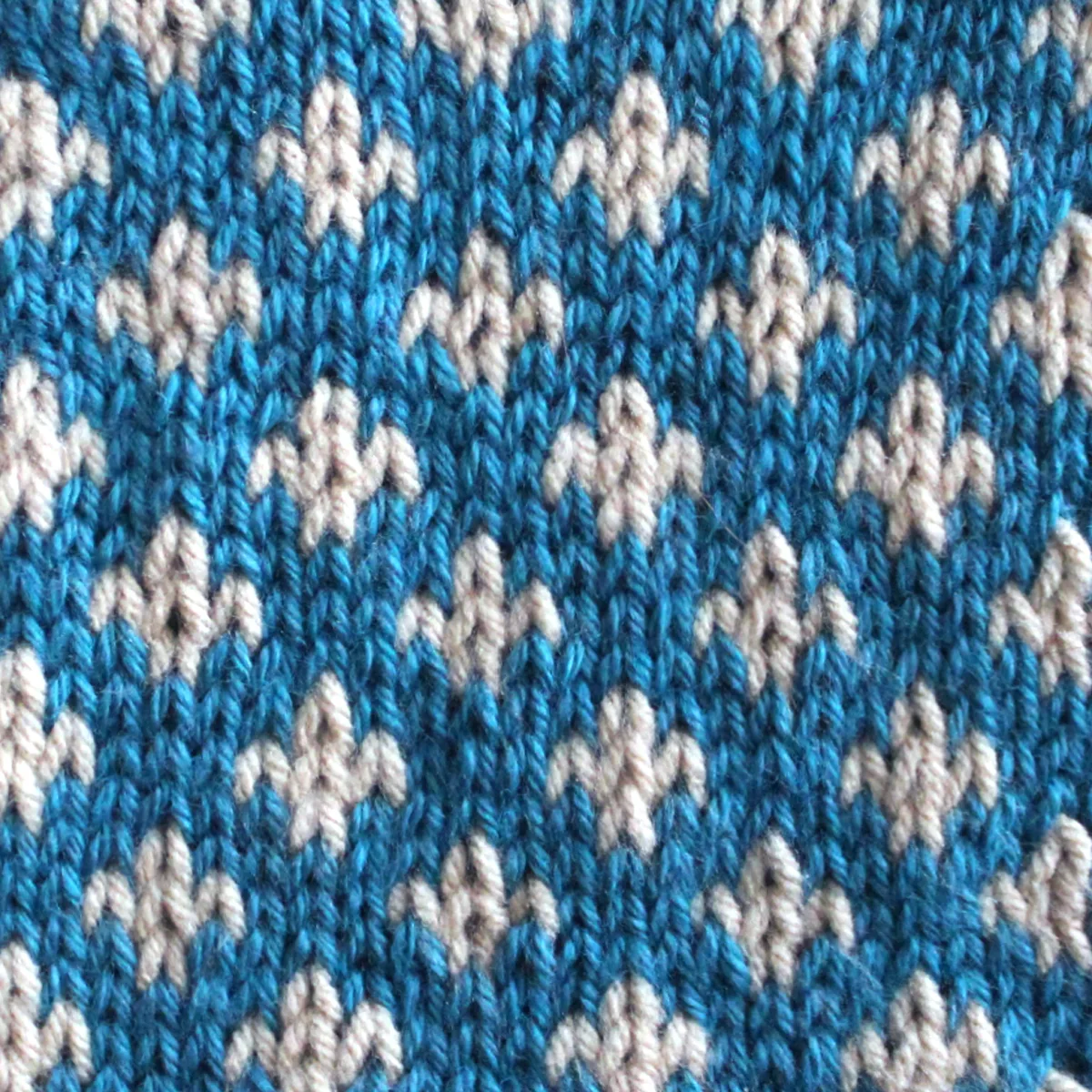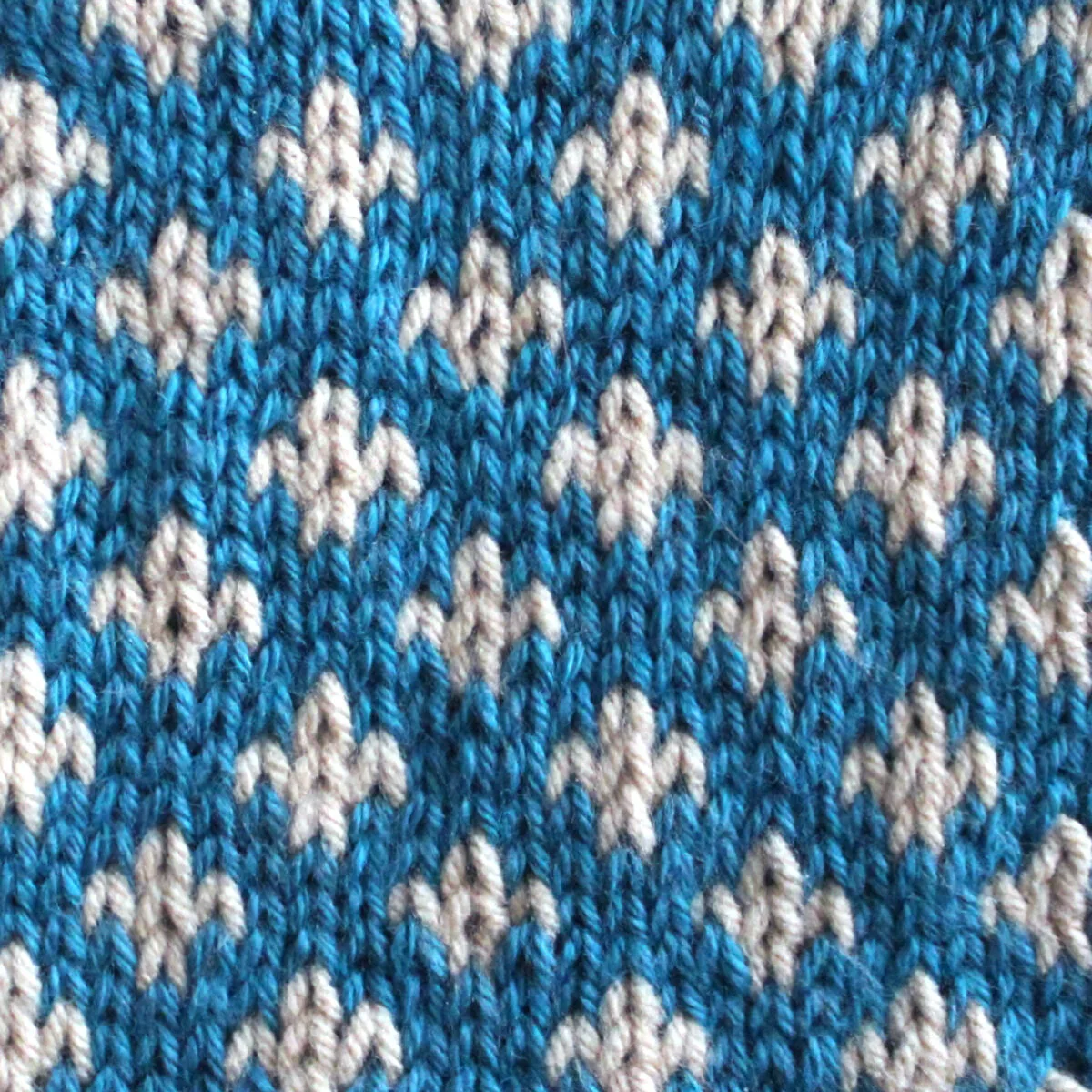 Knitting Level: Intermediate
A series of easy knits and purls and colorwork in two yarn colors create this design. This is a good project for knitters comfortable with carrying yarn floats.
Row Repeat
Knit up this Fleur de Lys Stitch in a simple 6-row repeat with two different yarn colors.
Knitted Top-Down
Most knit stitch patterns are bottom-up, however, we are knitting this design top-down. The "Vs" of the stockinette stitch creates the classic flower design when viewed upside down. When knitting hats or other items that have a clear vertical direction, please keep this unique directional change in mind.
Can stranded colorwork stitches be knit in the round on circular needles?
Yes, with a simple adjustment to the even-numbered rows, this pattern includes written instructions to knit it in the round. Try it out with either circular or double-pointed needles.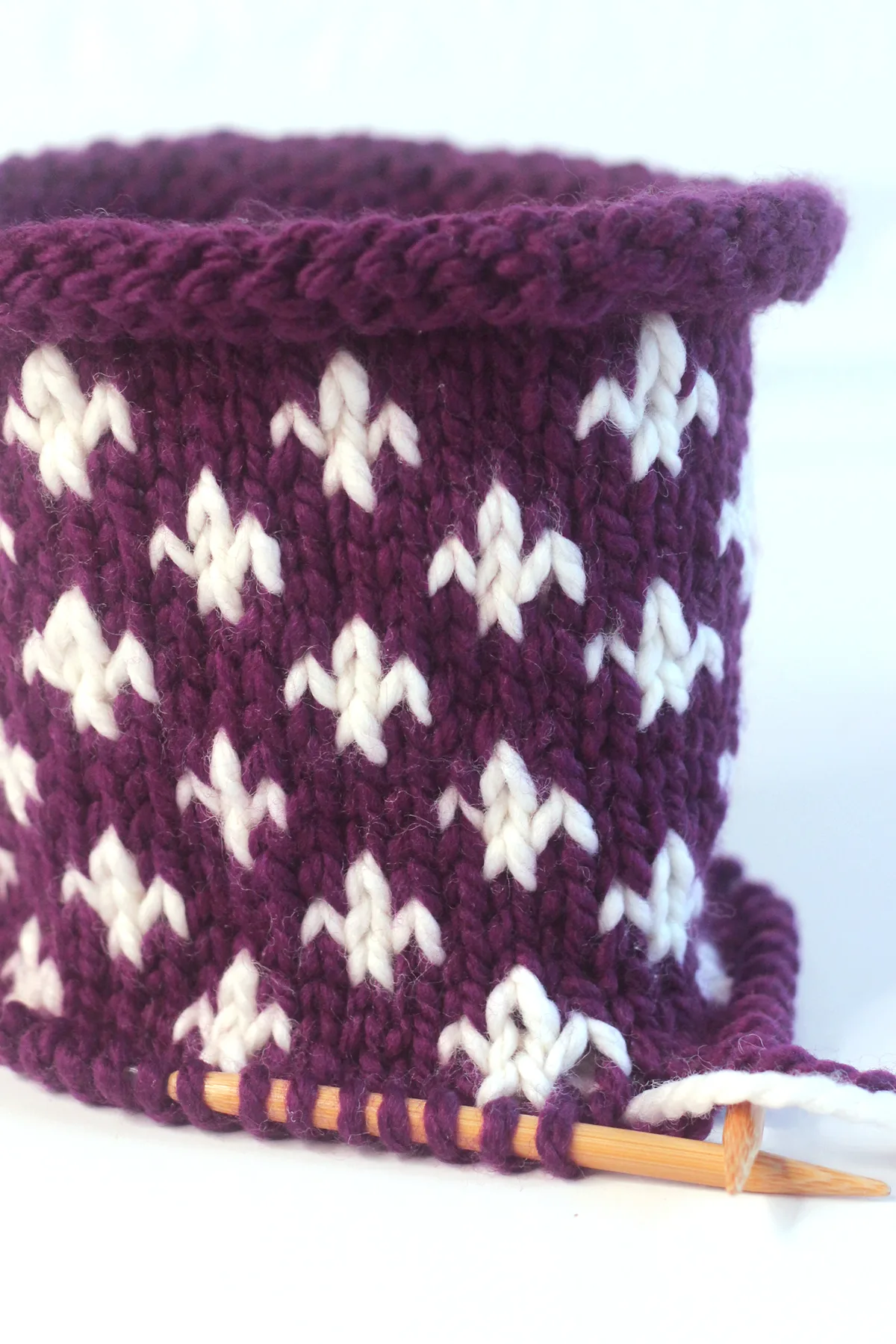 Not Reversible
This is not a reversible pattern, because both sides of your work, the right and wrong sides, are not identical.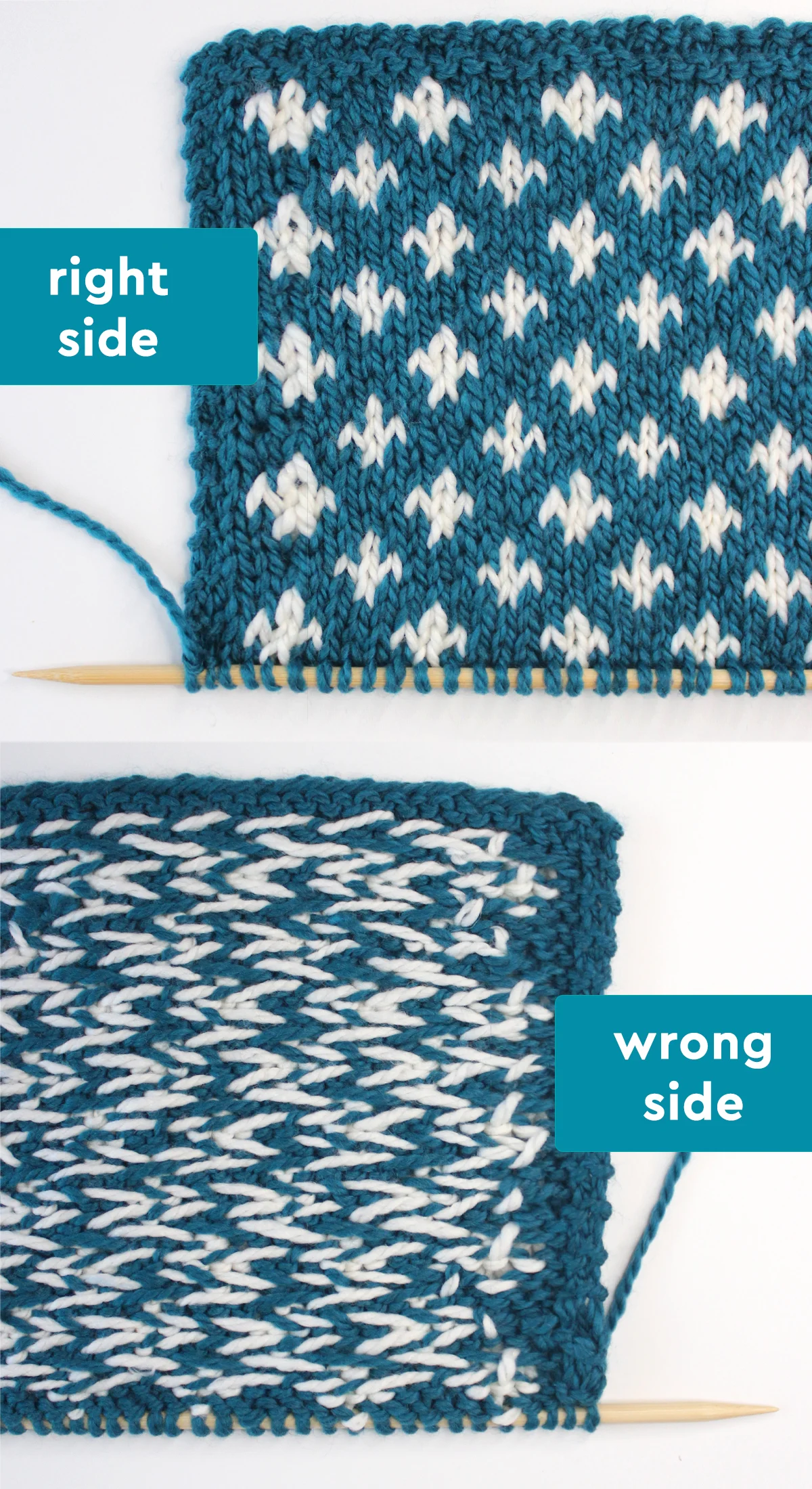 Curls Slightly
This is a smooth stockinette stitch, which famously curls. As such, I suggest you consider blocking or adding a border to your piece to help it lay flat. My favorite border stitches are Garter and Seed stitches. Both adding a border and blocking your piece helps it lay flat the best!
---
Stranded Colorwork
Stranded Colorwork patterns use two or more colors of yarn in a single row to create beautiful patterns. Whether you're knitting a cozy sweater or a stylish accessory, this design adds that extra splash of pizzazz that turns your project into a work of art.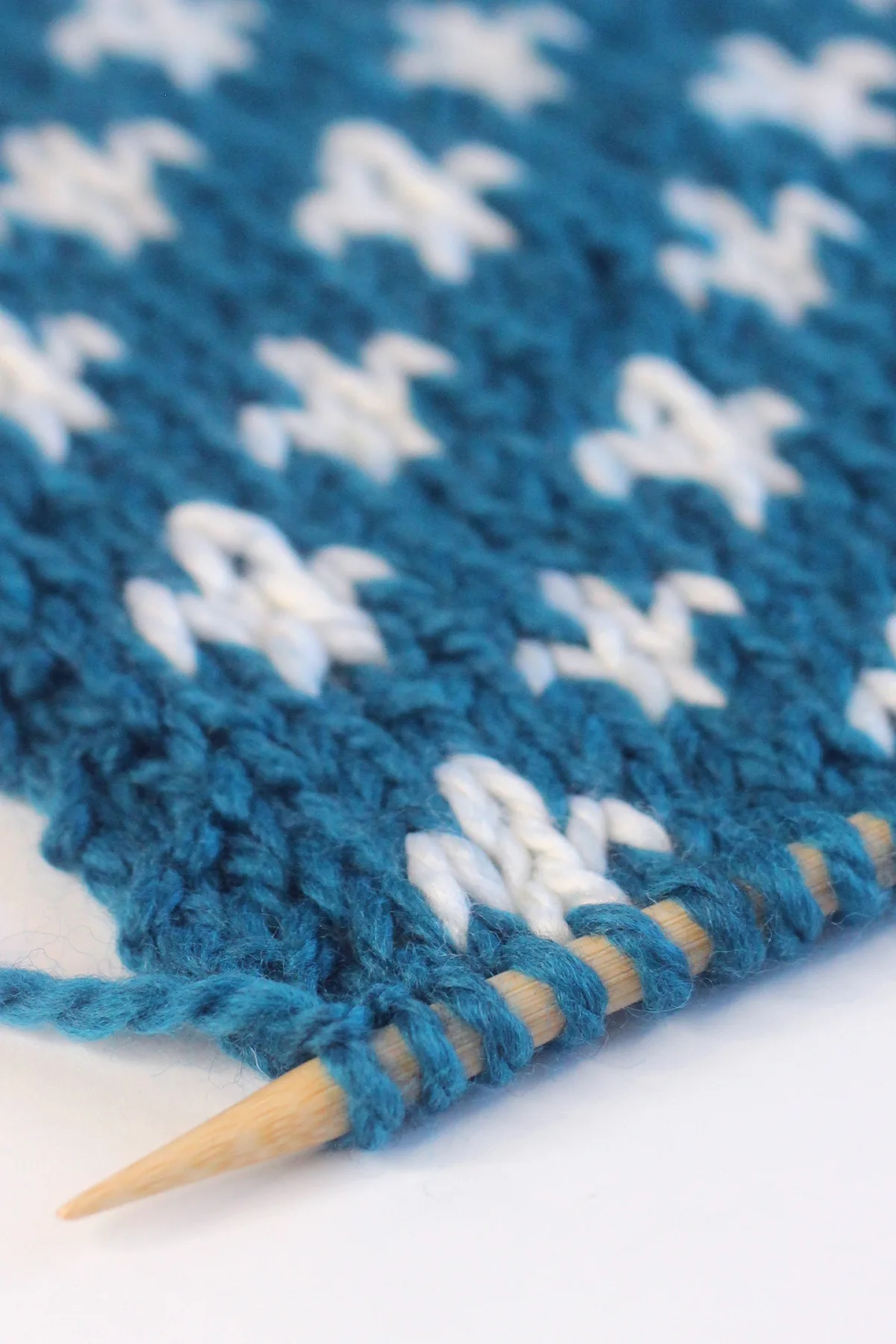 More Colorwork Stitch Ideas
Love knitting with multiple yarn colors and want to try more?
Knitting Techniques
This is an easy combination of simple knit and purl stitches with the added touch of colorwork. Find my entire library of Knitting Techniques to help knit up this project.
Printable Knitting Instructions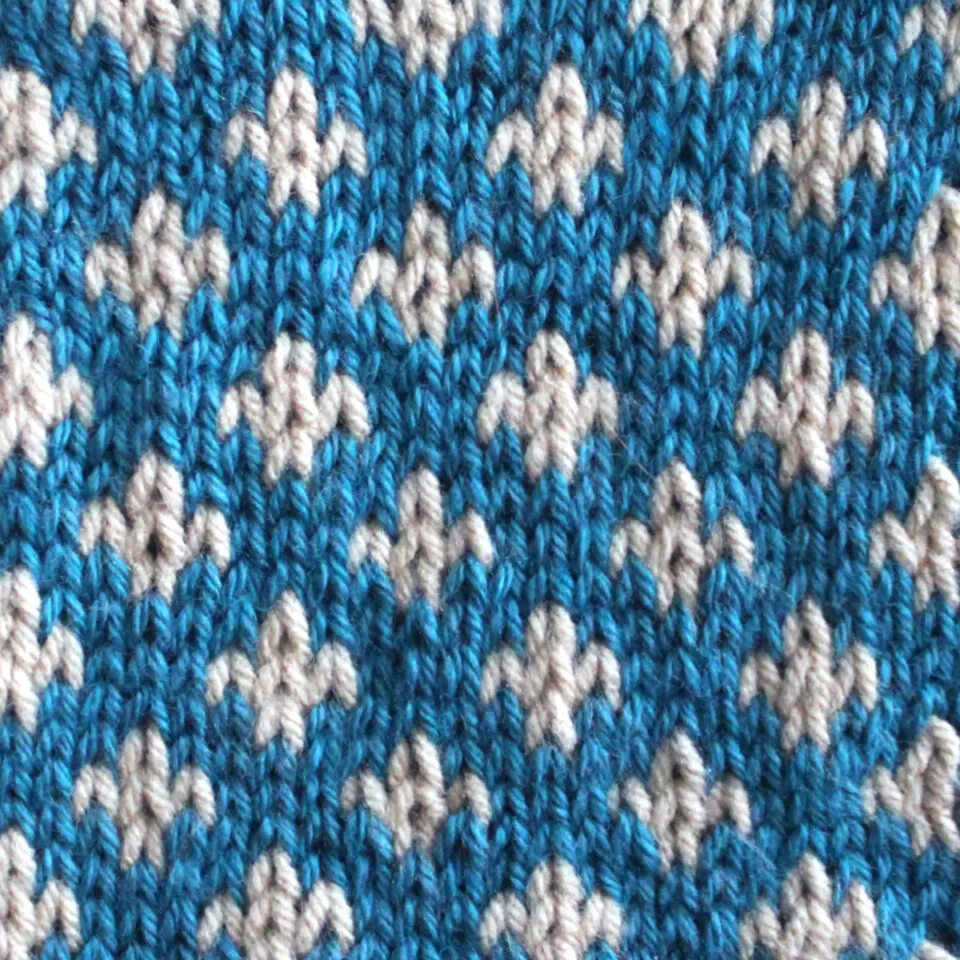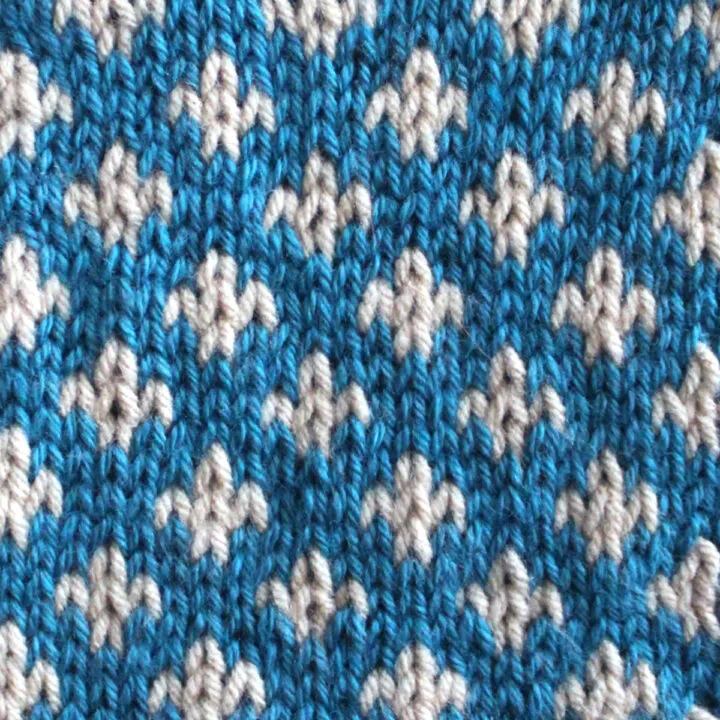 Printable Knitting Pattern
This Fleur de Lys Stitch is a two-color stranded piece in a stockinette texture.
Makes:
Fleur de Lys Stitch
Additional Time:
10 minutes
Total Time:
2 hours
20 minutes
Tools
Knitting Needles - Appropriate Size for Yarn
Tapestry Needle
Scissors
Instructions
FLAT ON STRAIGHT NEEDLES
Cast On in Multiples of 6
ROW 1 (right side): * K1 (A), K1 (B), K4 (A) *
ROW 2 (wrong side): * P3 (A), P3 (B) *
ROW 3: * K1 (A), K1 (B), K4 (A) *
ROW 4: * P1 (A), P1 (B), P4 (A) *
ROW 5: * K3 (A), K3 (B) *
ROW 6: * P1 (A), P1 (B), P4 (A) *
_____
IN-THE-ROUND ON CIRCULAR NEEDLES
Cast On in Multiples of 6
ROW 1 (right side): * K1 (A), K1 (B), K4 (A) *
ROW 2: * K3 (B), K3 (A)*
ROW 3: * K1 (A), K1 (B), K4 (A) *
ROW 4: * K4 (A), K1 (B), K1 (A) *
ROW 5: * K3 (A), K3 (B) *
ROW 6: * K4 (A), K1 (B), K1 (A) *
_____
KNITTING CHART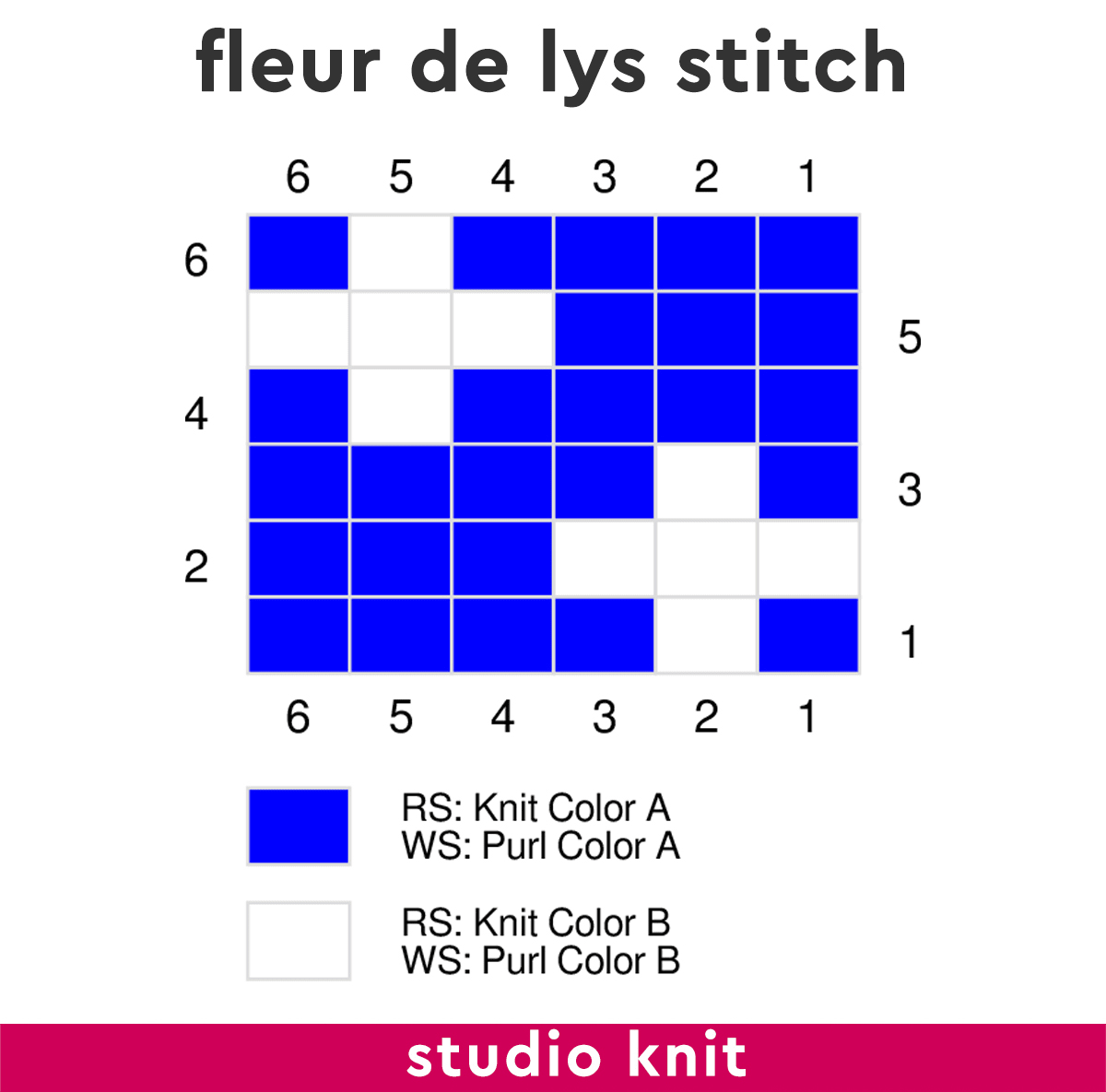 Notes
Thank You for Visiting Studio Knit
I hope you are inspired to knit up this Fleur de Lys stitch in your next knitting project. Check out my entire library of free stitch patterns!
Want more French inspiration? Check out my Eiffel Tower Stitch >
If you'd like even more great ideas, please make sure you join my mailing list. It's a free and easy way for us to stay connected.