The Bobble Stitch adds a really fun 3-dimensional POP of texture to knitting.

SAVE THIS PATTERN BY PINNING FROM MY KNIT STITCH PATTERNS PINTEREST BOARD!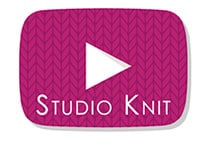 VIDEO TUTORIAL
For a complete step-by-step tutorial of this knitting pattern, you can watch my video below. Subscribe to my YouTube channel Studio Knit for more fun knitting ideas!
We are knitting our bobbles on one KNIT Row. See the same bobble stitch knitted in three different sizes with 3, 4, and 5 stitches. Watch the BOBBLE technique, then give it a try!