Let's knit a LEAF shape! Add some knitted color to your Thanksgiving and autumn décor!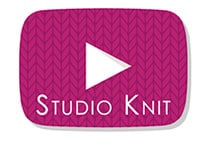 VIDEO TUTORIAL
For a complete step-by-step tutorial of this knitting pattern, you can watch my video below. Subscribe to my YouTube channel Studio Knit for more fun knitting ideas!
My easy knitting pattern lets you knit cute leaves on two straight knitting needles. You can easily make smaller or larger leaves by choosing how many increase rows to knit.
It's Thanksgiving week and these colorful Autumn Leaves are a really fun, quick knit that can spruce up your holiday décor! You can get really creative with them, using them as drink coasters, or as a trivet for food dishes or candles. These knitted leaves look way more complicated than they are to knit, and they use all the knitting techniques we've recently covered, so if you're a Studio Knit subscriber, you've totally got this!
MATERIALS
• Yarn – Any size, fiber, or color of your choice
• Knitting Needles – in the appropriate size for your yarn
• Scissors
• Tapestry Needle
In my video, I'm using size 8US knitting needles and worsted weighted yarns.
___
KNITTING TECHNIQUES
• Slip Knot
• Cast On Long Tail Method
• Knit Stitch
• Purl Stitch
• Slip Slip Knit SSK
• Knit Two Together K2Tog
• Bind Off
____
KNITTING PATTERN
Cast On 3 Stitches
INCREASE ROWS
Increase each EVEN row by knitting until you reach the middle stitch, Yarn Over, Knit that middle stitch, Yarn Over again, then continue knitting the row.
1 Purl 3 Sts
2 Knit 1, YO, K1, YO, K1 (5 Sts)
3 Purl Row
4 Knit 2, YO, K1, YO, K2 (7 Sts)
5 Purl Row
6 Knit 3, YO, K1, YO, K3 (9 Sts)
7 Purl Row
8 Knit 4, YO, K1, YO, K4 (11 Sts)
9 Purl Row
10 Knit 5, YO, K1, YO, K5 (13 Sts)
11 Purl Row
12 Knit 6, YO, K1, YO, K6 (15 Sts)
13 Purl Row
14 Knit 7, YO, K1, YO, K7 (17 Sts)
Continue Purl Row & Knit Row Increase Pattern for larger leaves.
DECREASE ROWS
1 Purl Row
2 SSK, Knit to Last 2 Sts, K2Tog
REPEAT ROWS 1 & 2 UNTIL 3 Sts REMAIN
LAST 3 STS
• PURL ROW
• Slip Slip Knit, K1, Pass Knit Stitch over to Bind Off
• Weave in your ends, cut your yarn
• Steam to lay flat – optional. Because we used the Stockinette Stitch, our edges are curling under. Simply place your leaf between a damp towel, lightly steam it with my iron, and air it out to dry. They will lie flat and you can really see the pretty shape and the holes from our yarn overs.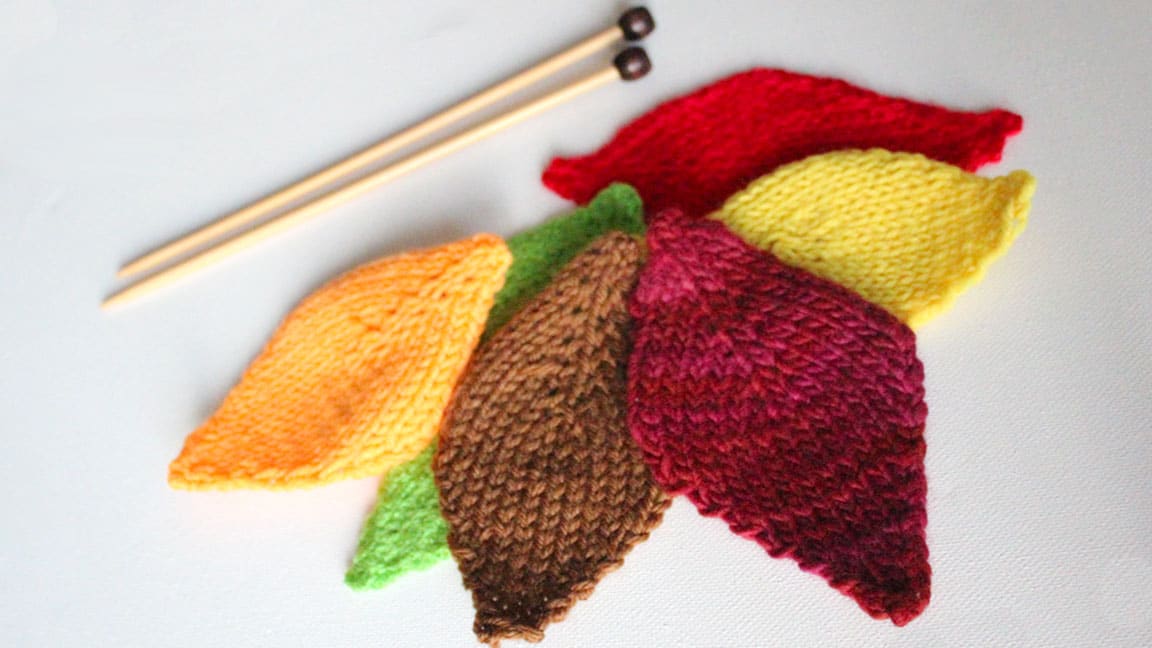 Add a little knitted color to your #Thanksgiving decor with this fun #DIY from @StudioKnitSF! pic.twitter.com/95vz8s5VhU

— Kin Community (@kincommunity) October 26, 2016