We are going to Knit a Poppy Flower! A fun quick-knit, flowers can be used as accessory embellishments on headbands, hats, pretty much anything you want to make cute. Knit up a Remembrance Flower to honor Veterans. These four flower petals look identical to a poppy flower when using the color choices below. Switch up your colors to create other knitted flowers, too!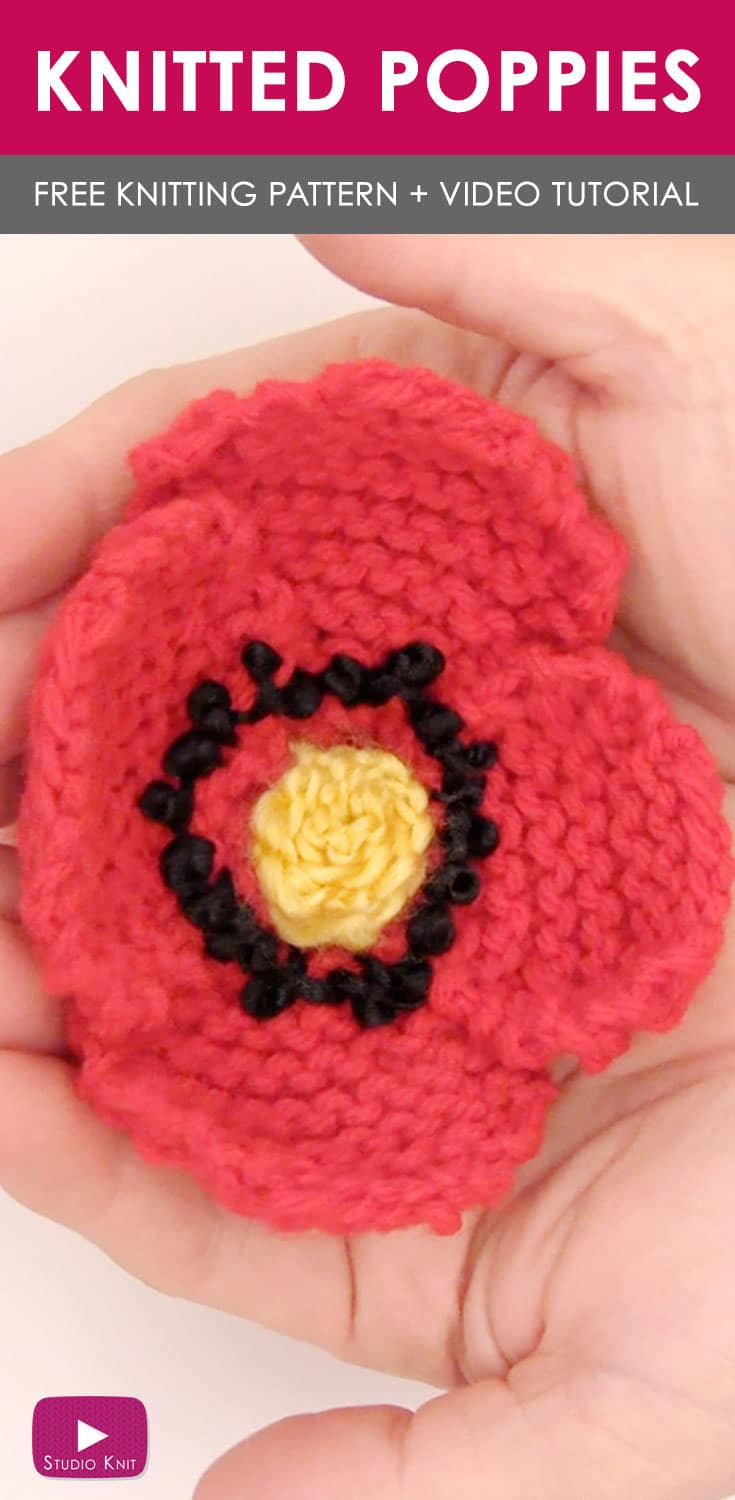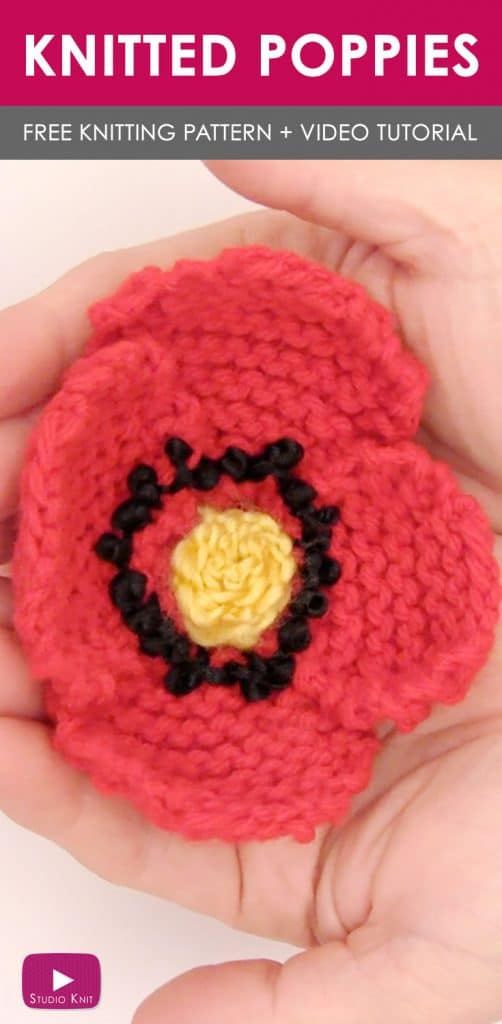 ---
MATERIALS for the Poppy Flower Knitting Pattern
As an Amazon Associate I earn from qualifying purchases.
My sample was created with size 7 US knitting needles and worsted weight yarn. Feel free to use any appropriately sized yarn and needles for your creative project.
---
KNITTING TECHNIQUES
Poppy Flower Knitting Pattern
Need to brush up or learn a new technique? Check out my entire library of Knitting Techniques to help you along as you knit up this project. If you're new to knitting, you'll love my Absolute Beginners Knitting Series!
Slip Knot
Cast On Long Tail Method
Knit Stitch
KFB Knit Front & Back
K2Tog = Knit Two Together
PSSO = Pass Slipped Stitch Over
SSK = Slip, Slip, Knit
Bind Off
---
PRINTABLE KNITTING PATTERN for Poppy Flowers
JUST WANT THE PATTERN ON THIS WEBSITE PAGE? Keep scrolling, it's up next!
EMAIL SUBSCRIBERS: Download Your Ad-Free Printable .PDF Pattern. You will receive an email invitation to my "Knitting Freebies" page.

---
WATCH STEP-BY-STEP VIDEO TUTORIAL
How to Knit a Poppy Flower

---
KNITTING PATTERN FOR POPPY FLOWER

PATTERN for Poppy Flower Petal (Make 4)
Cast On 7 Stitches
Row 1: Knit Row (7 sts)
Row 2: KFB, K4, KFB, K1 (9 sts)
Row 3: KFB, K5, KFB, K1 (11 sts)
Row 4: KFB, K6, KFB, K1 (13 sts)
Rows 5 – 8: Knit Rows
Row 9: SSK, SSK, K5, K2Tog, K2Tog (9 sts)
Rows 10 – 12: Knit Rows
Row 13: SSK, SSK, K1, K2Tog, K2Tog (5 sts)
Row 14: K1, Slip1, K2Tog, PSSO, K1 (3 sts)
Bind Off
Tack Petals Together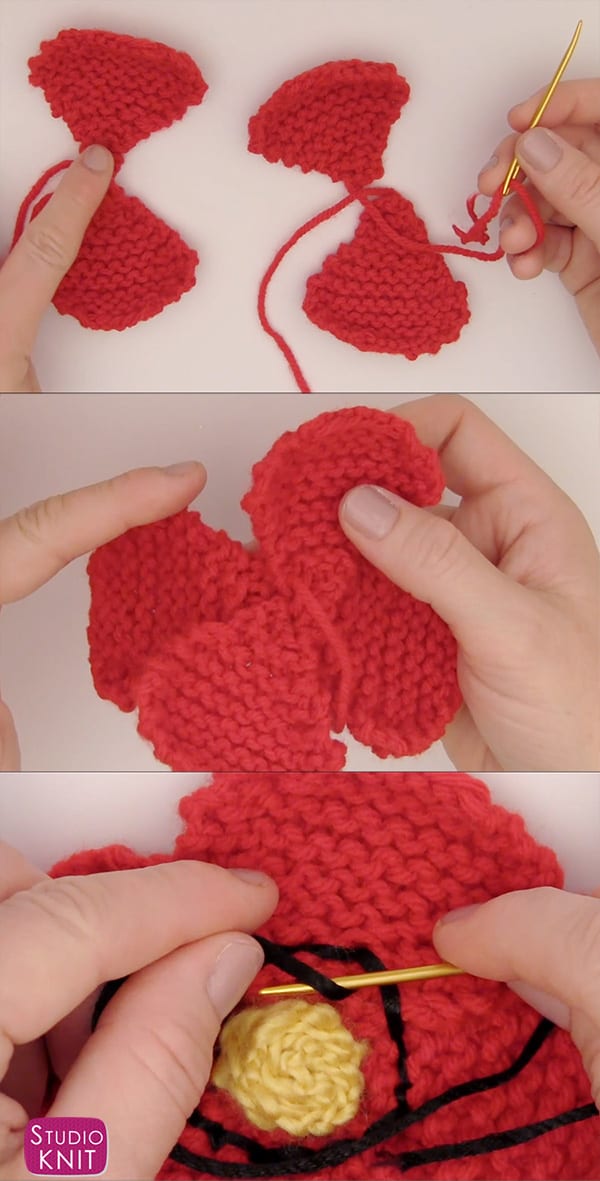 ___
PATTERN for Stamen
Cast On 18 Stitches
Bind Off all stitches
Roll Up
Tack Together and Onto Middle of Flower Petals
___
EMBROIDER Poppy Seeds
With yarn in any color and your tapestry needle, embroider poppy seeds around the perimeter of your Stamen using the French Knot technique (see video).
---
THANK YOU FOR VISITING STUDIO KNIT
I hope you are inspired to knit up these beautiful Poppies in your next knitting project. If you'd like even more great knitting ideas, please make sure you join my mailing list. Subscribing to my YouTube channel Studio Knit is another easy way for us to stay connected and help support my work for free.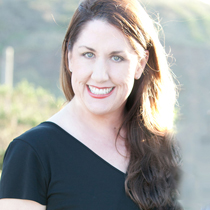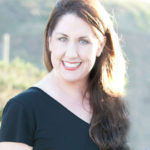 Happy Knitting to You!