This colorful Boho Rainbow Knitting Pattern is inspired by nature and favorite design trends. This whimsical fiber art decor brightens any room with a relaxed, joyful, natural touch! These Rainbow Window decorations are giving hope to everyone around the world.
Enjoy knitting a variety of color combinations, textures, and mixing them up to create your own designs. It's a fun quick knit project for experienced beginners who enjoy knitting flat on straight needles.
I love changing textures and colors, which this pattern allows us to do frequently. These boho rainbows look sweet in baby nurseries and kid's bedrooms. Great gift idea for Birthdays and Baby Showers!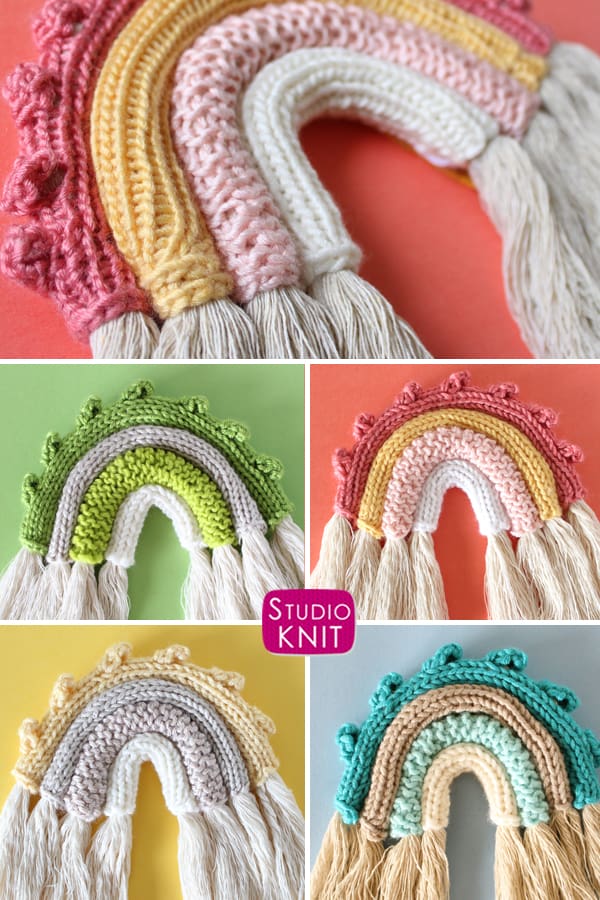 ---
WATCH KNITTED RAINBOW VIDEO OVERVIEW
---
RAINBOWS OF HOPE WORLDWIDE TREND
The rainbow trend has gone viral with children and families hanging cheerful homemade creations in their windows. Decorating outside the home expresses your positivity to your neighbors while lifting your mood, too.
These Rainbows of Hope are believed to have originated in Italy to spread optimism for a better tomorrow during the time of social distancing in 2020. In Montreal, the French phrase "Ca va bien aller" (translation: "It's going to be okay") is often accompanied with these colorful creations.
---
FINISHED SIZE OF KNITTED RAINBOWS OF HOPE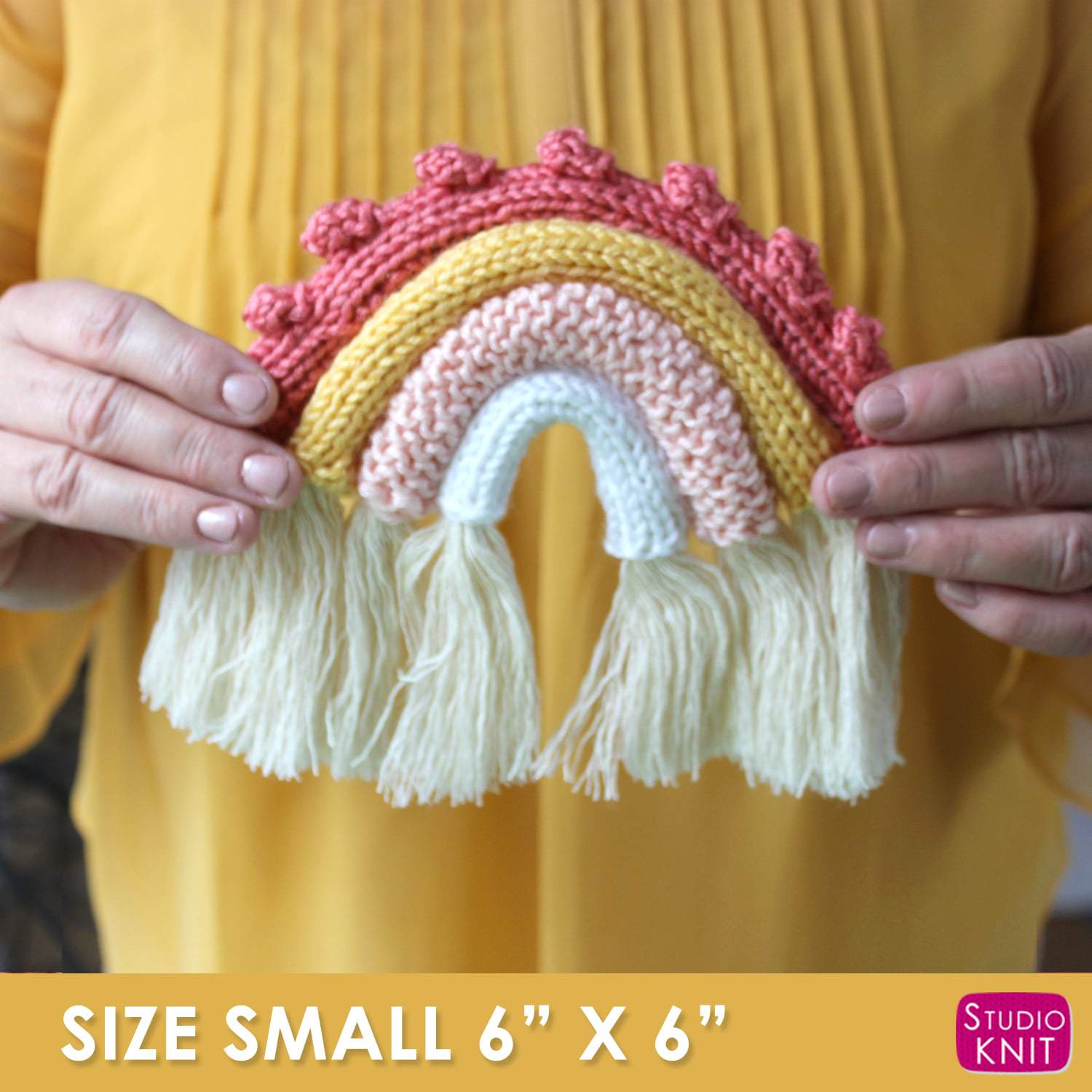 Finished Rainbow Size: 6″ x 6″
This cute, small-sized decoration's finished size is 6 inches by 6 inches when knitting with 4 layers. Want to make a bigger rainbow? You can continue to add longer rows to make this as large as you'd like. As you can see, I really had fun with this project and made one for our home that's 3 feet wide!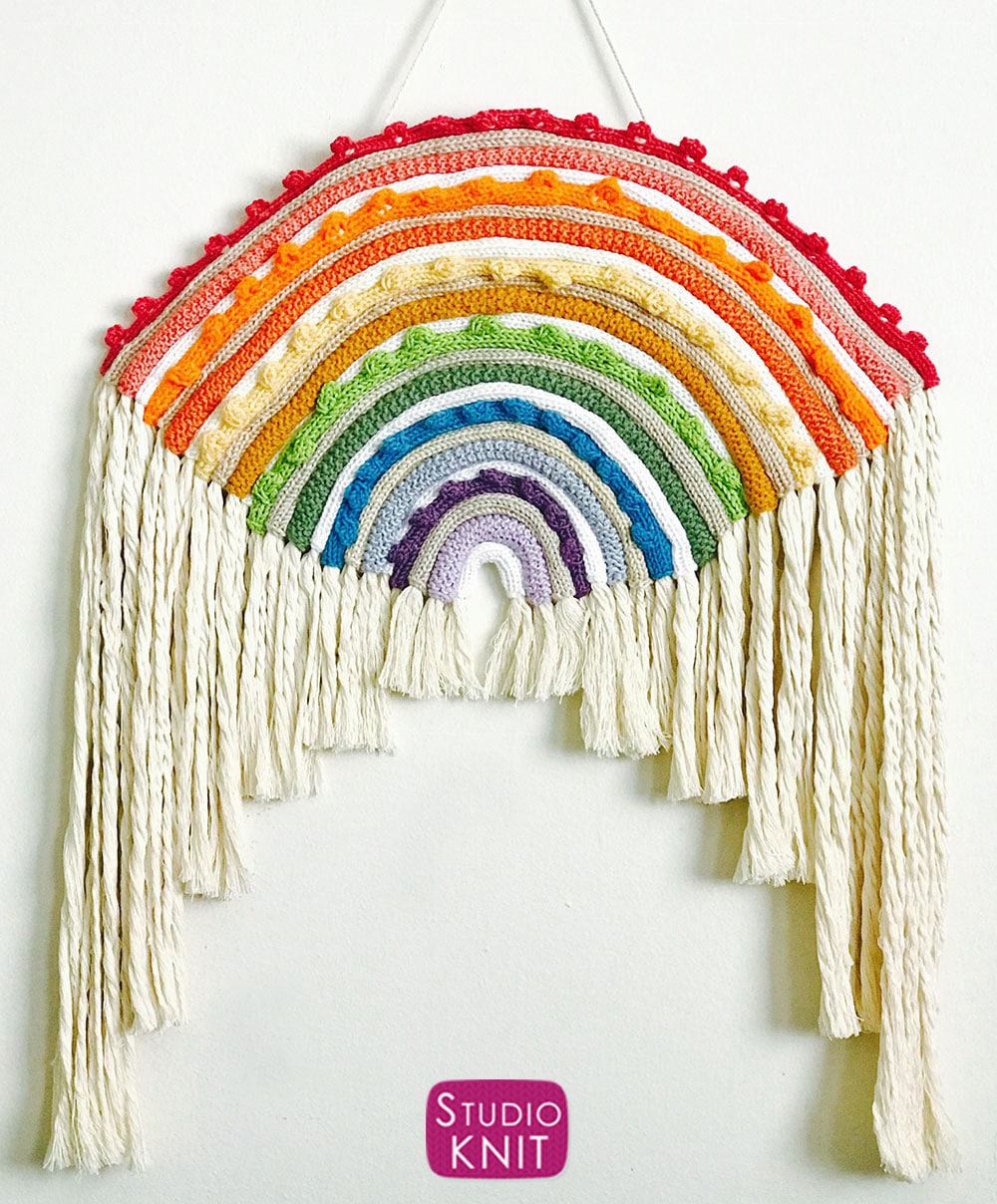 ---
KNITTING TOOLS AND MATERIALS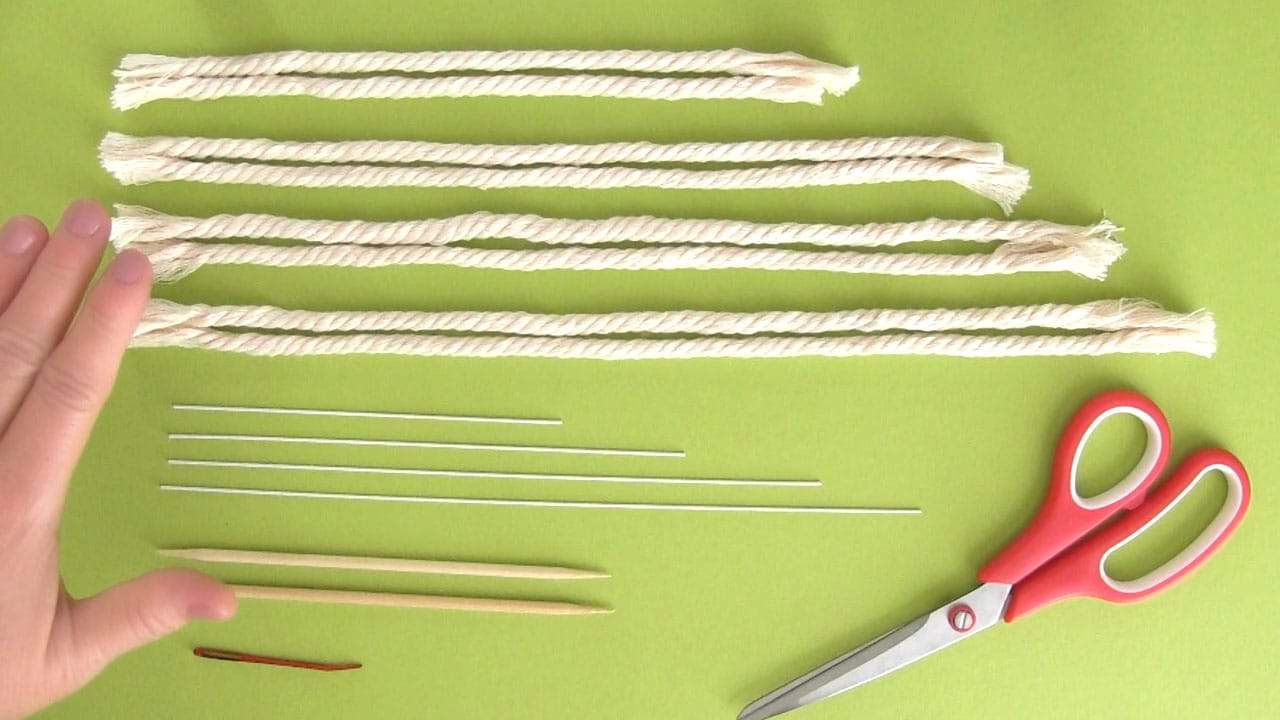 As an Amazon Associate I earn from qualifying purchases.
RAINBOW MATERIALS
Yarn – Bulky Weight #5
My Rainbow Sample was knit in Pantone X Caron Yarn
Total Yarn: 40g/1.40 oz, 48 meters/52 yards
4 Colors: 10g/0.35 oz, 12 meters/13 yards per color
This is a great yarn buster! Feel free to use any fiber and colors of your choice.
100% Natural Cotton Rope
My Rainbow was made with rope from PYJTRL
5mm (1/5 inch)
Total Rope Length: 80 inches
Craft Wire – 18 gauge wire
My Rainbow was created using wire from Mandala Crafts
KNITTING TOOLS
Straight Knitting Needles – Size 7 US (4.5 mm)
---
KNITTING TECHNIQUES
Need to brush up or learn a new technique? Check out my entire library of Knitting Techniques to help you along as you knit up this Color Block Scarf.
K = Knit Stitch
P = Purl Stitch
KFBF = Knit Front, Back, Front (optional for bobbles)
K3Tog = Knit 3 Stitches Together (optional for bobbles)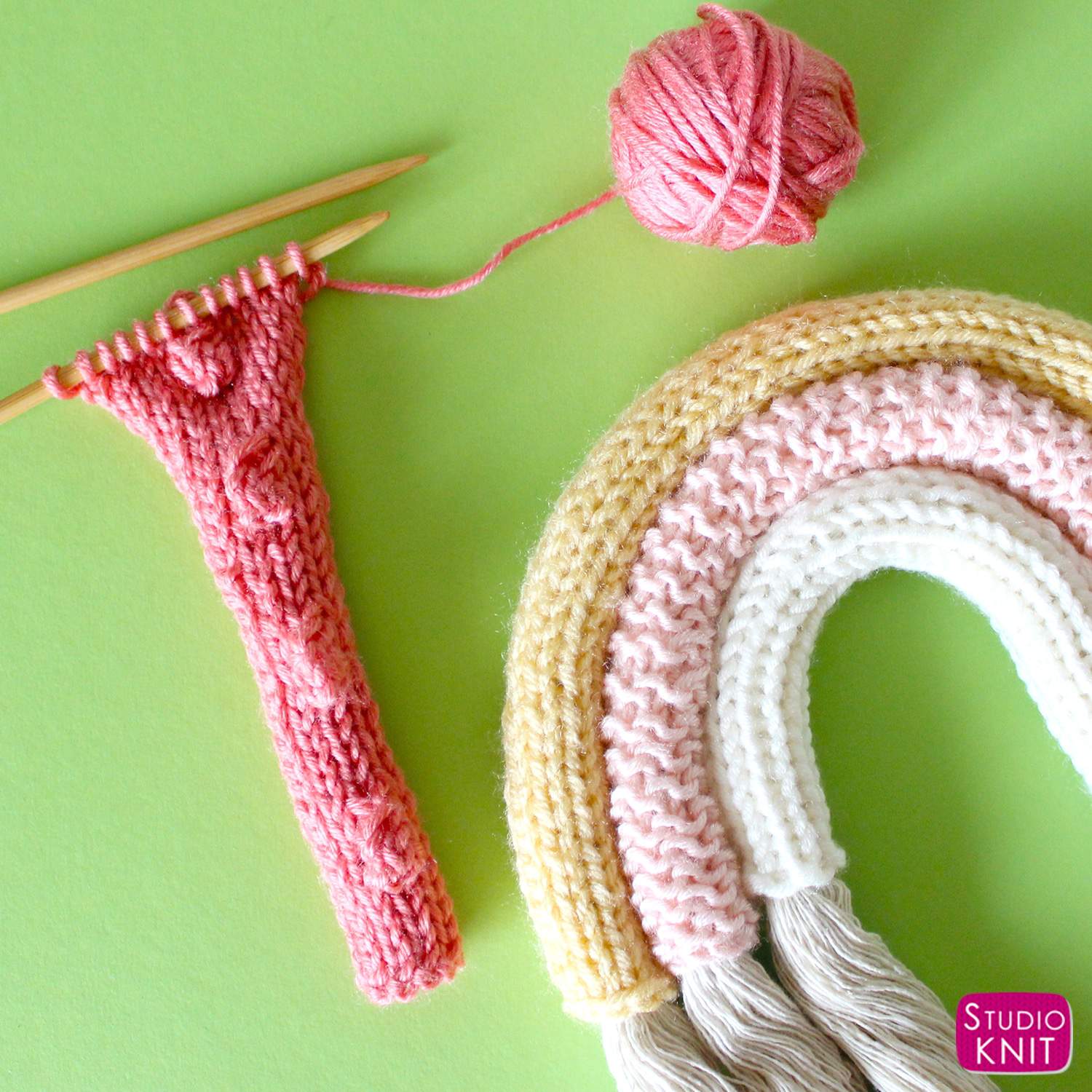 ---
BOHO RAINBOW WINDOW DISPLAY
Click to Play Step-by-Step Video Tutorial
---
5 STEPS TO KNIT A RAINBOW WINDOW DISPLAY

Getting Started: To begin, gather all of your knitting tools and materials. Have fun designing with different yarn color combinations. When knitting with more than one yarn color, it's advisable to write down your design plans for Colors A, B, C, and D in your notes or the printed knitting pattern.
_____
STEP 1: KNIT 4 SWATCHES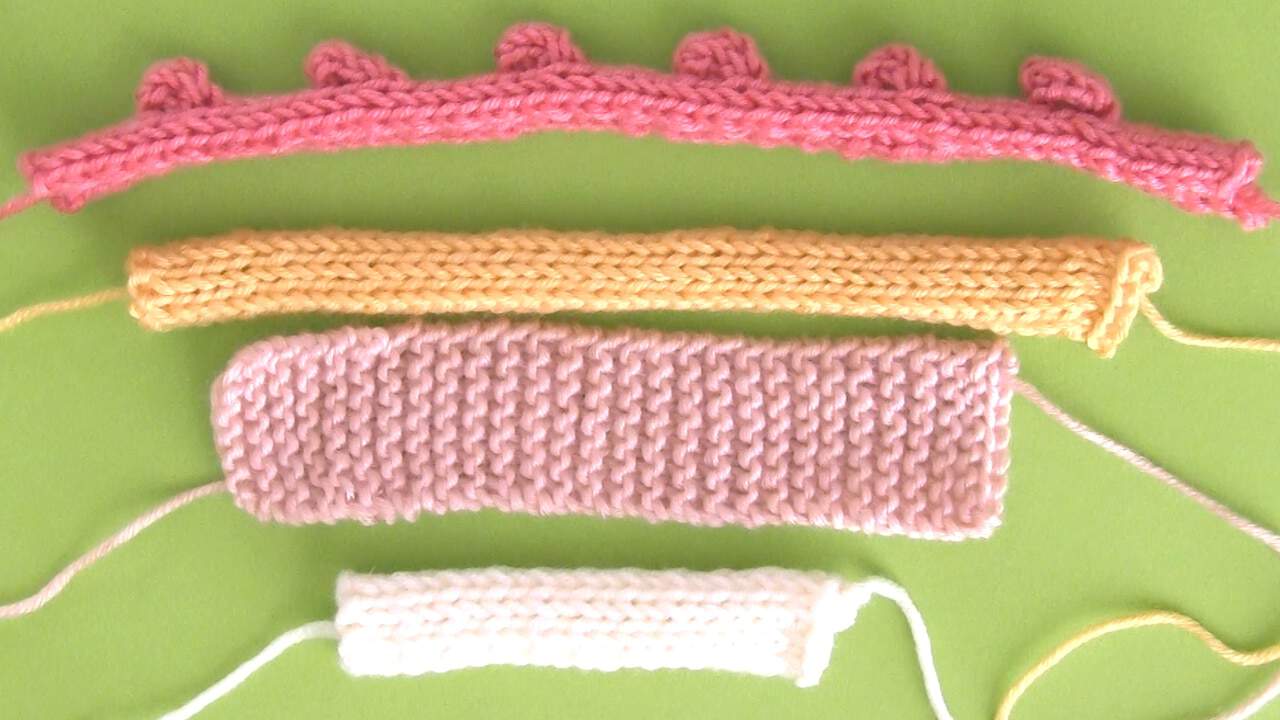 Feel free to make each layer in any of the Knit Stitch Patterns of your choice. In this example, I knitted each of my layers in the following lengths, starting with the smallest:
Layer A: 4 inches in length (Stockinette Stitch)
Layer B: 6 inches in length (Garter Stitch)
Layer C: 8 inches in length (Stockinette Stitch)
Layer 5: 9 inches in length (Bobble Stitch)
_____
STEP 2: INSERT ROPES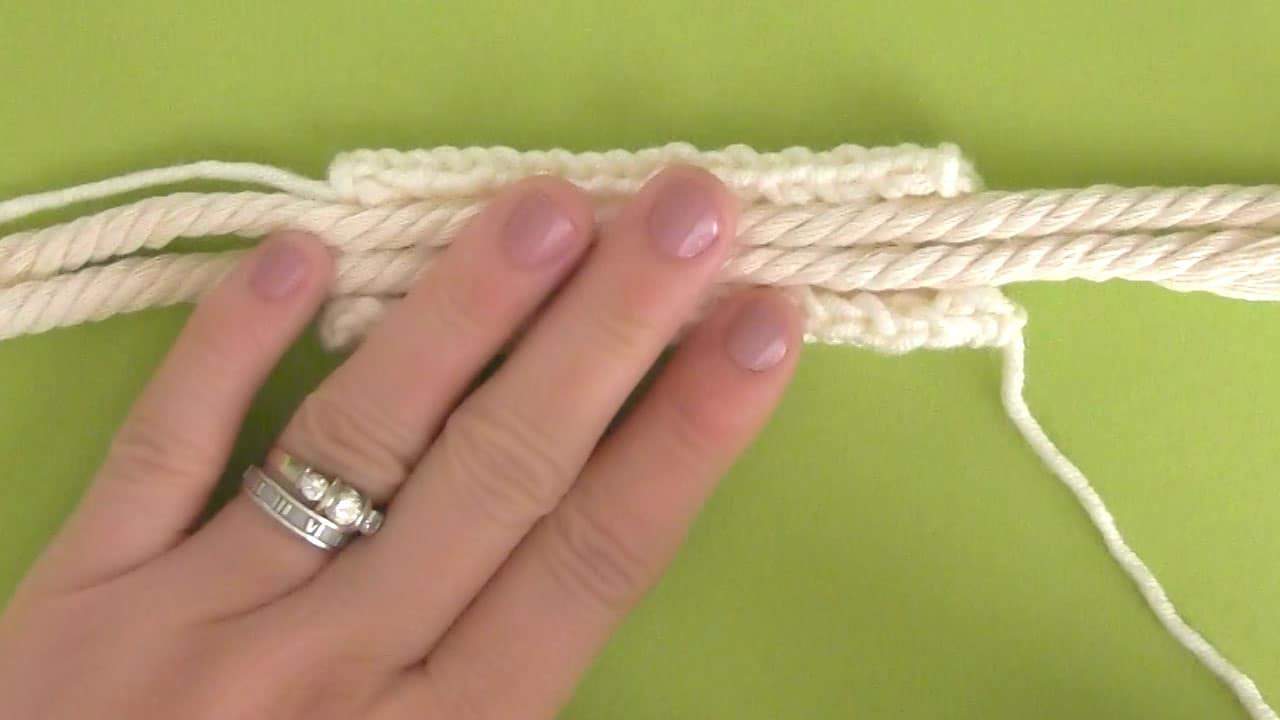 Place 2 rope strands within swatch.
Use a tapestry needle to sew seams together.
Weave in ends and cut yarn.
_____
STEP 3: INSERT WIRE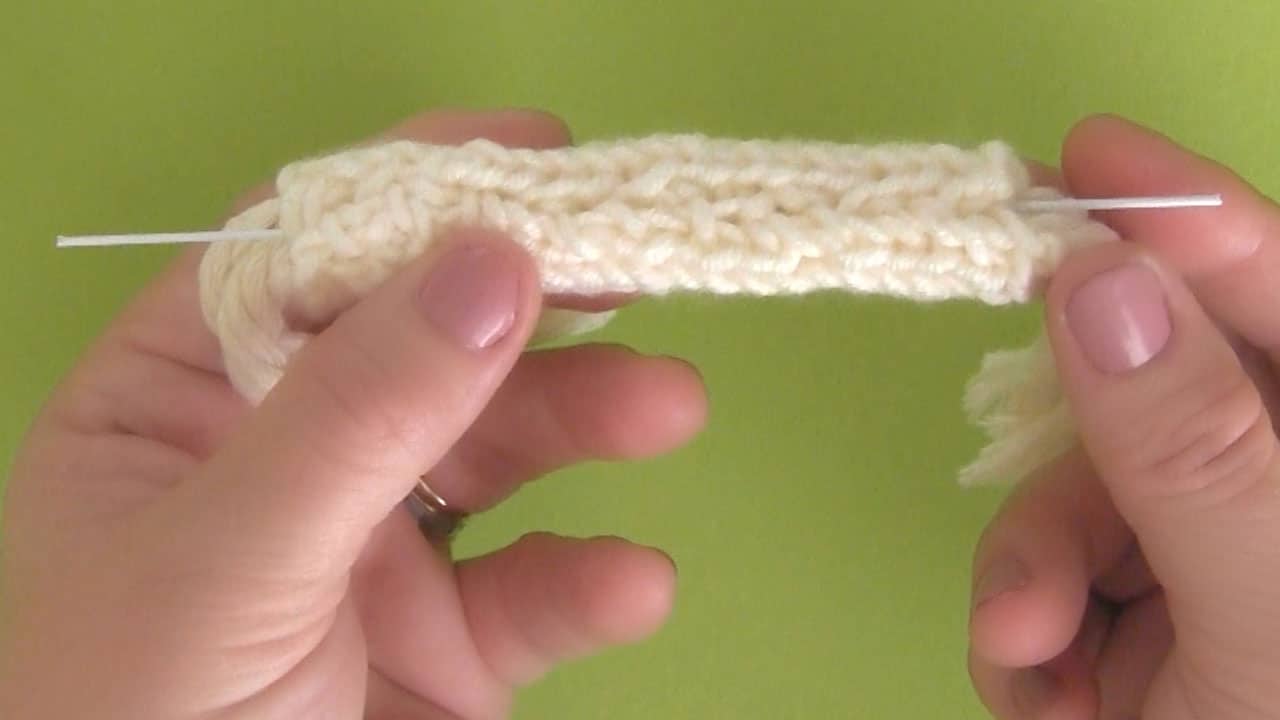 Insert craft wire into your rainbow layer.
Cinch wire ends around knitted seams.
_____
STEP 4: CREATE LAYERS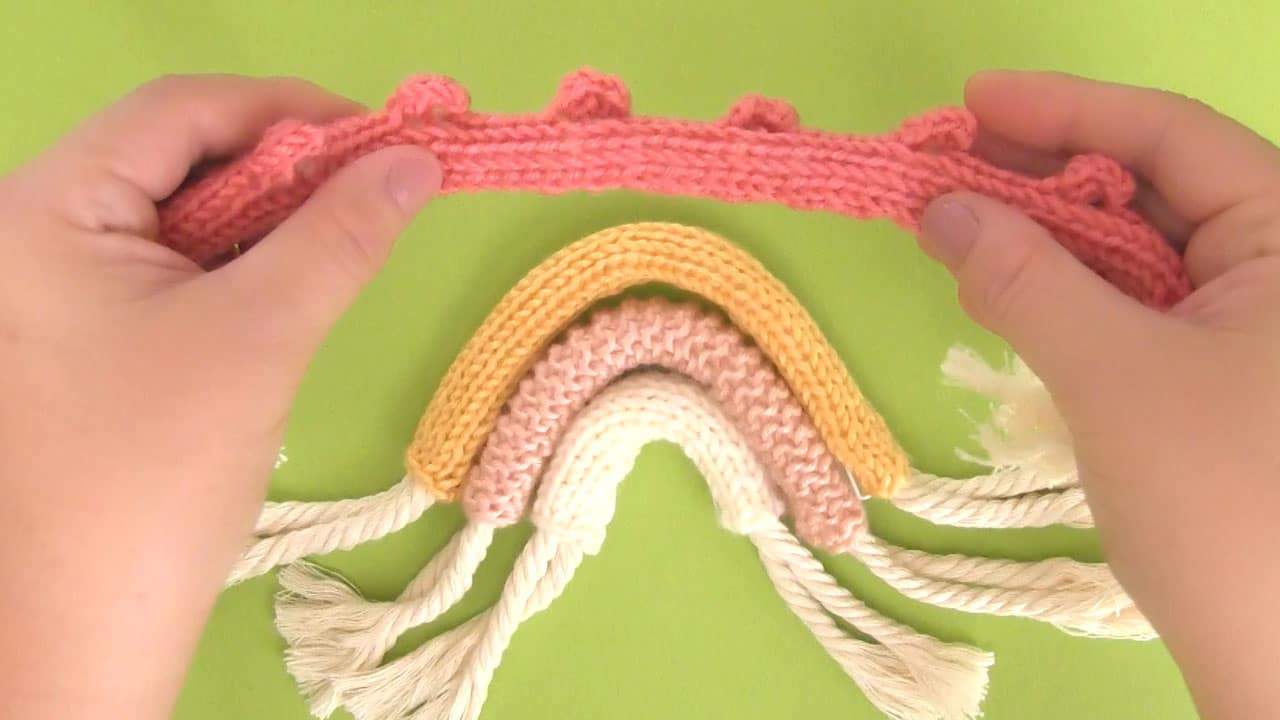 Bend knitted piece into a rainbow shape.
_____
STEP 5: FINISHING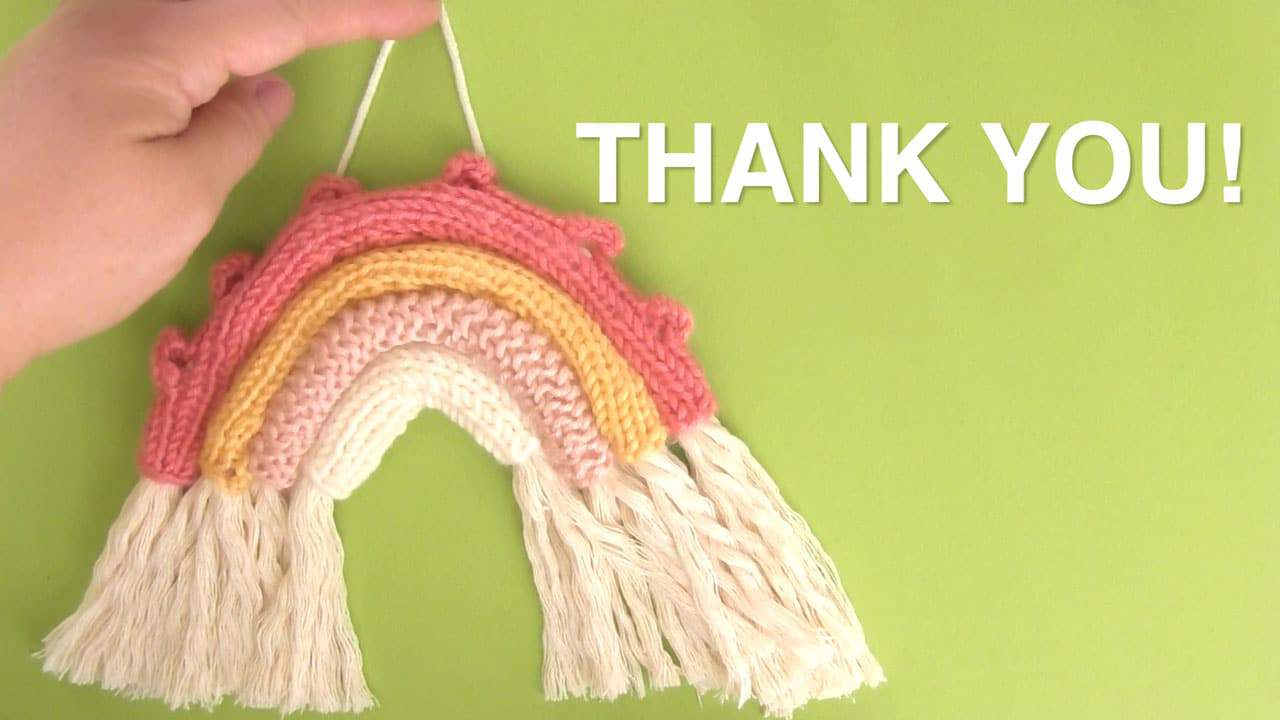 Attach layers by tacking together on the wrong side of work.
Unravel rope.
Cut rope ends as desired.
Add a hanger by sewing a strand of yarn at the top.
---
KNIT STITCH PATTERN INSTRUCTIONS
Cast On 8 Stitches
Row 1 (Right Side): Knit All
Row 2 (Wrong Side): Knit All
Repeat Rows 1 and 2 until your piece is the length you desire.
_____
Cast On 8 Stitches
Row 1 (Right Side): Knit All
Row 2 (Wrong Side): Purl All
Repeat Rows 1 and 2 until your piece is the length you desire.
_____
Cast On 8 Stitches
Row 1 (Right Side): Knit All
Row 2 (Wrong Side): Purl All
Row 3: Knit All
Row 4: Purl All
Row 5: Knit All
Row 6: Purl All
Row 7: K3, KFBF into 4th Stitch + Turn, P3 + Turn, K3 + Turn, P3 + Turn, K3Tog, K last 4 Stitches
Row 8: Purl All
Repeat Rows 1 – 8 until your piece is the length you desire, ending with Row 6.
---
THANK YOU FOR VISITING STUDIO KNIT
I hope you are inspired to knit up this sweet rainbow with confidence in your next knitting project. If you'd like even more great knitting ideas, please make sure you join my mailing list. Subscribing to my YouTube channel Studio Knit is another free and easy way for us to stay connected and help support my work.
Happy Knitting to You!