Here's a beautiful Asymmetrical Knit Shawl Pattern with colorful stripes.
Yarnspirations has published a variety of free knitting patterns to create especially with their new Caron x Panton yarns. I selected the Caron x Pantone Asymmetrical Shawl with Peach Blush Parfait yarn braids for my first project to share with you.
Caron x Pantone is a luxuriously soft yarn presented in a unique braid format. Discover the stunning palettes hand-picked by color experts at Caron in collaboration with Pantone. Get creative with color and use your 5 separated links of yarn in endless combinations to make a pattern unique to you.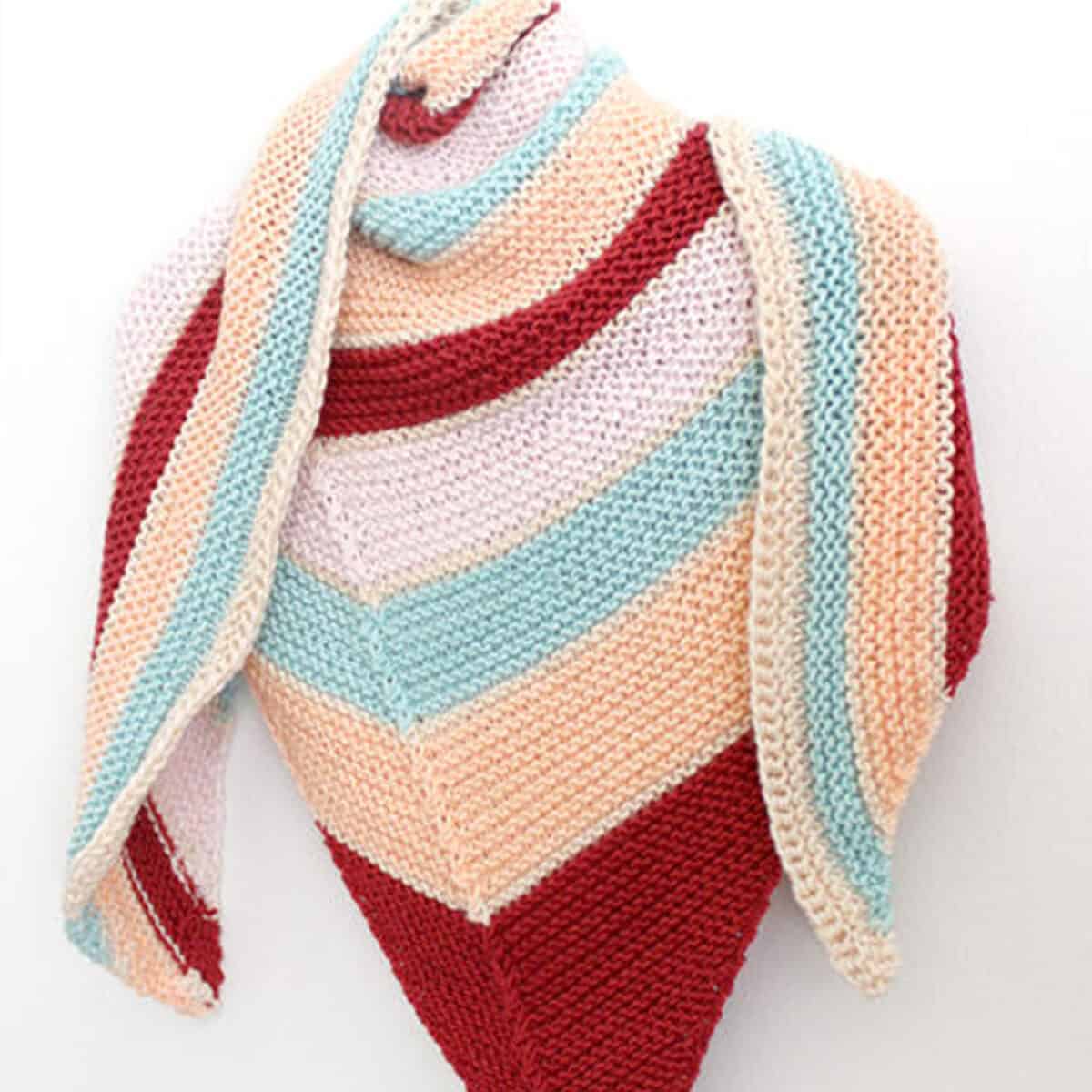 ---
---
INTRODUCING CARON x PANTONE YARN
I find that high-quality merino-blend yarns are usually only found in pricey specialty shops. So, I'm thrilled this new Caron x Pantone yarn is both affordable and widely available for you to easily purchase online or in-stores at Michaels. You will enjoy choosing among 20 shade combinations, all impeccably selected by the color experts at Pantone.
A Bulky Weight (#5) yarn, Caron x Pantone is 60% Acrylic, 20% Nylon, and 20% Merino Wool. This merino wool blend yarn is easy care and has a beautiful drape, perfect for creating wearable knit projects like sweaters, hats, and scarves.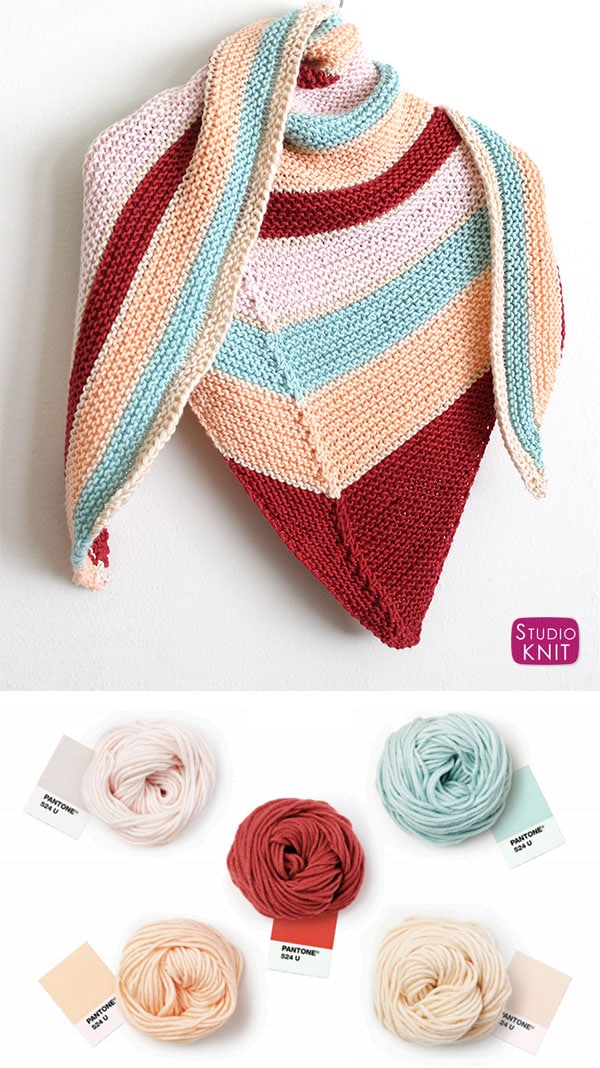 ---
HOW TO UNWIND CARON x PANTONE YARN LINKS
Before working with Caron x Pantone multi-shade yarn braids, you will need to separate each color link and carefully wind by hand into 5 separate balls for each braid. No need for ball winders or yarn swifts. Each color link winds into a small ball from which you can knit.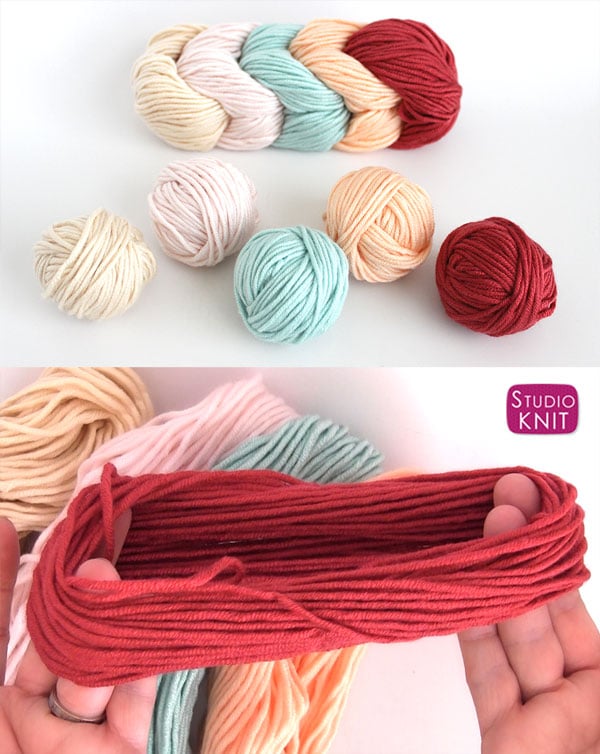 ---
YARN + TOOLS
Caron x Pantone Asymmetrical Shawl
I knitted my Asymmetrical Shawl using 4 Caron x Pantone Peach Blush Parfait Braids with a circular knitting needle, scissors, a tapestry needle, and stitch markers.
Knitting Needle – Size 10 US (6 mm) 29″ Bamboo Circular
Tapestry Needle
Scissors
Stitch Markers
Blocking Mats (optional)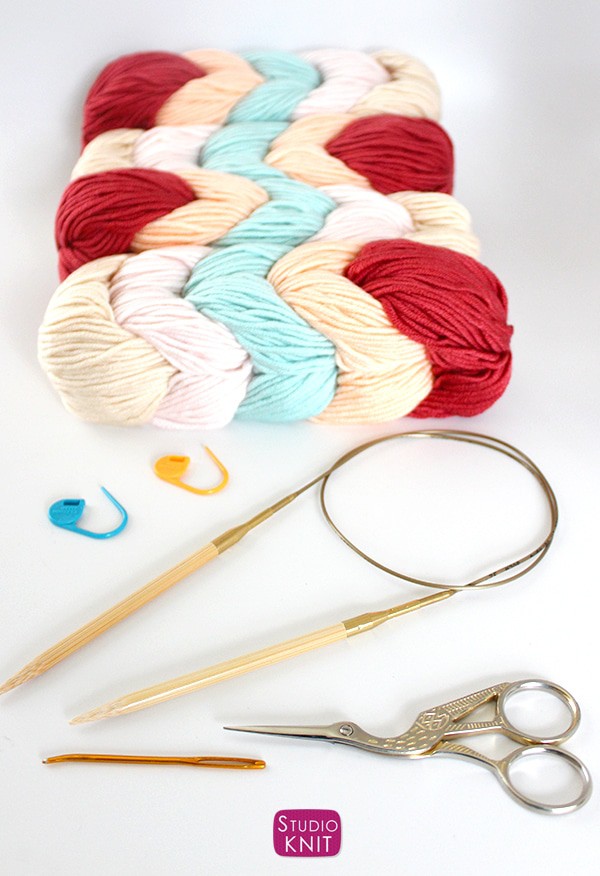 ---
KNITTING TECHNIQUES
Need to brush up or learn a new technique? Check out my entire library of Knitting Techniques to help you along as you knit up this project. If you're new to knitting, you'll love my Absolute Beginners Knitting Series!
• Slip Knot
• CO = Cast On Long Tail Method
• K = Knit Stitch
• P = Purl Stitch
• BO = Bind Off
• Weave In Ends
Additional techniques of increases, decreases, and slipped stitches are explained with the pattern.
---
HOW TO KNIT THE
CARON x PANTONE ASYMMETRICAL SHAWL
Let's take a close look at how to knit up the Caron x Pantone Asymmetrical Shawl.
GET FREE KNITTING PATTERN: Yarnspirations provides us with this free Caron x Pantone Asymmetrical Shawl knitting pattern with two different stripe versions to chose between. I wanted to change up the yarn colors more often, so I selected the one on the left with more stripes. It is knitted beginning with just one little stitch, and then you increase upward to create the triangle shape, until you finish with the last few rows of decreases. Since it's a garter stitch pattern, this is a great knitting project for experienced beginners! Check out these pretty blue shawl variations that are knitted in the Caron x Pantone yarn collection Morning Blues.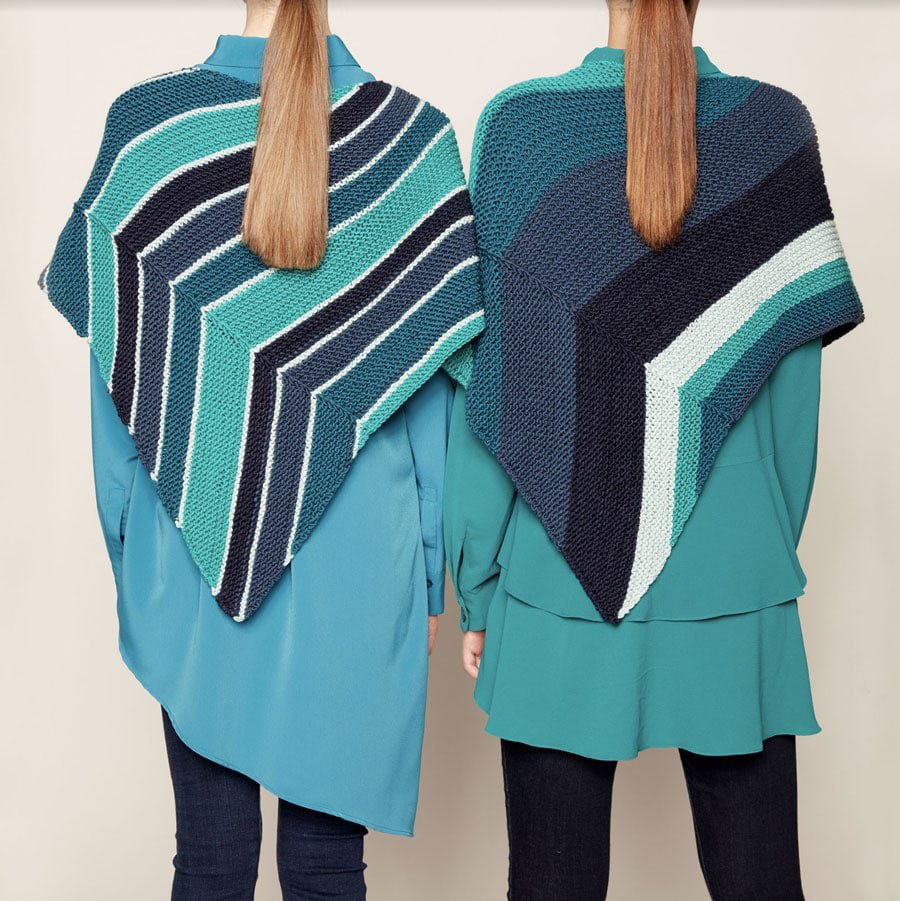 GAUGE SWATCH: Since this Caron x Pantone Asymmetrical Shawl pattern uses every bit of the 4 braids of yarn, it's best to knit up a gauge swatch for successful results. To achieve a 4″ x 4″ square swatch, knit 14 stitches for 26 rows with your size 10 US knitting needles. If necessary, adjust your knitting needle size accordingly.
CHANGING YARN COLORS: Please remember that when you change your yarn colors, you will always want to do so from Right Side, which is the front of your work. Near the end of knitting up my shawl, I realized that I had run out of my turquoise colored yarn after completing the right side of my work. Rather than ripping out my stitches, I got crafty and decided to purl the following row on the wrong side in a different white color to avoid that purl dash line. I actually think that little stockinette stitch pattern looks great near the edge of my shawl. You can learn more about changing yarn color and check out my top tips when knitting stripes here on my website.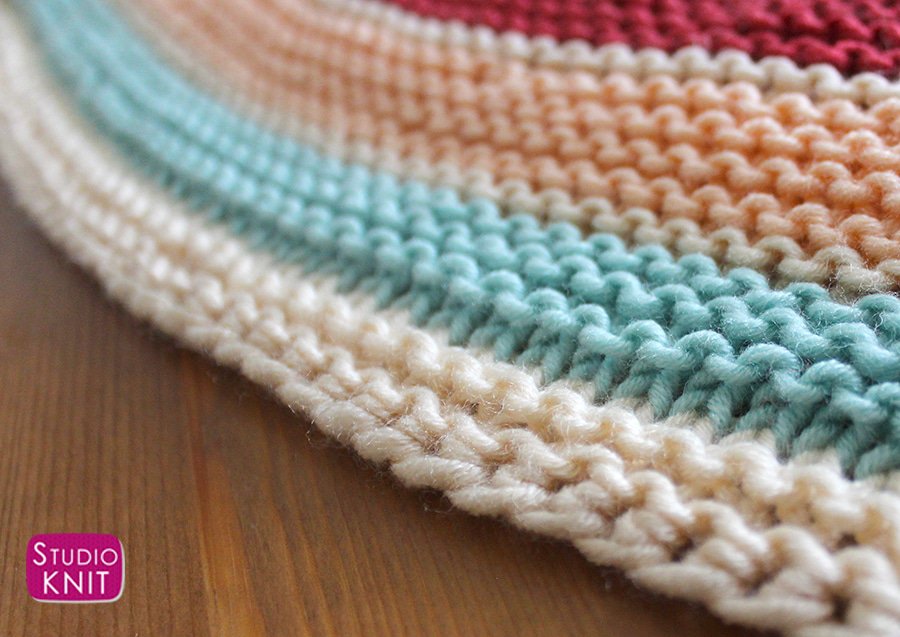 ---
BLOCKING YOUR SHAWL: I found that my Caron x Pantone Asymmetrical Shawl looked great right off my stitches. But, knowing that I would be also photographing it for you, I decided to block it to help my shawl look its absolute best. Using my interlocking blocking mats, I pinned it down lightly and sprayed it thoroughly with cool water, avoiding warmth or heat. After setting out overnight, it was dry, shaped perfectly, and draped lovely.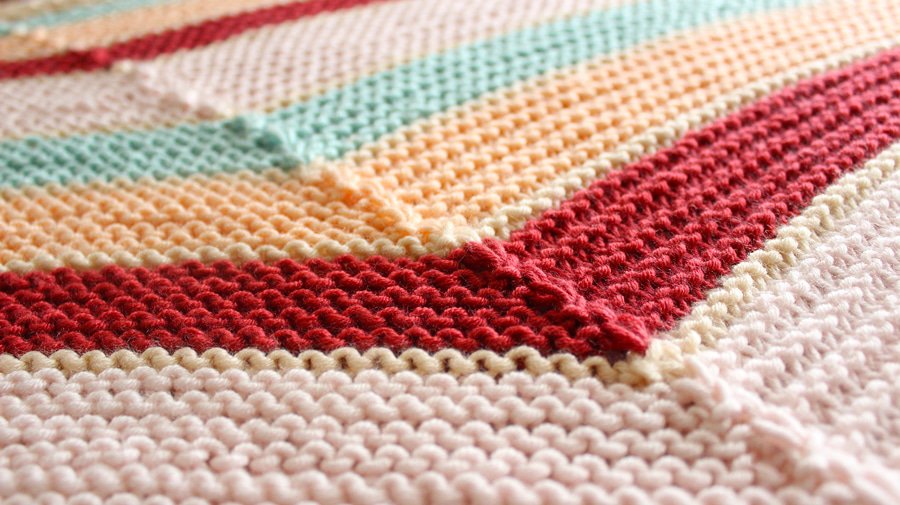 ---
THANK YOU FOR VISITING STUDIO KNIT
I hope you are inspired to knit up this Caron x Pantone Asymmetrical Knit Shawl as your next knitting project.
If you'd like even more great knitting ideas, please make sure you join my mailing list. Subscribing to my YouTube channel Studio Knit is another easy way for us to stay connected and help support my work for free.
Happy Knitting to You!