All Too Well Scarf Knitting Pattern
This All Too Well Scarf Knitting Pattern creates a beautiful handmade accessory. Inspired by the lyrics in Taylor Swift's song, this full-sized adult scarf in deep burgundy is created with an easy texture, is reversible, and finished with fun fringe tassels.
Find your free knitting instructions further down on this page. You may also purchase my ad-free printable pdf pattern in my Studio Knit Pattern Shop.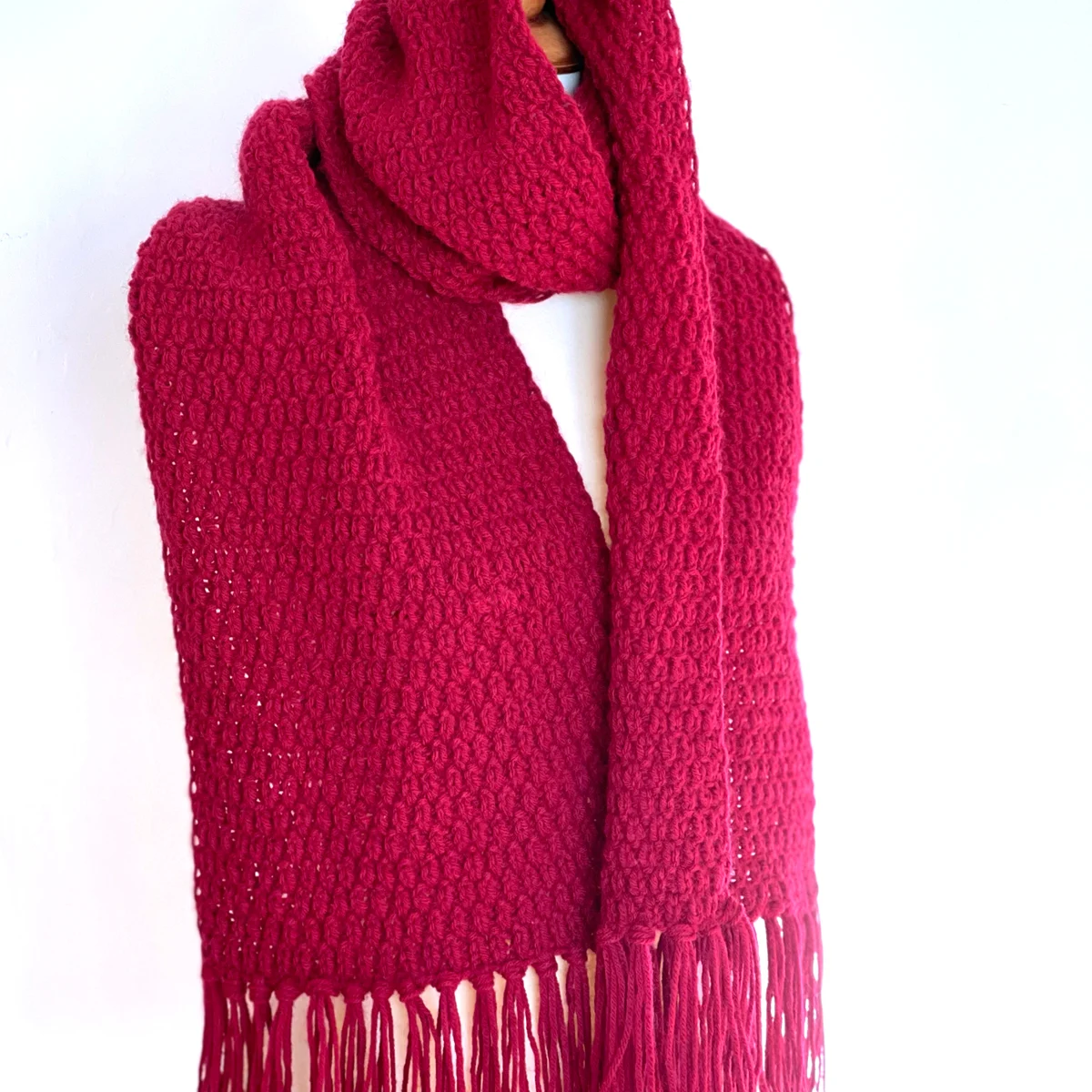 Table of Contents
---
Knitted Scarf Design from Red (Taylor's Version) Album Collection
Whether you're a Swiftie yourself or know someone who loves her music, this is the perfect knitted gift that is sure to become a cherished fashion piece for years to come. So, let that ex keep your old scarf in their drawer and let's knit up a new one together!
You can see this scarf worn by actress Sadie Sink in the video Taylor Swift – All Too Well: The Short Film.
This design is inspired by the scarf in (Taylor's Version) Album Collection from her official Taylor Swift Store. However, we are hand-knitting our scarf with love, while her shop offers a machine-knit version.
Similar to her available merchandise, we are knitting our scarf in acrylic yarn with tassels in an easy knit and purl pattern that I'm naming the Swift Stitch. Looking closely at photos of the official version, I noticed that the alternating rib rows are longer than the Irish Moss Stitch, yet shorter than the Long Raindrops Stitch. As a result, I designed this scarf in a new texture aptly named the "Swift Stitch," which is a 6-row repeat sequence of alternating ribbing.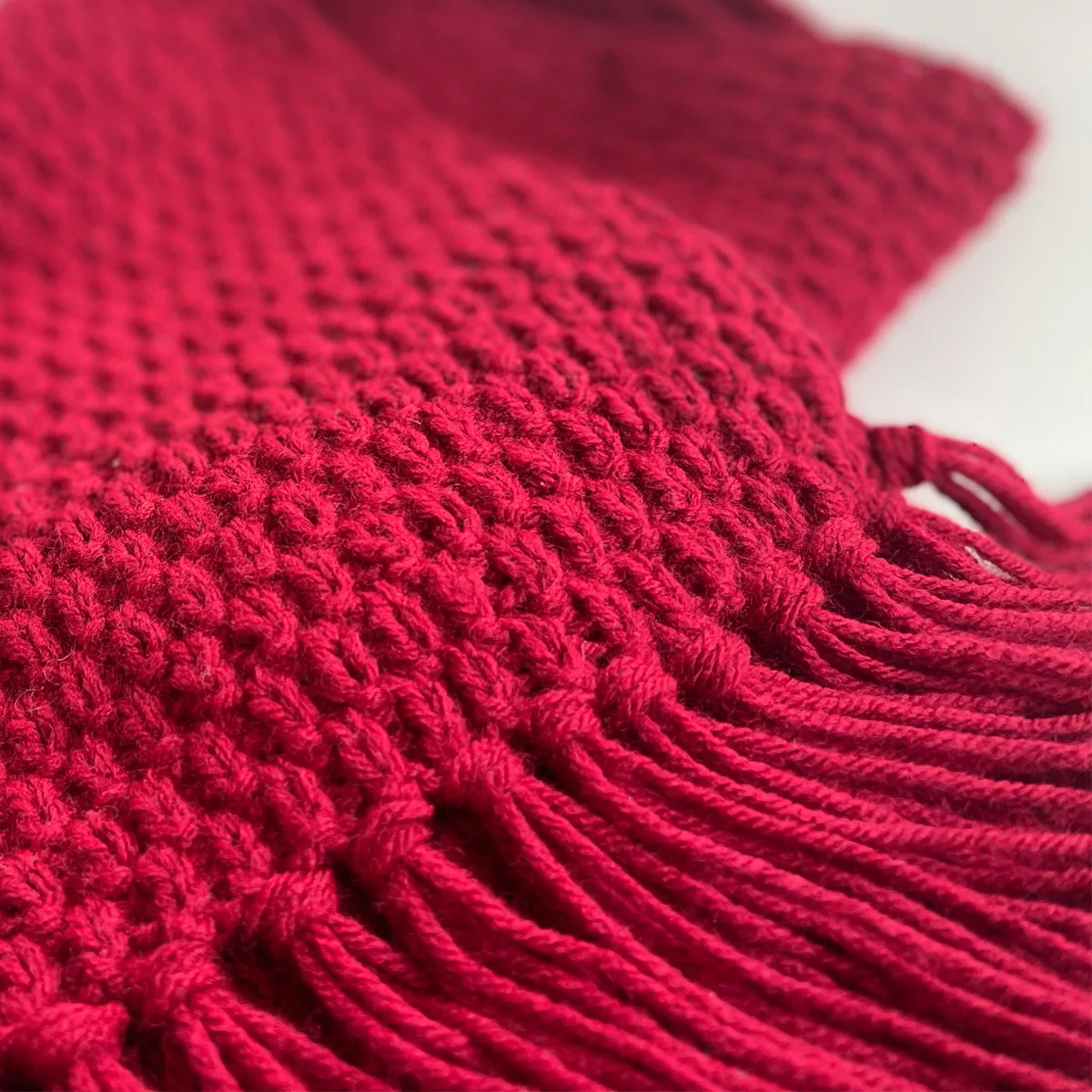 Scarf Dimension
This full-sized adult knitted scarf is finished at 12″ wide and 72″ tall. With fringe tassels, the total length is 80″.
Knitted Bottom-Up
This scarf pattern is knitted bottom-up from the cast on edge.
Reversible Pattern
This Swift Stitch texture is a reversible pattern, which is perfect for scarves. Both sides, the right and the wrong, are identical. However you wear your scarf, the beautiful texture will be displayed.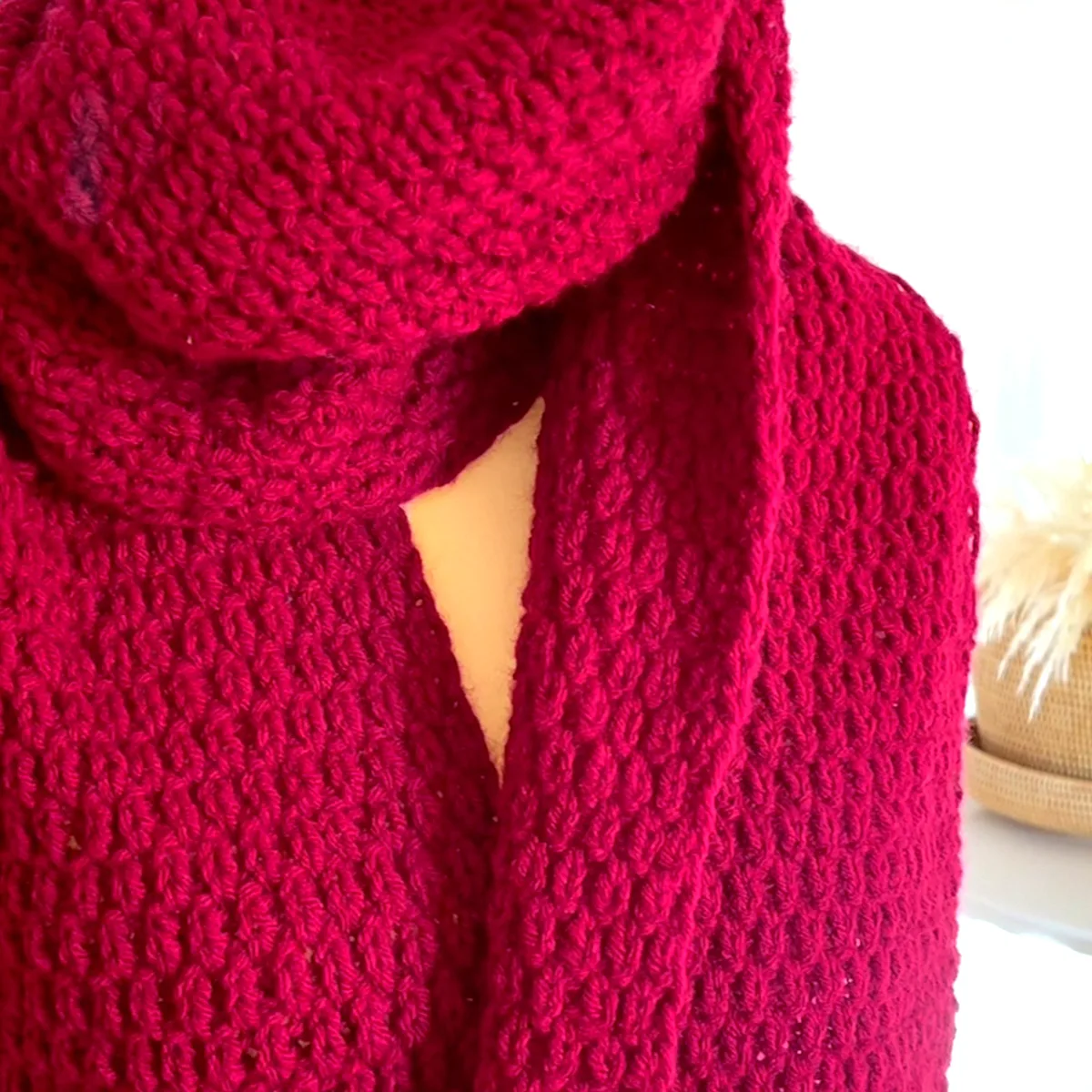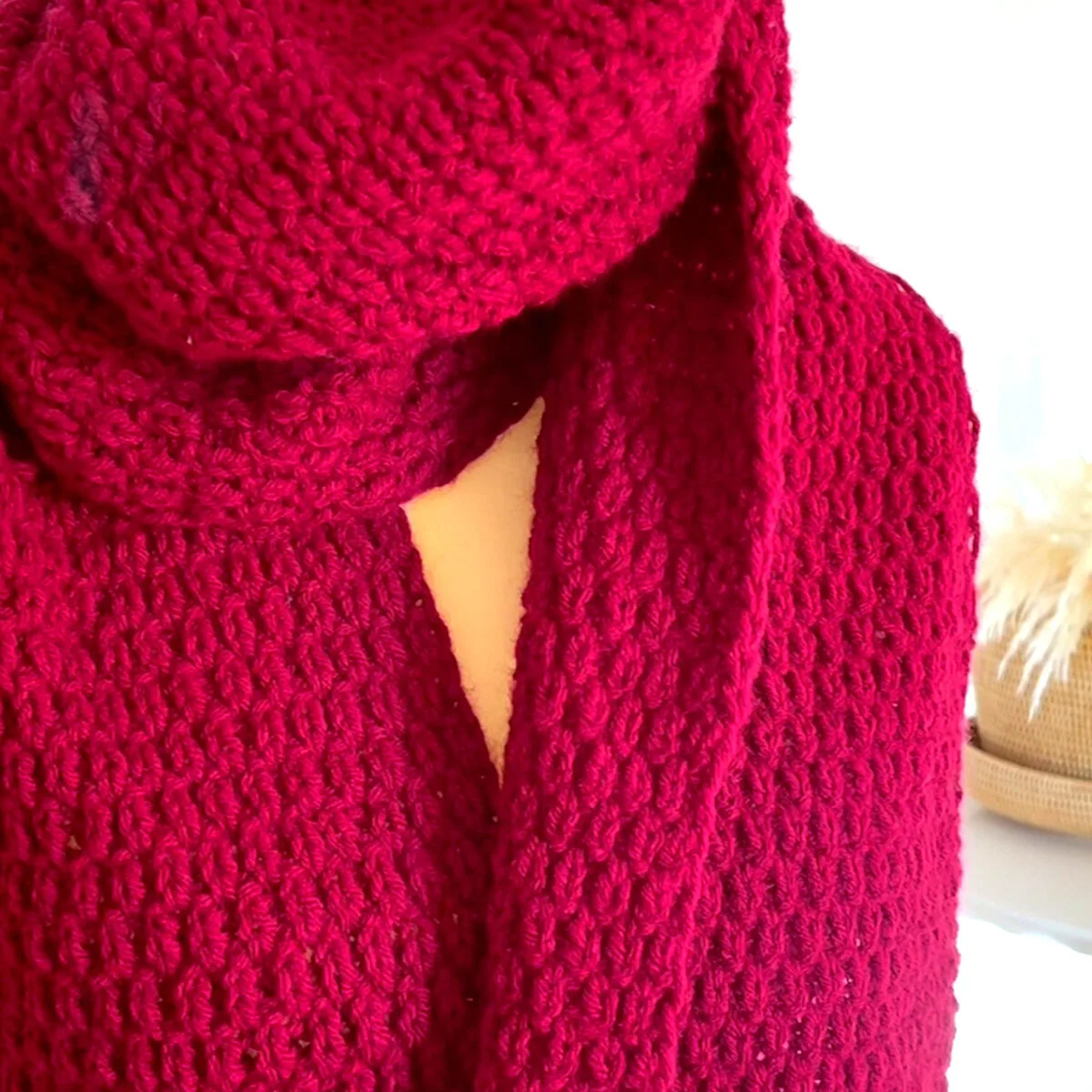 Slip Stitch Chain Edge
The side edges are nice and smooth with a Slip Stitch Chain. Since we are knitting flat on straight needles, we begin each row with a slipped stitch purlwise with the yarn in back, knit the Switft Stitch, then finish with one purl stitch. No need to memorize this now, it is easily created by following the written scarf knitting pattern below.
Active Time to Complete
This scarf does take time to knit from beginning to end. The pattern as written takes approximately 30 to 40 hours to complete.
Want to knit it faster? You may adjust your length and/or width accordingly, if desired. Additionally, you may chose to modify this pattern with thicker yarn weights and appropriately sized knitting needles.
No Blocking Required
With most of my knitting projects, I often suggest blocking with just a light spray of water, blocking mats, and some time spent relaxing the stitches overnight. However, this pattern knits up beautifully and does not curl at the edges. As a result, I feel blocking is unnecessary for this project. And, yes, the sample scarf pictured in this post is fresh off the needles, unblocked!
Love knitting scarves? I have more easy scarf patterns for you with my Color Block Sampler, Pennant Pleating, and newest Long Raindrops Cowl.
---
Printable Knitting Pattern (ad-free)
My ad-free printable pdf pattern, complete with knitting chart, of my All Too Well Scarf design is available for purchase in my Studio Knit Pattern Shop.
You may also find this pattern in my Etsy Shop, LoveCrafts, and Ravelry Pattern Store. A great way to support my knitting work!
Want the free written pattern instructions? Keep reading this page!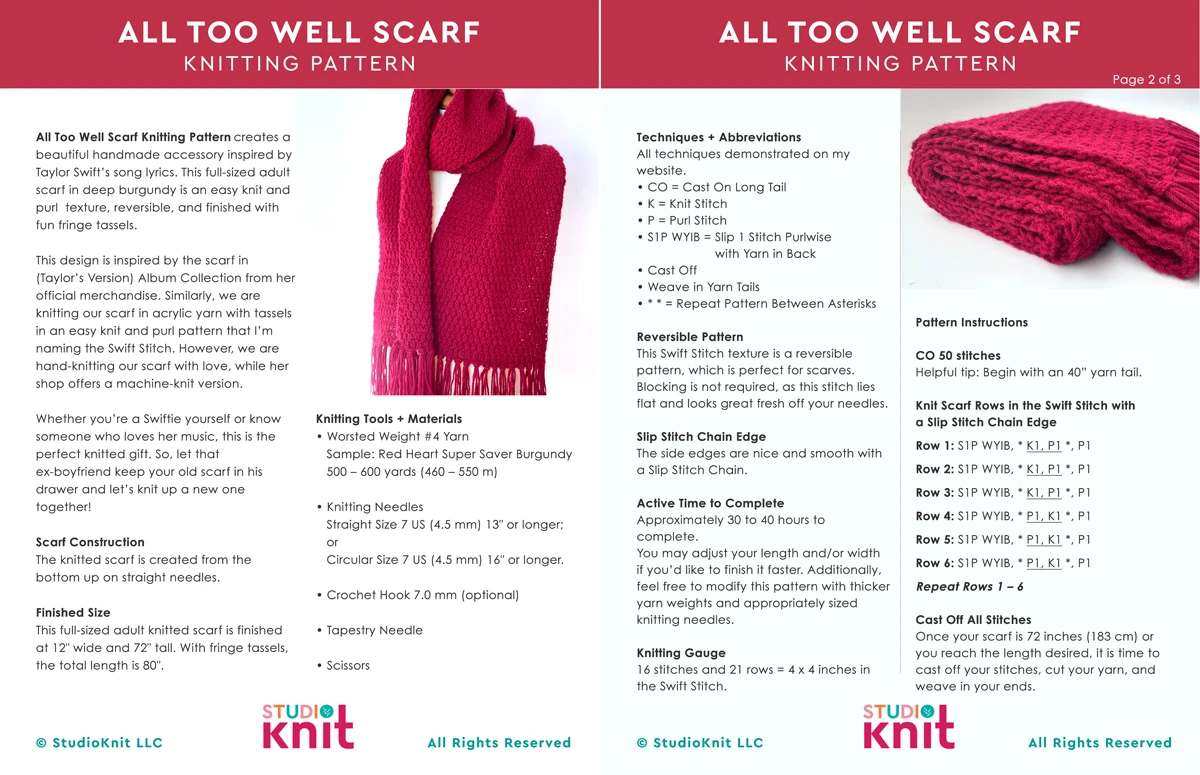 ---
Matching Hat Pattern
By popular request, I designed a matching Swift Stitch Hat. Once I published this scarf pattern, knitters immediately wanted to knit up matching fashion pieces. After running a poll on my YouTube channel, the most popular accessory requested was this adorable hat by over 50%, wow!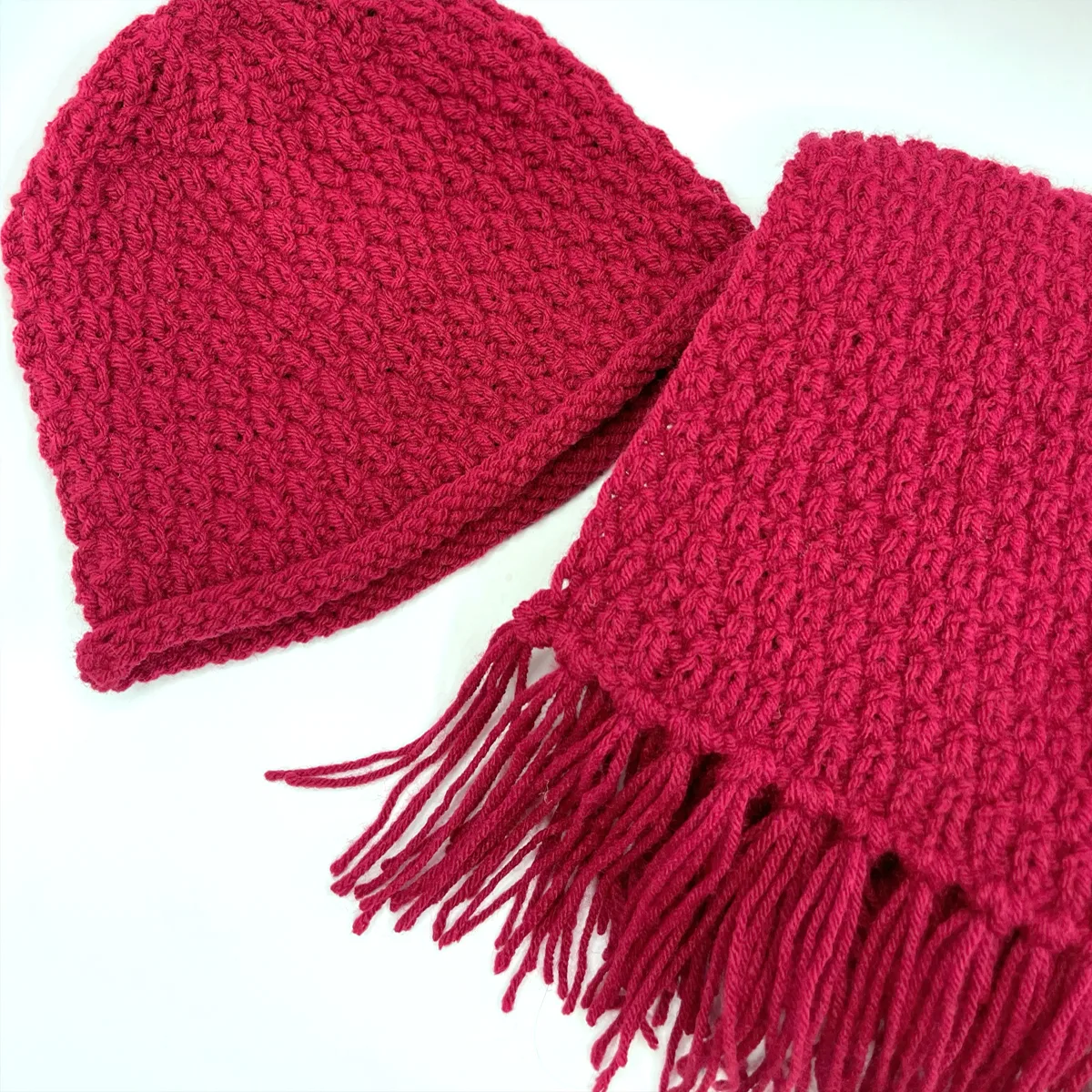 ---
Knitting Supplies
As an Amazon Associate, I earn from qualifying purchases.
Suggested Yarn: Red Heart Super Saver in color Burgundy
Worsted Weight #4
500 – 600 yards (460 – 550 m)
If knitting with the suggested Red Heart yarn, you'll need about 10 oz total for one scarf, so I purchased and knit with two of the 7 oz Red Heart yarn skeins.
Feel free to select any fiber and colors of your choice.
Suggested Knitting Needles: Clover Takumi Bamboo
Select needles long enough to hold all stitches of this 12 inch wide scarf.
Straight Size 7 US (4.5 mm) 13″ or longer; or
Circular Size 7 US (4.5 mm) 16″ or longer.
Crochet Hook Size size 7.0 mm (optional for fringe)
Reading Light (optional for help see dark shades of yarn)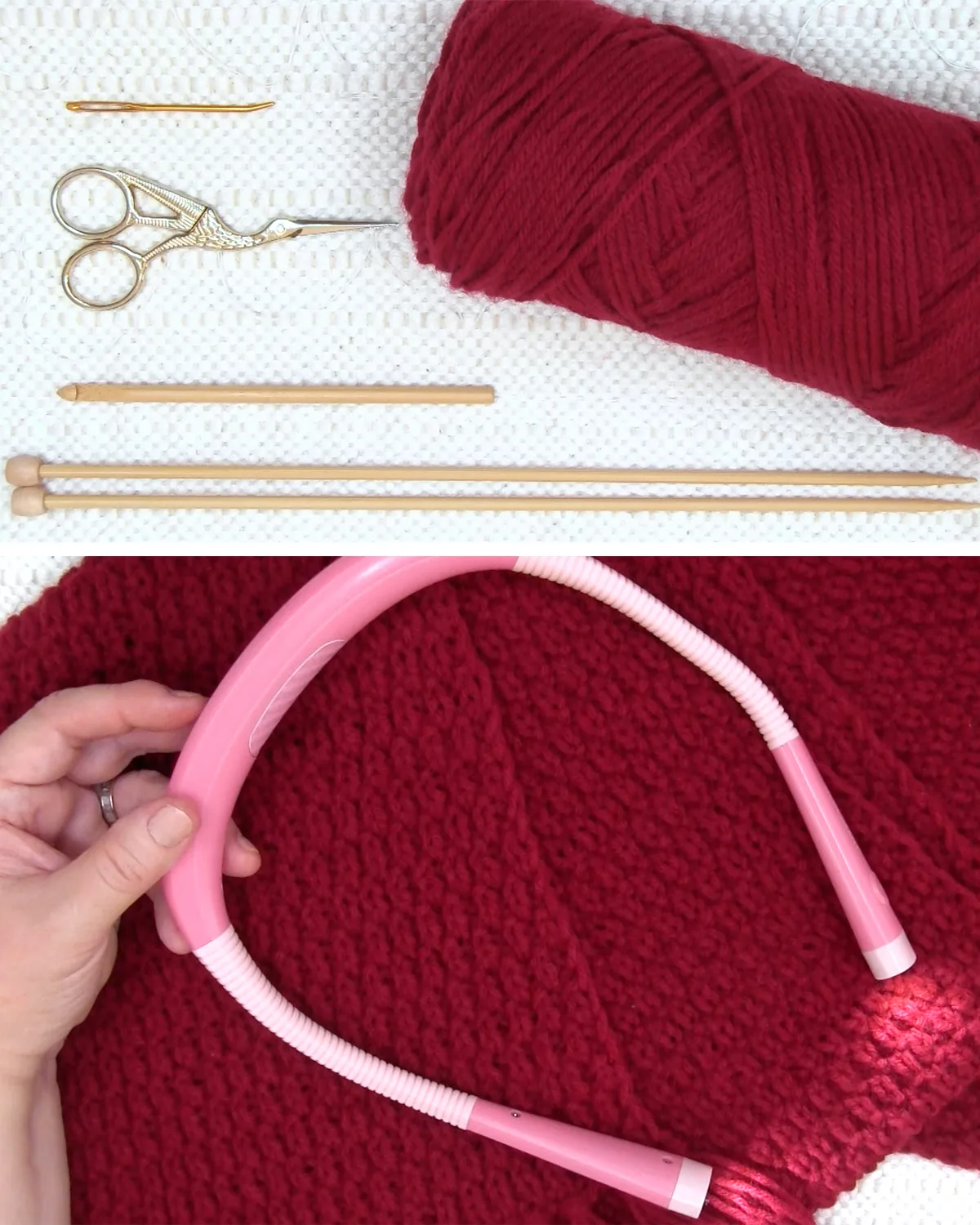 ---
Knitting Techniques
The full video tutorial demonstrates all knitting techniques.
---
Watch Video Tutorial
---
All Too Well Scarf Knitting Instructions
Preparation
Since this is a one-size accessory, I personally feel that getting the correct gauge is not imperative. However, you may create your gauge swatch if desired, adjusting as needed. Knit the following in worsted weight #4 yarn with size 7 US needles.
Knitting Gauge:
16 stitches and 21 rows = 4 x 4 inches in the Swift Stitch (see Step 2 below)
---
Step 1: Cast On
Cast on 50 stitches onto your needle with the long-tail method.
Helpful tip: Begin Cast On with an 40-inch long yarn tail.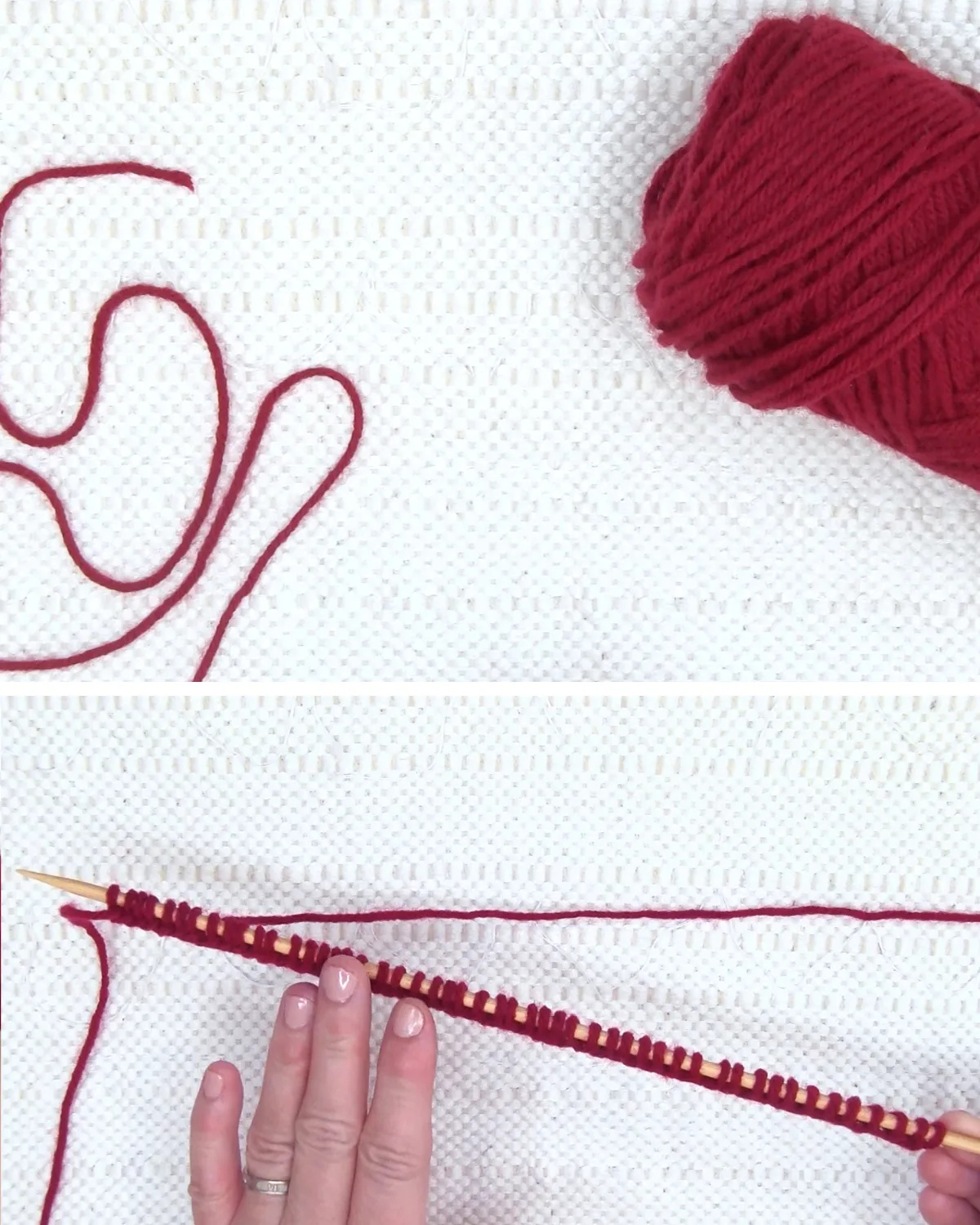 ---
Step 2: Knit Scarf Rows in the Swift Stitch with a Slip Stitch Chain Edge
Row 1: S1P WYIB, * K1, P1 *, P1
Row 2: S1P WYIB, * K1, P1 *, P1
Row 3: S1P WYIB, * K1, P1 *, P1
Row 4: S1P WYIB, * P1, K1 *, P1
Row 5: S1P WYIB, * P1, K1 *, P1
Row 6: S1P WYIB, * P1, K1 *, P1
Repeat Rows 1 – 6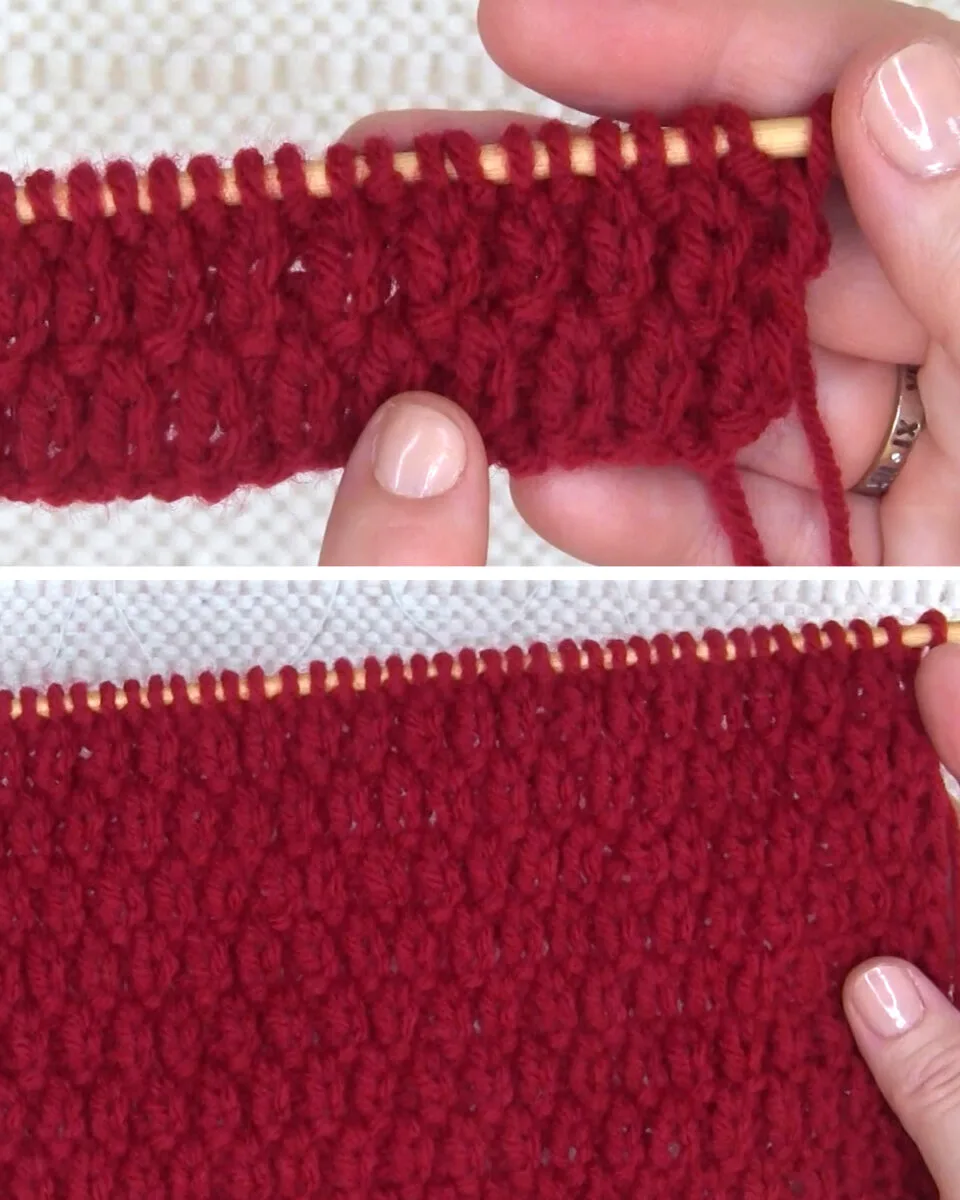 ---
Step 3: Cast Off All Stitches
Once your scarf is 72 inches (183 cm) or you reach the length desired, it is time to cast off your stitches, cut your yarn, and weave in your ends.
---
Step 4: Fringe Tassel Finishing
Make 17 Fringe Tassels per Edge
Cut 102 strands of yarn into 7-inch lengths. I like to wrap yarn around my iPhone, then cut on one end;
Take 3 strands of yarn, fold, and weave the folded part through one end of your scarf by using either a crochet hook or your tapestry needle;
Once half way through, take the ends of your fringe and pull them through your loop.
Cut your yarn ends to the tassel length you desire.
On each edge, add a total of 17 fringe tassels total.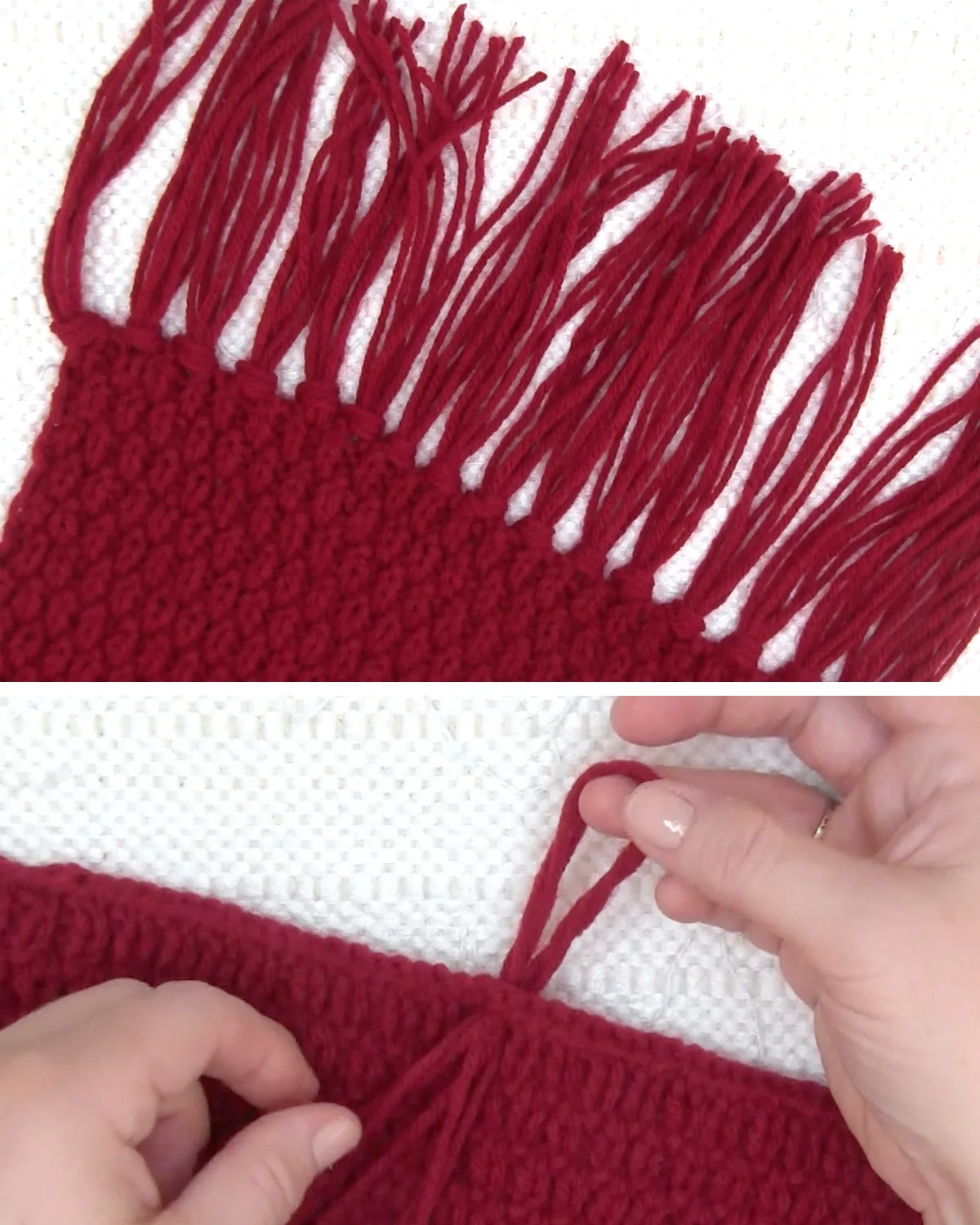 ---
Thank You for Visiting Studio Knit
I hope you are inspired to knit my All Too Well Scarf for yourself, family, and friends. May it remind you of innocence and smell like you. Find your printable pattern in my Studio Knit Shop.
If you'd like even more great ideas, please make sure you join my mailing list. It's a free and easy way for us to stay connected.