You are going to love my free Harry Potter Scarf knitting pattern customizable in Hogwarts House colors.
This Gryffindor scarf pattern is a great year-round and winter scarf. It is thick, long, and instantly recognizable with its wide colorful stripes.
Knitting in the round, this scarf has a double thickness in the smooth Stockinette stitch. You can easily make it into any other colors that you may have been sorted into at Hogwarts.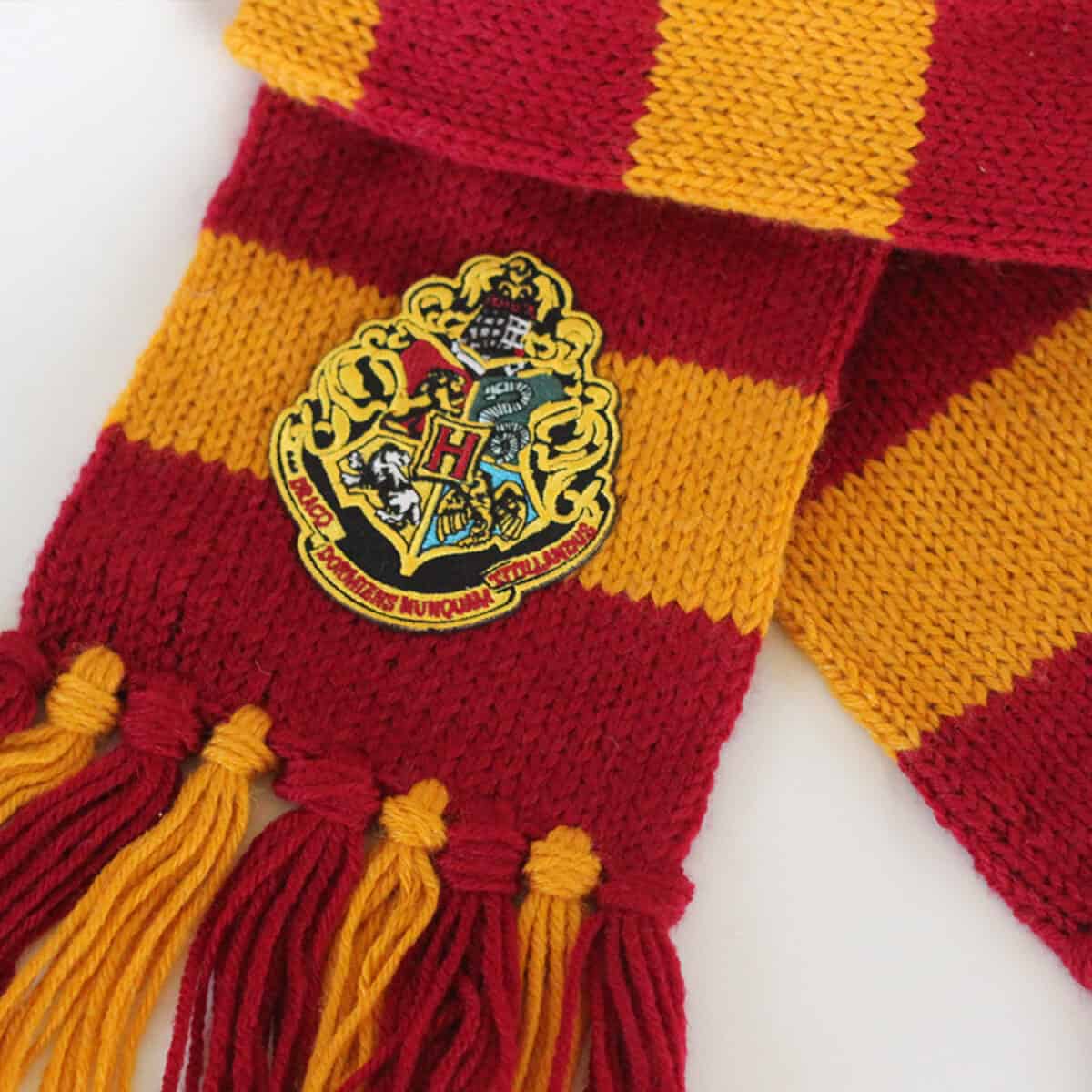 ---
KNITTING MATERIALS
For our materials, we're using worsted weighted yarn, mine is wool. You'll want to use a size 8 US circular knitting needle with a length of 16 inches, along with scissors and a tapestry needle. An optional tool is a crochet hook for our fringe. For a special little embellishment, add a Hogwarts crest. You can also select to add a Hufflepuff, Ravenclaw, Gryffindor, or Slytherin patch to your Harry Potter scarf.
---
KNITTING TECHNIQUES for the Harry Potter Scarf
Need to brush up or learn a new technique? Check out my entire library of Knitting Techniques to help you along as you knit up this project. If you're new to knitting, you'll love my Absolute Beginners Knitting Series!
---
WHAT LENGTH SHOULD I KNIT MY HOGWARTS SCARF?
These standard scarf lengths are merely recommendations. Knit it up whatever size you'd like.
Men's Scarves typically measure between 60 – 70 inches (152 – 178 centimeters)
Women's Scarves measure between 54 – 60 inches (137 – 152 centimeters)
Children's Scarves measure 36 inches (91 centimeters)
---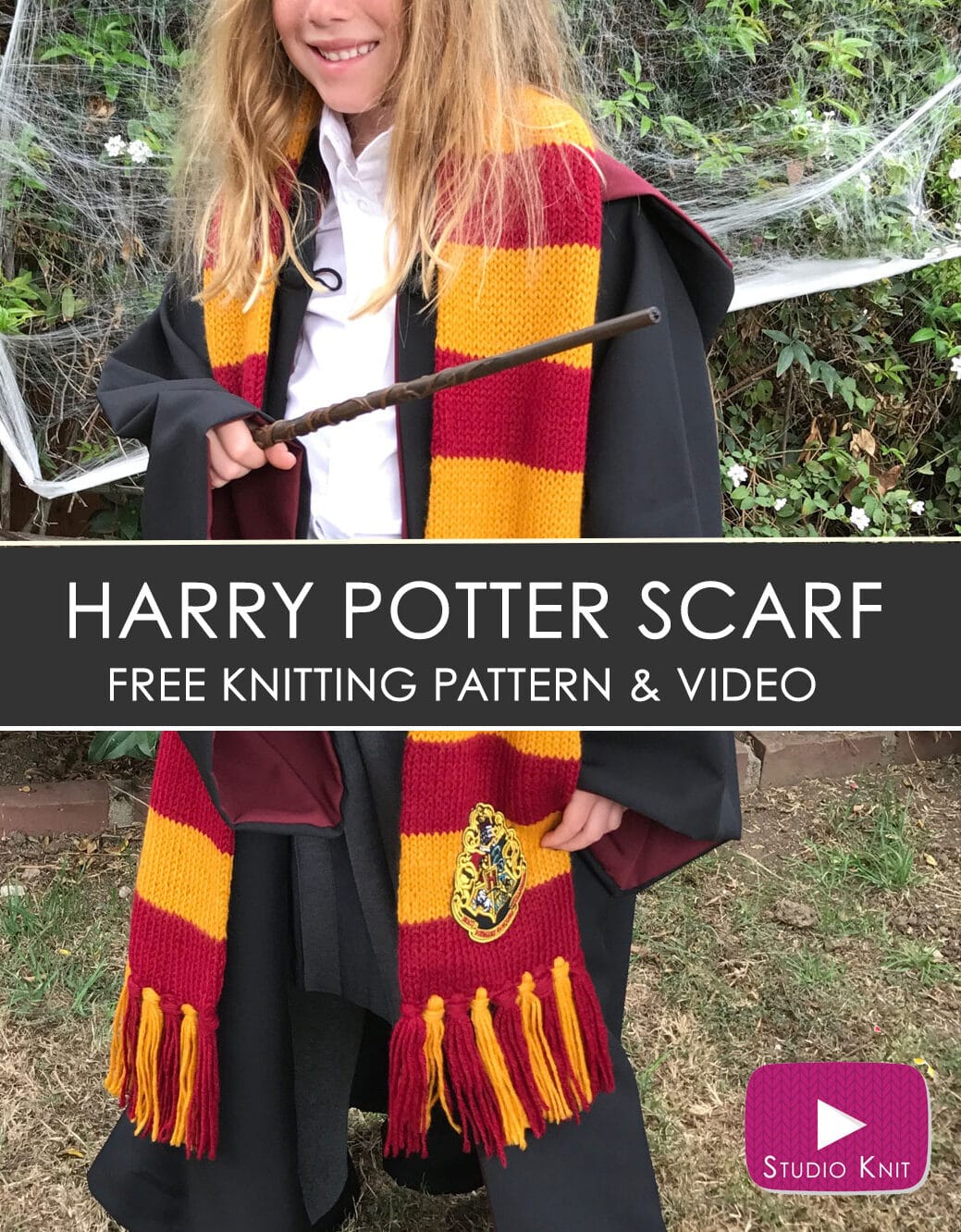 KNIT UP THE 4 HARRY POTTER HOUSE SCARVES from YOUR SORTING CEREMONY
Each house is named after the four founders of Hogwarts. Knit up your Harry Potter scarf according to the House you've been sorted into! You'll see that my sample was knitted for my Gryffindor friend.
Named for Godric Gryffindor, the Gryffindor House colors are Scarlet and Gold with the Lion as its mascot. Gryffindor values courage, bravery, nerve, and chivalry.
Named for Rowena Ravenclaw, the Ravenclaw House colors are Blue and Bronze with the Eagle as its mascot. Ravenclaw values intelligence, creativity, learning, and wit.
Named for Salazar Slytherin, the Slytherin House colors are Green and Silver with the Serpent as its mascot. Slytherin values ambition, cunning, leadership, and resourcefulness.
Named for Helga Hufflepuff, the Hufflepuff House colors are Yellow and Black with the Badger as its mascot. Hufflepuff values hard work, patience, justice, and loyalty.
---
WATCH STEP-BY-STEP VIDEO TUTORIAL
Harry Potter Scarf
---
6-STEP KNITTING INSTRUCTIONS for Harry Potter Scarf
SCARF SIZE: My Scarf measures 6″ wide by 54″ long (62″ long including fringe)
_____
Step One: Cast On Stitches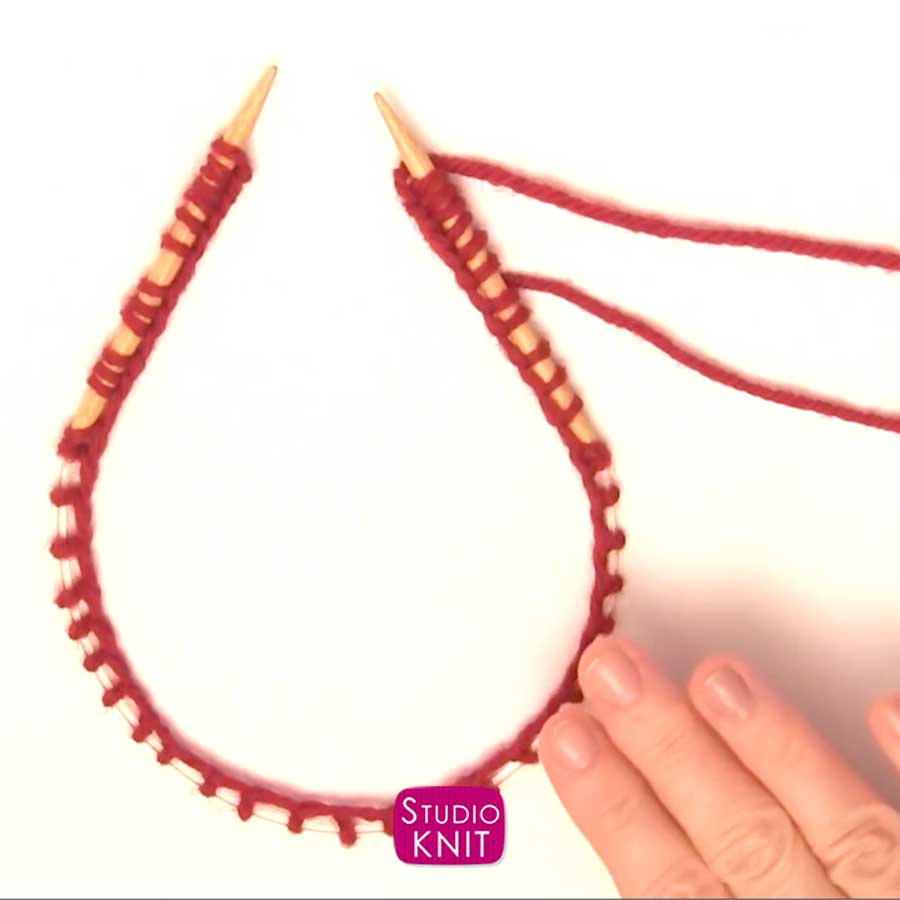 Let's begin by making our beloved slip knot. We're going to begin casting on the long tail method onto our circular needle. If you'd like a little help on your circular needle, I have a great tutorial on Knitting in the Round.
Cast On 51 Stitches of your Color A Yarn (mine is red) onto your 8 US 16″ circular needle.
Make sure not to twist your stitches before knitting in the round.
I am casting on 51 stitches because we're going to slip from the right needle to the left one stitch. This is going to help join our stitches in the round. Add a little stitch marker.
_____
Step Two: Begin Knitting the Stockinette Stitch in the Round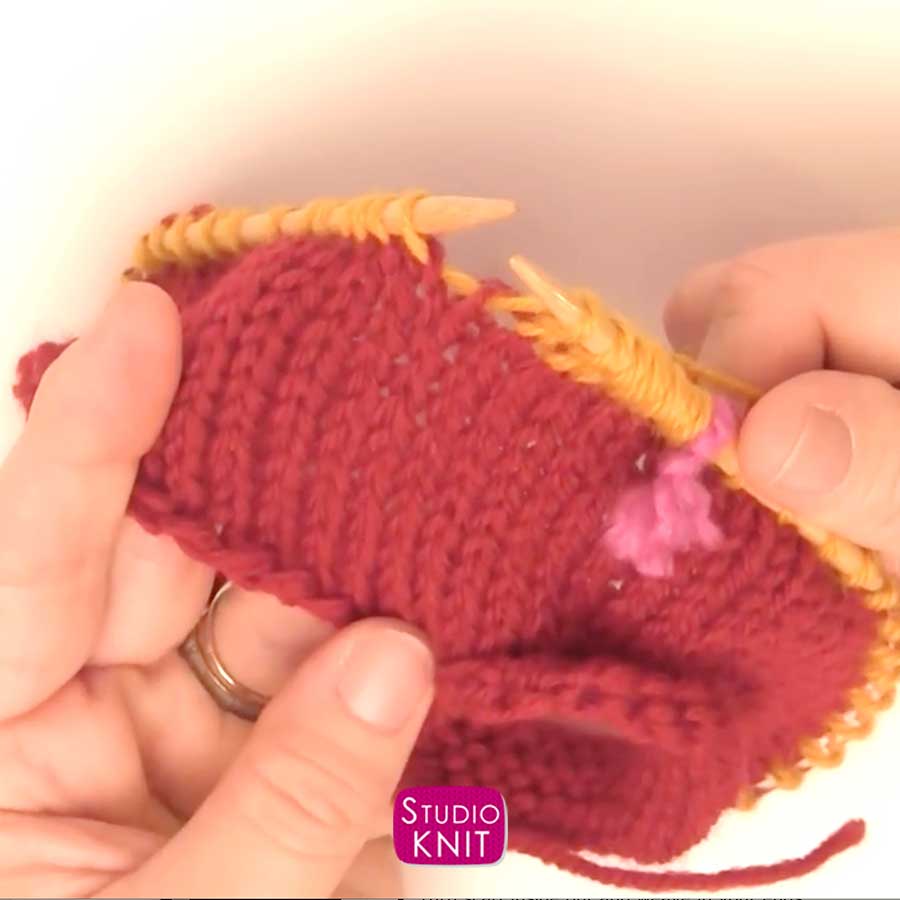 Knit 13 Rows in the Round in the Knit Stitch. This gives us a nice smooth Stockinette Stitch all around. If you're creating your own color scheme, then you just change colors any time your heart desires.
Change yarn color to Color B (mine is gold)
Continue knitting, changing yarn colors as you knit, until your scarf is the length you desire, ending with Color A. I knitted 23 color blocks (12 Red / 11 Gold) total.
_____
Step Three: Bind Off and Weave In Yarn Ends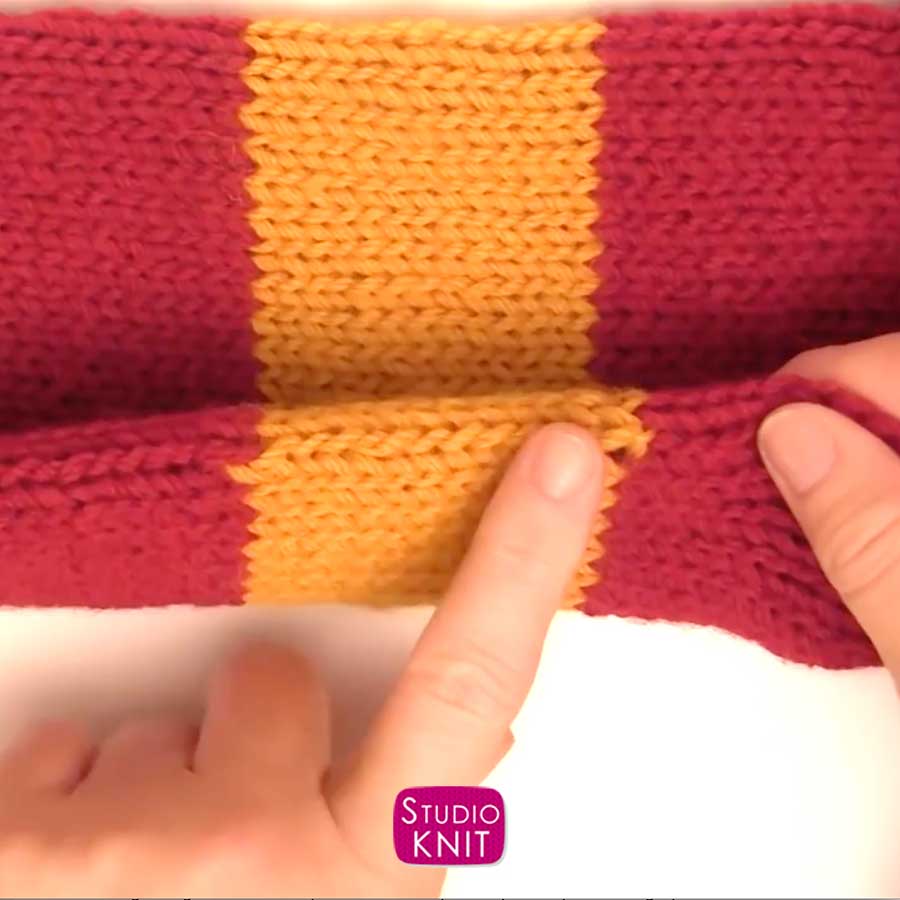 Turn scarf inside out and weave in your ends;
Turn scarf right side out and place the color change line along one edge of your scarf.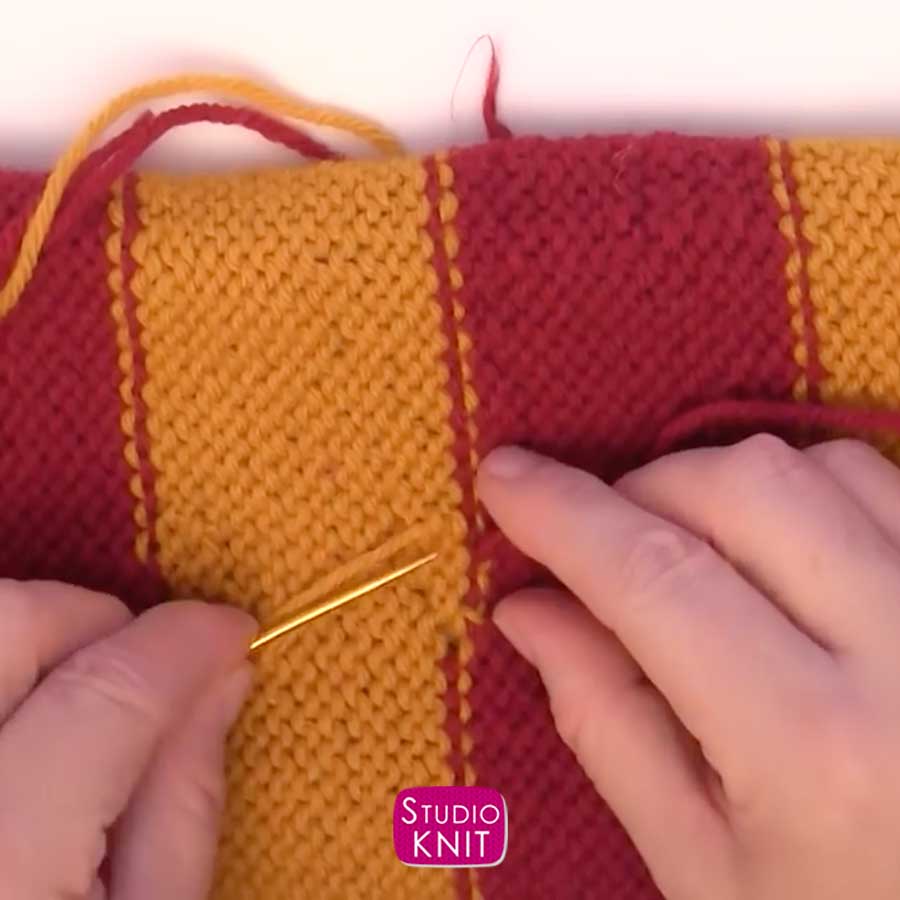 _____
Step Four: Add Fringe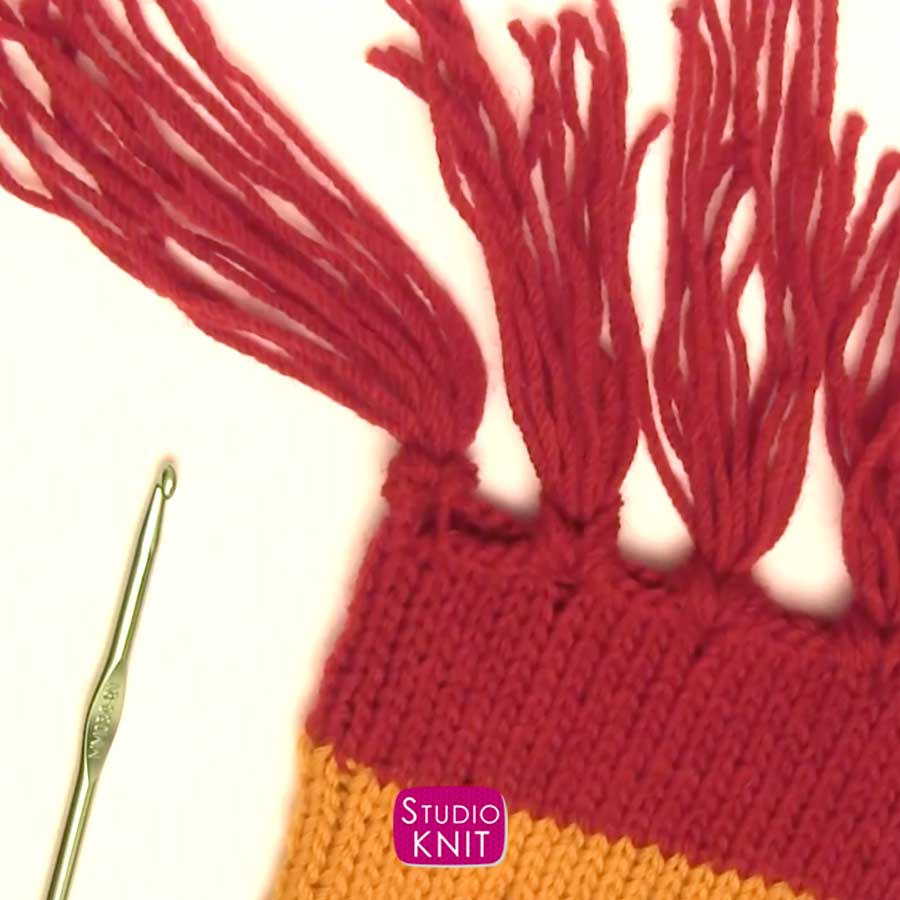 Wrap yarn around your favorite Harry Potter Book then cut on one end
Take 7 Strands, fold, and weave the folded part through both ends of your scarf
I am beginning in the middle, then the ends, to help me eyeball fringe placement
Once halfway through, take the ends of your fringe and pull them through your loop
The fringe will "bind" each end of your knitted-in-the-round scarf
_____
Step Five: Attach a Patch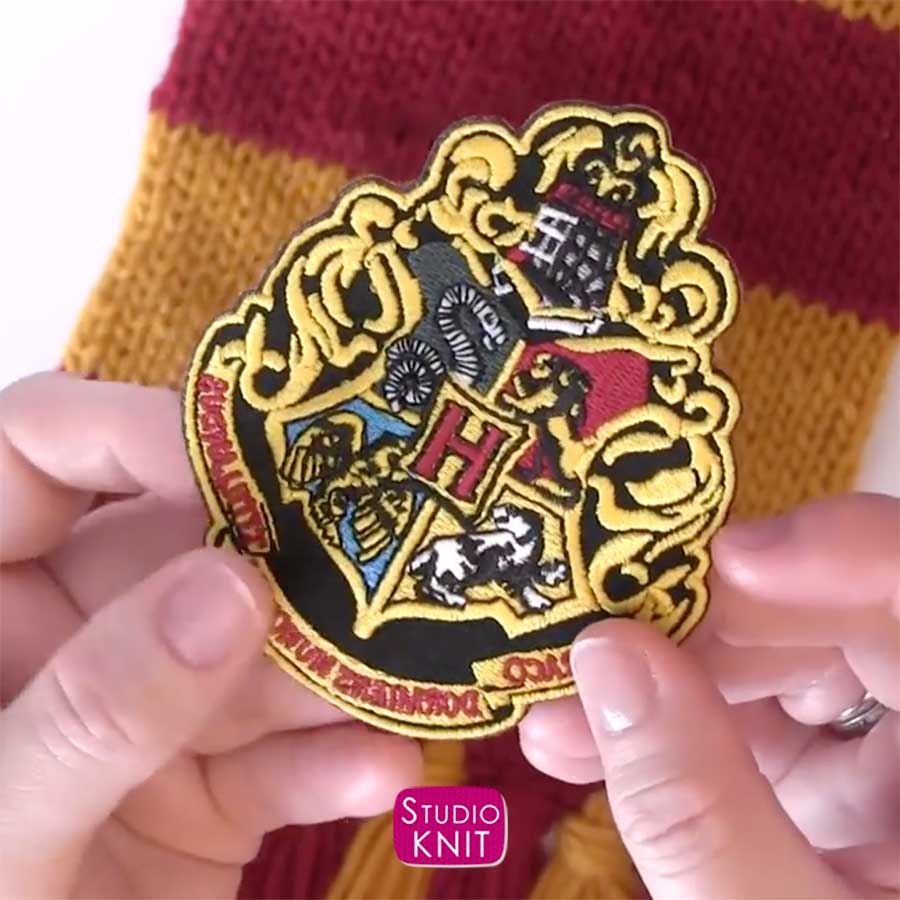 For an added embellishment, place a 4 Houses of Hogwarts Crest Patch to one end of your scarf! This is an iron-on transfer. Ironing it onto the yarn doesn't adhere as well as it would to a t-shirt and the edges tend to curl up, so I'm just going to tack the crest patch down a little bit more securely with a needle and thread. There are more Hogwarts House patches to chose among in my Amazon Shop, too!
_____
Step Six: Block Your Scarf (optional)
You may wish to lightly steam your scarf with a warm iron to relax or wet block your scarf… don't forget the fringe! This will make it extra cozy and perfect.
---
THANK YOU FOR VISITING STUDIO KNIT
I hope you are inspired to knit up this Harry Potter Scarf. I have so many fun Halloween Knits to try out next! If you'd like even more, please make sure you join my mailing list. Subscribing to my YouTube channel Studio Knit is another easy way for us to stay connected and help support my work for free.