Knit up a Harry Potter Scarf! I thought it this scarf would be great to show it off Harry Potter style because Halloween is coming up and I've gotten a lot of requests for this particular scarf. Great year-round scarf – knit up in your favorite colors. You can make it into any other colors that you may have been sorted into at Hogwarts.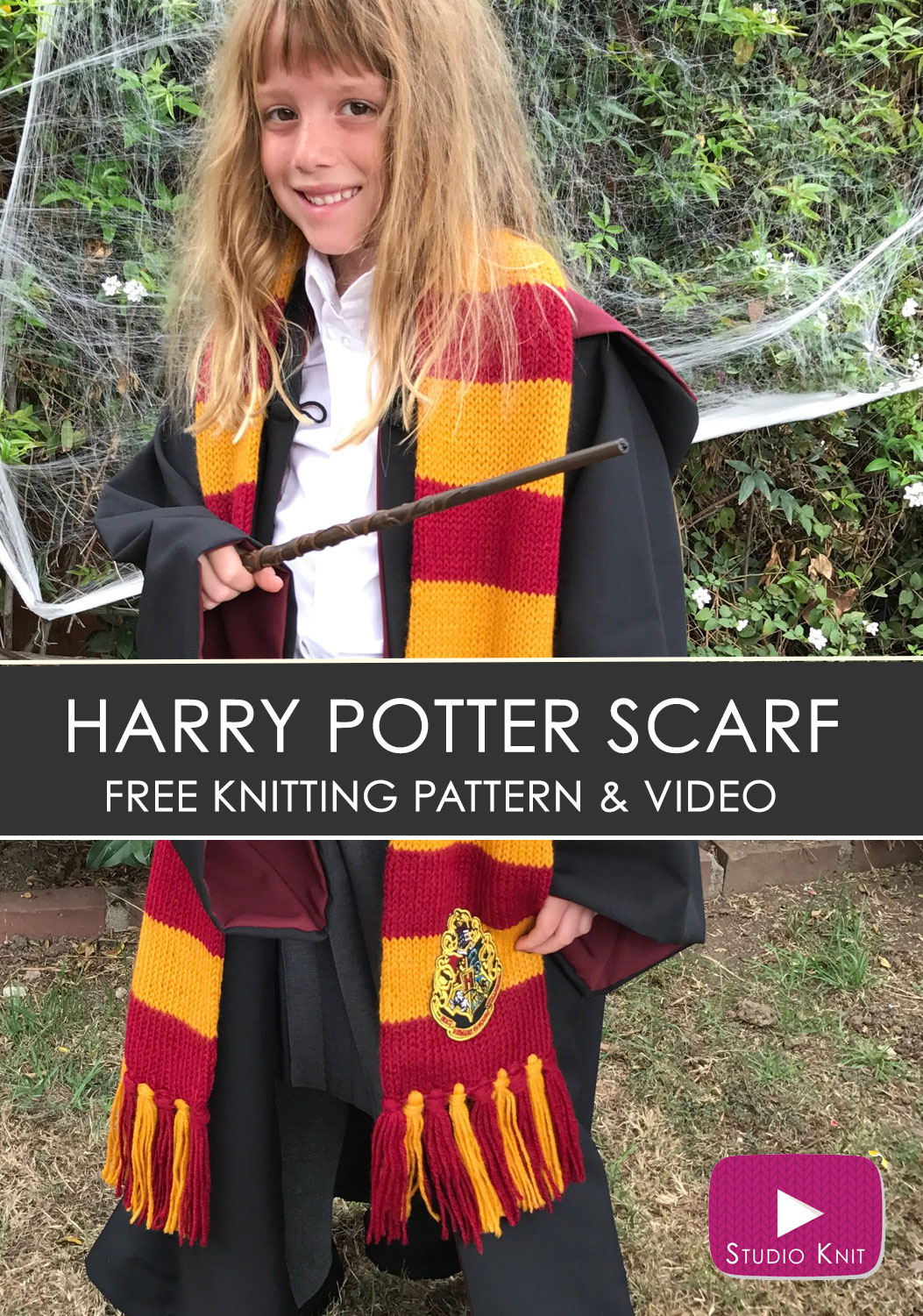 ---
MATERIALS to Knit the Harry Potter Scarf
For our materials, we're using worsted weighted yarn, mine is wool. You'll want to use a size 8 US circular knitting needle with a length of 16 inches,. along with scissors and a tapestry needle. An optional tool is a crochet hook for our fringe. And for a special a little embellishment, I have a Hogwarts crest. You can also select to add a Hufflepuff, Ravenclaw, Gryffindor, or Slytherin patch to your Harry Potter scarf.
Get all of your materials online now in my Studio Knit Amazon Shop, and select The Harry Potter Hogwarts Scarf Kit.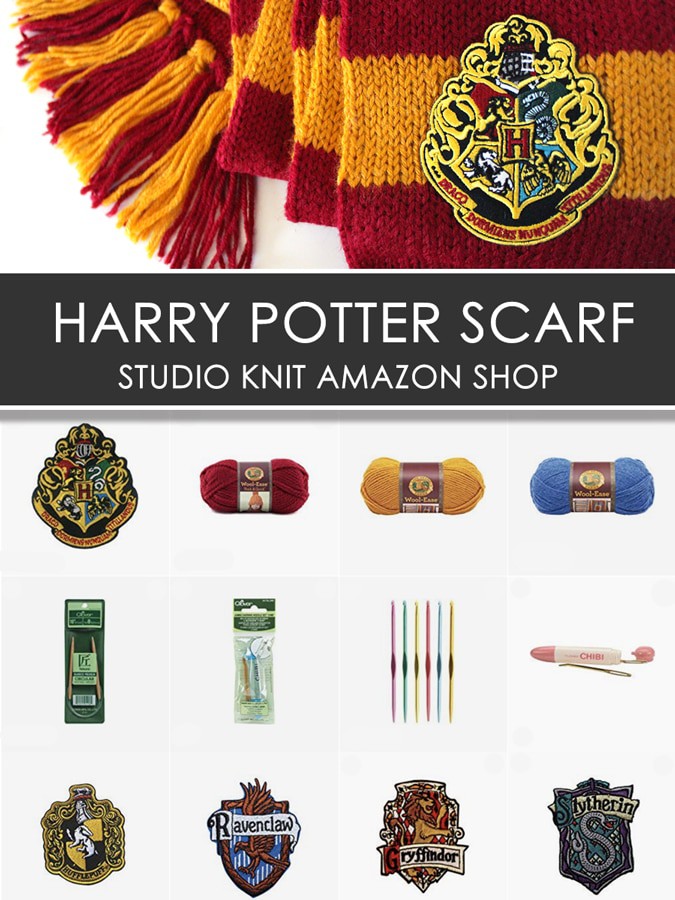 ---
KNITTING TECHNIQUES for the Harry Potter Scarf
Need to brush up or learn a new technique? Check out my entire library of Knitting Techniques to help you along as you knit up this project. If you're new to knitting, you'll love my Absolute Beginners Knitting Series!
---
KNITTING PATTERN for Harry Potter Scarf
JUST WANT THE PATTERN ON THIS WEBSITE PAGE?
Keep scrolling, it's up next!
EMAIL SUBSCRIBERS: Download Your Ad-Free Printable .PDF Pattern
You will receive an email invitation to my "Knitting Freebies" page.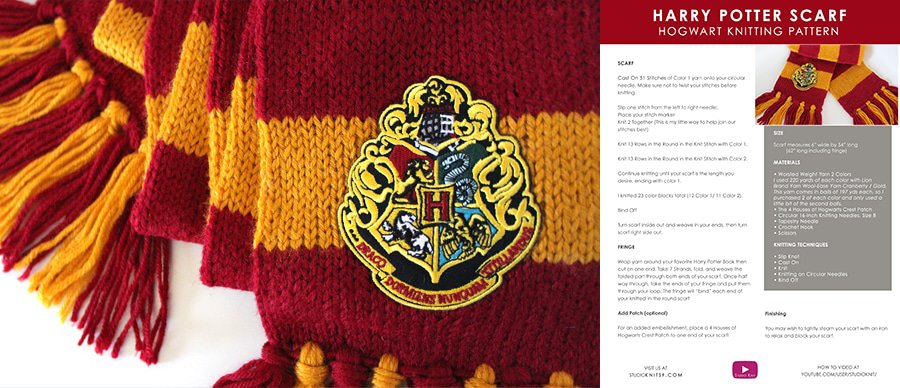 ---
KNITTING INSTRUCTIONS for Harry Potter Scarf
SIZE  Scarf measures 6″ wide by 54″ long (62″ long including fringe)
Knitting
So, let's begin with our beloved slip knot. We're going to begin casting on the long tail method onto our circular needle. If you'd like a little help on your circular needle, I have a great tutorial on Knitting in the Round.
Cast On 51 Stitches of your Red yarn onto your 8US 16″ circular needle
Make sure not to twist your stitches before knitting
Casting on 51 stitches because here we're going to slip from the right needle to the left one stitch. This is going to help join our stitches in the round. Add a little stitch marker.
Slip one stitch from the left to right needle;
Place your stitch marker (I'm just using a bit of pink yarn);
Knit 2 Together (This is my little way to help join our stitches best.  See "How to Knit on Circular Needles in 5 Easy Steps" for more)
Knit 13 Rows in the Round in the Knit Stitch. This gives us a nice smooth Stockinette Stitch all around.  If you're doing your own color scheme, then you just change colors any time your heart desires.
Change yarn color to Yellow
Continue knitting until your scarf is the length you desire, ending with your first color.  I knitted 23 color blocks (12 Red / 11 Yellow) total
Turn scarf inside out and weave in your ends
Turn scarf right side out and place the color change line along one edge of your scarf
Fringe
Wrap yarn around your favorite Harry Potter Book then cut on one end
Take 7 Strands, fold, and weave the folded part through both ends of your scarf
I am beginning in the middle, then the ends, to help me eyeball fringe placement
Once halfway through, take the ends of your fringe and pull them through your loop
The fringe will "bind" each end of your knitted-in-the-round scarf
Patch
For an added embellishment, place a  4 Houses of Hogwarts Crest Patch to one end of your scarf! This is an iron-on transfer. Ironing it onto the yarn doesn't adhere as well as it would to a t-shirt and the edges tend to curl up, so I'm just going to tack the crest patch down a little bit more securely with a needle and thread.
Finishing
You may wish to lightly steam your scarf with an iron to relax and block your scarf… don't forget the fringe.  This will make it extra cozy and perfect.
---
VIDEO TUTORIAL for Harry Potter Scarf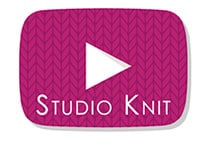 For a complete step-by-step tutorial of this knitting pattern, you can watch my video above. Subscribe to my YouTube channel Studio Knit for more fun knitting ideas!
---
THANK YOU FOR VISITING STUDIO KNIT
I hope you are inspired to knit up this Harry Potter Scarf. I have so many fun Halloween Knits to try out next! If you'd like even more, please make sure you join my mailing list. Subscribing to my YouTube channel Studio Knit is another easy way for us to stay connected and help support my work for free.
---