Knitting Needle Point Protectors help keep my stitches securely in place for my works in progress.
It's taken me a while to purchase my own, and now I have an extra sense of security after putting my knitted work down. Adding these little stitch stoppers helps prevent knitting mistakes by keeping stitches securely on your needles.
Get More Knitting Tools Ideas >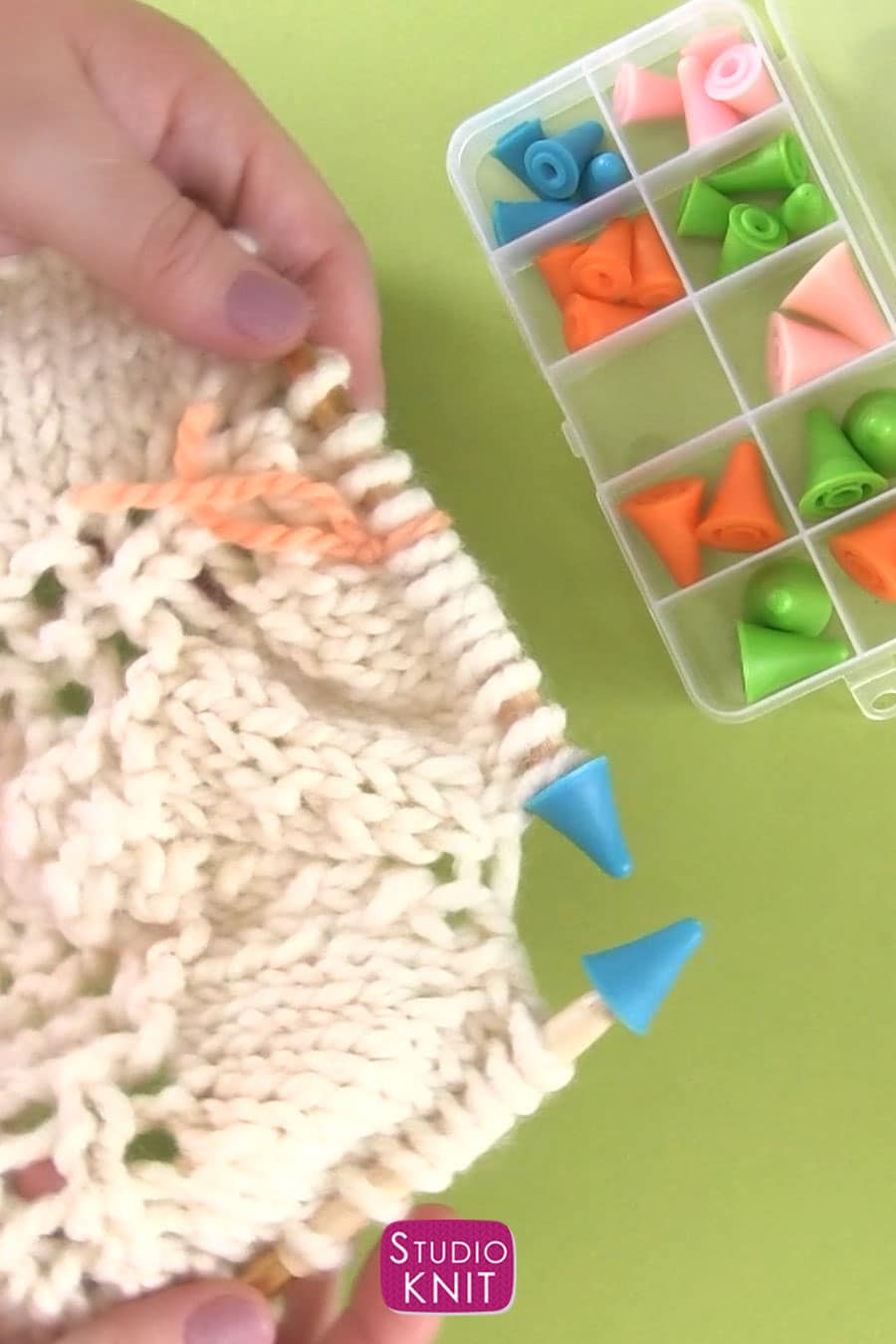 ---
WATCH KNITTING NEEDLE STOPPERS VIDEO
---
HOW TO KEEP KNITTING STITCHES FROM FALLING OFF NEEDLES
When knitting my recent Tumbling Blocks Blanket, I would set my long circular needles down with care. Each time, I found myself reminding family members not to touch my knitting, and making wishes that gravity wouldn't slide those precious stitches off my circular needles while away. Yes, I realized it was time to add to my knitting toolbox and finally get some Stitch Stoppers to prevent stitches from sliding off my needles.
Why did I wait? I know there are crafty hacks to make your own Knitting Needle Stitch Protectors, like wine corks or earplugs. But, we don't drink wine and I kept forgetting to ask for a few from friends. And now during quarantine, dining out with others isn't about to happen any time soon, so it was time to take action!
I'm so happy to have this set finally! My current Fancy Diamond Stitch pattern was threatening to fall off these slippery metal knitting needles. Now I can put them down for a while, confident the stitches aren't about to slide off!
---
WHERE TO PURCHASE THE BEST KNITTING NEEDLE PROTECTORS
There are different styles of Knitting Needle Stoppers and whichever you chose is like an extra little investment of life insurance for your knitted piece. The stoppers I purchased come in a cute little case and were just under ten dollars. Your local yarn shop usually carries little knitting notions and purchasing stoppers locally is my first choice.
However, I personally haven't been out shopping in a while, so here are three of the options currently available on Amazon to add to your knitting collection.
As an Amazon Associate I earn from qualifying purchases.
1 – Cone-Shaped Multi-Colored Knitting Needles Point Proctors by HEIRTRONIC
These rubber stoppers come in both large and small sizes for knitting needles ranging from 0 to 15 US knitting needles. There are 28 total stoppers in the handy compartment box.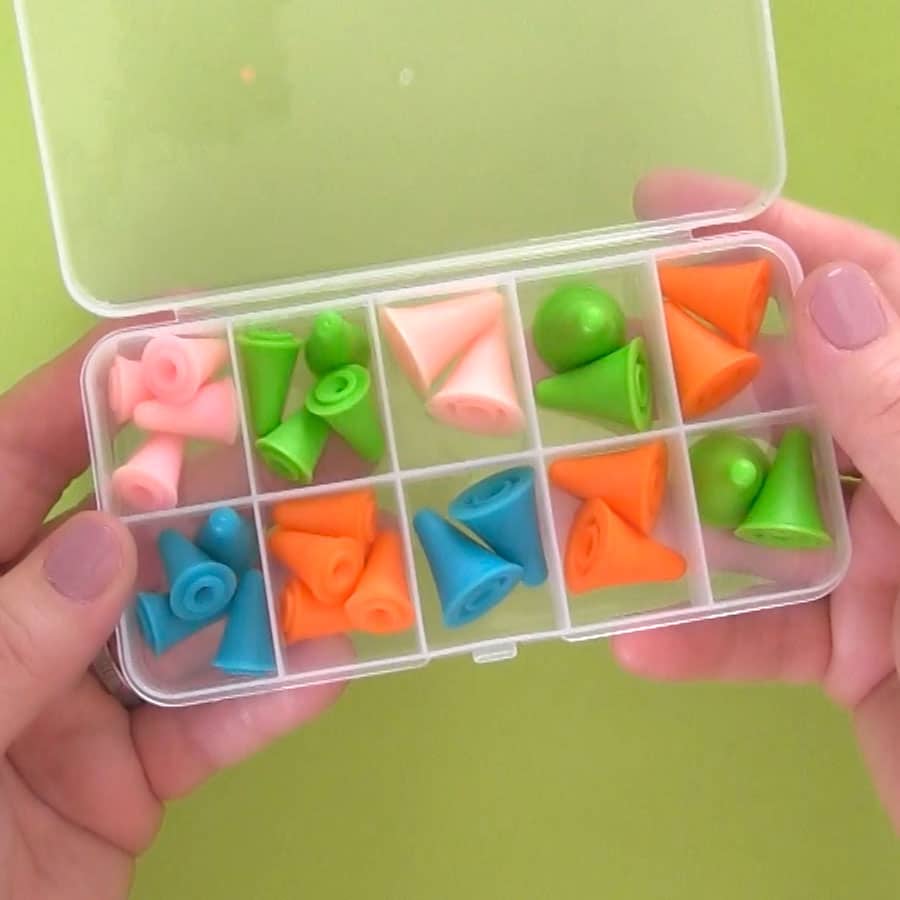 _____
2 – Disc-Shaped Colorful Stitch Stoppers by ZH
Also priced just under ten dollars, these little rubber discs help knitting stitches stay securely in place for needles ranging from size 0 to 10 US.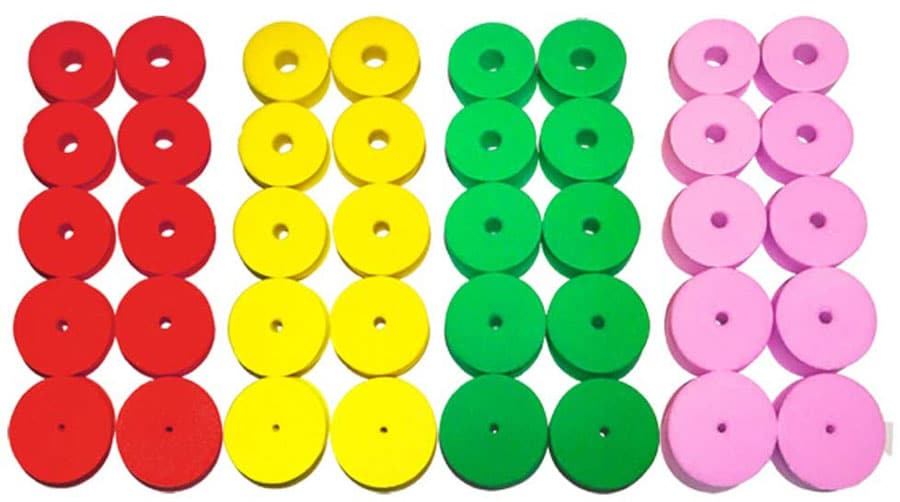 _____
3 – Circular Knitting Needle Point Protectors by Clover – Small and Large
You may use the above stoppers on your Circular Needles, but Clover has also designed a set specifically when knitting in the round. Each stopper has space to insert each needle, storing them without spreading the needles. The two different size variations are sold separately. Small 0 – 8 US and Large 8 – 15 US.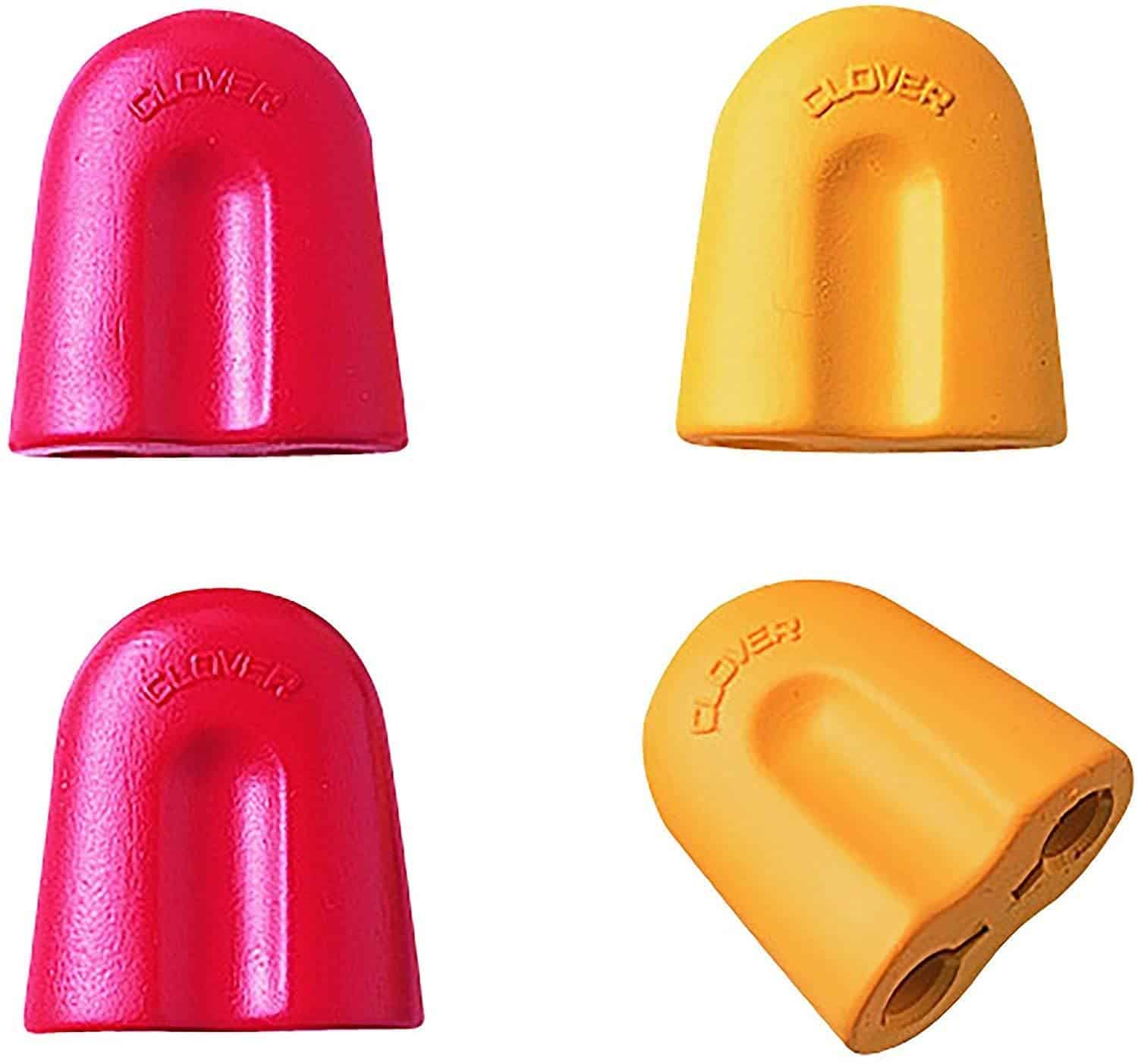 ---
THANK YOU FOR VISITING STUDIO KNIT
I hope my review of these different Knitting Needle Point Protectors has been helpful to you when making your purchasing decisions. Check out my entire library of free stitch patterns! If you'd like even more great knitting ideas, please make sure you join my mailing list. Subscribing to my YouTube channel Studio Knit is another easy way for us to stay connected and help support my work for free.
Happy Knitting to You!