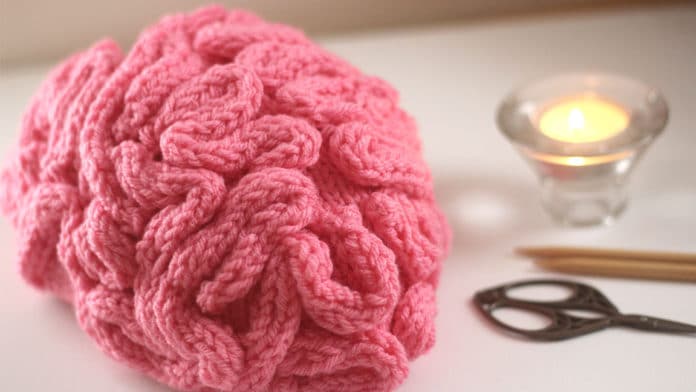 Let's Knit a Brain Hat and show them our brains!
Keep scrolling on this page for everything you need to know to knit up this squishy, funny, creepy Brain Hat yourself… and share with a crafty friend!
MARCH FOR SCIENCE:  In recent days, there's been a groundswell of interest from science-loving brainiacs to wear my knitted Brain Hat at the April 22, 2017 March for Science in DC! #marchforscience #sciencemarch
NEW: HANDCRAFTED BRAIN HAT BASEBALL CAPS FOR SALE!  Visit my Studio Knit Etsy Shop to see the latest limited editions of my Brain Hats perfect for the March for Science.
A big thank you for everyone's enthusiasm for this crazy hat and sharing it all over social media! I am continuing to share new ideas, so please join the new Facebook Group, follow me on social (twitter, facebook, instagram, pinterest), and return to this page for more information as Science March plans develop!
PUT ON YOUR THINKING CAP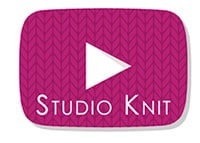 VIDEO TUTORIAL for the Knitted Brain Hat
For a complete step-by-step tutorial of this knitting pattern, you can watch my video below. Subscribe to my YouTube channel Studio Knit for more fun knitting ideas!
---
KNITTING TECHNIQUE TUTORIAL LINKS
• Slip Knot
• Cast On
• Knit an I-Cord
• Spool Knitting I-Cords on a Loom (for non-knitters)
• Knit Stitch
• Knit in the Round Circular Needles
• Switching to DPNs
KNIT GRAY MATTER WITH I-CORDS
This is a great project if you love making I-Cords since we are going to knit up a lot!  I mean, a LOT!!! Feel free to get really creative with your yarn weight, color, and even fiber.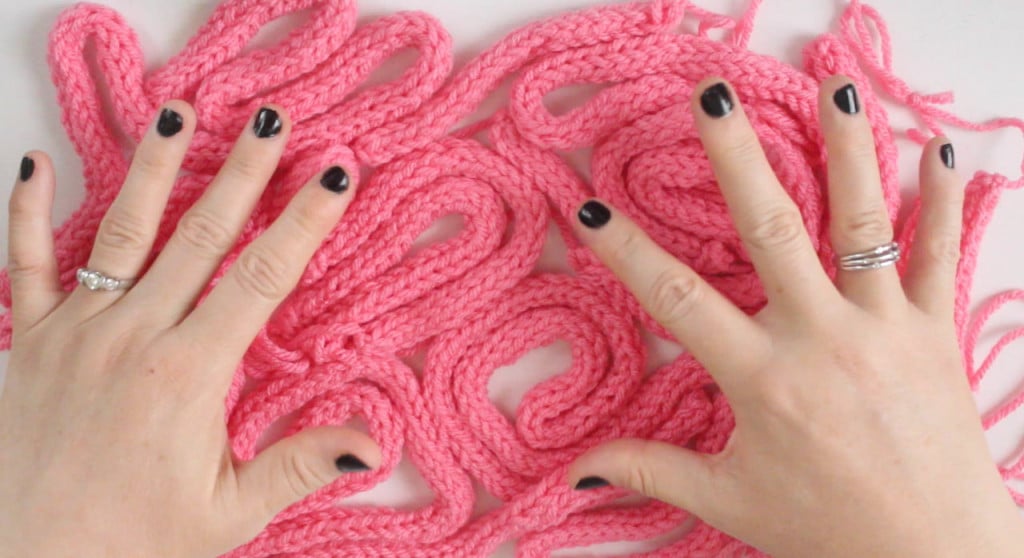 Let's Knit Up Some Brains!
I-CORD MATERIALS:
• Scissors and a Tapestry Needle
• 2 Double Pointed Knitting Needles Size 10.5 US
• Worsted or Bulky Weight Yarn
Knit I-Cords:
• Cast On 4 or 5 Stitches and Knit an I-Cord in various lengths of your choice
• Bind Off each completed I-Cord once they reach the length you desire.
I-Cord Length:  My longest I-Cords are 28 inches in length and my shortest are just three inches long.  Any sizes totally works because you will create your own brain pattern onto your Brain Hat.
I-Cord Volume:  I knitted up over 17 feet of I-Cords for my brains… that's over 200 inches total!
Pro-Tip:  Knit up pairs of I-Cords in similar lengths to achieve a uniform design on each side of your brain hemispheres.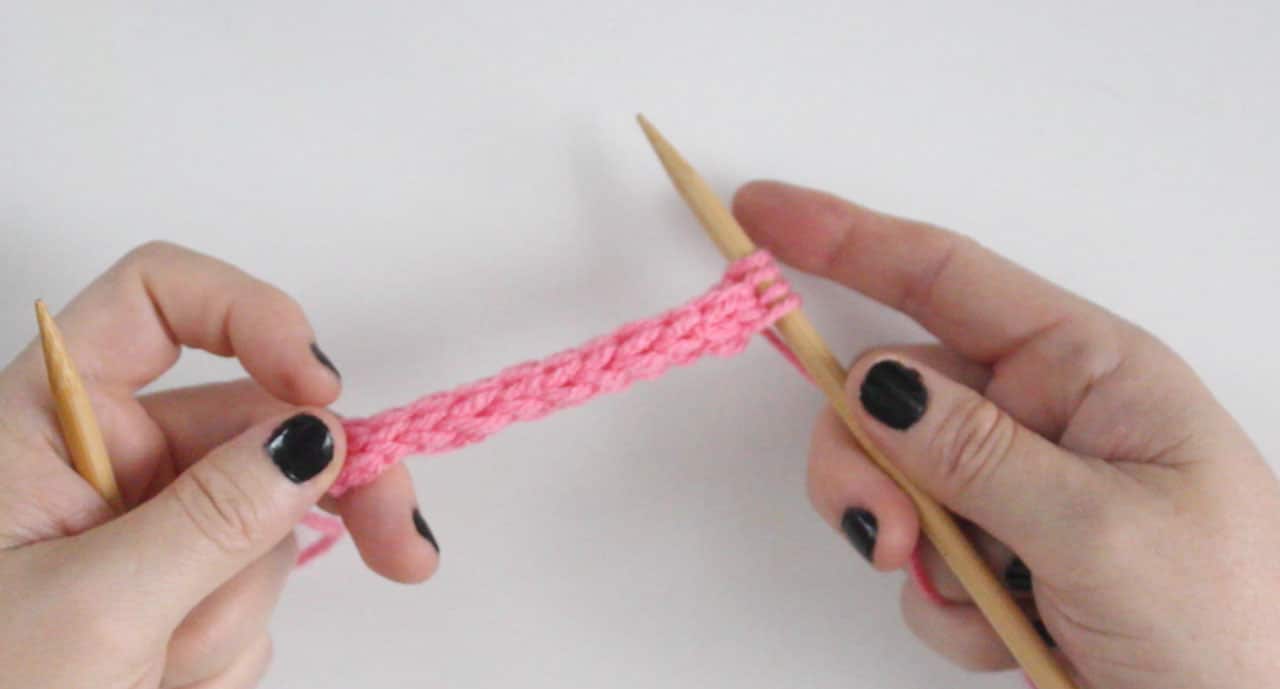 Learn How to Knit an I-Cord: I have a video located on my How to Knit an I-Cord post that shows you exactly how to knit an I-Cord in detail.  In just under 4 minutes, you will learn everything you need to know to make your brains with just two double pointed knitting needs and some yarn.
(Humble Brag: The book YouTutorial: Knitting: Your Guide to the Best Instructional YouTube Videos features this video as being the best YouTube Knitting tutorial on How to Knit an I-Cord, so please check it out!)
Alternatively, you may wish to use a Spool Loom, which is a little tool to help you make up your I-Cord quickly!  I have a new video tutorial that shows you everything you need to know to start knitting up brains without needing to know anything about knitting!


---
KNITTED HAT BRAIN BASE
You may either knit up a new hat base, or recycle any existing hat.  The more gray matter you add to your hat, the less you'll be able to see the hat base.  So, you can use either the same color hat as your gray matter or different.  It's totally up to you.
Find my free knitted hat pattern further down on this page.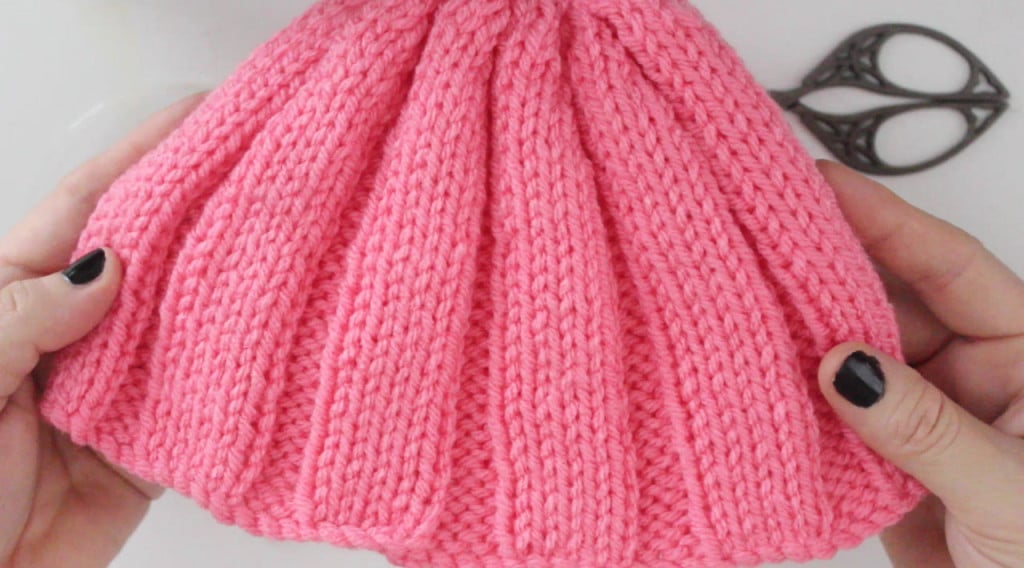 ---
HOW TO ATTACH YOUR BRAINS TO YOUR HAT
Once your hat base is ready and a whole lot of i-Cord brains are knitted up, the fun begins!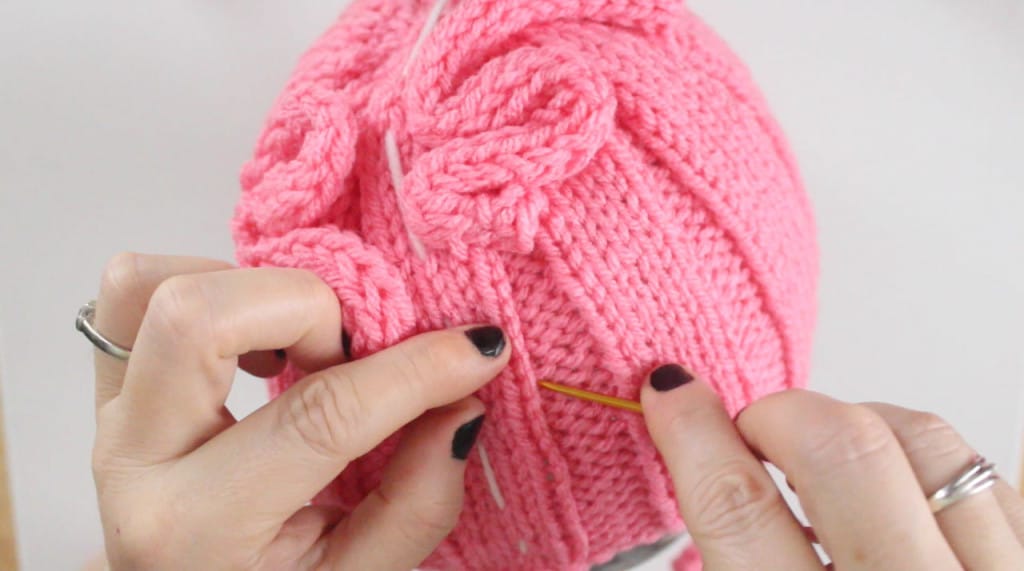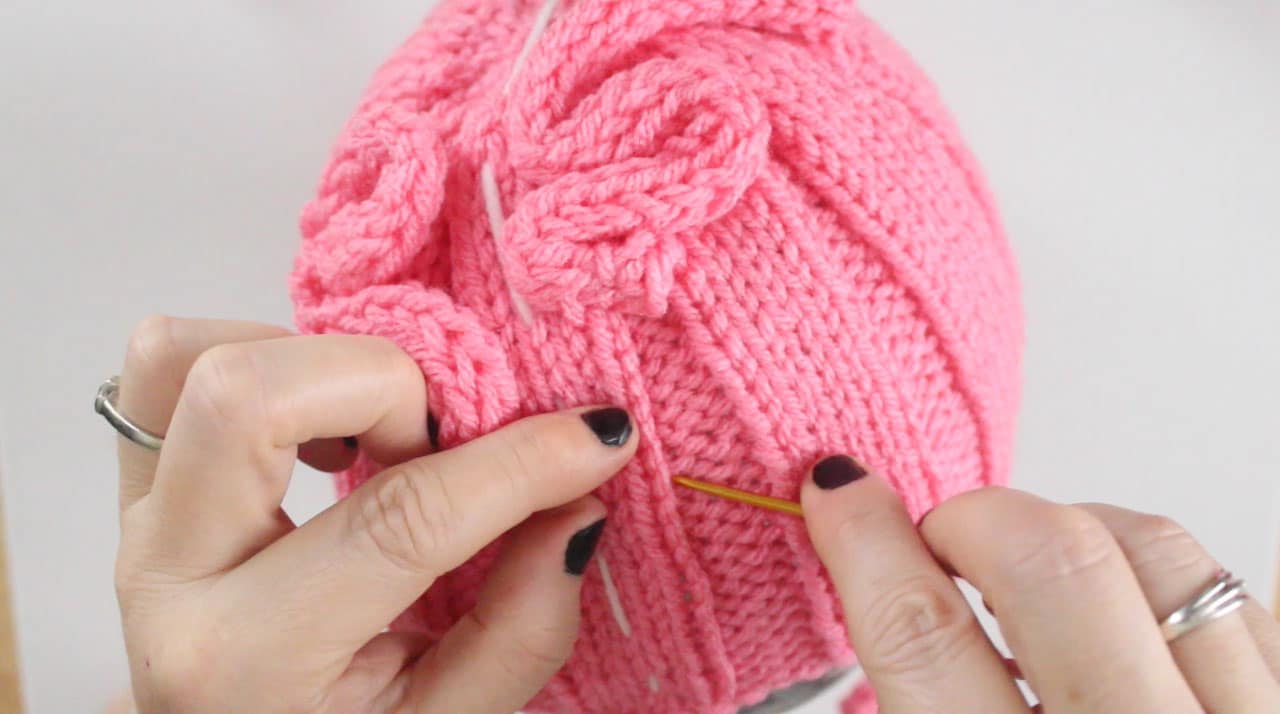 It's really helpful to have a mannequin head (or head-shaped item of your choice) available as you attach your brains, but it's not necessary.
Brain Design: For your design, you'll want to have a clear definition between the right and left hemispheres of your brain. Just weave a temporary strand of differently colored yarn down the middle of your hat to help keep track of each side.
What do your brains look like?  The anatomy books show that each side looks somewhat similar, but maybe not completely identical, right?  So, we just begin by tacking our brains into whatever curly brain coil patterns you chose onto our hat. To do this, use the same color yarn and a tapestry needle and lightly "sew" your brains directly onto your hat.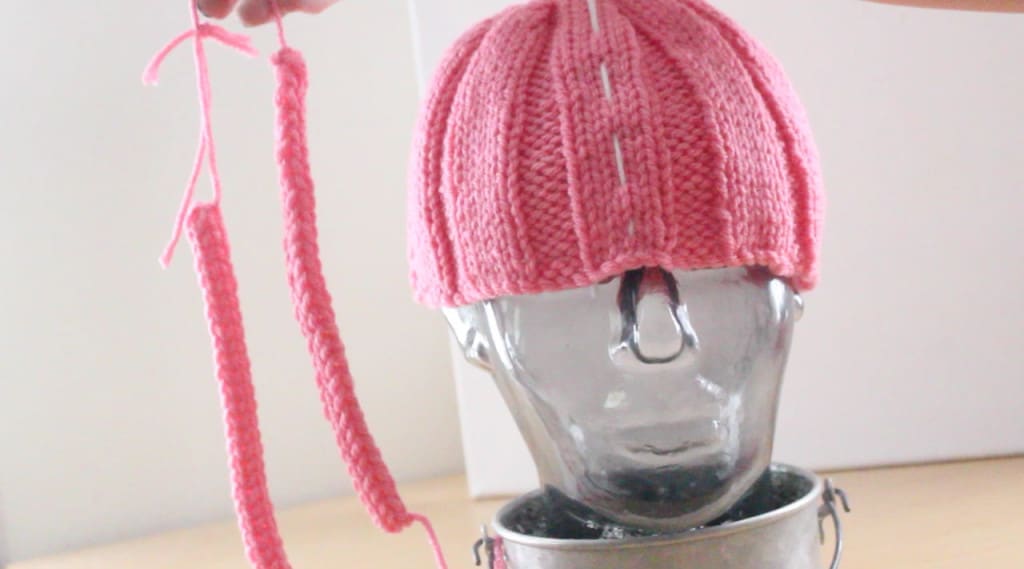 Since we're using the same color yarn as our hat and brains, you really can't see the yarn we're using, so you can be pretty loose and not worry about it looking perfect. I like to attempt keeping each side somewhat similar by using identical lengths of brains on each side as I go in similar patterns, but no need to have them perfectly mirror each other.
I like to attempt keeping each side somewhat similar by using identical lengths of brains on each side as I go in similar patterns, but no need to have them perfectly mirror each other.
Just keep tacking your brain coils to your hat until it's totally covered. When your entire brain is full, you can either weave, or just tie and cut your yarn ends on the inside.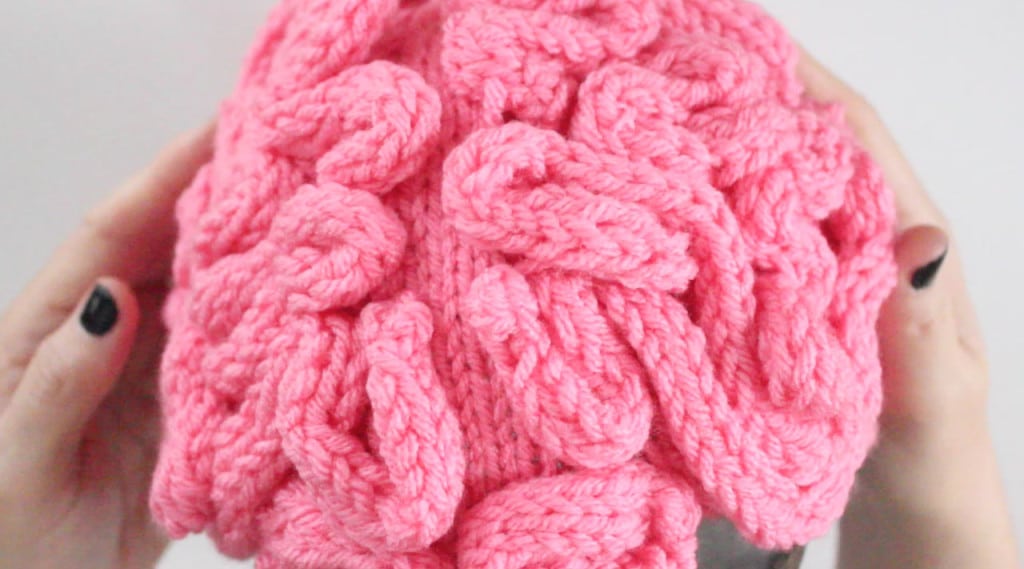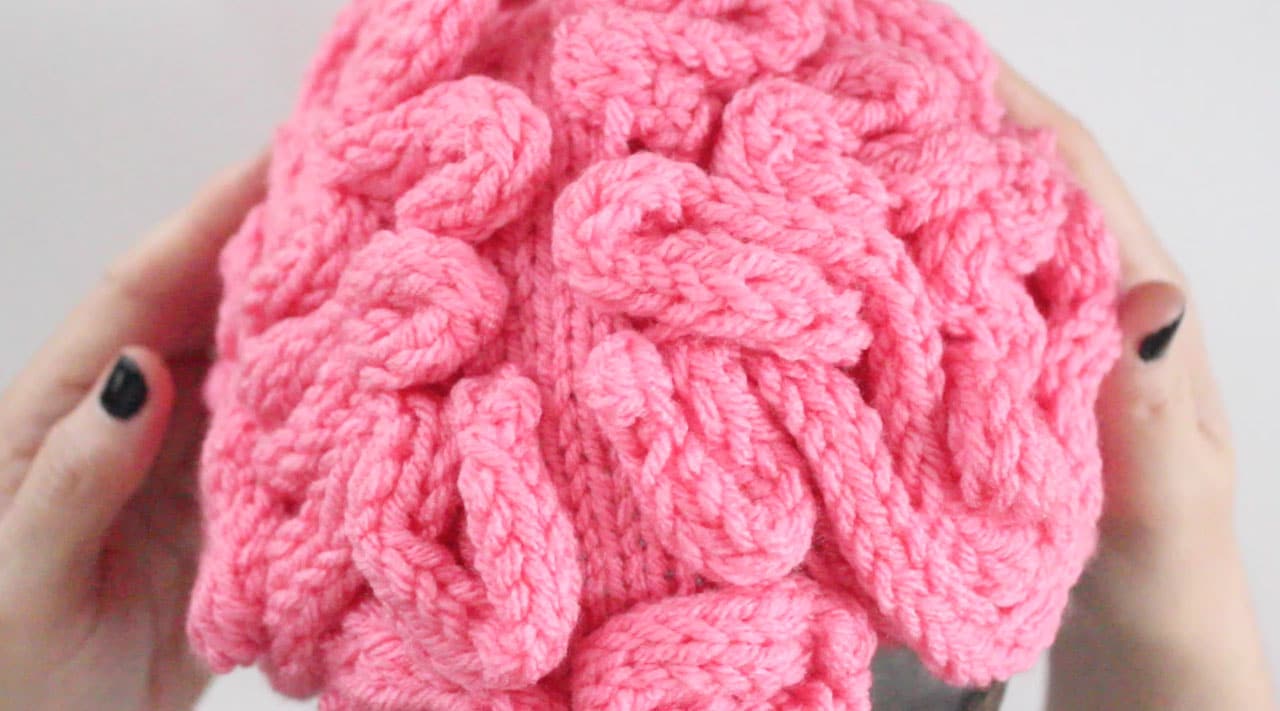 ---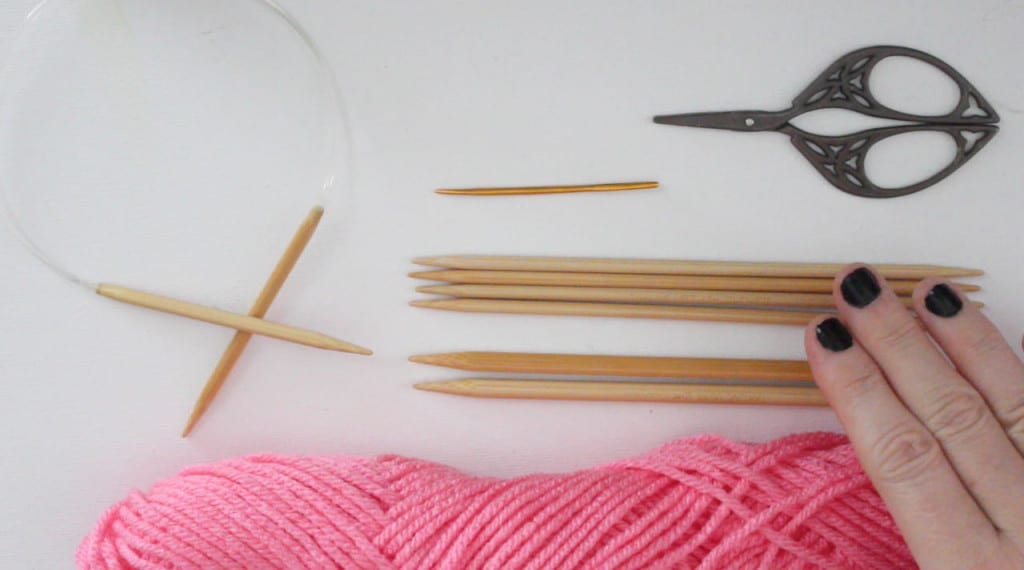 ---
FREE KNITTED HAT PATTERN
Adult Ribbed Hat by Studio Knit
MATERIALS:
• Worsted Weighted Yarn, in any fiber/colors of your choice
• 1 Circular Knitting Needle (for Hat) – Size 8US, 16″ long
• 4 Double Pointed Knitting Needles (for Hat) – Size 8 US
• Scissors and a Tapestry Needle
To begin, we will use our circular needles and the four size 8 DPNS to knit up an easy 5 by 3 ribbed hat as our base.
1 – Size 8 US Circular Needle, 16" in length
4 – Size 8 Double Pointed Needles
Worsted Weighted Yarn
Cast on 80 Stitches using the Cable Cast On Method.
Join in the Round, being careful not to twist your stitches.
Knit in the 5 x 3 Rib Pattern (K5, P3) until your hat measures 5 ½ inches in height.
Crown Decreases (Switch to DPNs when necessary)
Row 1: * K2Tog, K3, P3 * (repeat between each *)
Row 2: * K2Tog, K2, P3 *
Row 3: * K3, P2Tog, P1 *
Row 4: * K2tog, K1, P2 *
Row 5: * K2, P2Tog *
Row 6: * K1, K2Tog *
Row 7: * K2Tog *
Row 8: * K2Tog *