Knitted Pinwheel Square Pattern
You are going to have so much fun making this knitted Pinwheel Square pattern. We are wrapping and turning to create this swirly pattern.
For you quilt lovers, this might be a familiar design to you. We are creating this colorwork knitting block with two different yarn colors.
This pattern is the fourth block of the Quilt Block Sampler Blanket. Make sure to check out the Log Cabin, Attic Windows, and Flying Geese Blocks, too.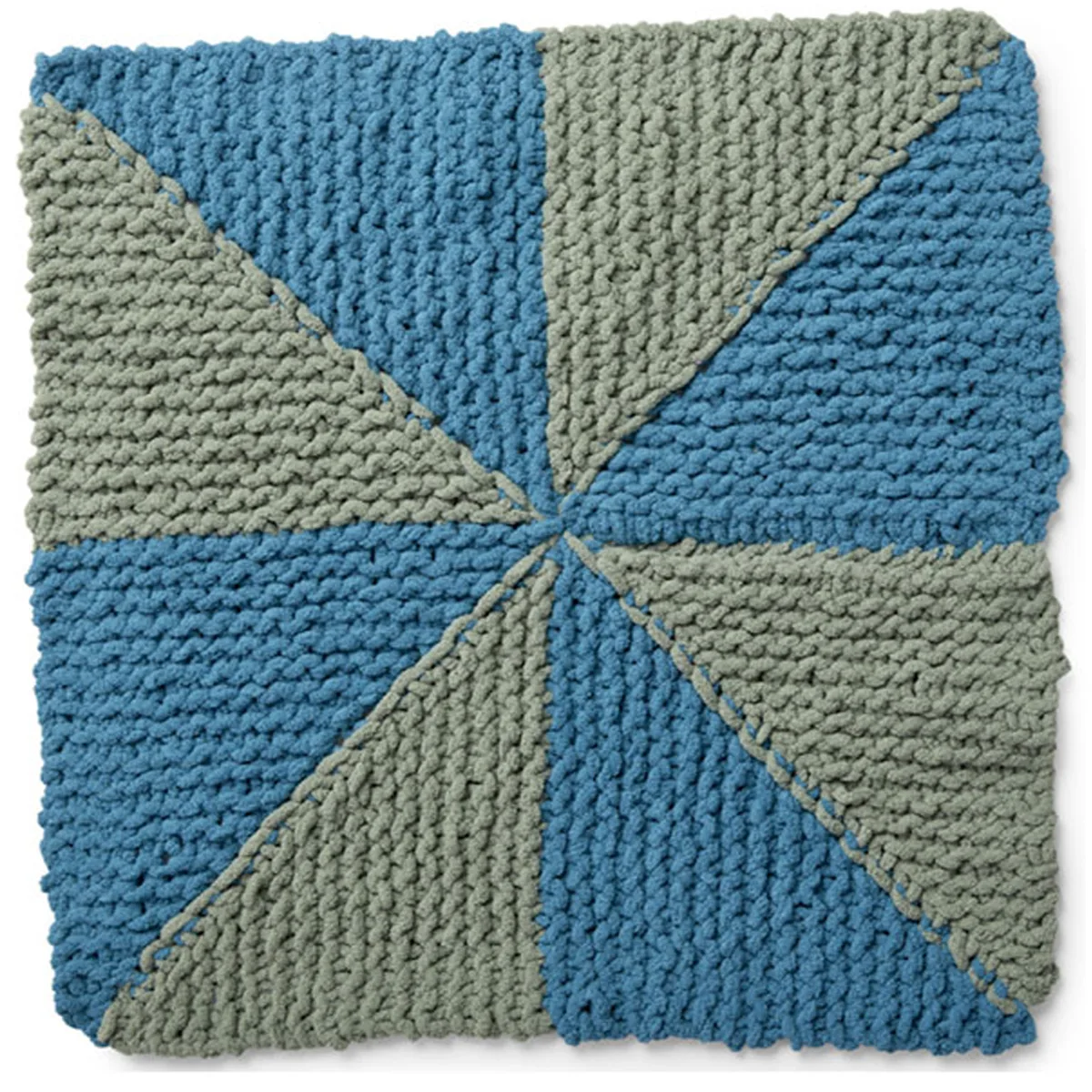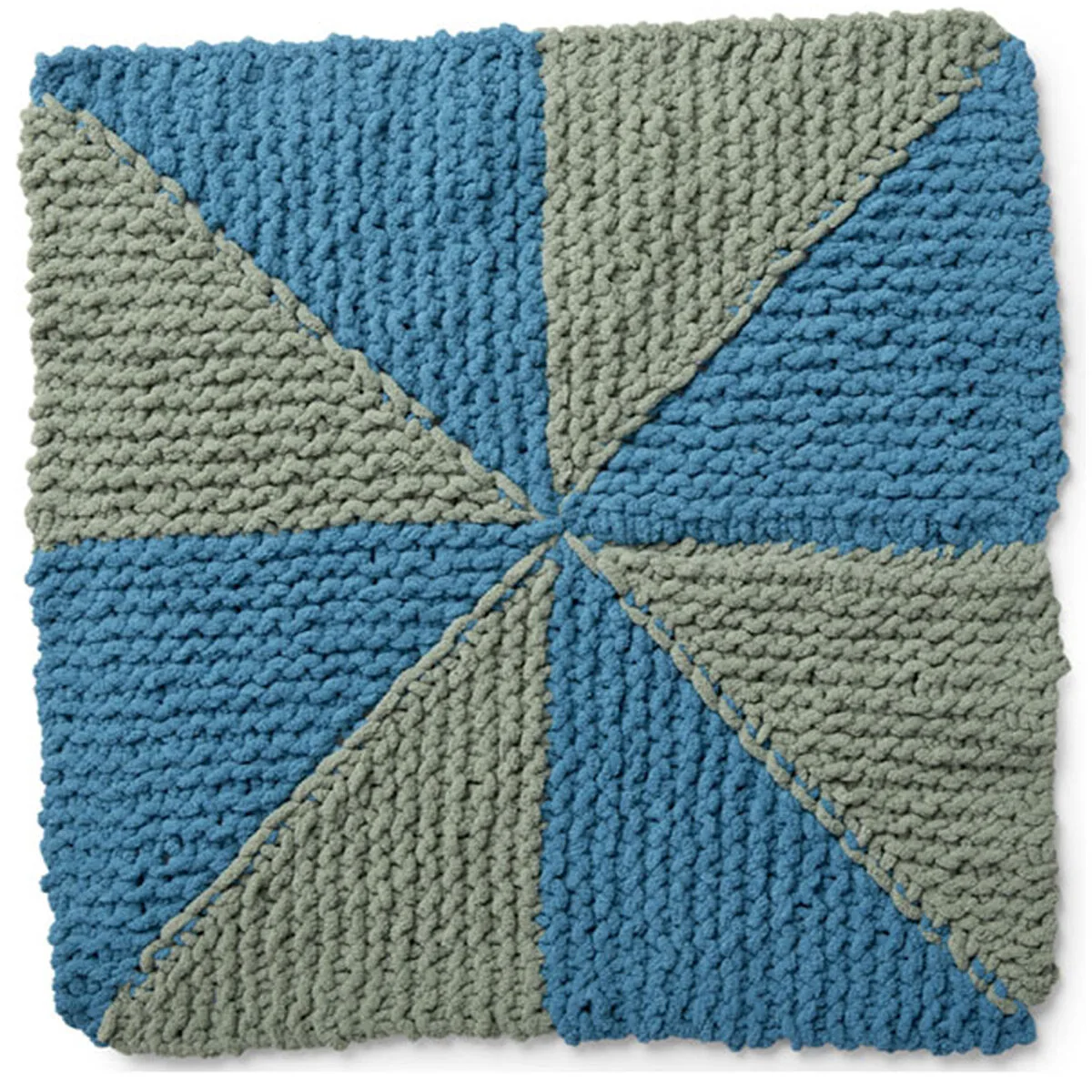 ---
YARN AND TOOLS for PINWHEEL SQUARE
2 Color Shades of Bernat Blanket Yarn to Knit Pinwheel Square. I'm using 2 shades for the Blanket in this square. We'll have our circular needle, scissors, a tapestry needle, and stitch markers.
Color D – Dark Teal
Color E – Smokey Green
Knitting Tools to finish the Blanket Afghan
Knitting Needles – Size 11 US (8 mm) 36-inch Circular Knitting Needles
Scissors
Stitch Markers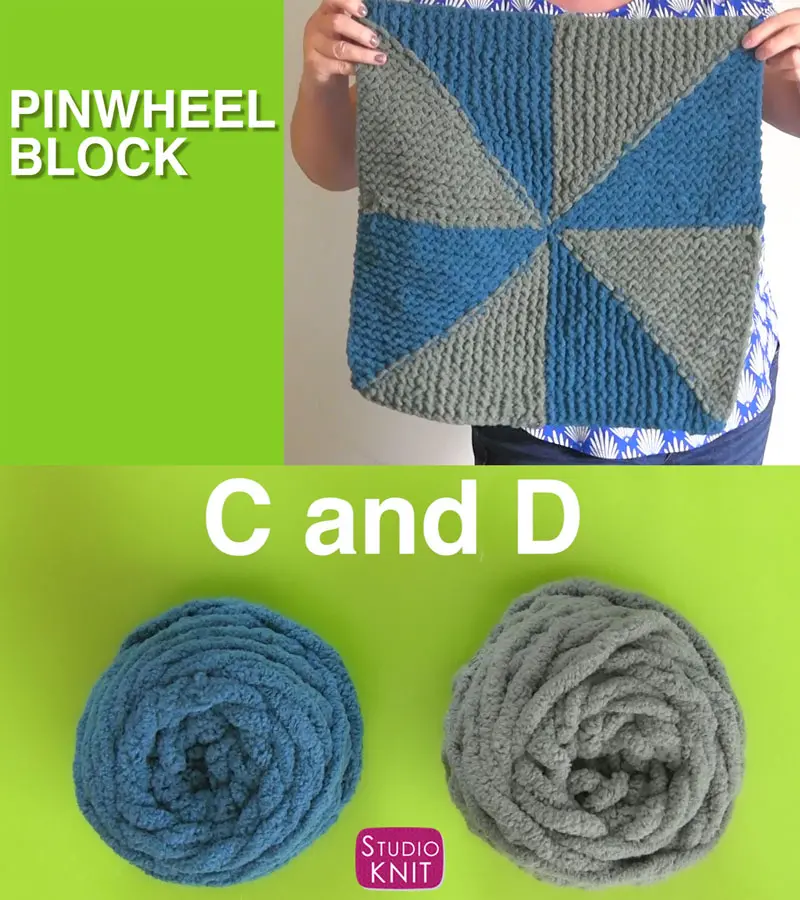 ---
KNITTING GAUGE for PINWHEEL SQUARE
If you want to check your gauge, your 4″ x 4″ square is knit with 7 stitches and 15 rows in the Garter Stitch.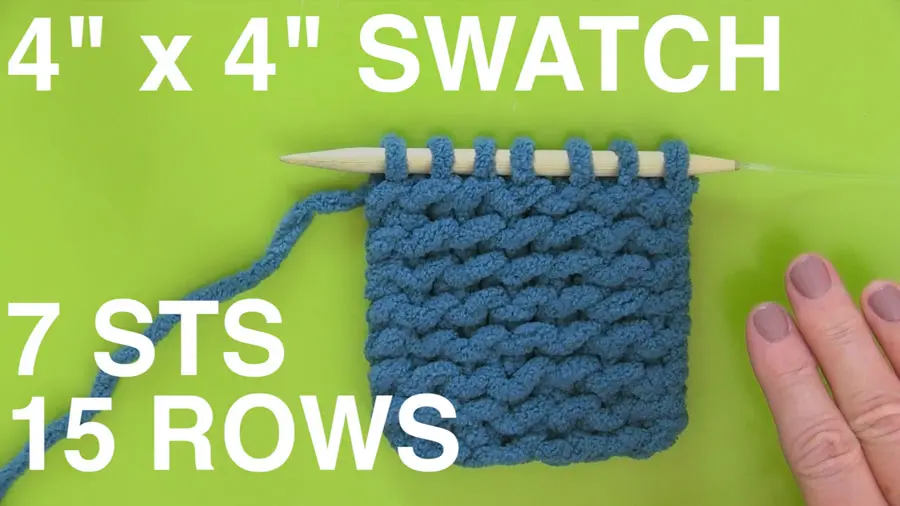 ---
KNITTING ABBREVIATIONS + TECHNIQUES
PINWHEEL SQUARE
Alt = Alternate(ing)
Approx = Approximate(LY)
Cont = Continue(ity)
RS = Right Side
St(s) = Stitch(es)
Tog = Toether
WS = Wrong Side
TECHNIQUES
K = Knit Stitch
P = Purl Stitch
Stretchy BO = Bind Off
W & T = Wrap and Turn: Bring yarn to front of work, slip next stitch to right-hand needle, bring yarn to back of work, return slipped stitch to left-hand needle, (stitch is now wrapped); turn, leaving remaining stitches unworked.
---
KNITTED PINWHEEL SQUARE
Click to Watch Video Tutorial
---
KNITTING PATTERN for PINWHEEL SQUARE
With C, cast on 19 sts.
Triangle 1
1st and 2nd rows: Knit.
3rd row: (RS). K18. W&T.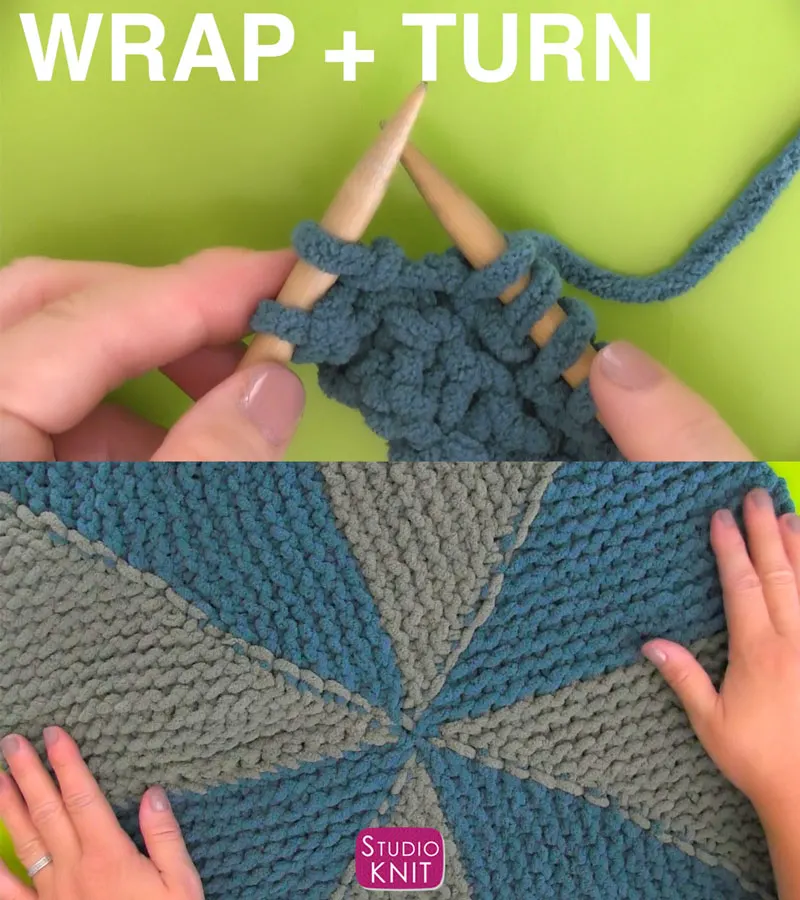 4th and alt rows: Knit.
5th row: K17. W&T.
7th row: K16. W&T.
9th row: K15. W&T.
11th row: K14. W&T.
13th row: K13. W&T.
15th row: K12. W&T.
17th row: K11. W&T.
19th row: K10. W&T.
21st row: K9. W&T.
23rd row: K8. W&T.
25th row: K7. W&T.
27th row: K6. W&T.
29th row: K5. W&T.
31st row: K4. W&T.
33rd row: K3. W&T.
35th row: K2. W&T.
37th row: K1. W&T.
38th row: Knit.
Break C. Do not cast off.
Triangle 2
With D, proceed as follows:
1st row: (RS). K1. W&T (st will have 2 wraps).
2nd and alt rows: Knit.
3rd row: K1. Pick up Contrast D wrap of next st and place on lefthand needle. Knit wrap tog with next st. W&T.
5th row: K2. Pick up Contrast D wrap of next st and place on lefthand needle. Knit wrap tog with next st. W&T.
7th row: K3. Pick up Contrast D wrap of next st and place on lefthand needle. Knit wrap tog with next st. W&T.
Cont as established, knitting 1 more st every RS row, until 18 sts have been wrapped and ending on a WS row. Break D. Do not cast off.
Triangles 3 to 8 Work as given for Triangles 1 and 2 three times more. Cast off.
Sew cast on and cast off edges tog. Gather ends of short-turn rows tog to close center of Block and fasten securely.
The free printable knitting pattern and chart for this Flying Geese Block is provided courtesy JOANN.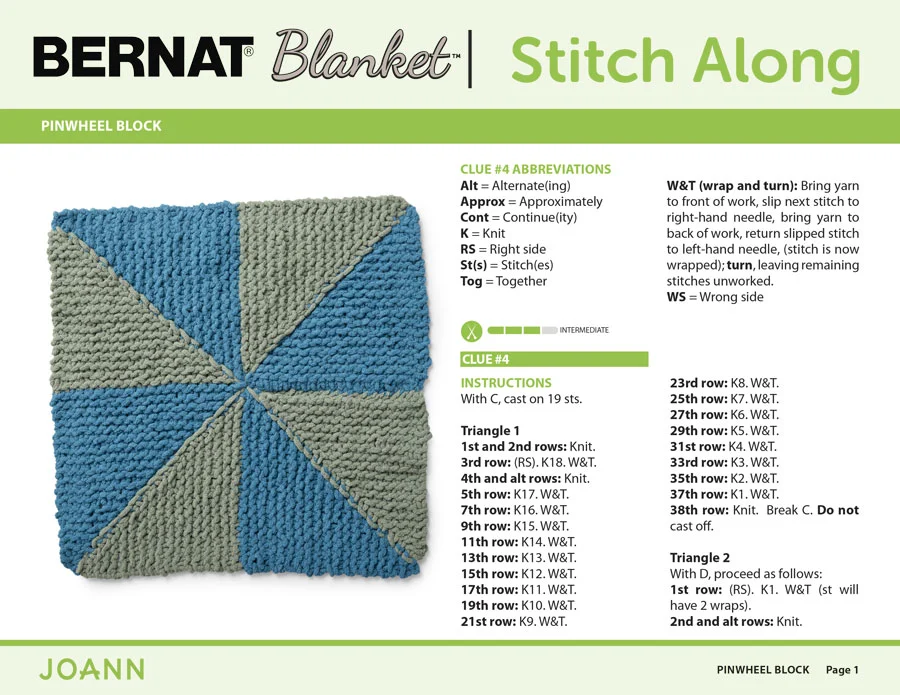 ---

JOIN THE BERNAT STITCH ALONG
The Bernat Stitch Along creates a beautiful Afghan Blanket over the entire 6 weeks. These project designs are great for those of you who have completed my Absolute Beginner Knitting Series. There are a lot of cool ideas to intrigue those of you who are a little more advanced.
---
THANK YOU FOR VISITING STUDIO KNIT
I hope you are inspired to knit up your Pinwheel Block in your next knitting project and join the Bernat Stitch Along.
If you'd like even more great ideas, please make sure you join my mailing list. It's a free and easy way for us to stay connected.