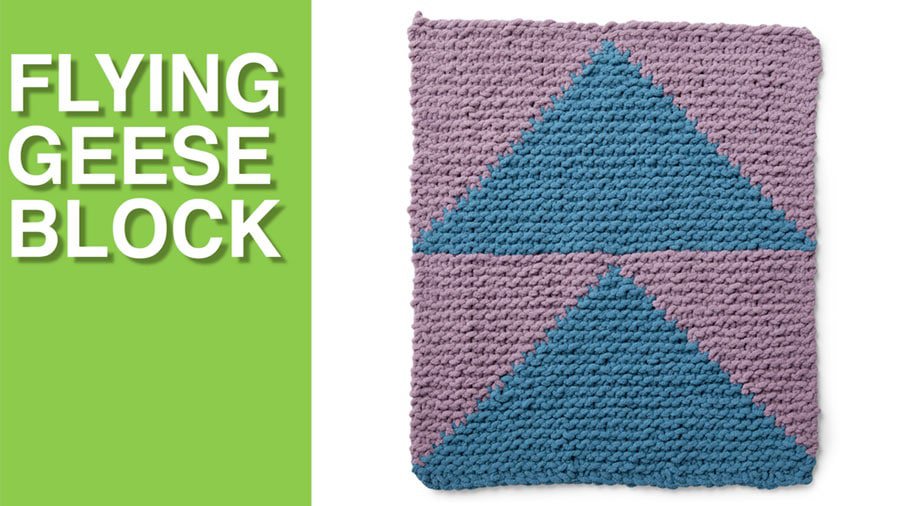 I'm excited to share this Flying Geese Knitting Square with you today. It's very graphic, geometrical, and those of you that are quilt lovers, this is probably a familiar design. These stacked triangles are called Flying Geese and really fun to knit up. This pattern is the first clue of the Bernat Stitch Along that I'm hosting this season. Make sure to check out the Log Cabin, Attic Windows, and Pinwheel Blocks, too. I hope you join me and create the entire blanket during this 6-week KAL.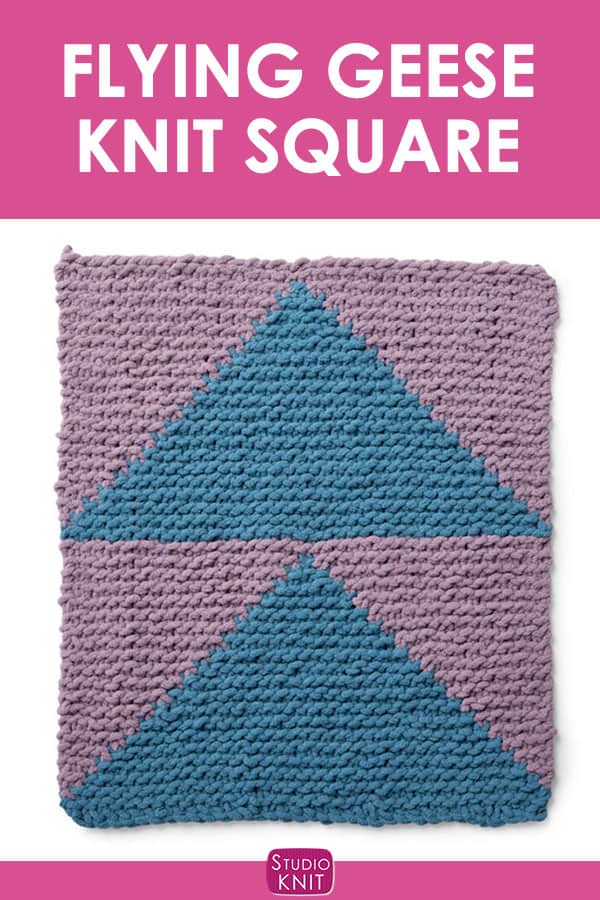 ---
YARN AND TOOLS for FLYING GEESE SQUARE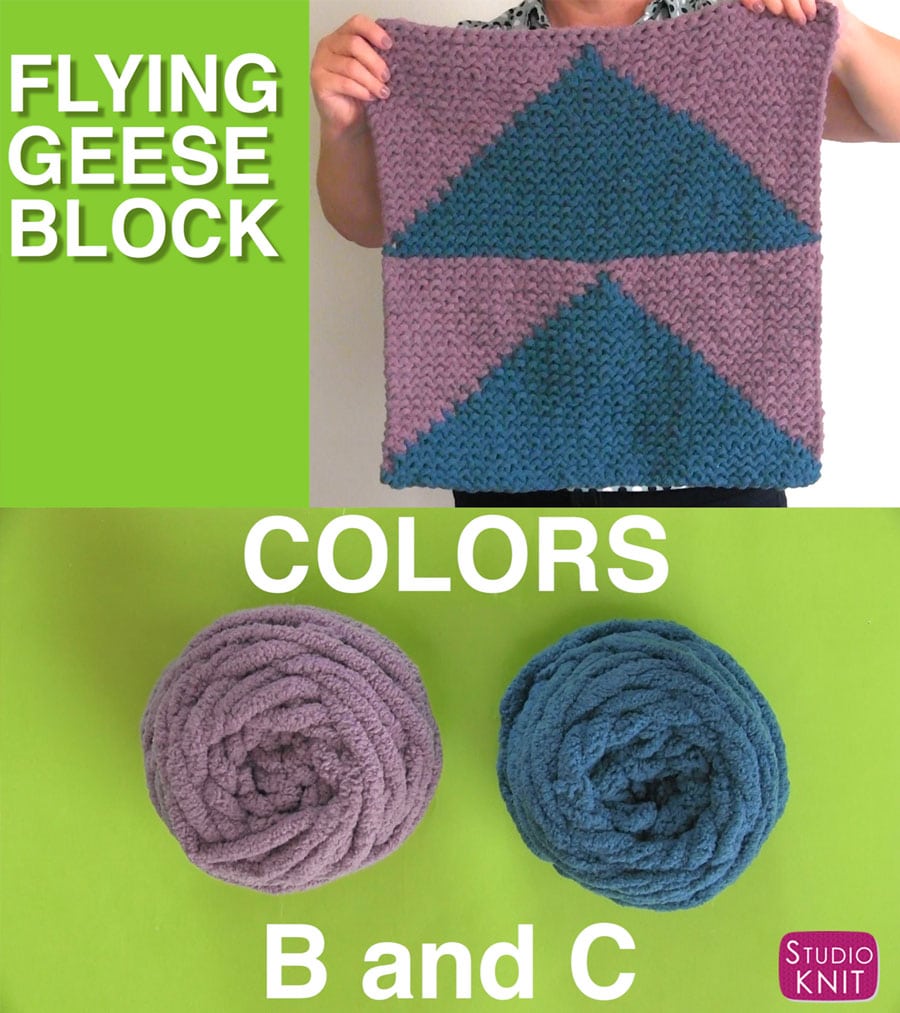 As an Amazon Associate I earn from qualifying purchases.
2 Color Shades of Bernat Blanket Yarn to Knit Flying Geese Square. I'm using the new shades of Aubergine and Dark Teal, available exclusively at JOANN. We'll have our circular needle, scissors, and a tapestry needle.
Color B – Aubergine
Color C – Dark Teal
---
KNITTING GAUGE for FLYING GEESE SQUARE
If you want to check your gauge, your 4″ x 4″ square is knit with 7 stitches and 15 rows in the Garter Stitch.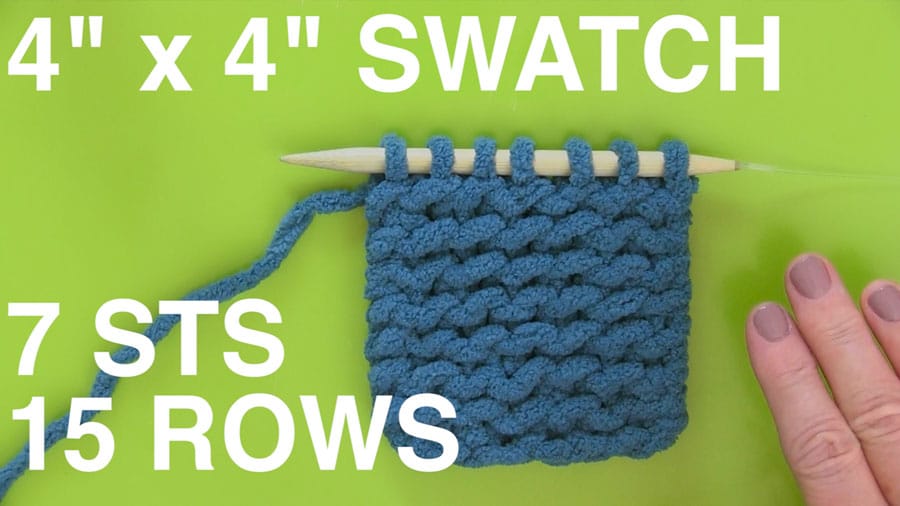 ---
KNITTING ABBREVIATIONS + TECHNIQUES
FLYING GEESE SQUARE
ABBREVIATIONS
Approx = Approximate(LY)
Beg = Begin(ning)
Cont = Continue(ity)
Pat = Pattern
Rem = Remain(ing)
Rep = Repeat
RS = Right Side
St(s) = Stitch(es)
WS = Wrong Side
TECHNIQUES



Need to brush up or learn a new technique? Check out my entire library of Knitting Techniques to help you along as you knit up this project. If you're new to knitting, you'll love my Absolute Beginners Knitting Series!
---
KNITTING PATTERN for FLYING GEESE SQUARE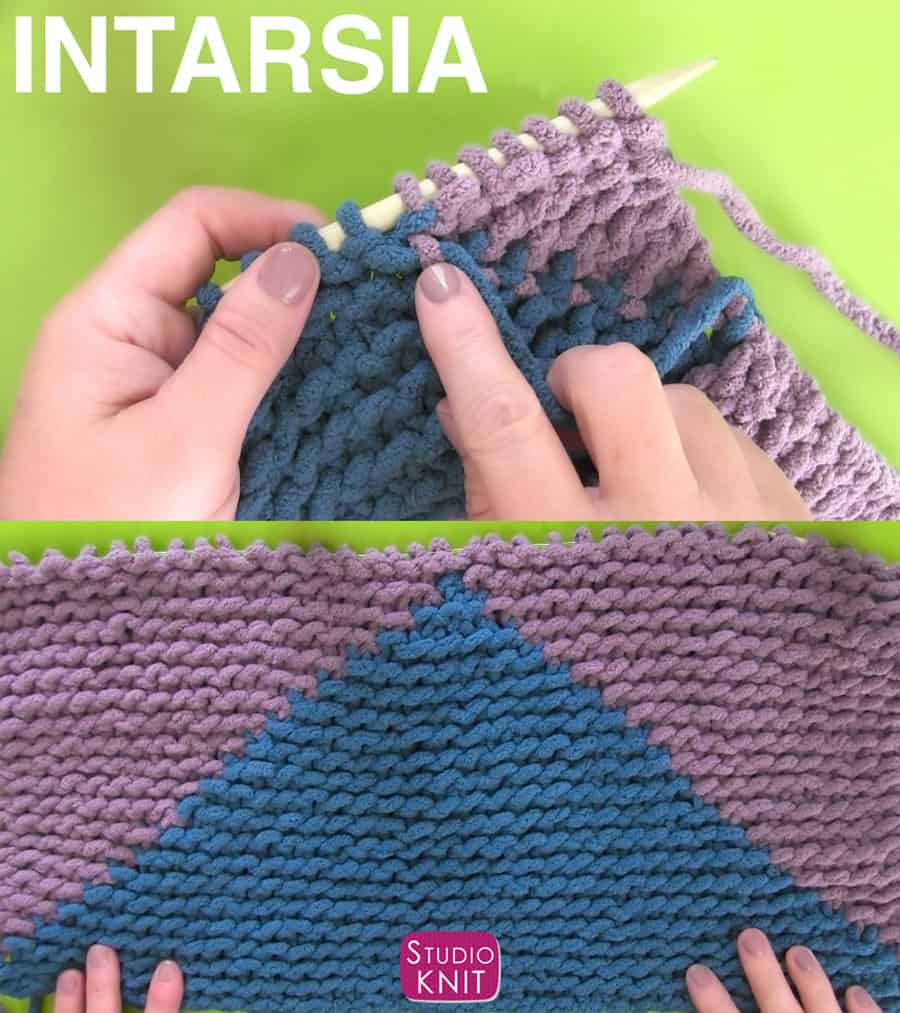 With C, cast on 37 sts.
Knit row 1 of Chart (see below), reading RS row from right to left.
Chart is now in position.
Keeping cont of Chart, proceed in garter st (knit every row) for 39 more rows.
When 40 rows of Chart are complete, rep 40 rows of Chart once more.
Cast off.
Note: When working from chart, wind small balls of colors to be used, one for each separate area of color in the design. Start new colors at appropriate points. To change colors, twist the 2 colors around each other where they meet, on WS, to avoid a hole.
The free printable knitting pattern and chart for this Flying Geese Block is provided courtesy JOANN.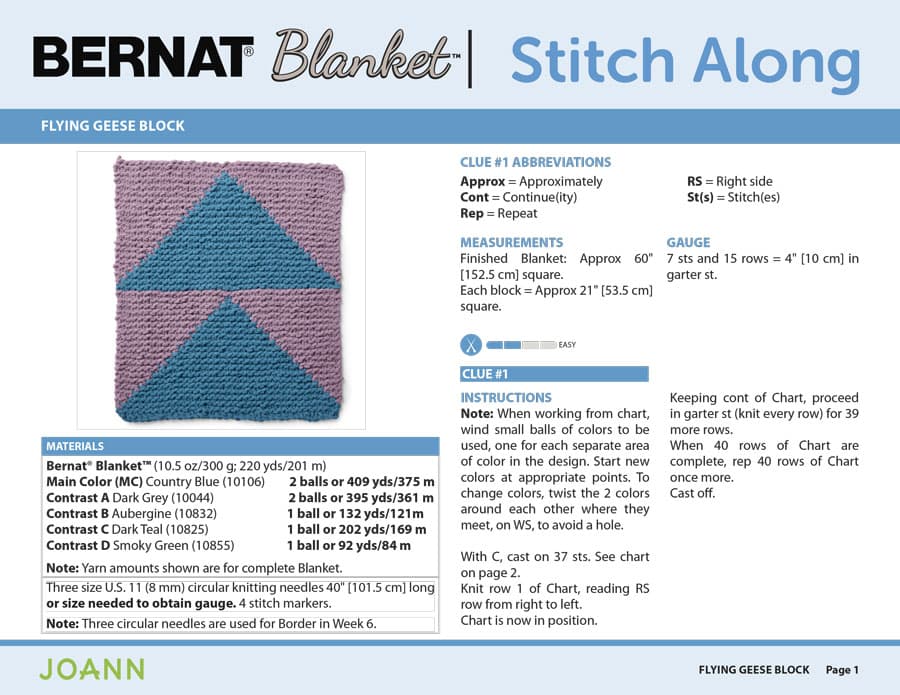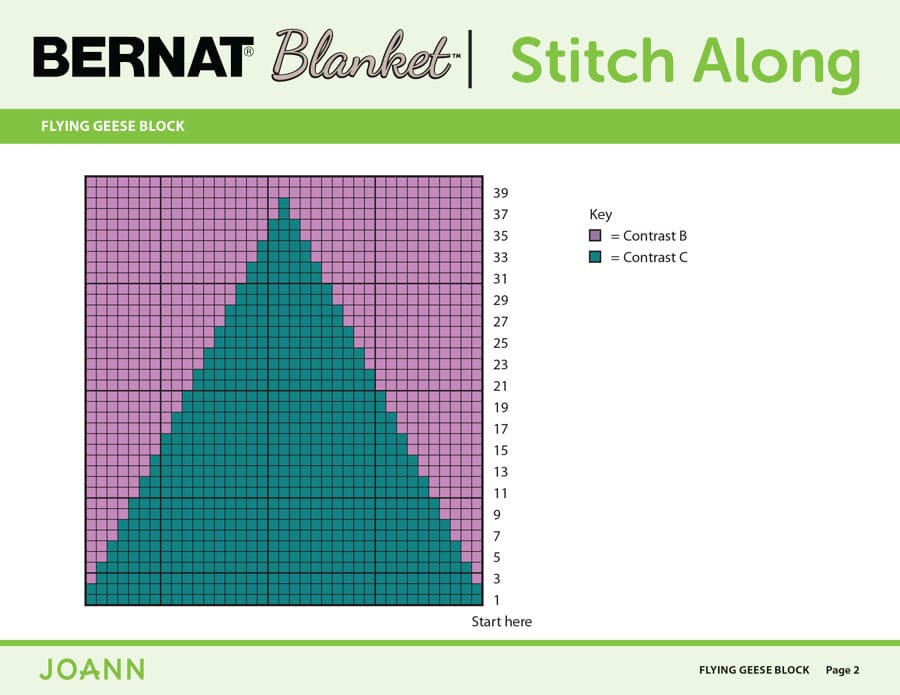 ---

JOIN THE BERNAT STITCH ALONG
The Bernat Stitch Along creates a beautiful Afghan Blanket over the entire 6 weeks, as well as a bonus Pillow and Basket. These project designs are great for those of you who have completed my Absolute Beginner Knitting Series. There are a lot of cool ideas to intrigue those of you who are a little more advanced.
I reveal a new weekly Clue on my Bernat Stitch Along page on Mondays, starting September 17, 2018. The Clue will include a new video and a link to download a printable knitting pattern. Each weekly video will show you the finished versions of how my section knitted up that week. I'll also give you an overview by giving close-up knitting tips and techniques to help you fully understand that week's written pattern.
BLANKET AFGHAN MYSTERY CLUES
OVERVIEW ► Bernat Stitch Along Fall 2018
CLUE 1 ► Flying Geese
CLUE 2 ► Log Cabin
CLUE 3 ► Attic Windows
CLUE 4 ► Pinwheel
CLUE 5 ► Monday October 15, 2018
CLUE 6 ► Monday October 22, 2018

---
WATCH VIDEO TUTORIAL
FLYING GEESE SQUARE
For a complete step-by-step tutorial of this knitting pattern, you can watch my video below. Subscribe to my YouTube channel Studio Knit for more fun knitting ideas!
---
THANK YOU FOR VISITING STUDIO KNIT
I hope you are inspired to knit up your Flying Geese Block in your next knitting project and join the Bernat Stitch Along. Check out this week's bonus Stitch Along project of the Textured and Tasseled Velvet Pillow, as well!
If you'd like even more great knitting ideas, please make sure you join my mailing list. Subscribing to my YouTube channel Studio Knit is another free and easy way for us to stay connected and help support my work.