I love making these adorable Knitted Coffee Cozy Sweaters for friends.  I wanted to share these little coffee cozies with you during the holidays because they make really awesome quick knit gifts.
VIDEO TUTORIAL BELOW!

SAVE PATTERN TO YOUR KNITTING PINTEREST BOARD
You'll see that our knitted coffee cozies have a really cute little rib pattern on both ends, just like a real sweater. And we have a little pocket that actually does work as a pocket and these little arms that are actually 3-dimensional with gloves that have these little thumbs.
These little sweaters give your cup lots of personality, so let's get started!
---
MATERIALS for the Knitted Coffee Cozy

---
KNITTING TECHNIQUES + ABBREVIATIONS for the Knitted Coffee Cozy
• Slip Knot 
• CO = Cast On Long Tail Method
• Cable Cast On Method (for thumb)
• K = Knit Stitch 
• P = Purl Stitch
• How to Change Yarn Color
• Bind Off
• Weave in Yarn Tails
---
PRINTABLE KNITTING PATTERN for the Knitted Coffee Cozy
Download Free Printable Written Pattern > Click to Subscribe to my Newsletter

Once you confirm your subscription within your email account, you will immediately be directed to my knitting freebies page to receive this downloadable printable pattern and more!
Just want the knitting instructions on this page? You've got it, keep scrolling!
---
GET MORE CHRISTMAS HOLIDAY KNITTING PROJECTS
Want more? Check out all of my Christmas Holiday Knitting Project and Gift ideas!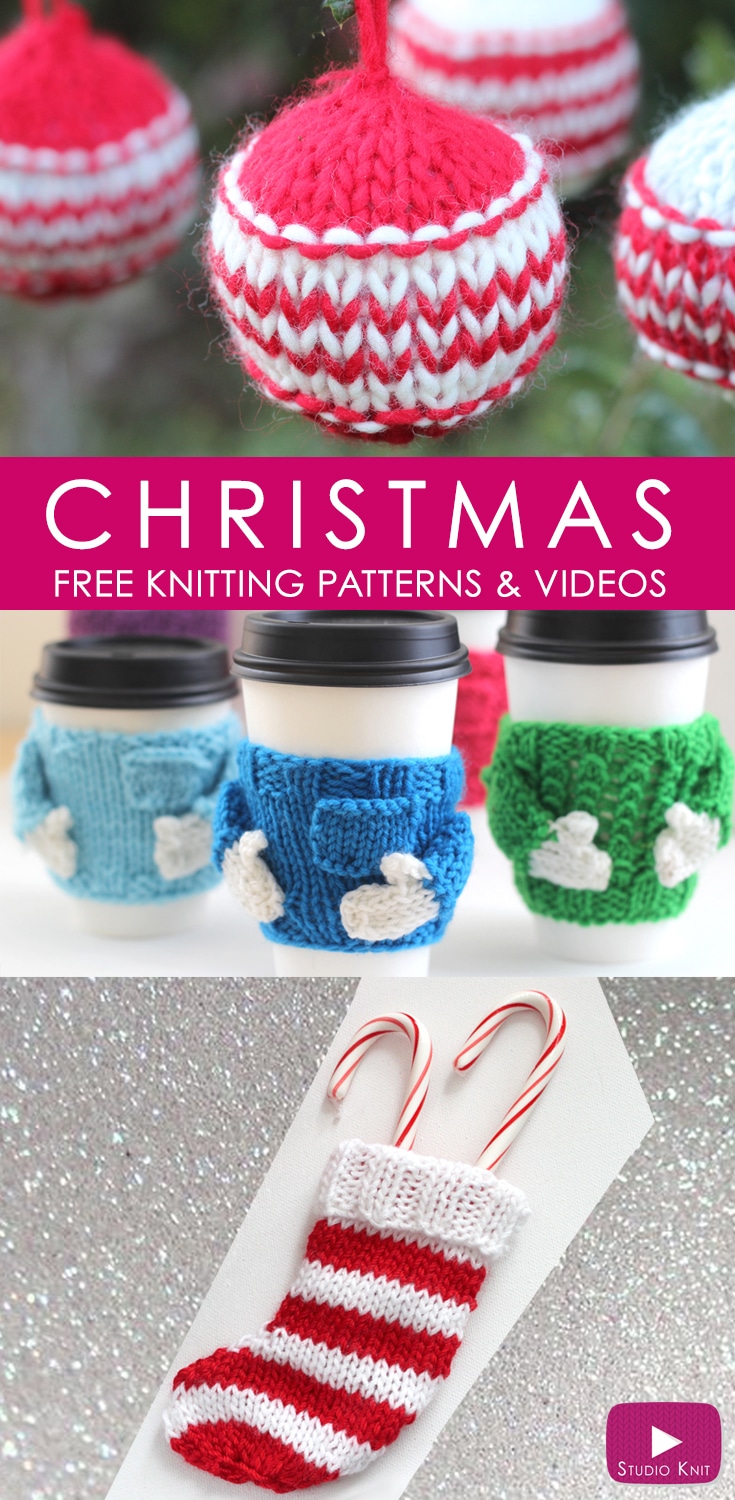 ---
VIDEO TUTORIAL for the Knitted Coffee Cozy
For a complete step-by-step tutorial of this knitting pattern, you can watch my video below.  Subscribe to my YouTube channel Studio Knit for more fun knitting ideas!
---
 KNITTING PATTERN INSTRUCTIONS for Coffee Cozy Sweaters
These are knitted up in stockinette stitch. You can also do the garter stitch, seed stitch, or even the bamboo stitch. There are lots of fun knit stitch patterns to choose among!
Coffee Mug Cozy
Cast On 32 Stitches
Rows 1 – 4: Knit 2×2 Rib Stitch *K2, P2 *
Rows 5 – 20: Knit in Stockinette Pattern (Knit Odd Row, Purl Even Row), or any Knit Stitch of your choice
Rows 21 – 24: Knit 2×2 Rib Stitch *K2, P2 *
Now we just finish up with the 2×2 rib stitch pattern for our four last rows, and bind off.
Pocket
To knit the little pocket, we just cast on 8 stitches, knit in the stockinette stitch for 6 rows, and then bind off.
Cast On 8 Stitches
Row 1: Knit
Row 2: Purl
Repeat Rows 1 – 2 for 8 rows total.
Bind Off
Arms – Make Two
When placing your arms, make sure both of your thumbs are pointing upward.
Cast On 8 Stitches
Row 1: Knit
Row 2: Purl
Row 3: Knit
Row 4: Purl
Row 5: Knit
Row 6: Purl
Row 7: Knit
Row 8: Knit
Row 9: Change Color and Cast On 3 Sts using Cable Cast On Method (to make thumb), then knit across the row for 11 Sts
Row 10: Purl
Row 11: Bind Off 3 Sts (to finish thumb), then knit across the row for 8 Sts
Row 12: Purl
Row 13: Knit
Row 12: Purl
Bind Off
Stitch all accessories to main cozy, then seam up the edge.
Note: I like to keep the Bind Off edge on the bottom, since it's not as stretchy.
I hope you are inspired to make these quick knit coffee cup cozies for your friends & family, too.