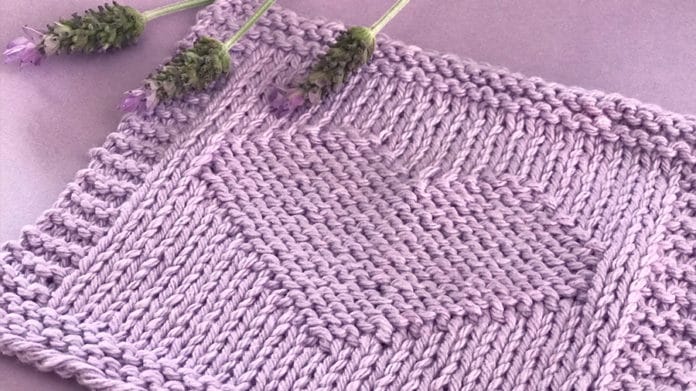 Today we're making this super easy Heart Knit Stitch Pattern, perfect for beginning knitters. If you've completed my Absolute Beginner Knitting Series, this project will be a really fun for you.
VIDEO TUTORIAL BELOW!
This knit and purl square is great for Valentine's Day. You can easily make dishcloths, washcloths, and even a baby blanket by piecing together the squares.

SAVE HEART STITCH PATTERN TO PINTEREST
---
GIFTS with the HEART KNIT STITCH PATTERN
Spa Day: You can make a really cute gift basket with your knitted washcloths.
Kitchen Upgrade: When knitted in cotton these make great dishcloths, too.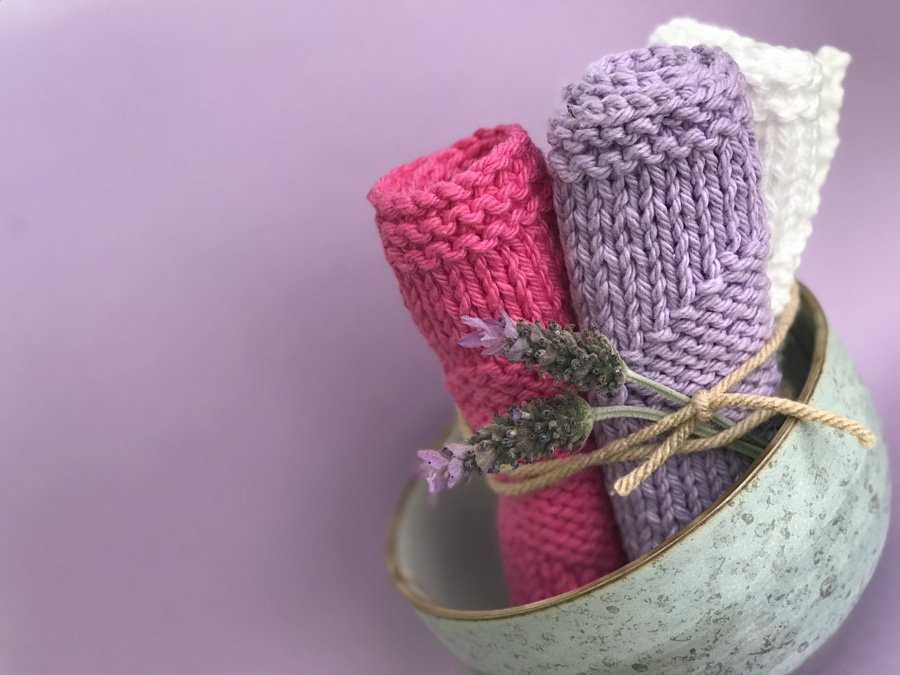 Baby Blanket: Get really creative with different colors and piece together a sweet and unique heirloom for the newborn in your family.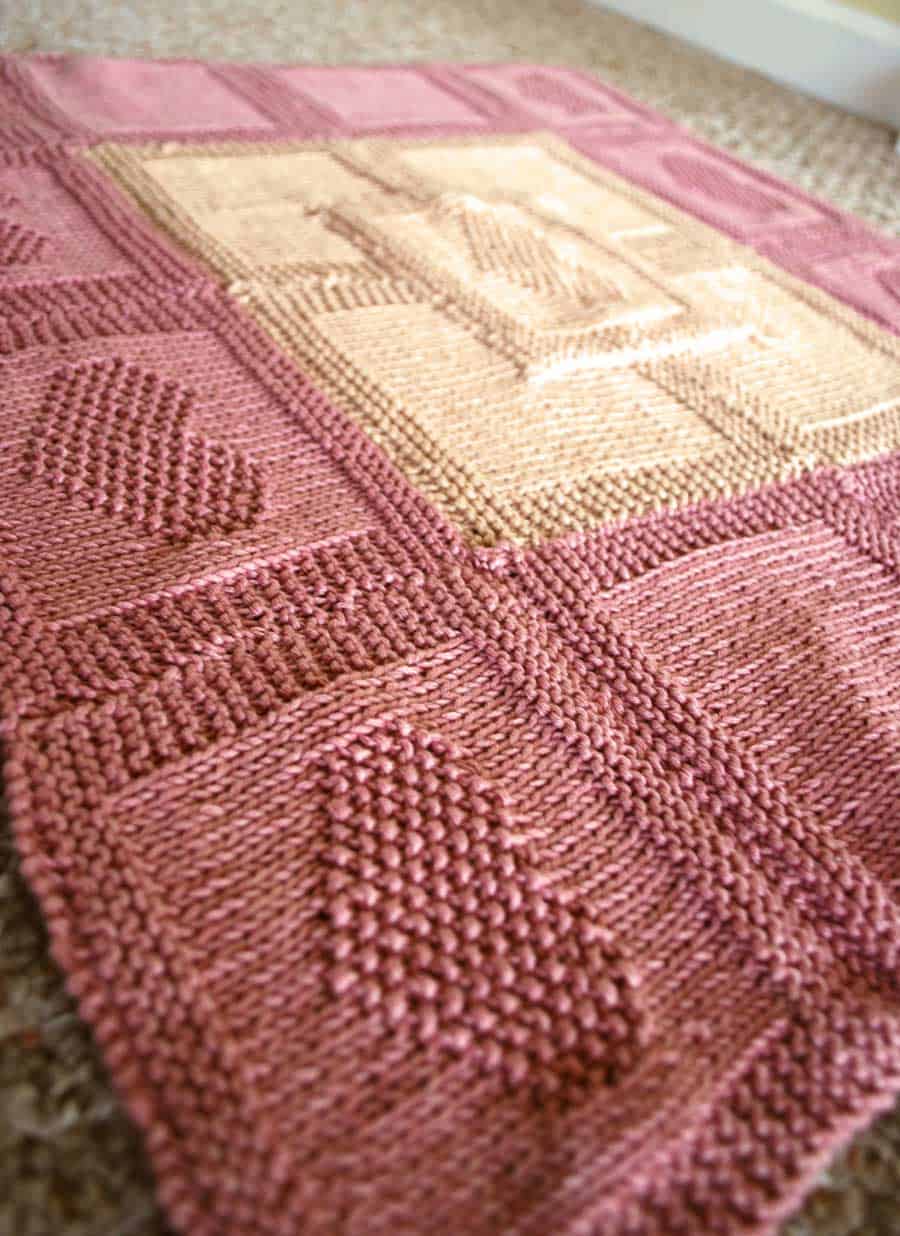 ---
RIGHT SIDE OF THE HEART KNIT STITCH PATTERN
_____
WRONG SIDE OF THE HEART KNIT STITCH PATTERN
---
MATERIALS for the HEART KNIT STITCH PATTERN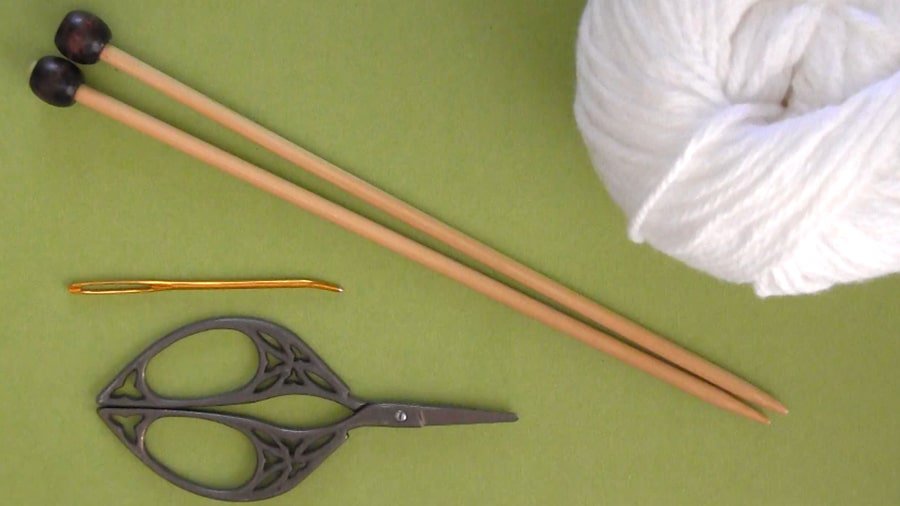 • Yarn in any weight, fiber, & color of your choice
• Knitting Needles sized appropriately for your yarn
• Scissors
• Tapestry Needle
My featured samples were created with size 7 US knitting needles and #4 worsted weight yarns cotton yarn.
My Yarn in this post is Sugar 'N Cream Cotton, perfect for dishcloths and washcloths.


---
MORE HEART KNITTING PATTERNS
If you love knitting up pretty hearts, you'll love these great designs.
Take a look at my most popular heart patterns: Heart Softies, Lace Hearts, Cable Heart.
---
VIDEO TUTORIAL of the HEART KNIT STITCH PATTERN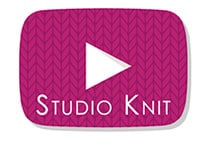 For a complete step-by-step tutorial of this knitting pattern, you can watch my video below. Subscribe to my YouTube channel Studio Knit for more fun knitting ideas!
---
PRINTABLE HEART KNIT STITCH PATTERN
NEW: PURCHASE COMPLETE KNIT STITCH PATTERN BOOK ($6 digital download)
Get my new "Knit Stitch Pattern Book" to create your favorite basic knit stitch patterns. Downloadable written and photographic samples of essential knit stitch patterns for beginning knitters.
Purchase Downloadable PDF $6 – 8.5″ x 11″
Already purchased the book and want this updated version? Simply log into your Etsy account, go to "Purchases and Reviews", then download your purchase again!
Just want the knitting instructions on this page? You've got it, keep scrolling!
---
KNITTING TECHNIQUES + ABBREVIATIONS
SLIP KNOT
BO = Bind Off
CO = Cast On
K = Knit
P = Purl
---
WRITTEN INSTRUCTIONS for the HEART KNIT STITCH PATTERN
NEW: Want the printable .pdf?
PURCHASE COMPLETE KNIT STITCH PATTERN BOOK ($6 digital download)
CAST ON 31 Stitches
GARTER BOTTOM
Row 1: Knit All (Wrong Side)
Row 2: Knit All (Right Side)
Row 3: Knit All
Row 4: Knit All
_____
GARTER EDGE WITH STOCKINETTE BASE
Row 5: K4, P23, K4
Row 6: Knit All
Row 7: K4, P23, K4
Row 8: Knit All
Row 9: K4, P23, K4
_____
HEART PATTERN
Row 10: K15, P1, K15
Row 11: K4, P10, K3, P10, K4
Row 12: K13, P5, K13
Row 13: K4, P8, K7, P8, K4
Row 14: K11, P9, K11
Row 15: K4, P6, K11, P6, K4
Row 16: K9, P13, K9
Row 17: K4, P4, K15, P4, K4
Row 18: K7, P17, K7
Row 19: K4, P2, K19, P2, K4
Row 20: K6, P19, K6
Row 21: K4, P2, K19, P2, K4
Row 22: K6, P19, K6
Row 23: K4, P3, K17, P3, K4
Row 24: K8, P7, K1, P7, K8
Row 25: K4, P5, K5, P3, K5, P5, K4
Row 26: K10, P3, K5, P3, K10
_____
GARTER EDGE WITH STOCKINETTE BASE
Row 27: K4, P23, K4
Row 28: Knit All
Row 29: K4, P23, K4
Row 30: Knit All
Row 31: K4, P23, K4
_____
GARTER TOP
Row 32: Knit All
Row 33: Knit All
Row 34: Knit All
Row 35: Knit All
---
CHART of the HEART KNIT STITCH PATTERN
NEW: Want the printable .pdf?
PURCHASE COMPLETE KNIT STITCH PATTERN BOOK ($6 digital download)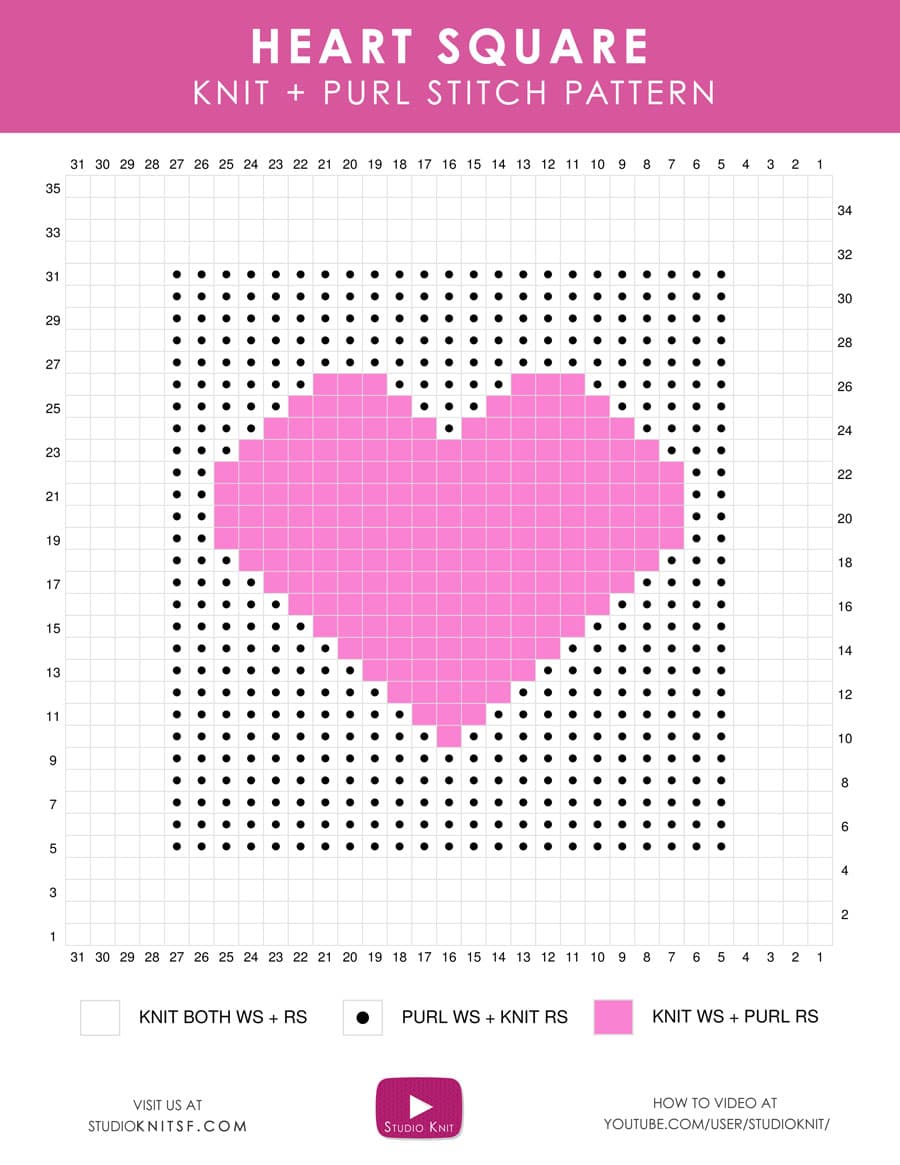 ---