Today, we are going to make knitted slippers, inspired by a sweet treat from one of my favorite fellow YouTubers, Miranda Sings!! If you're a Mirfanda like me, or know someone who is, these "Haters Back Off" inspired slippers are the perfect knitting project to keep you cozy while you Netflix and Knit.
You can knit up this easy, free pattern now for a stylish fashion accessory. This knitting project is great for experienced beginners and uses just one skein of yarn (approx 70 yards).
Want more Netflix and Knit inspiration? Check out my Gilmore Girls Knitted Hat worn by Lorelai!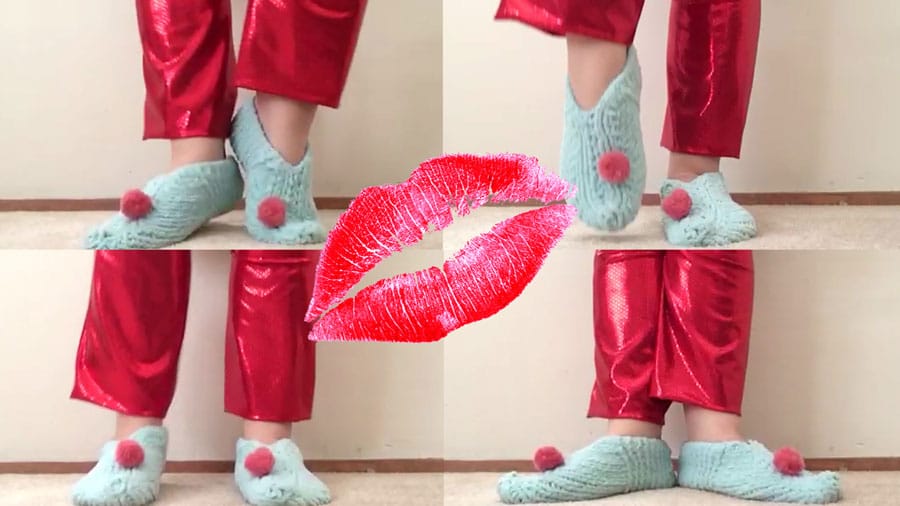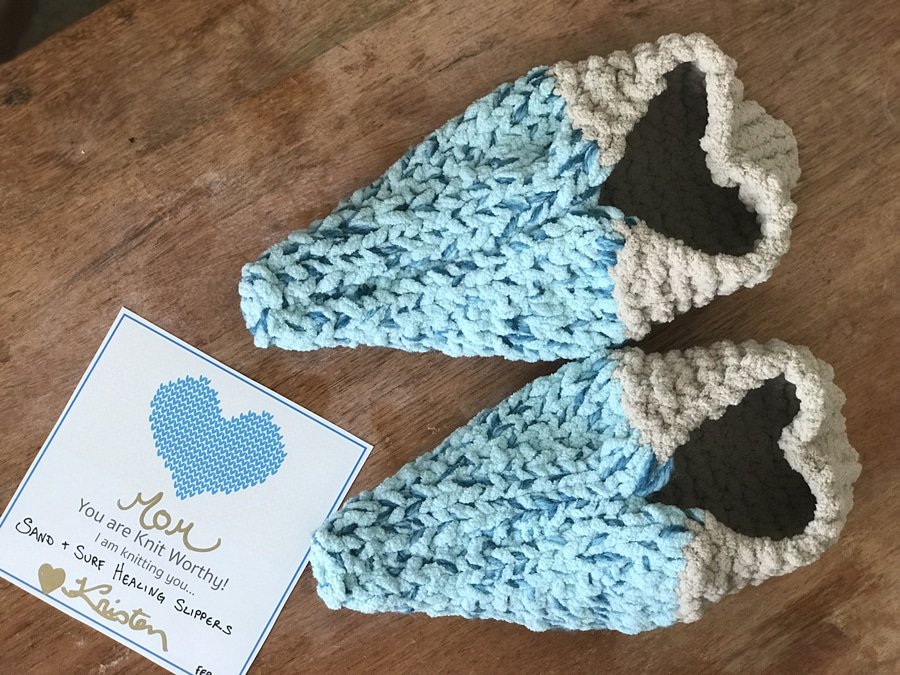 ---
Slip Knot
CO = Cast On Long Tail Method
K = Knit Stitch
P = Purl Stitch
KFB = Knit Front and Back Increase
SSK + K2Tog = Slip Slip Knit + Knit 2 Together Decreases
BO = Bind Off
Weave In Ends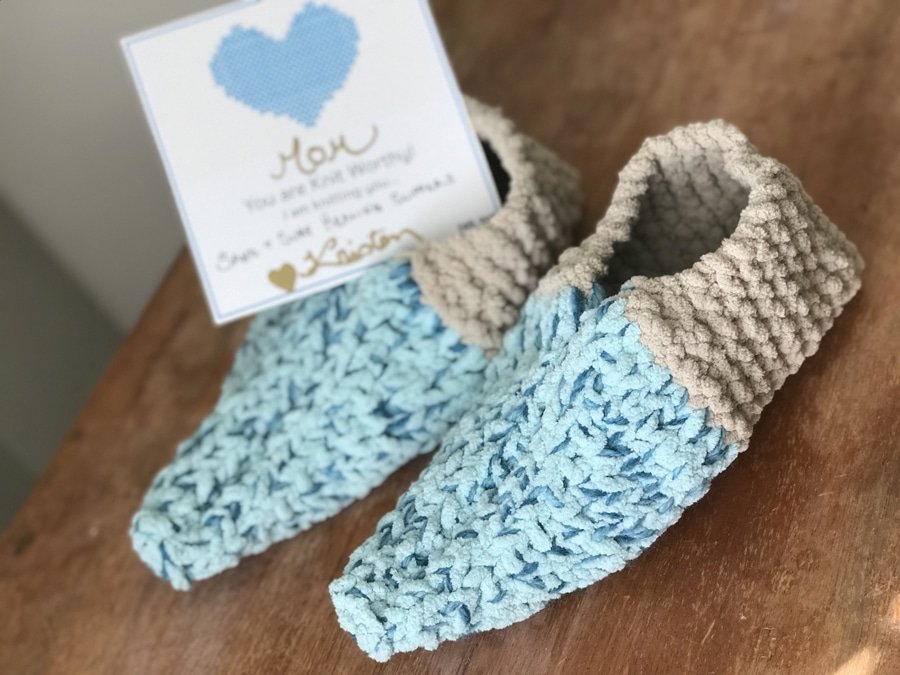 ---
MATERIALS for Froze Toes Knitted Slippers

As an Amazon Associate I earn from qualifying purchases.
YARN #6 Super Bulky, 70 yards for 2 slippers
Recommended: Bernat Baby Blanket Yarn, Color Seafoam
Scrap Yarn for Pink Bubble Gum Treat
KNITTING NEEDLES (Size 10 US / 6.0 mm)
FORK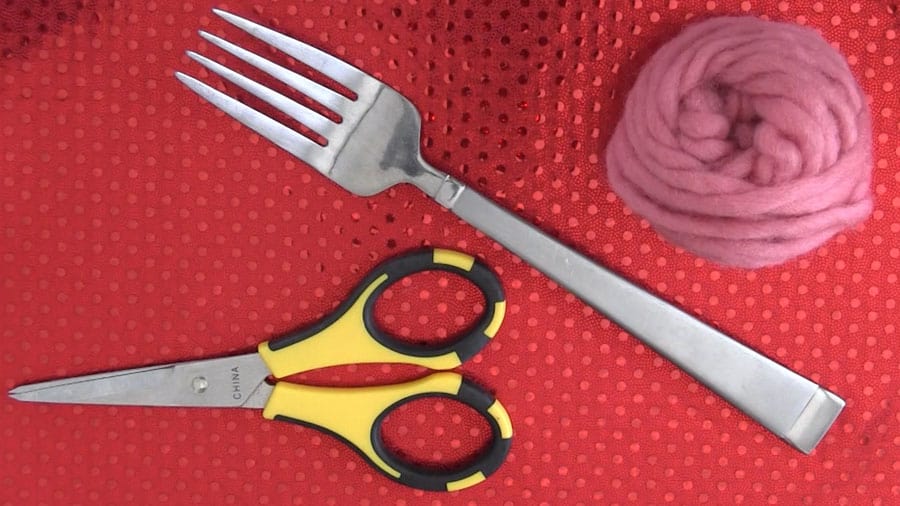 ---
VIDEO TUTORIAL for Froze Toes Knitted Slippers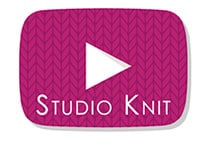 For a complete step-by-step tutorial of this knitting pattern,
you can watch my video above
.
Subscribe to my YouTube channel Studio Knit
for more fun knitting ideas!

---
KNITTING PATTERN for Froze Toes Knitted Slippers
Download Free Printable Written Pattern
Click here to Subscribe to my Studio Knit Newsletter

Once you confirm your subscription within your email account, you will immediately be directed to my knitting freebies page to receive this downloadable printable pattern and more!
Just want the knitting instructions on this page?
You've got it, keep scrolling!
---
---

WRITTEN KNITTING INSTRUCTIONS for Froze Toes Knitted Slippers
Knitting Gauge
13 Sts x 17 Rows in Stockinette = 4" x 4" / 10 x 10 cm
WOMEN'S SHOE SIZES
Small: 5 – 6 1/2 US • 35 – 37 EU • 3 – 4 UK
Medium: 7 1/2 – 9 US • 38 – 40 EU • 5 – 6 1/2 UK
Large 9 1/2 – 12 US • 42 – 44 EU • 7 1/2 – 9 1/2 UK
_____
Cast On 6 Stitches Start slip knot 18" from yarn end
STOCKINETTE ROWS
Row 1: K2, KFB, KFB, K2 (8 Sts on Needle)
Row 2: Purl All
Row 3: K2, KFB, K2, KFB, K2 (10 Sts )
Row 4: Purl All
Row 5: K2, KFB, Knit to last 3 Sts, KFB, K2
Row 6: Purl All
Repeat Rows 5 + 6 until the following number of stitches remain on your knitting needle:
Small 26 / Med 28 / Large 30
_____
GARTER ROWS
Row 1: K2, SSK, Knit to last 4 Sts, K2Tog, K2
Row 2: Knit All
Row 3: K2, SSK, Knit to last 4 Sts, K2Tog, K2
Row 4: Knit All
Row 5: K2, SSK, Knit to last 4 Sts, K2Tog, K2
Row 6: Knit All
Continue Knitting in the Garter Stitch until your entire knitted piece's length measures:
Small 8.5 inches / Med 9.5 inches / Large 10.5 inches
Bind Off
Piece Together Using your tapestry needle, sew up:
Toe: Cast On Row – Cinch Toe and Sew to Garter Sts
Heal: Bind Off Row – Fold and Sew Up to Make Heal
Weave In Ends
Add Pom Poms for Bubble Gum Treat!
---

NEW: PURCHASE COMPLETE KNIT STITCH PATTERN BOOK (digital download)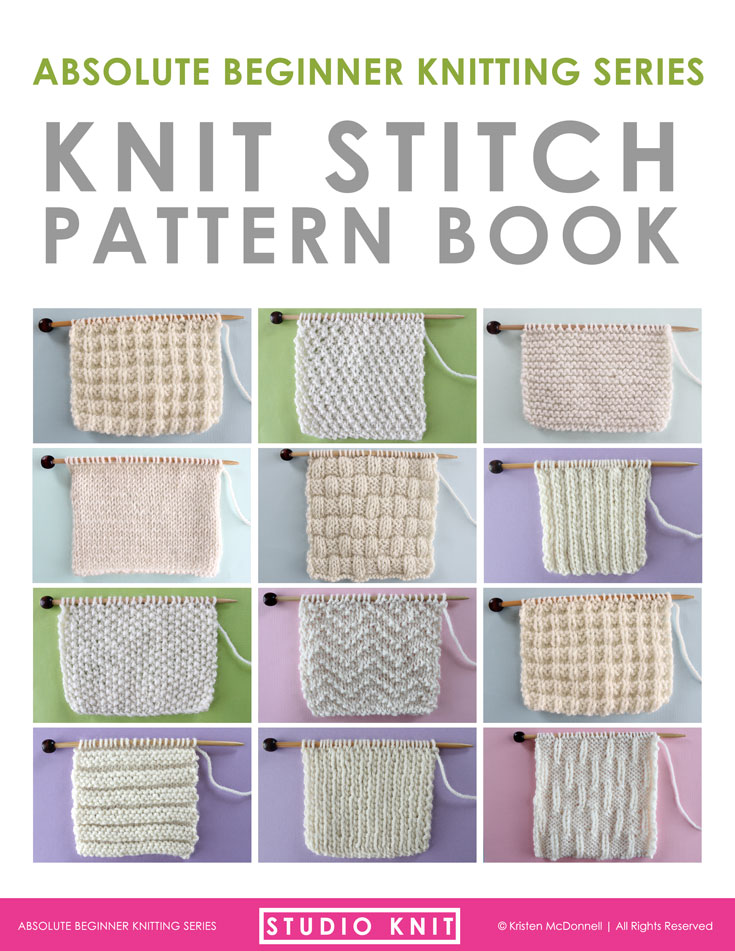 Get my new "Knit Stitch Pattern Book" to create your favorite basic knit stitch patterns.
Downloadable written and photographic samples of 12 essential knit and purl stitch patterns for beginning knitters.
Purchase Downloadable PDF ($6 US)
8.5″ x 11″
12 page Booklet
12 Knit Stitch Patterns, plus Cover
---
GET LIFETIME ACCESS TO VIDEOS + KNITTING BOOKS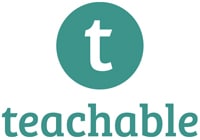 Get my entire Absolute Beginner Knitting Series completely ad-free in an easy to follow format on desktop, mobile, and tablet. Plus — available exclusively through my Teachable course — you will also receive my new printable resources to help you shop, learn, and create!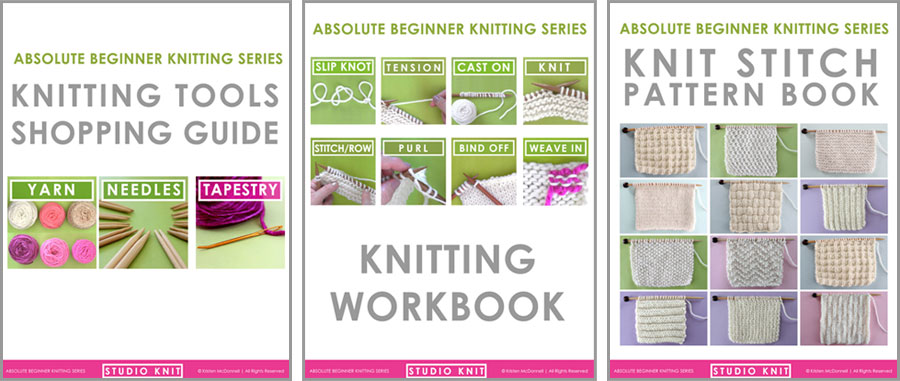 ---