I have been getting a lot of questions lately about the difference between decreases in knitting.  We have Slip Slip Knit stitch versus Knit Two Together stitch. So, I thought it was high time to review it and make a quick video!!
PINTEREST: SAVE THIS TECHNIQUE BY PINNING FROM MY KNITTING TECHNIQUE INSTRUCTIONS BOARD!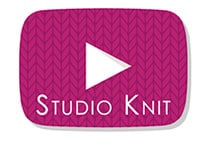 VIDEO TUTORIAL
For a complete step-by-step tutorial of this knitting technique, you can watch my video below.  Subscribe to my YouTube channel Studio Knit for more fun knitting ideas!
Yes, they both are DECREASE stitches, which narrows your work and lessens the number of stitches on your needles.
But here's the difference: When we do SSK, we Slip Slip and Knit. As a result, our yarn then LEANS to the left. Sort of like our back-slash key on our keyboard. \\
With the Knit Two Together stitch, we see that our yarn is now slanting to the right, like the forward-slash on our keyboard. //
Your pattern will specify either an SSK or a K2Together decrease because your work is intentionally being shaped in a certain direction.
Please let me know if you have any other knitting questions and if you haven't already, please make sure to subscribe to my YouTube Channel Studio Knit for lots more knitting fun!