Celebrate special holiday seasons with a Knitted Triangular Pennant Banner! Continuing my Summer Knit Series and with the 4th of July holiday upon us, my sample is in the colors of our flag with red, white, and blue yarns. I have also added my little Star Shape embellishment.
Get creative with your yarn colors and design to festively celebrate any holiday. A string of triangle flag shapes creates this bunting garland decor that looks great both inside your home and outside by the grill.
This free knitting pattern includes my fun video tutorial that gives you an overview of everything you need to know, so make sure to check it out!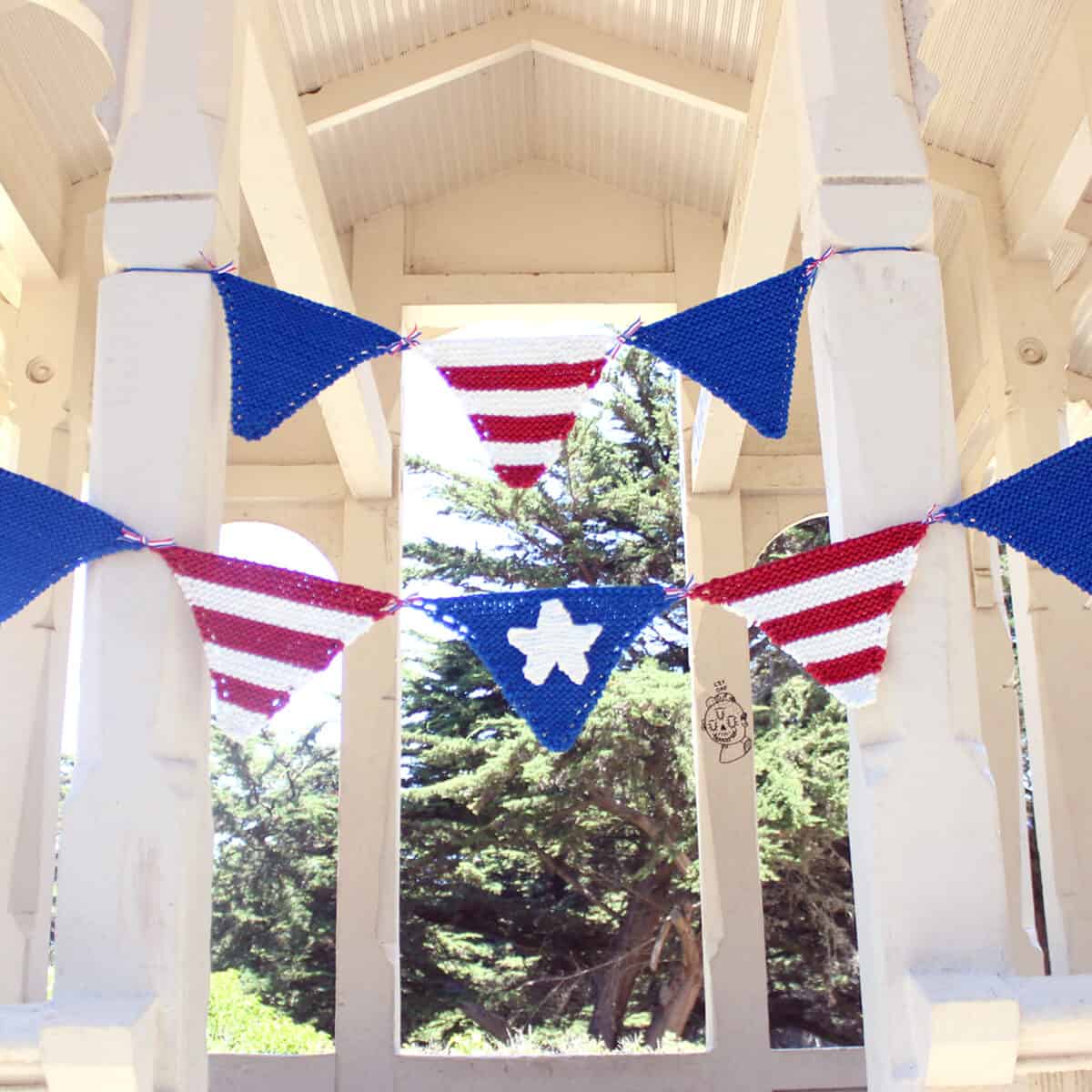 ---
CLOSER LOOK at the Pennant Banner Pattern
Let's take a close look at our Pennant Banner Pattern, seeing exactly how those knits and yarn over increase stitches are knitted together to make this simple pattern.
Your triangle shape is knitted flat from the bottom up. Increase stitches on the right side of your work creates your isosceles triangle shape. You can easily modify the triangle size by knitting it up until it is the length you desire.
The two sides of your triangle have a pretty, airy eyelet border and the top is finished off by using the Stretchy Bind Off technique. This allows the top of your banner to lie flat without it being bound off too tightly.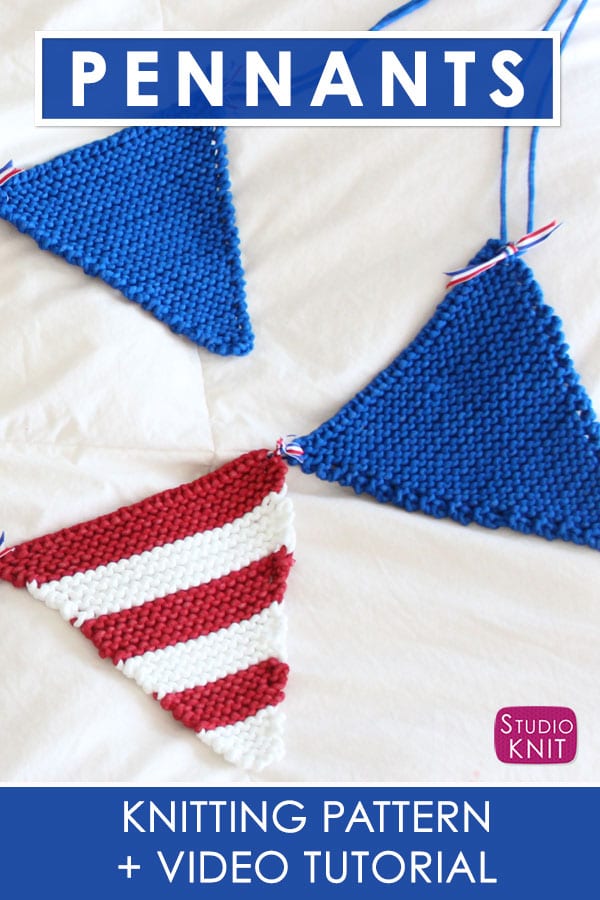 ---
RIGHT AND WRONG SIDES OF THE PENNANT BANNER
When knitting your pennant banner in just one color, it is a reversible pattern making it look great on both sides. However, if you are knitting stripes, it will NOT be reversible and you will have noticeable purl dash lines on the wrong side of your work.

_____
STAR SHAPE EMBELLISHMENT
I added a little knitted Star Shape to my center pennant since this is a Patriotic themed banner. Check out my Star Shape knitting pattern and video tutorial to make one, too!
_____
ATTACHING TRIANGLES TO MAKE PENNANT BANNER
Create your banner by attaching any number of triangles and in any configuration you wish. I connected mine with Ribbon and Yarn. I think Jute Twine would look really cool and rustic, too.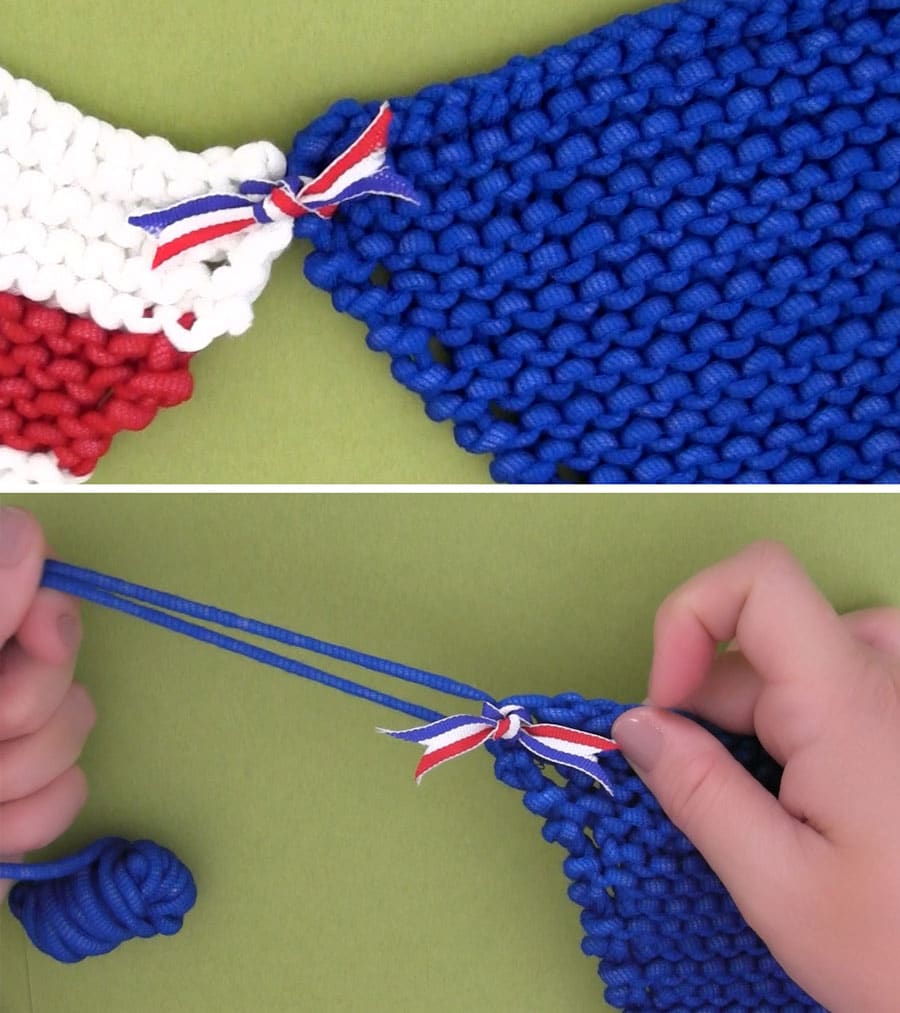 ---
MATERIALS for the Pennant Banner Pattern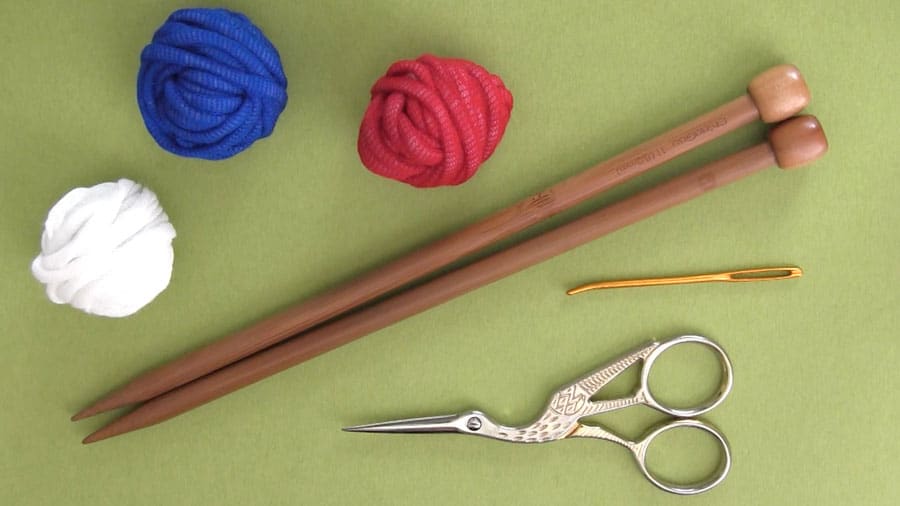 Your knitted Pennant Banner can be created in larger or smaller sizes, depending on your materials and the number of rows completed. Feel free to use any appropriately sized yarn and needles for your creative project.
Yarn – Bulky Weight (#5)
Sample uses Bernat Maker Outdoor Yarn in colors Beach Red, White, and Royal Blue
Knitting Needles – Size 11 US (8 mm) 9 inch Straight Bamboo
Scissors
ABOUT BERNAT MAKER OUTDOOR YARN: Since Pennant Banners are great decor for the yard, I am using this Bernat Maker Outdoor Yarn in colors Beach Red, White, and Royal Blue. It's a great bulky weight yarn and easy to knit up. Its colors do not fade in the sunshine and it is mold resistant, too! I'm excited to yarn bomb with this yarn in the near future, too!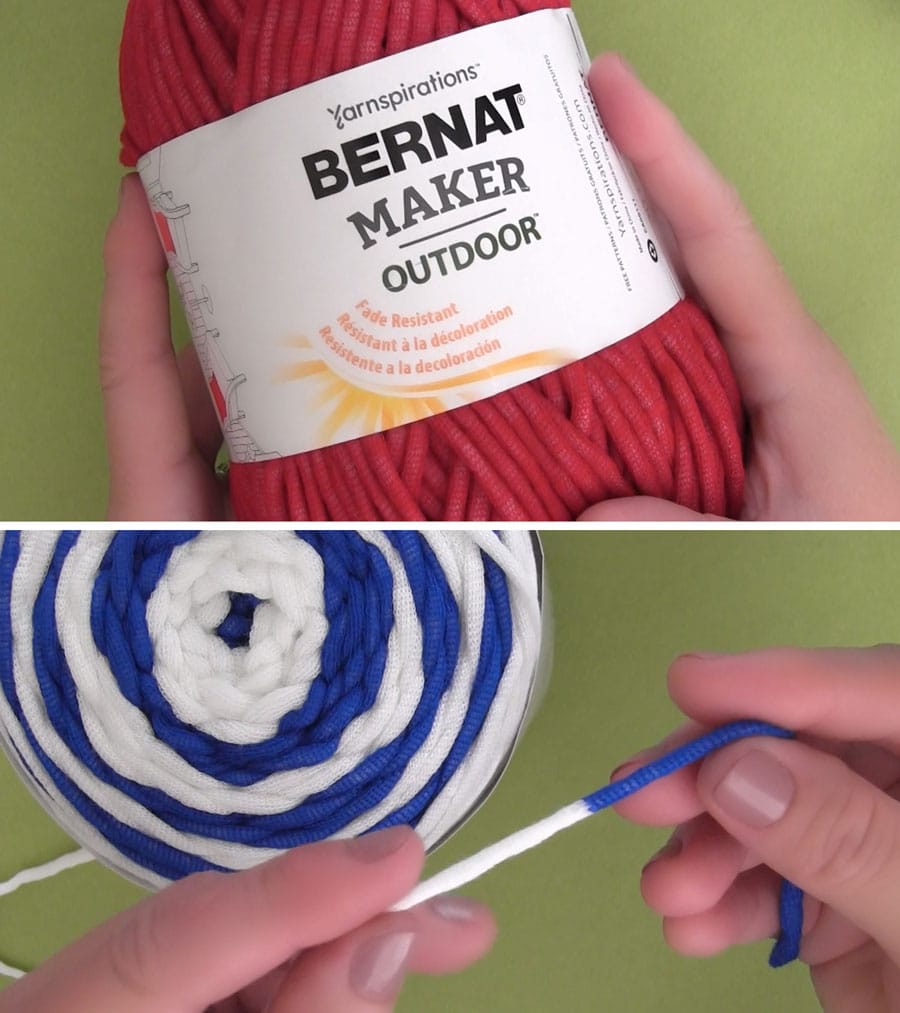 ---
KNITTING TECHNIQUES
Pennant Banner Pattern
Need to brush up or learn a new technique? Check out my entire library of Knitting Techniques to help you along as you knit up this project. If you're new to knitting, you'll love my Absolute Beginners Knitting Series!
• Slip Knot
• CO = Cast On Long Tail Method
• K = Knit Stitch
• K2Tog = Knit Two Stitches Together
• RS = Right Side
• WS = Wrong Side
• YO = Yarn Over
• Weave In Ends
---
WATCH VIDEO TUTORIAL
PENNANT BANNER KNITTING PATTERN
---
WRITTEN KNITTING PATTERN
Pennant Banner
Cast On 3 Stitches
Row 1 (Right Side): K1, YO, Knit All
Row 2 (Wrong Side): Knit All
Row 3: Knit to Last Stitch, YO, K1
Row 4: Knit All
Repeat Rows 1 – 4 Until triangle shape is your desired length.
Sample was knit with a total of 24 rows for a finished size of 8″ wide x 9″ long.
_____
Knitting Stripes? Change color on the Right Side of your work.
_____
Stretchy Bind Off * K2Tog, Slip St to Left Needle *
Weave In and Cut Off Ends.
Create Banner by attaching triangles with Ribbon, Yarn, or Twine.
---
THANK YOU FOR VISITING STUDIO KNIT
I hope you are inspired to knit up a Pennant Banner in your next knitting project. Check out my entire library of free stitch patterns!
If you'd like even more great knitting ideas, please make sure you join my mailing list. Subscribing to my YouTube channel Studio Knit is another easy way for us to stay connected and help support my work for free.
Happy Knitting to You!