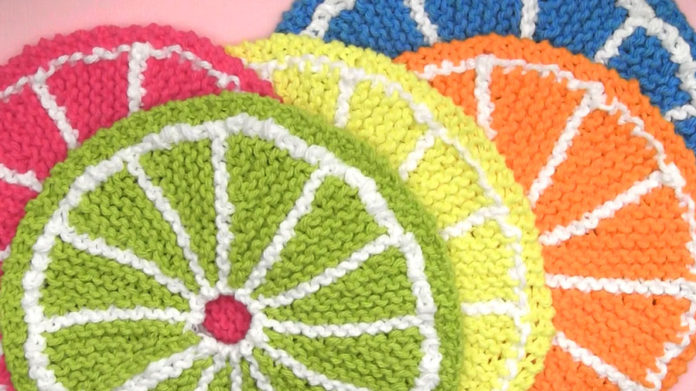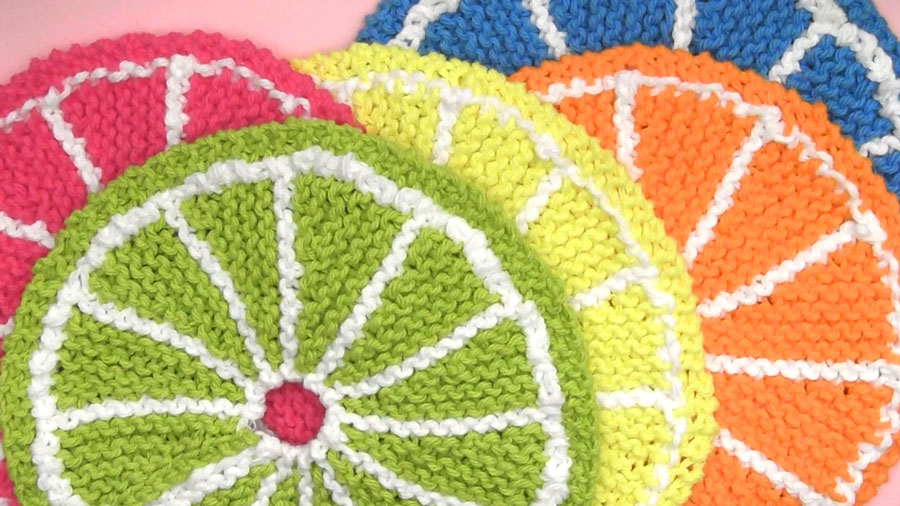 We are knitting up colorful Fruit Citrus Slices in cotton yarn. Knit up some summer goodness to enjoy year round as a dishcloth, washcloth, trivet, or sweet home decor. Measuring at 8 inches in diameter, this is a fun little quick knit that is sure to challenge and obsess you! Although this design is a rounded shape, we are knitting on straight needles, not on circulars… and no decreasing nor increasing either. Wedge by wedge, our citrus shape appears by knitting twelve little triangles with the magic of turning!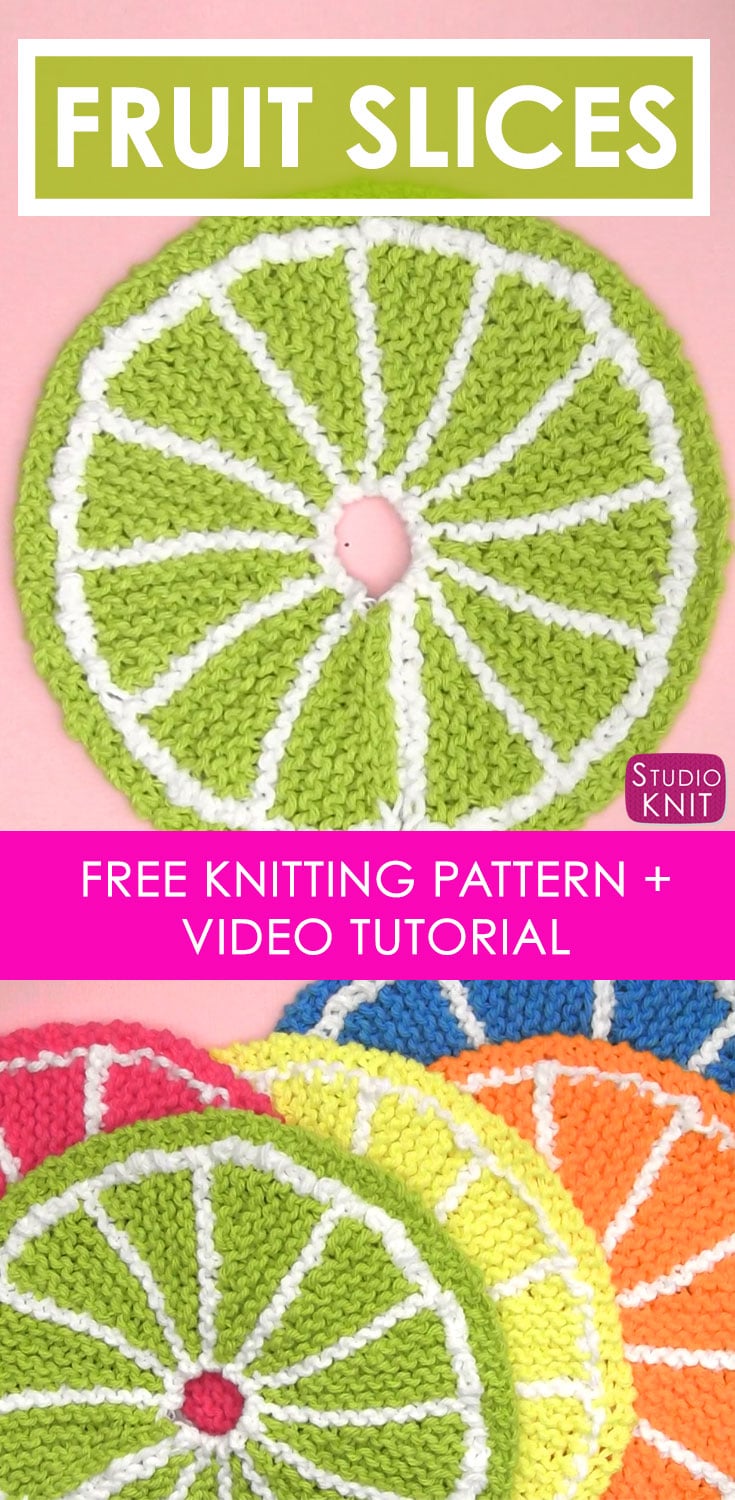 ---
KNITTED POT & PAN PROTECTORS
These fruit slices make great knitted Pot and Pan Protectors. Knit up various sizes to protect against your cookware's scratches and scrapes. The sweet, cheerful fruit design is perfect to brighten up your kitchen cupboards!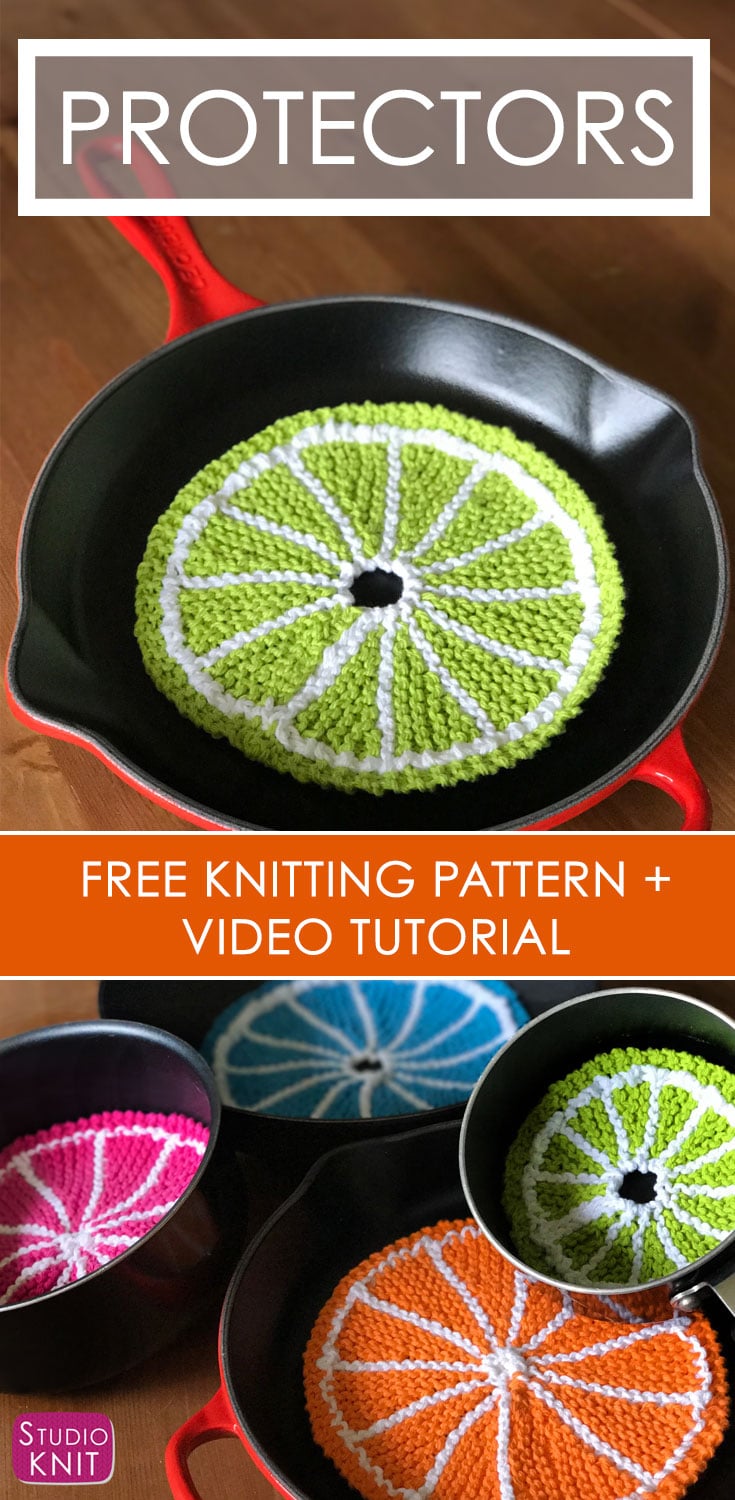 ---
MATERIALS to Knit Fruit Citrus Slices
• Yarn in cotton worsted weight – I knitted my fruit citrus slices with Sugar N Cream cotton yarn in colors Hot Green, Hot Pink, Hot Orange, Hot Yellow, and Hot Green. This yarn is perfect because it is absorbent, lightweight, and easy to wash out when using as a dishcloth.
• Knitting Needles, size 7 US
• Scissors
• Tapestry Needle
---
KNITTING TECHNIQUES for Knit Fruit Citrus Slices
Need to brush up or learn a new technique? Check out my entire library of Knitting Techniques to help you along as you knit up this project. If you're new to knitting, you'll love my Absolute Beginners Knitting Series!
• Slip Knot
• CO = Cast On Long Tail Method
• K = Knit Stitch
• B = Bind Off
---
WATCH MY STEP-BY-STEP VIDEO TUTORIAL
---
KNITTING PATTERN Fruit Citrus Slices
WANT THE PATTERN ON THIS WEBSITE PAGE? Keep scrolling, it's up next!
EMAIL SUBSCRIBERS: Download Your Ad-Free Printable .PDF Pattern
You will receive an email invitation to my "Knitting Freebies" page.

KNITTING INSTRUCTIONS for Fruit Citrus Slices
GETTING STARTED
Cast On 2 Stitches in Main Color (MC)
On same needle, CO 12 Sts in White Color
Starting Row: Knit 12 White, K2 MC
_________________________
WEDGE PATTERN
Row 1: (right side)
K2 MC, K1 White, K10 MC (13 sts)
Leave 1 St remaining on needle – Turn
Row 2: (wrong side)
K10 MC
Bring MC strand front, Take White strand back
K1 White
Bring White strand front, Take MC strand back
K2 MC
Row 3: K2 MC, K1 White, K8 MC (11 sts) – Turn
Row 4: K8 MC, K1 White, K2 MC
Row 5: K2 MC, K1 White, K6 MC (9 sts) – Turn
Row 6: K6 MC, K1 White, K2 MC
Row 7: K2 MC, K1 White, K4 MC (7 sts) – Turn
Row 8: K4 MC, K1 White, K2 MC
Row 9: K2 MC, K1 White, K2 MC (5 sts) – Turn
Row 10: K2 MC, K1 White, K2 MC
Row 11: K2 MC, K12 White (14 sts)
Row 12: K12 White, K2 MC
REPEAT Rows 1-12 to create 11 (of 12) fruit wedges
_________________________
FINISHING
On last (12th) fruit wedge, Knit Rows 1-10
Row 11: K2 MC, K1 White, K12 MC
Row 12: Bind Off
Tack Edges of Wedges 1 and 12 together with yarn and a tapestry needle
Weave in ends and enjoy!
---
THANK YOU FOR VISITING STUDIO KNIT
I hope you are inspired to knit up these fruit citrus slices for your next knitting project. If you'd like even more, please make sure you join my mailing list. Subscribing to my YouTube channel Studio Knit is another easy way for us to stay connected and help support my work for free.

---