Knit a Paint Chip Calendar
Celebrate the New Year and Knit a Paint Chip Calendar! Year after year, I love displaying my knitted calendar in my office while scheduling upcoming Studio Knit videos. This DIY Dry Erase Calendar with Paint Chips is possible by knitting up little squares in the easy Seed Stitch.
I first fell in love with this craft idea when my sister made a similar DIY calendar with designer paper. Then I saw so many cool Pantone Swatch or Paint Chip Calendars on Pinterest and realized that a knitted version would be really cool.
This is a great yarn busting project and a useful home décor wall calendar to hang with pride!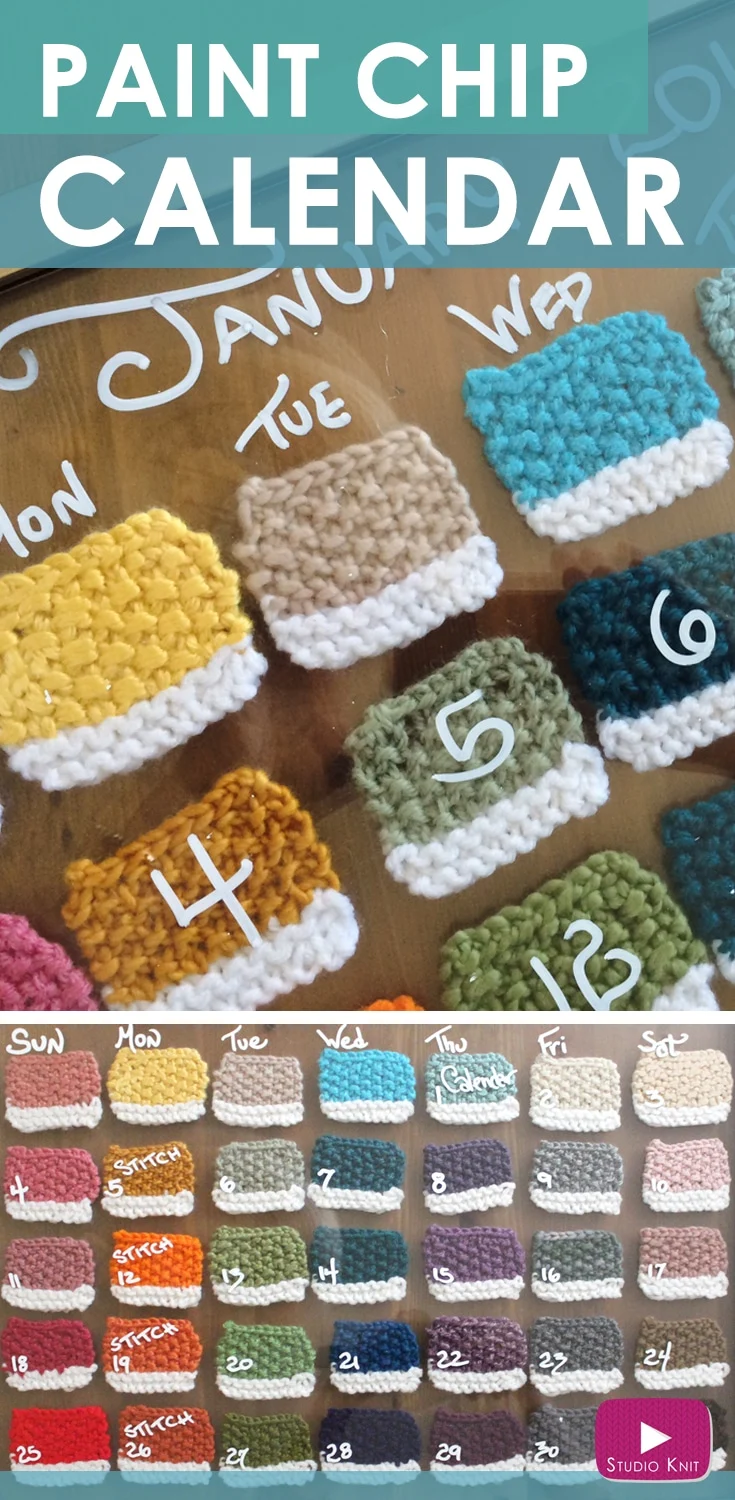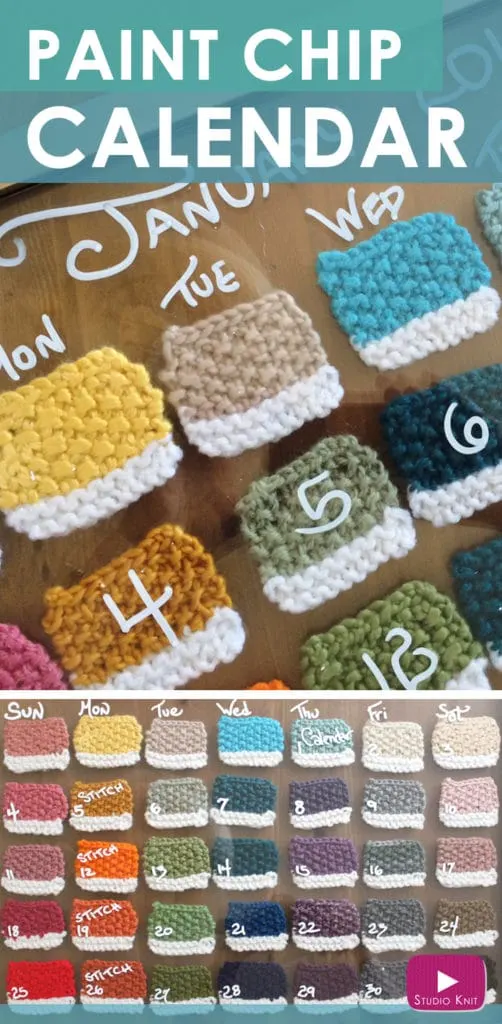 ---
MATERIALS to Knit a Paint Chip Calendar
Worsted or Aran Weighted Yarn
White: 50 yards
Colors: 96 yards total, 8 feet per swatch
2 – Size 8 US Knitting Needles
Tapestry Needle – Clover Chibi Jumbo Bent Tip Darning Needle Set
Scissors – Gold Stork Crane Scissors
Photo Frame – Glass Floating 16" x 20"
Dry Erase Marker – Sharpie, sized Medium, color White, Water-Based Paint Marker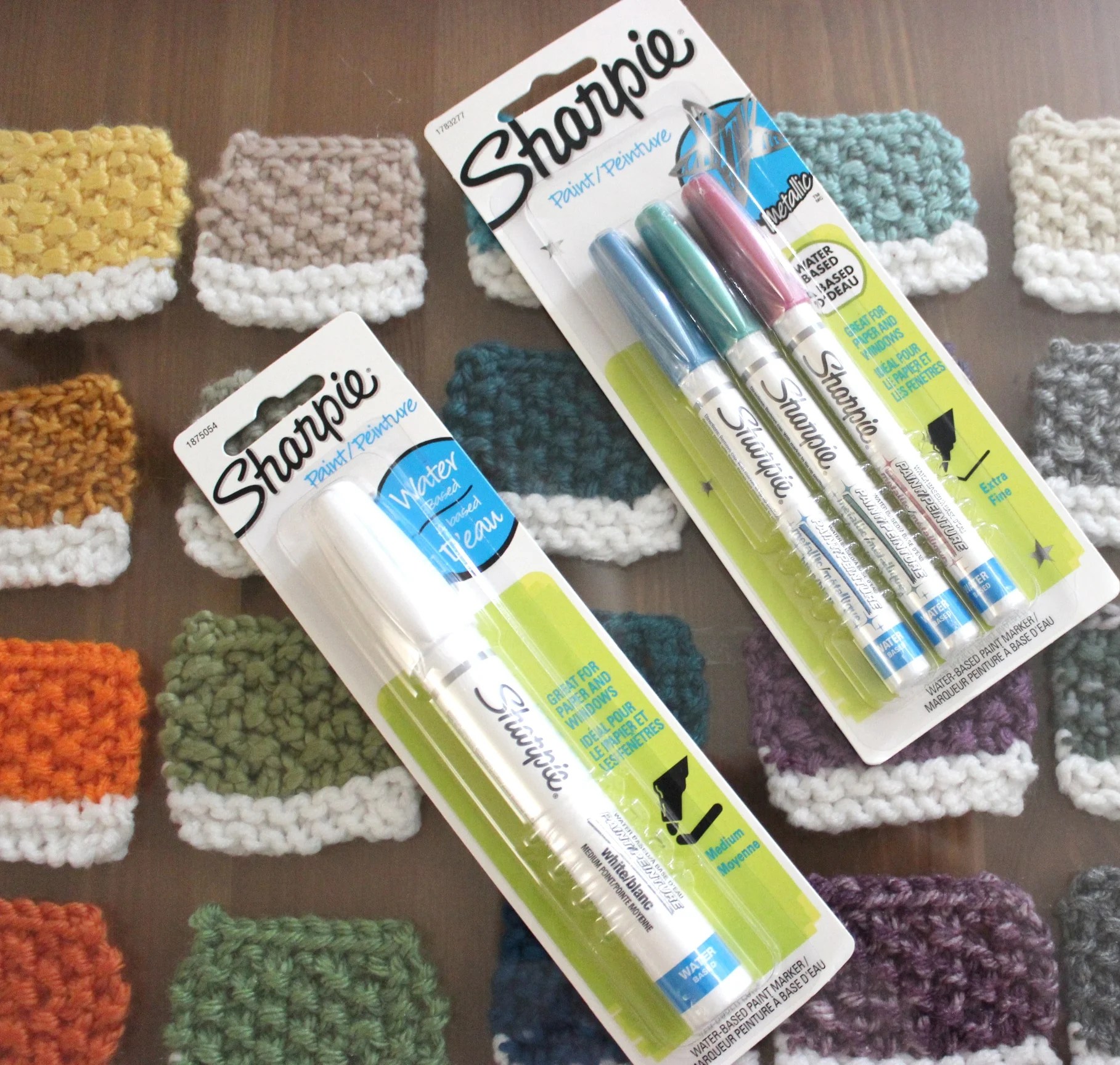 ---
KNITTING TECHNIQUES to Knit a Unicorn Drink Cozy
Need to brush up or learn a new technique? Check out my entire library of Knitting Techniques to help you along as you knit up this project. If you're new to knitting, you'll love my Absolute Beginners Knitting Series!
• Slip Knot
• CO = Cast On Long Tail Method
• K = Knit Stitch
• P = Purl Stitch
• BO = Bind Off
• Weave In Ends
---
WATCH VIDEO TUTORIAL to Knit a Paint Chip Calendar
---
KNITTING PATTERN for Paint Chip Calendar
Begin by Knitting 35 Paint Chip Swatches:
Cast on 9 stitches with white yarn
Rows 1 and 2: Knit all stitches
Switch to your colored yarn
Row 3: Knit all stitches
Knit Rows 4 – 10 in Seed Stitch * K1, P1 *
(Since you cast on an odd number of stitches, K1, P1, we start that stitch pattern on every row)
Bind Off
Weave in yarn ends
ASSEMBLING the Knitted Paint Chip Calendar
Once you have completed knitting 35 of these cute swatches, arrange them in any color pattern you chose in the middle of your floating glass frame.
Each month, write your calendar text with a dry erase marker.
I enjoy using the brand Sharpie, sized Medium, in the color White, it's Water-Based Paint Marker and it wipes away with a damp cloth to start each month anew. I hope you give this fun DIY project a try!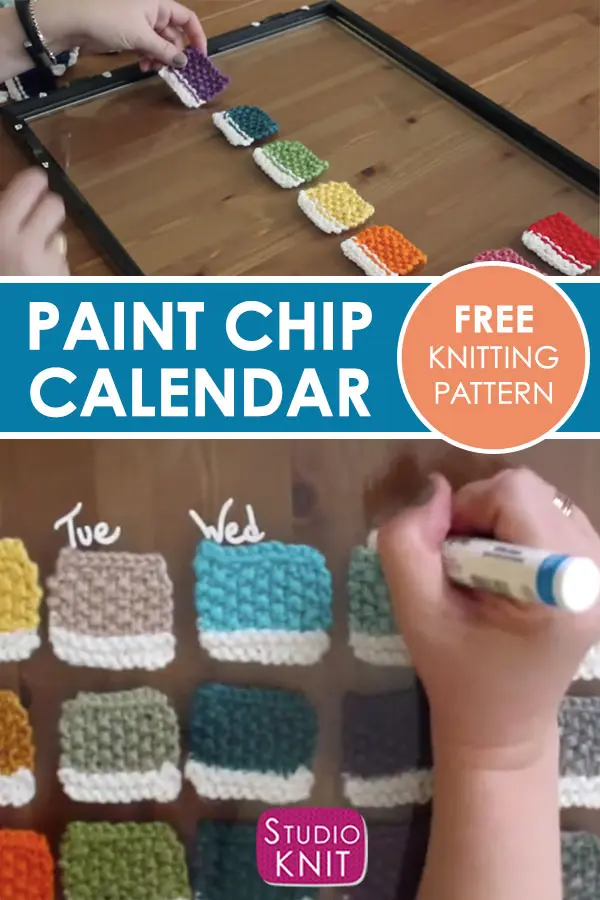 ---
THANK YOU FOR VISITING STUDIO KNIT
I hope you are inspired to knit up this Paint Chip Calendar in your next knitting project.
If you'd like even more great ideas, please make sure you join my mailing list. It's a free and easy way for us to stay connected.