Today, we're knitting up the Lattice Cable knit stitch pattern.
Nothing says cozy like cable stitches. This week's new Lattice Cable pattern quickly reveals a diagonal interlocked design with a simple 8-row repeat. It's a fun project for experienced knitters, as well as great practice for those new to cabling.
VIDEO TUTORIAL BELOW!

SAVE THIS PATTERN TO YOUR KNITTING PINTEREST BOARD!
This woven, braided pattern is similar to the Diagonal Basket Weave cable knit stitch. However, this Lattice Stitch has a more open look and does not knit up as tightly, giving it a more medium stretch.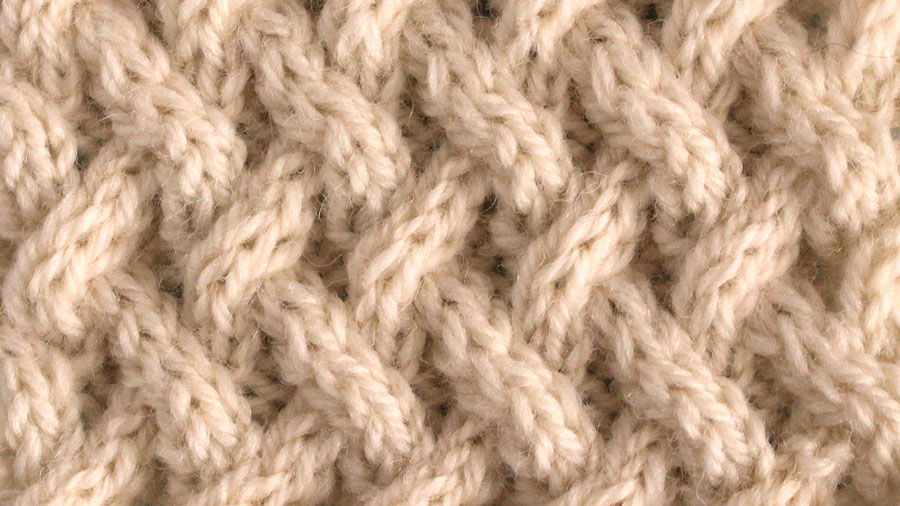 ---
• Slip Knot 
• CO = Cast On Long Tail Method
• K = Knit Stitch 
• P = Purl Stitch
• Cable Stitches (explained below)
• BO = Bind Off
---
 
MATERIALS for Lattice Cable Stitch
My sample was created with size 7 US knitting needles and Patons Classic Wool Worsted weighted (Color Aran)
• Yarn in any weight, fiber, & color of your choice
• Knitting Needles sized appropriately for your yarn
• Cable Needle (I'm using a double pointed needle)
• Scissors
• Tapestry Needle
PRETTY NAILS
Today I'm wearing Essie Nail Polish #665 – The most popular nail polish color on Pinterest this year!


---
MORE CABLE KNIT STITCH PATTERNS
If you love knitting up cable patterns, you'll love my entire collection of stitches.
Take a look at my most popular patterns: Celtic Saxon, Bunny, and the Honeycomb Cable Stitch Patterns.
---
 VIDEO TUTORIAL for Lattice Cable Stitch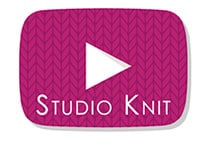 For a complete step-by-step tutorial of this knitting pattern, you can watch my video above. Subscribe to my YouTube channel Studio Knit for more fun knitting ideas!
---
RIGHT & WRONG SIDE of the Lattice Cable Stitch
RIGHT SIDE – The right side of our work is a beautiful interwoven diagonal lattice cable pattern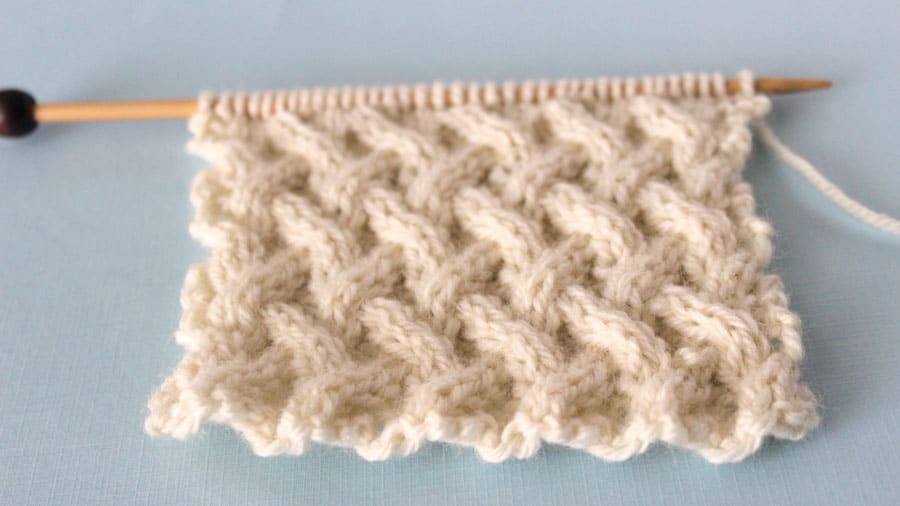 WRONG SIDE – The wrong side of our work looks great, too, showing off a pretty vertical wiggle pattern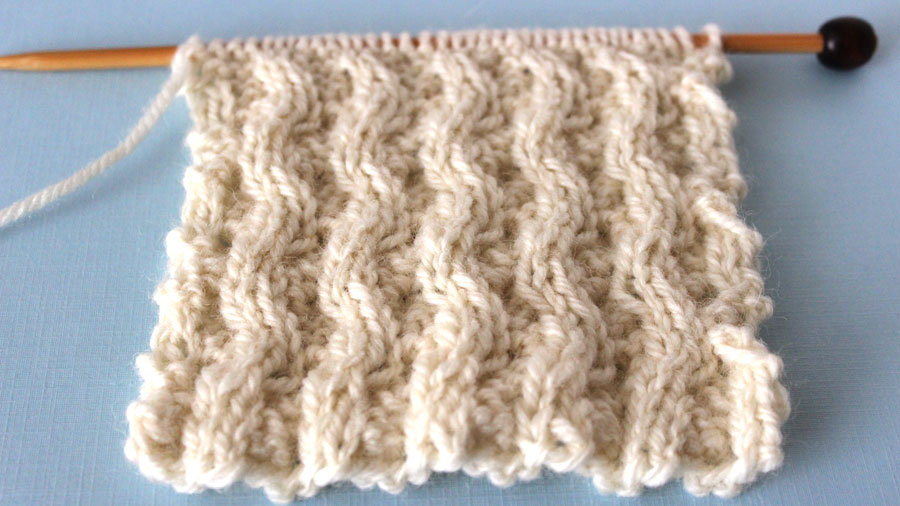 ---
KNITTING PATTERN for Lattice Cable
Download Free Printable Written Pattern
Click here to Subscribe to my Studio Knit Newsletter

Once you confirm your subscription within your email account, you will immediately be directed to my knitting freebies page to receive this downloadable printable pattern and more!
Just want the knitting instructions on this page?
You've got it, keep scrolling!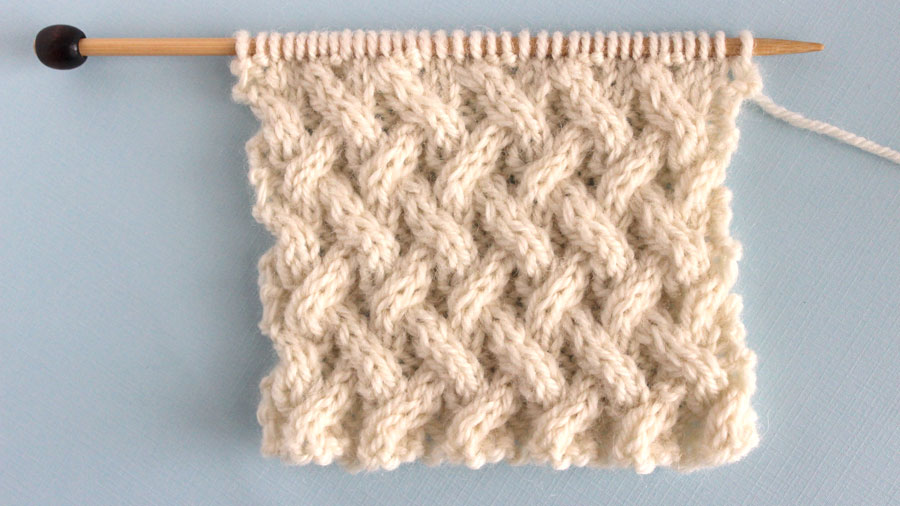 ---
---
WRITTEN KNITTING INSTRUCTIONS for Lattice Cable Stitch
CABLE STITCH ABBREVIATIONS
SL2B = Slip 2 Stitches onto Cable Needle & Hold in Back
SL2F = Slip 2 Stitches onto Cable Needle & Hold in Front
_____
Cast On in Multiples of 6
Begin Cable Pattern with 2 Starter Rows
1 – * K4, P2 * (repeat pattern within astericks to the end of your row)
2 – * K2, P4 *
_____
Row 1 (right side): * SL2B, K2 Main Needle, K2 Cable Needle, P2 *
Row 2 (wrong side): * K2, P4 *
Row 3: P2 * K2, SL2B, K2 Main Needle, P2 Cable Needle * K4
Row 4: P4 * K2, P4 * K2
Row 5: * P2, SL2F, K2 Main Needle, K2 Cable Needle *
Row 6: * P4, K2 *
Row 7: K4 * SL2F, P2 Main Needle, K2 Cable Needle, K2 * P2
Row 8: K2 * P4, K2 * P4
Repeat Rows 1 – 8 until your work is the length you desire
Bind Off
---