Drop Stitch Garter Knitting Pattern
The Drop Stitch Garter Pattern creates a beautiful scarf and you can get really creative with other fashions like lightweight sweaters and even dresses.
Dropping a stitch is usually considered bad, or something to avoid, in the wonderful world of knitting, but we're doing it purposefully to achieve this beautiful knit stitch pattern.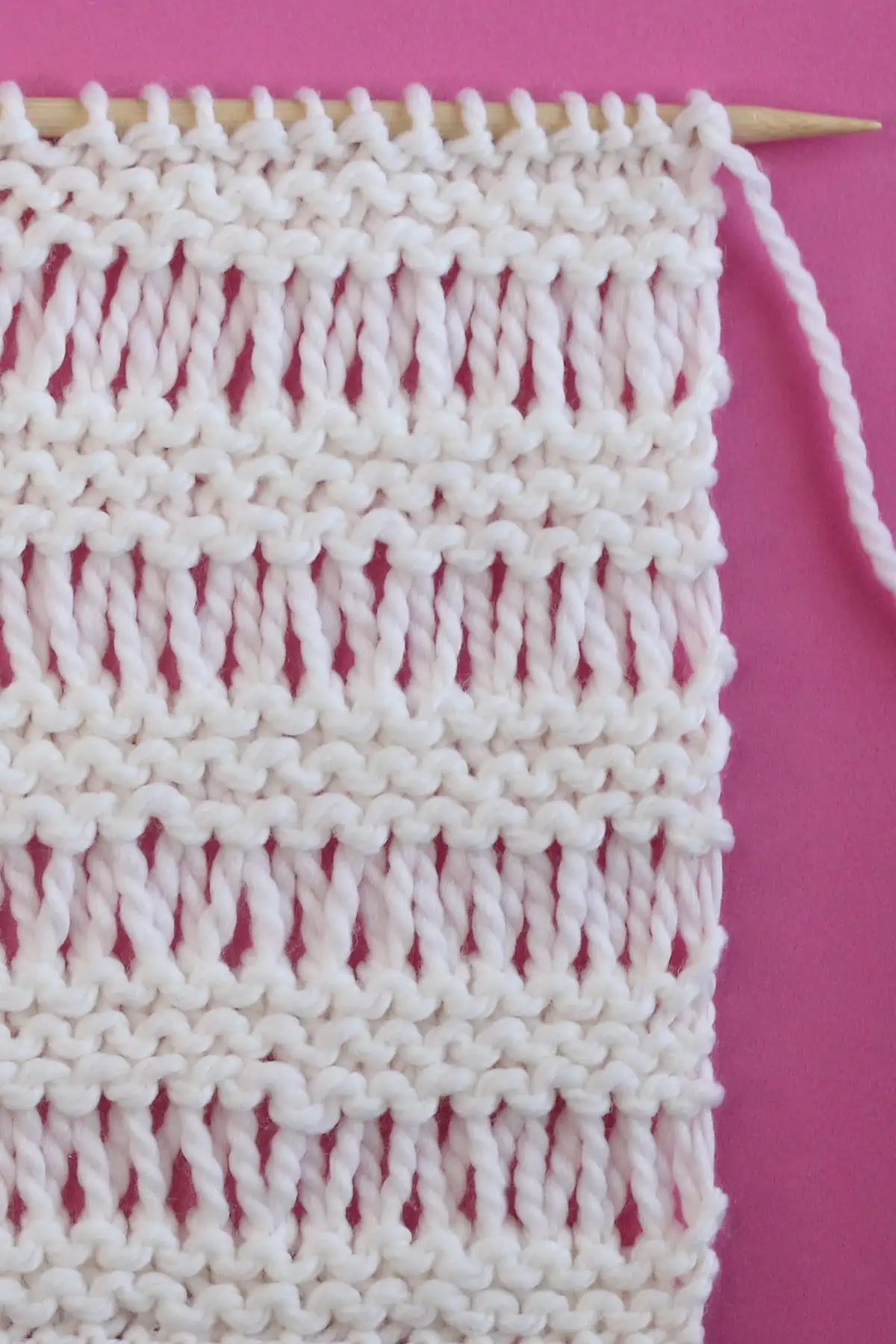 About the Drop Stitch Garter Knitting Pattern
Row Repeat
Knit up the Drop Stitch in a simple 6-row repeat.
Stitch Techniques
A series of easy knits and purls, along with yarn overs create the open weave pattern.
Reversible Stitch
This is a reversible pattern, meaning that both sides of your work, the right and wrong sides, are identical. This makes a great choice for items like scarves, shawls, and blankets since both sides are similar.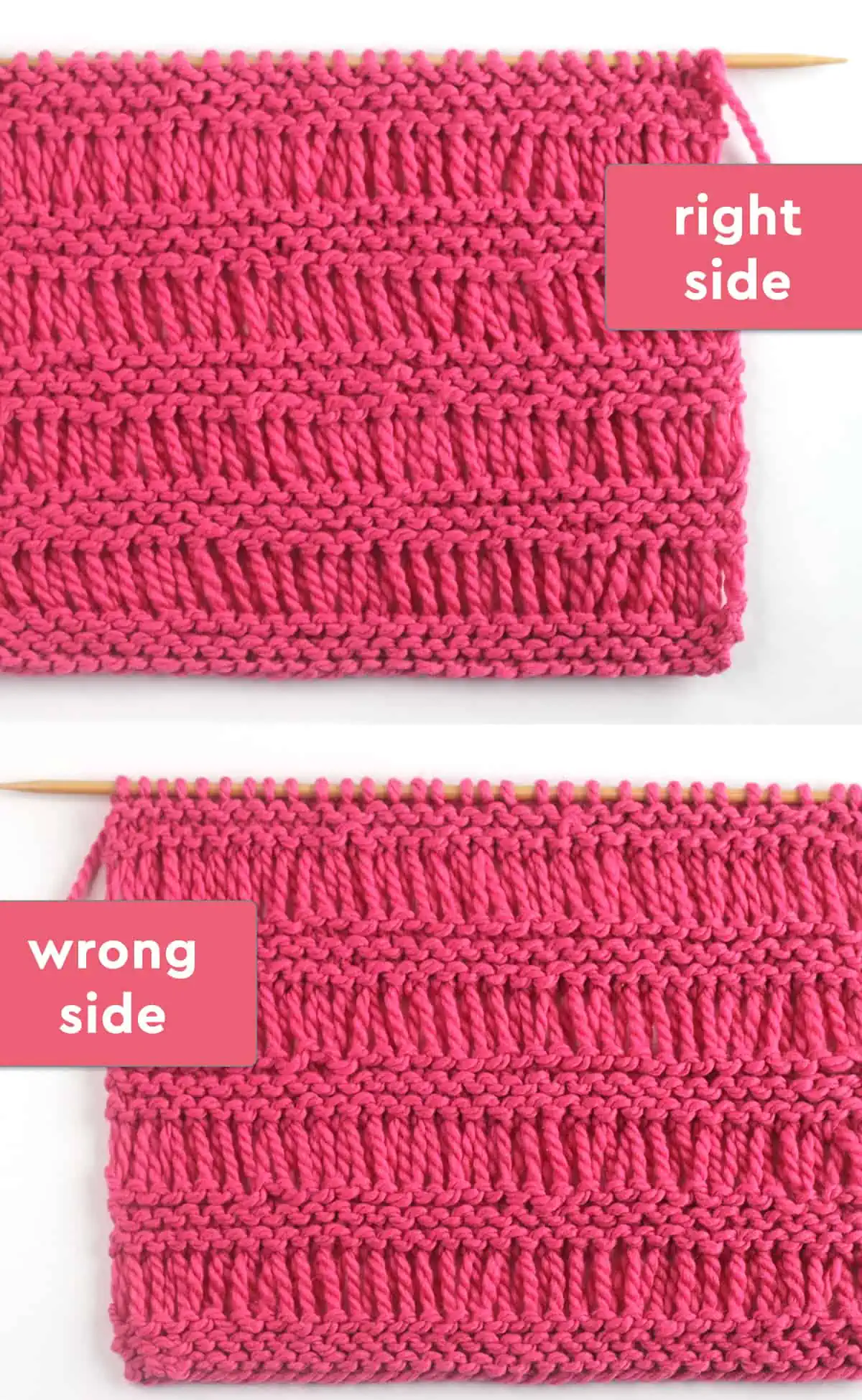 Lays Flat
It is a favorite stitch choice because this pattern easily lays flat.
Knitting Projects
It's a great knitting pattern for your Summer Knitting because it has wonderful breathability.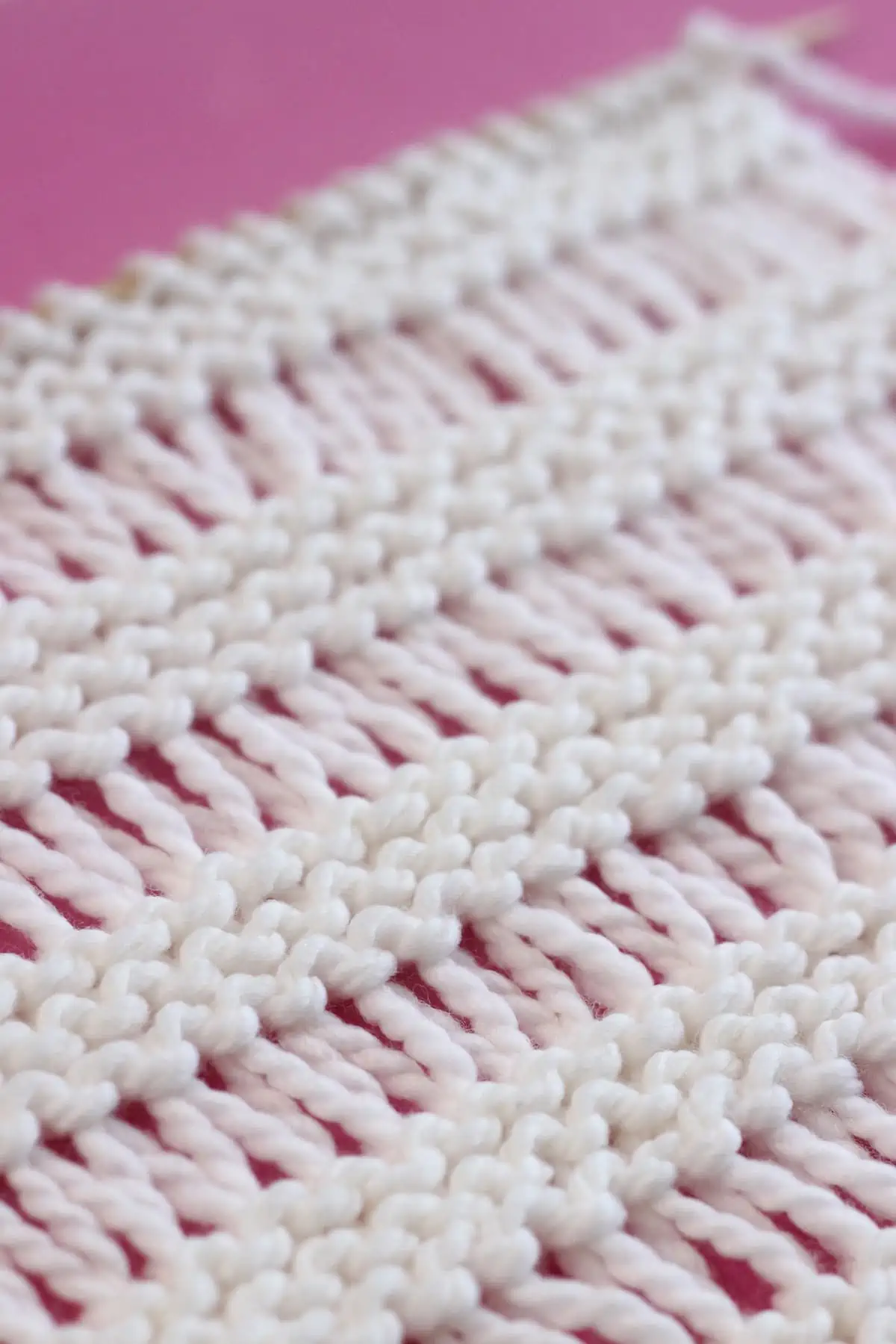 Knitting Supplies
Feel free to use any size yarn and needles for your creative project. My stitch samples were created with size 10 US knitting needles and bulky #5 weight yarn, along with a tapestry Needle and scissors.
Watch Video Tutorial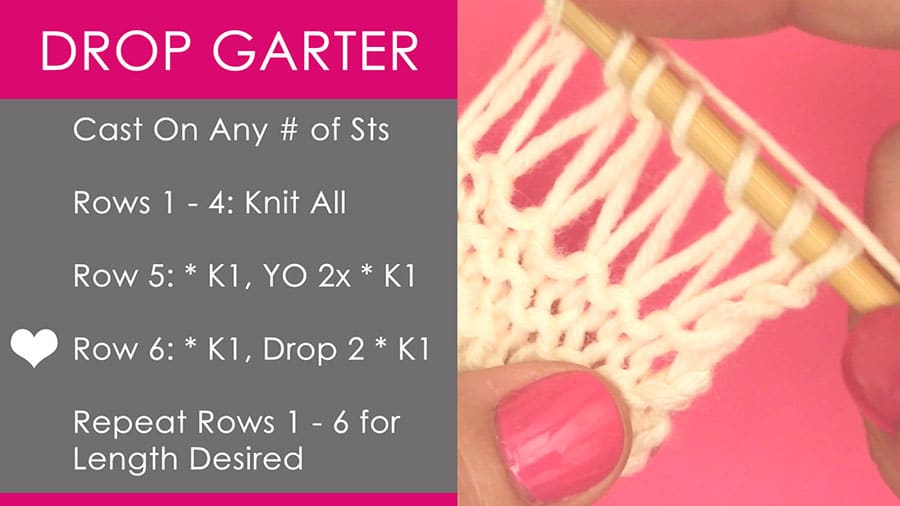 Knitting Techniques
This Drop Stitch is an easy combination of simple Knit and Purl Stitches. Find my entire library of Knitting Techniques to help knit up this project.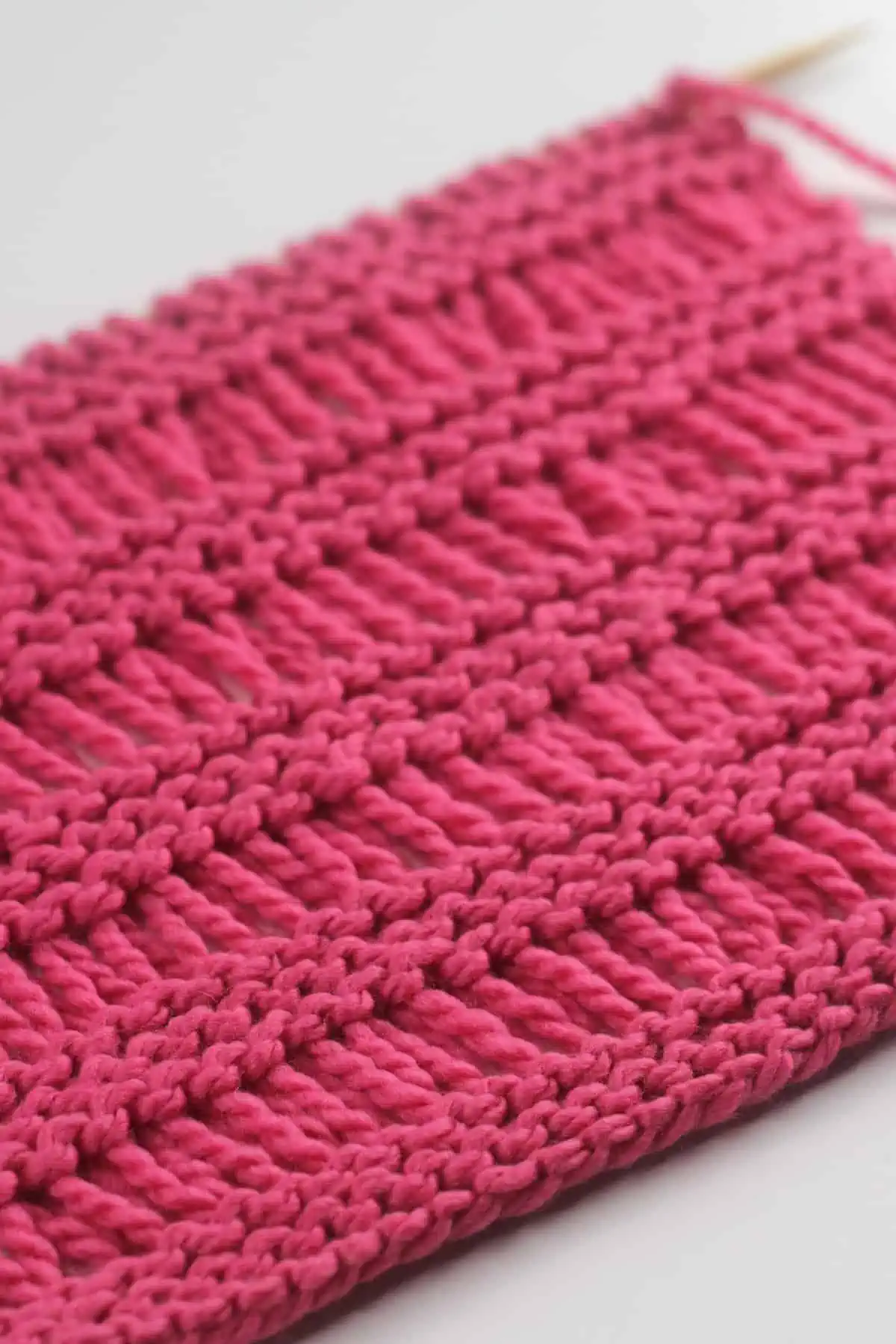 ---
Printable Knitting Instructions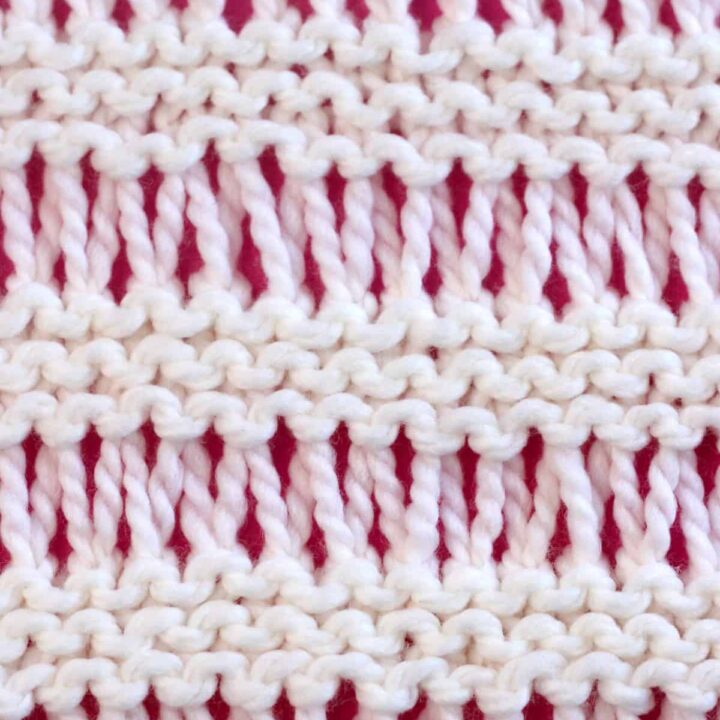 Printable Knitting Pattern
The Drop Stitch Garter Knitting Pattern is a 6-Row Repeat pattern.
Makes:
Drop Stitch Garter Knitting
Additional Time:
10 minutes
Total Time:
2 hours
20 minutes
Materials
Yarn in any weight, fiber, & color of your choice
Tools
Knitting Needles - Appropriate Size for Yarn
Tapestry Needle
Scissors
Instructions
KNITTED FLAT ON STRAIGHT NEEDLES:
Cast On: Any Number of Stitches
Row 1 (Right Side): Knit All
Row 2 (Wrong Side): Knit All
Row 3: Knit All
Row 4: Knit All
Row 5: * K1, YO 2x *, K1
Row 6: * K1, Drop 2 ST *, K1
_____
IN THE ROUND ON CIRCULAR NEEDLES:
Row 1 (Right Side): Knit All
Row 2: Purl All
Row 3: Knit All
Row 4: Purl All
Row 5: * K1, YO 2x *, K1
Row 6: * P1, Drop 2 ST *, P1
Notes
Repeat Rows 1 – 6 until your piece is the length you desire
Repeat pattern between the * * asterisks
Reversible Knit Stitch Pattern
6-Row Repeat
_____
Knitting Techniques
CO = Cast On Long Tail Method
K = Knit Stitch
YO = Yarn Over
Bind Off
Weave in Yarn Tails
ST = Stitches
Thank You for Visiting Studio Knit
I hope you are inspired to knit up this Drop Stitch Garter Knitting Pattern in your next knitting project. Check out my entire library of free stitch patterns!
Love Open Weave Patterns? You may wish to give my Ripple Ridge and Sea Foam Wave patterns a try, as well!
If you'd like even more great ideas, please make sure you join my mailing list. It's a free and easy way for us to stay connected.