Today, we are knitting up this beautiful Basket Weave Stitch Pattern. The design is diagonal and has a woven, braided look using cable stitches.
This stitch pattern is a very tight weave. It would be perfect to knit for projects that you want to be really stiff, like home decor items. Pillows would be gorgeous!

SAVE THIS PATTERN BY PINNING FROM MY KNIT STITCH PATTERNS PINTEREST BOARD!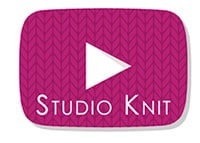 VIDEO TUTORIAL
For a complete step-by-step tutorial of this knitting pattern, you can watch my video below. Subscribe to my YouTube channel Studio Knit for more fun knitting ideas!
KNITTING ABBREVIATIONS
K = Knit
P = Purl
** = Repeat pattern between asterisks
KNITTING TECHNIQUES
• Slip Knot 
• Cast On Long Tail Method 
• Knit Stitch 
• Purl Stitch
• Bind Off
MATERIALS
• Yarn in any weight, fiber, & color of your choice.
• Knitting Needles sized appropriately for your yarn.
• Cable Needle
• Scissors
• Tapestry Needle
In this video, I'm using size 7 US knitting needles with worsted weight yarn.
DIAGONAL BASKET WEAVE WITH BRAIDED, WOVEN DESIGN
KNIT STITCH PATTERN
Cast On in Multiples of 2
Row 1: K2, * Slip 2 Stitches + Hold Back, K2 from Left Needle, K2 from Cable Needle *, K2
Row 2: Purl All
Row 3: * Slip 2 Stitches + Hold Front, K2 from Left Needle, K2 from Cable Needle *
Row 4: Purl All
MORE BASKET WEAVE PATTERNS
You may also be interested in checking out my traditional Basket Weave Knit Stitch Pattern tutorial which does not use the cable technique.
---