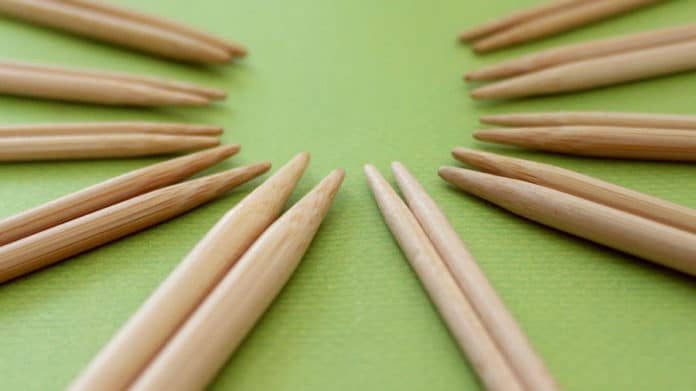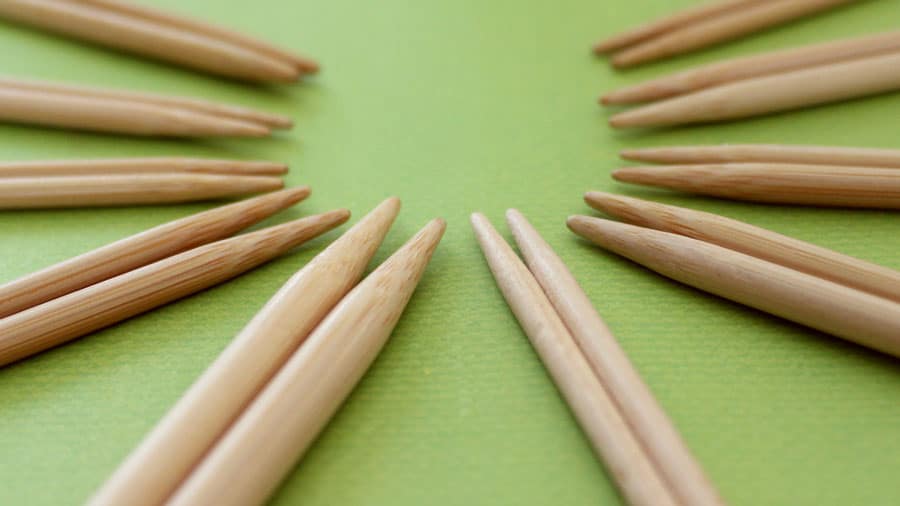 Let's look at selecting your Knitting Needles in our Absolute Beginner Knitting Series.
So far, we've identified the four materials you'll need to start knitting: Yarn, Needles, Scissors, and a Tapestry Needle. Then we took a closer look at the types of Knitting Yarn available.
Today, let's figure out exactly which Knitting Needles will best help you start knitting!
---
KNITTING NEEDLE TYPE = STRAIGHT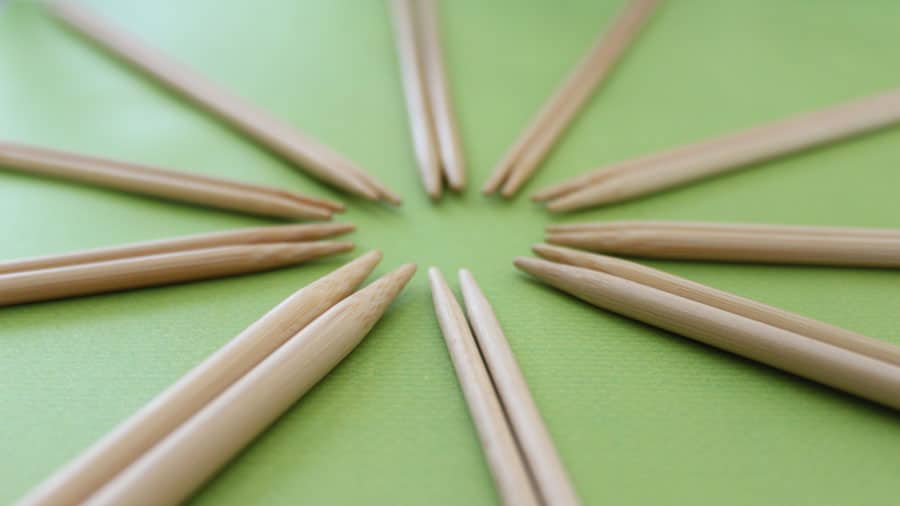 We will be using Straight Knitting Needles in this Series, which are two identical knitting needles that are straight like pencils.
There are a variety of Knitting Needle types, like double pointed, circular, cable, and even the new curved needles. But we are keeping it old school and just using traditional, Straight Knitting Needles.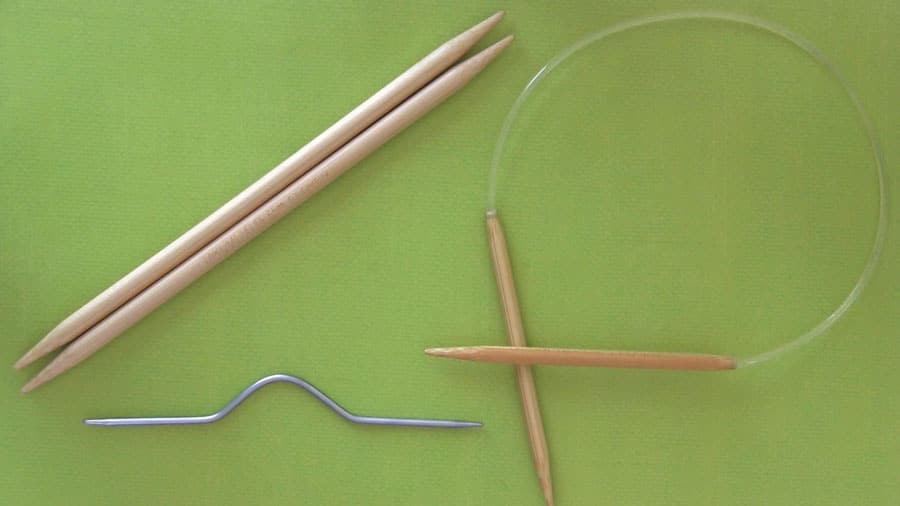 ---
KNITTING NEEDLE SIZE = Size 11 US (8mm) or Larger
Larger needles are usually best for beginning knitters. I personally like size 11 US and bigger for beginner knitting projects.
There are 4 different systems for labeling Knitting Needle Size: Metric, US, UK, and Japanese. While shopping, you'll notice that most knitting needles are labeled with both the Metric (MM) and United States (US) numbers, so we'll focus on those 2 numbers.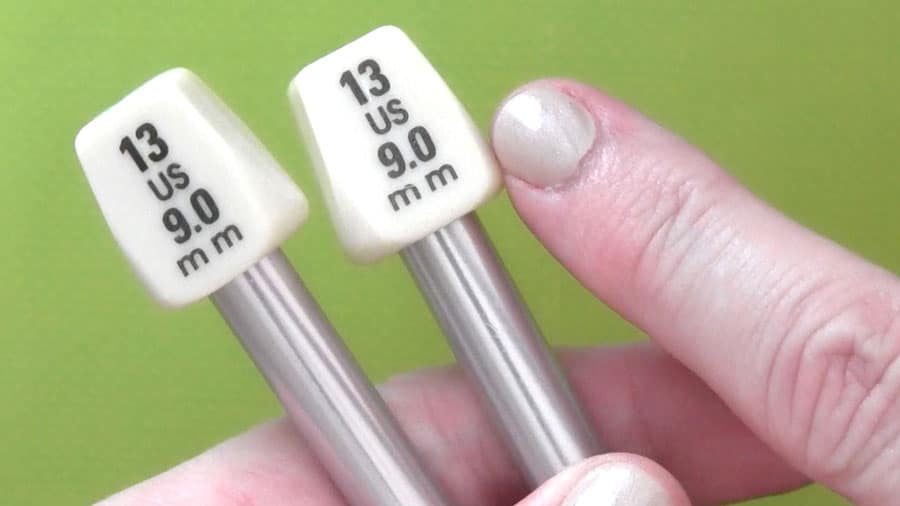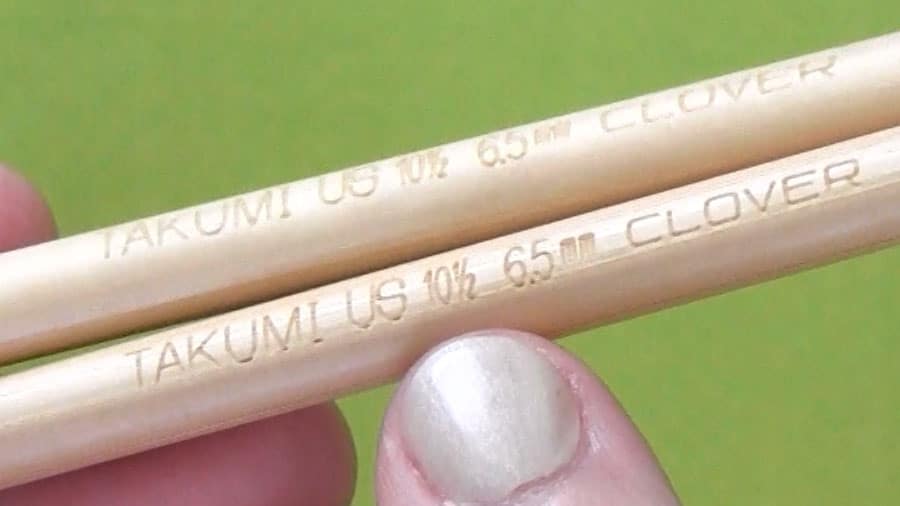 ---
KNITTING NEEDLES AND YARN
As mentioned when we looked at Choosing Yarn, we are pairing up your Knitting Needle Size to your Yarn Weight. Let's take a look at Craft Yarn Council's Standard Yarn Weight System, helping us to figure out which yarn and needles are best paired together.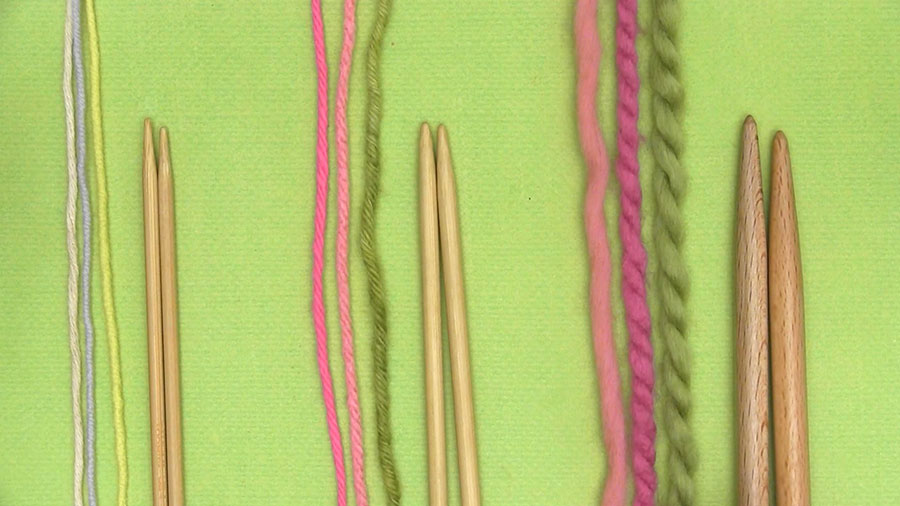 If you are purchasing new knitting needles and decide to select knitting needles size 11 US or larger, as I suggest, that means you'll be on the hunt for Super Bulky weight yarns (#6) or the newly created Jumbo weight (#7) by the Standard Yarn Weight System.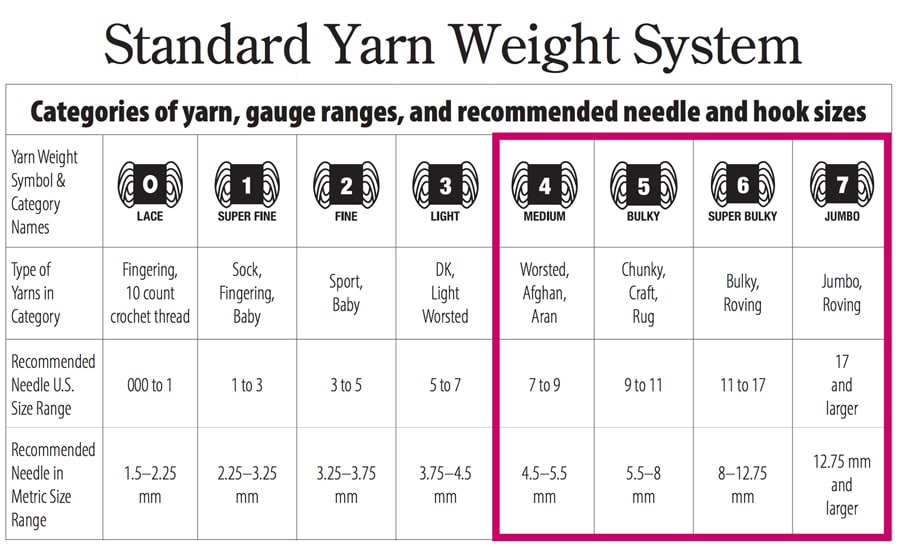 ---
BENEFITS OF KNITTING WITH LARGER NEEDLES
These larger sized knitting needles are easier to handle. When starting out, many beginning knitters feel more secure with substantially sized needles in their hands.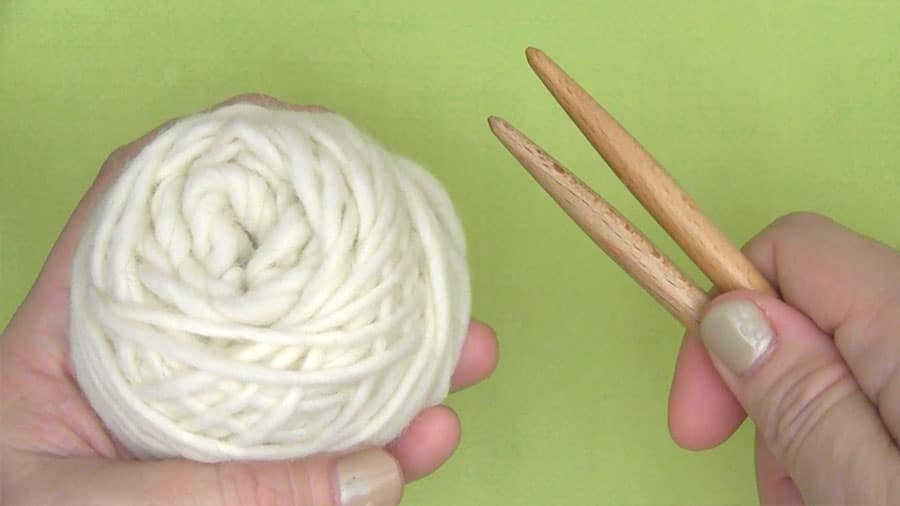 Another great benefit to knitting with larger needles is that your knitted piece will knit up faster! Heavier weighted yarns create larger knitted pieces, meaning you'll finish that scarf, hat, or pillow faster when using larger knitting tools. Sweet!
Again, if a friend has lent you some free needles, use them! Even if they're on the smaller side of the size range, hey, you can't beat free! Just refer to the chart to see which yarn weight pairs up best with your knitting needles.
---
KNITTING NEEDLE MATERIALS = Knitter's Choice!
There are three main types of Knitting Needle Materials: Wood, Aluminum, and Plastic.
Wood: This is my personal favorite, as I typically knit with bamboo wood needles.
These can be a little bit on the more expensive end of the spectrum. But, one set of bamboo knitting needles can be purchased for under ten dollars, so it's not that crazy.
I like the traditional look and feel of the wood needles. They hold up great throughout the years and will last a long time, too.
Aluminum: Many knitters swear by aluminum needles, especially loving how quickly the yarn slides off their needles.
I've found that beginning knitters sometimes can get frustrated by them, but if you already have these on hand, give them a try.
I was handed down my aluminum knitting needles from my late grandmother and aunt, who were both a total speed knitters. They might become your favorite knitting material, too.
Plastic: This is usually the most inexpensive of the knitting needle types and a fine option for beginning knitters.
The yarn will slide nicely off your needle, but won't be too slippery like aluminum. There is usually a really big selection of plastic knitting needles at craft stores, so they're really easy to find, also.
---
VIDEO Selecting Knitting Needles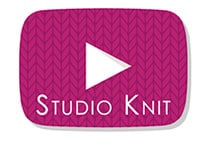 For a complete look at Knitting Needles, you can watch my video above. Subscribe to my YouTube channel Studio Knit for more fun knitting ideas and check out the Absolute Beginner Knitting Series Playlist on YouTube.
---
ACTION ITEM OF THE DAY
Decide on Knitting Yarn & Needles to Purchase
Now that you understand all the basics of Knitting Yarn and how to select the appropriate sized Knitting Needles, there's nothing holding you back from purchasing them now!
Once you're shopping or ordering, make sure to add in a Tapestry Needle to your order.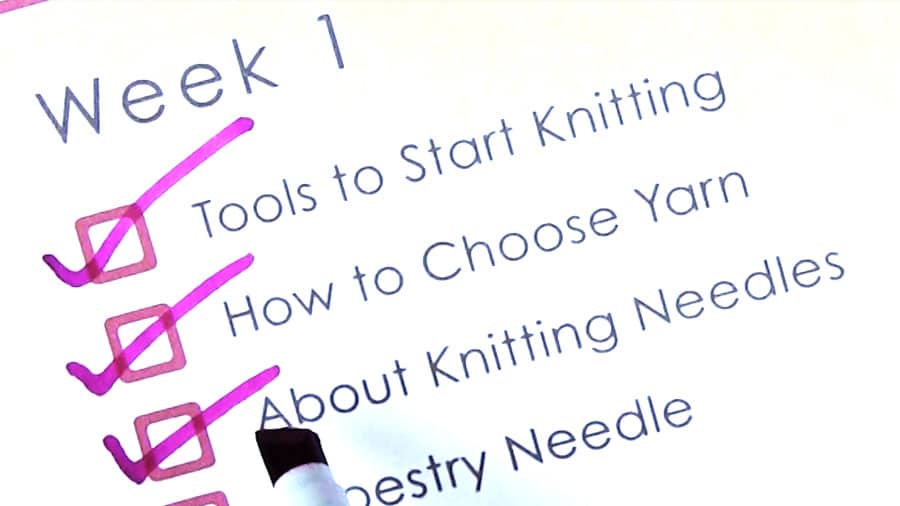 ---

KNITTING KIT
For those of you who feel your head spinning with all the choices, I'm suggesting this basic, affordable knitting kit you can purchase online. Or just select the individual items directly from Amazon that you need below. Hope it helps!


---
---

GET LIFETIME ACCESS TO VIDEOS + KNITTING BOOKS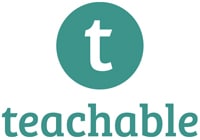 Get my entire video Series completely ad-free in an easy to follow format on desktop, mobile, and tablet. Plus — available exclusively through my Teachable course — you will also receive my new printable resources to help you shop, learn, and create:
Knitting Tools Shopping Guide (7 pages)
Knitting Workbook (9 pages)
Knit Stitch Pattern Book (12 pages)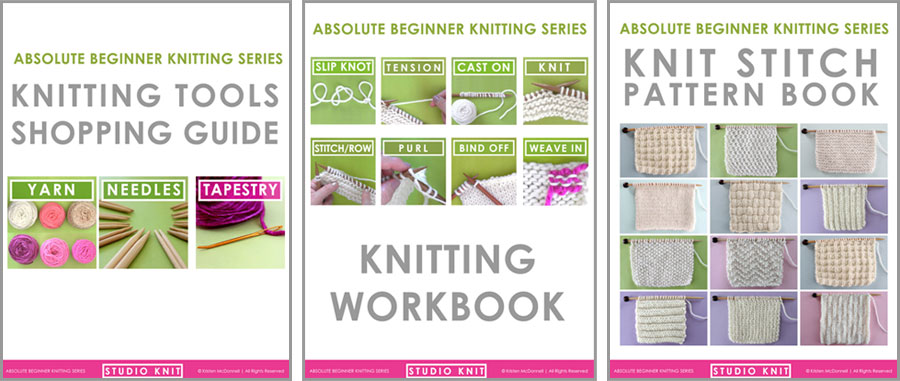 ---