Knitting Tools for Absolute Beginners
Let's begin by reviewing basic knitting tools for Absolute Beginners!
There are four materials you'll want to have on hand: Yarn, Needles, Scissors, and a Tapestry Needle.
I have suggestions on where to shop for knitting tools further down on this page. Together, let's figure out exactly what you need to best help you to start knitting today.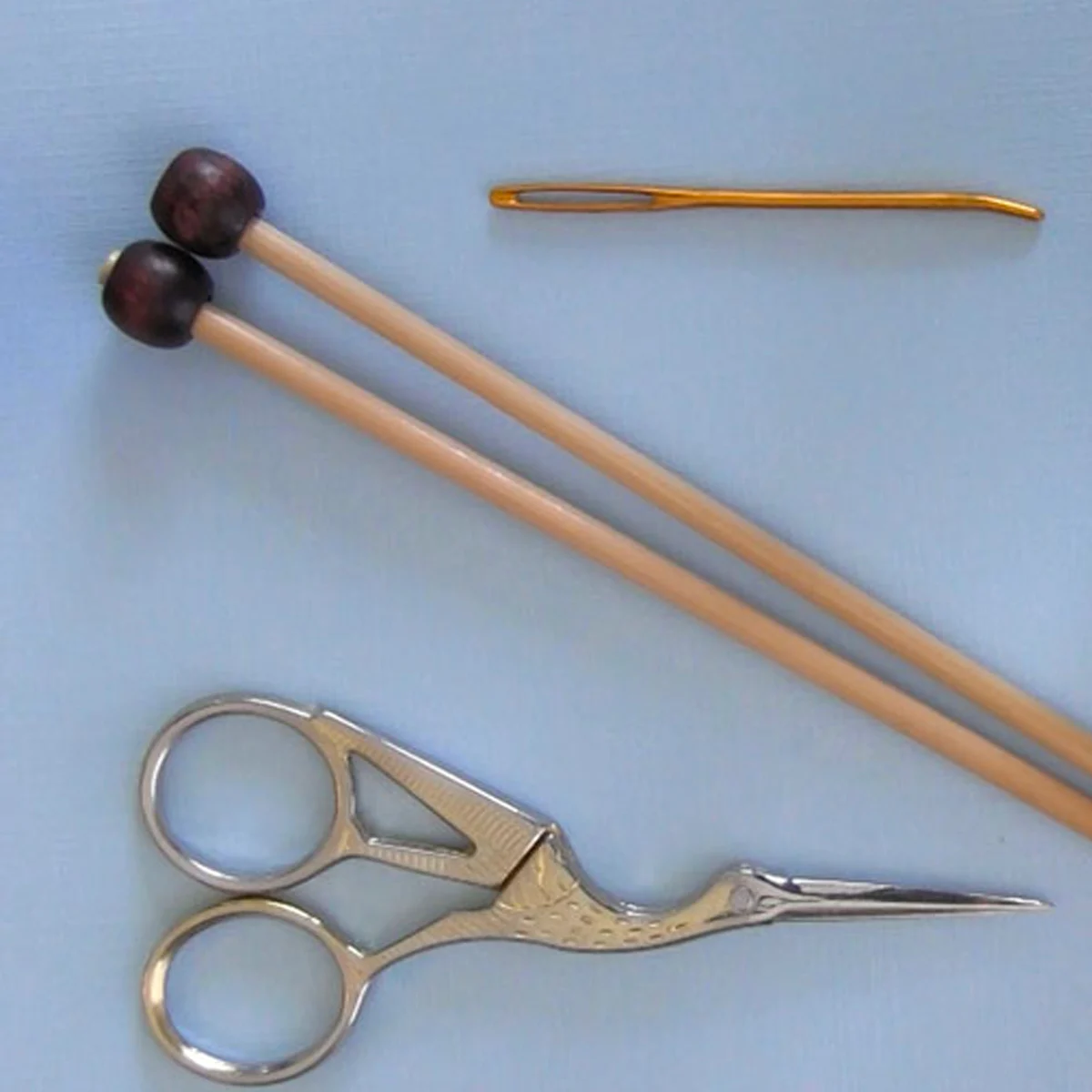 ---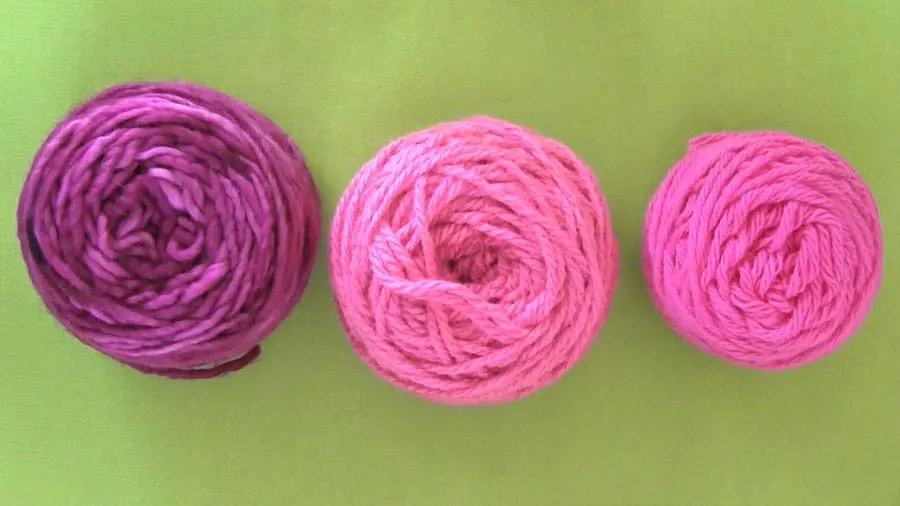 There are SO MANY yarn choices and deciding which yarns to add to your haul can be half the fun of knitting. Since you want to start knitting now, let's keep it super simple and review just the basics about yarn weight, fiber, and color in the How to Choose Knitting Yarn lesson.
---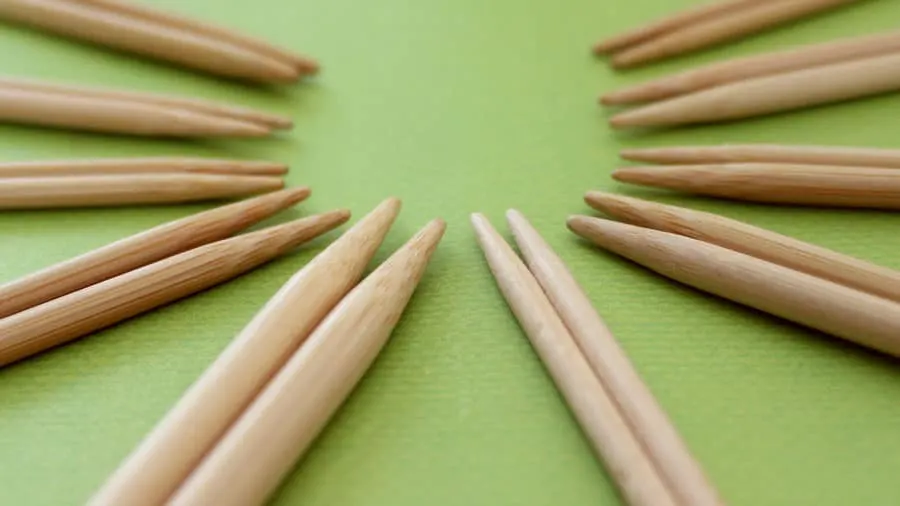 We will be using Straight Knitting Needles in this Series. Two identical knitting needles that are straight like pencils.
There are a variety of Knitting Needle types, sizes, lengths, and materials and we will go into more detail about this later in the week.
---
3 – SCISSORS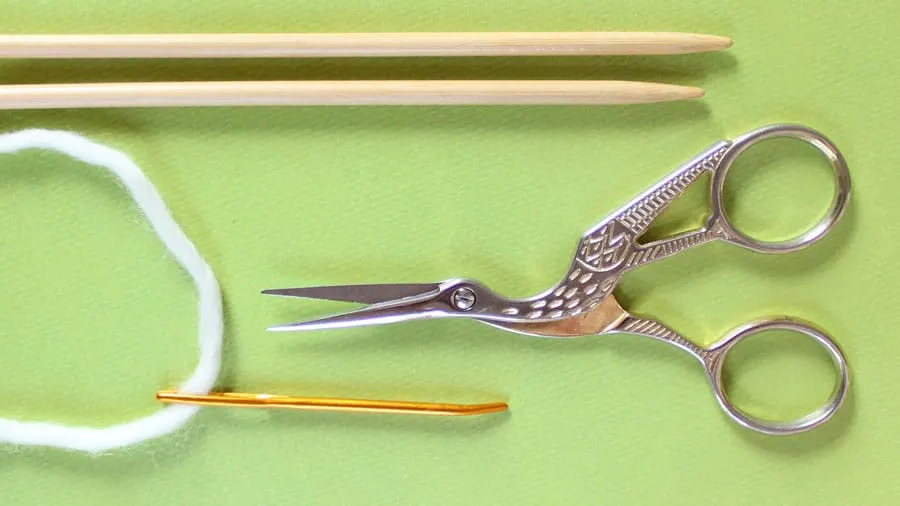 Scissors are probably the easiest item on your list to check off. Basically, you just need something that cuts yarn. Hey, I've even used nail clippers and my dog's grooming shears when in a bind. (But not my teeth…. in case my dentist is learning to knit today, too!)
As an Amazon Associate I earn from qualifying purchases.
I like using sewing or embroidery scissors because they're little and fit nicely in my on-the-go knitting bag. You'll see these Stork or Crane Scissors in a lot of my videos. I think I need to add the Unicorn Scissors to my supplies, too!
---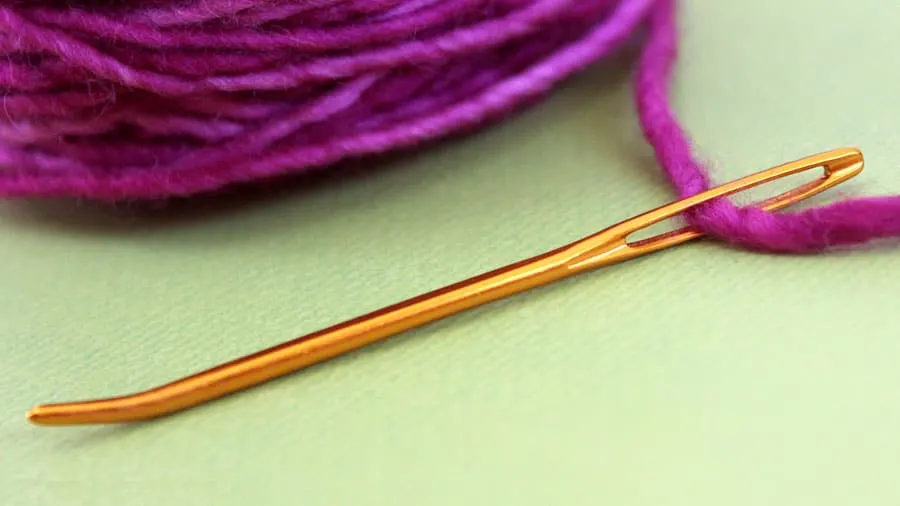 We will get into greater detail on Day 4 about this little Tapestry needle. I want to mention this little item right now, so you're aware it's something you need to add to your knitting haul. Nothing to worry your pretty little head about right now. We don't even need to use it until Week 4 of our Series!
---
5 BEST PLACES TO SHOP FOR KNITTING TOOLS
1 – Your Choice
With everything in my Absolute Beginner Knitting Series, you do YOU. Decide which shopping location works best for your lifestyle and enjoy your new haul!
2 – Use What Your Gramma Gave You
I'm a big believer, especially when embarking on a new artistic project, to first take a look around and see if you have any of the required materials available to you for free. The focus is on learning a new craft, not breaking the bank, right?
Using items that you already own or borrow from others is the craftiest way to get started. Some thrift and secondhand shops will have a yarn section, too, where you'll score some serious deals.
So, if you have yarn and the appropriately sized knitting needles already at your disposal, go for it!
3 – Support Your Local Yarn Shop (LYS)
You'll soon learn that knitters have our own hip, secret language. Here's your first one: LYS which means Local Yarn Shop.
Not only will shopping locally strengthen your community, but you will receive expert advice from staffers, learn more about their classes, have access to quality yarns, and maybe even make some knitting friends IRL.
Please don't be intimidated! When you visit, let them know you're just learning to knit and would like some help. If they're a great LYS worthy of your business, they'll be incredibly helpful to welcome you as a future lifelong customer.
Over on Ravelry (you just need a free account for access), they have a great little Local Yarn Shop finder to help you find quality stores in your area.
4 – Swing by Your Big Box Craft Store
Sometimes it's just easier to stop off at the closest Michaels, Jo-Ann, or Beverly's while out doing errands. Unlike your LYS, they rarely have knitting savvy staff on hand, so come prepared knowing what you want to buy. But, they honestly can have some sweet deals, especially with all those coupons.
5 – Shop Online
I personally love Amazon Prime deals and their quick delivery when I'm too busy to hop in the car to visit my brick-and-mortar LYS.
---
JOIN MY ABSOLUTE BEGINNER KNITTING SERIES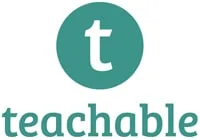 Get my entire video Series completely ad-free in an easy to follow format on desktop, mobile, and tablet. Plus — available exclusively through my Teachable course — you will also receive my new printable resources to help you shop, learn, and create:
Knitting Tools Shopping Guide (7 pages)
Knitting Workbook (9 pages)
Knit Stitch Pattern Book (12 pages)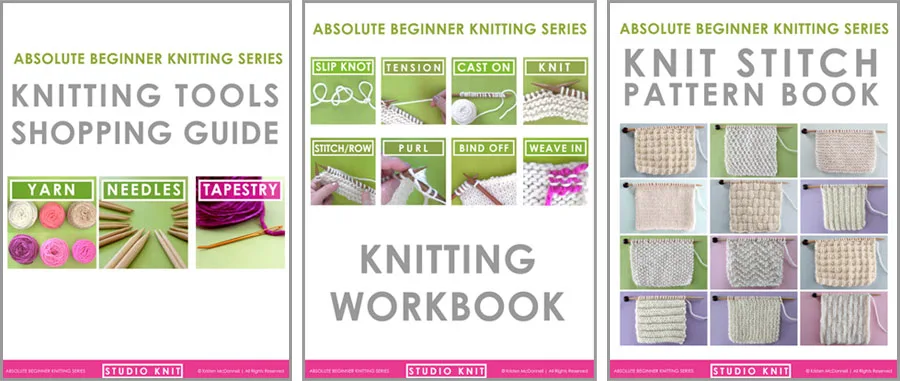 ---
THANK YOU FOR VISITING STUDIO KNIT
I hope you are inspired to select your knitting tools with confidence in your next knitting project. If you'd like even more great knitting ideas, please make sure you join my mailing list. Subscribing to my YouTube channel Studio Knit is another free and easy way for us to stay connected and help support my work.
Happy Knitting to You!