You're going to love this really easy hack to knit vertical stripes in a stockinette pattern. Here is a clean, simple way to add thin lines of colorful rows of knitting up your work. We actually will be using a crochet hook to duplicate stitch our stripe into our knitting.
Yes, we can always knit vertical stripes in the typical way of changing colors, interlocking our yarn, and knitting intarsia. There is an easier and alternate way to add a vertical stripe of color within our knitted piece.
By using a crochet hook and adding a crochet chain, you will see how our knitted stripe is placed perfectly within our knitted work. This knitting hack not only makes your work look flawless, but it is super simple.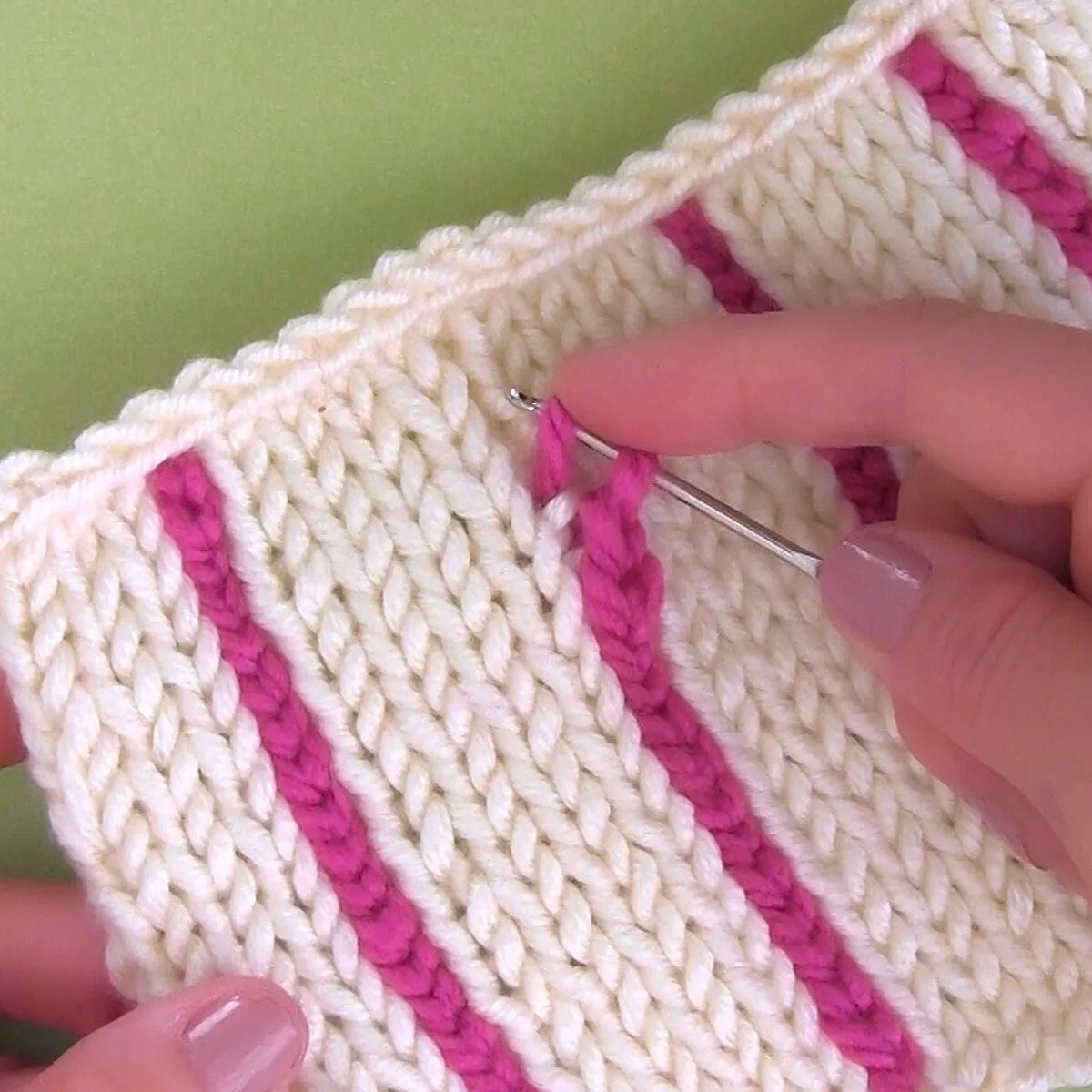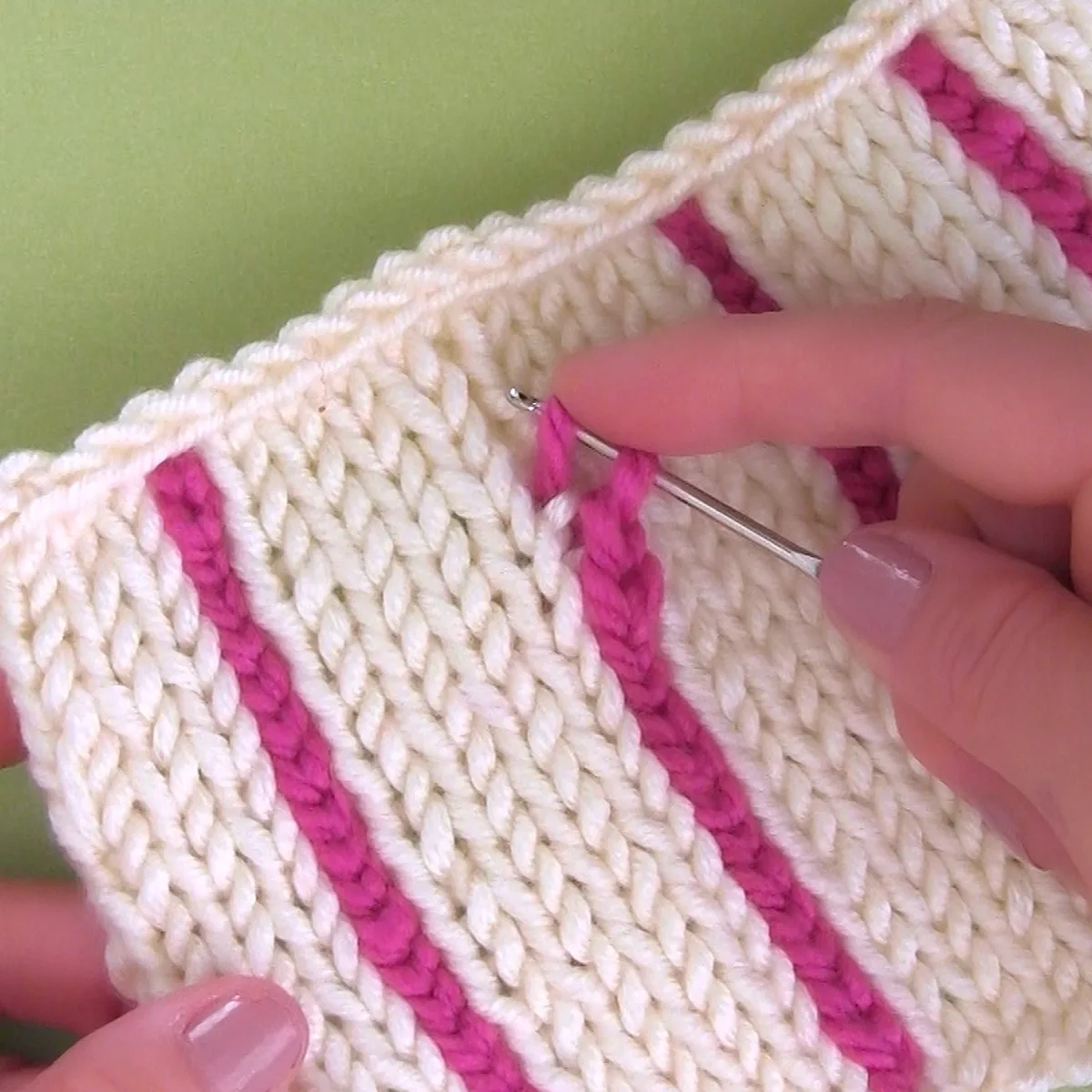 ---
TRADITIONAL KNITTING INTARSIA + FLOATS
The typical way of knitting is your first option when planning to knit a thin vertical stripe. You twist and interlock your yarn colors as you would intarsia, while also carrying yarn floats on the wrong side (or back) of your knitted piece.
If you love this technique, go for it! However, all those yarn floats use a lot of extra yarn. Twisting the yarn for each color change is personally not my favorite thing to do. And the finished piece is pretty thick with all those floats.
Let's check it out this alternate knitting trick to add vertical stripes with a crochet chain below.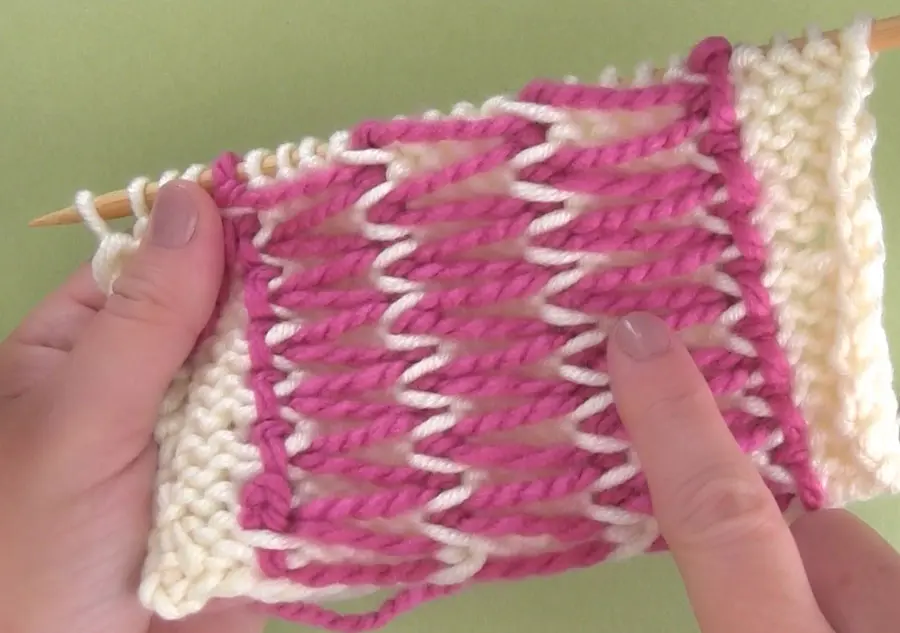 ---
KNITTING TECHNIQUES
Need to brush up or learn a new technique? Check out my entire library of Knitting Techniques to help you along as you knit up this project.
• Slip Knot
• CO = Cast On Long Tail Method
• K = Knit Stitch
• P = Purl Stitch
• Bind Off
• Weave In Ends
---
KNIT VERTICAL STRIPES WITH A CROCHET CHAIN
Click to Watch Video Tutorial
---
READ WRITTEN INSTRUCTIONS TO KNIT VERTICAL STRIPES WITH A CROCHET CHAIN
STEP ONE: KNIT RIB PATTERN FOR VERTICAL STRIPES
We begin by knitting up our entire piece in Color A, which is white in my sample shown. Our work looks like the Stockinette Knit Stitch Pattern, but we are actually going to add little purl valleys along the rows we wish to add our vertical stripes.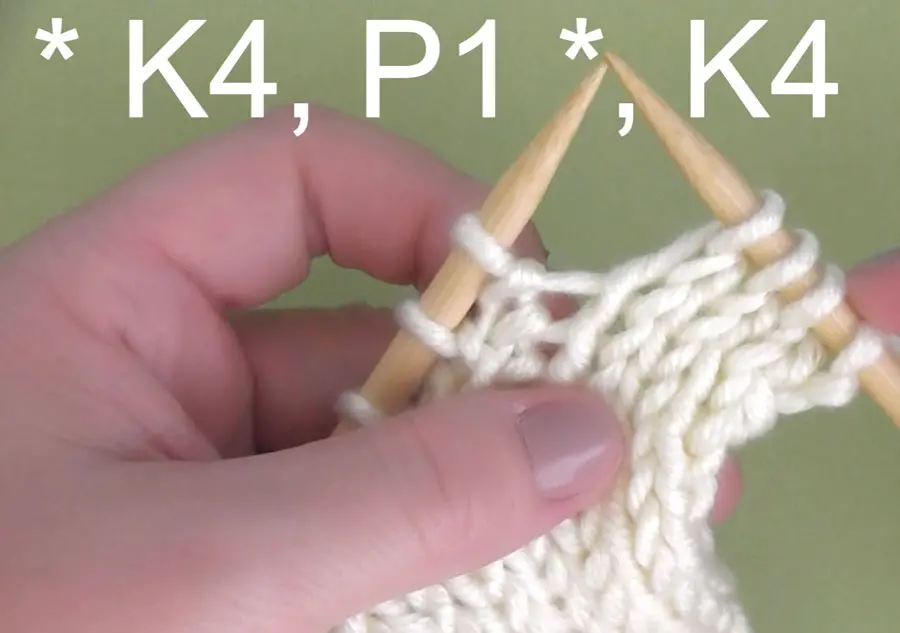 In my example, I want to add my vertical color stripe every five stitches. So, my knitting pattern for the base of my knitting was the following pattern:
Cast On 24 Stitches
Row 1: * K4, P1 *, K4
Row 2: * P4, K1 *, P4
Repeat Rows 1 and 2 until your piece is the length you desire.
Of course, you will want to modify your rib purl valleys for exactly where you wish to place your vertical rows of color in your knitted piece.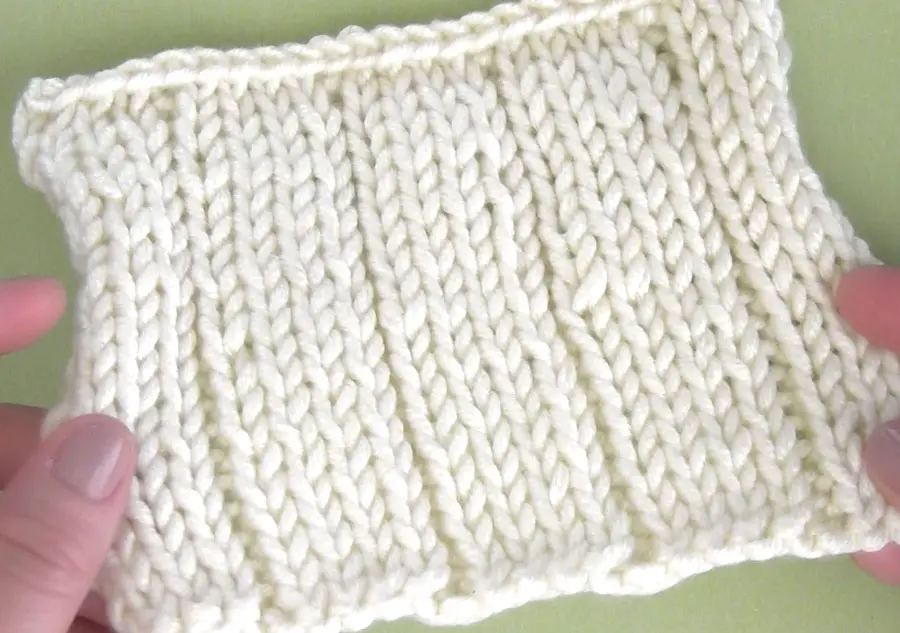 _____
STEP TWO: ADD VERTICAL STRIPES BY CROCHET CHAIN
I'm beginning by threading a loop of yarn through my tapestry needle to bring that loop up through the first purl valley within that stitch at the bottom of my work.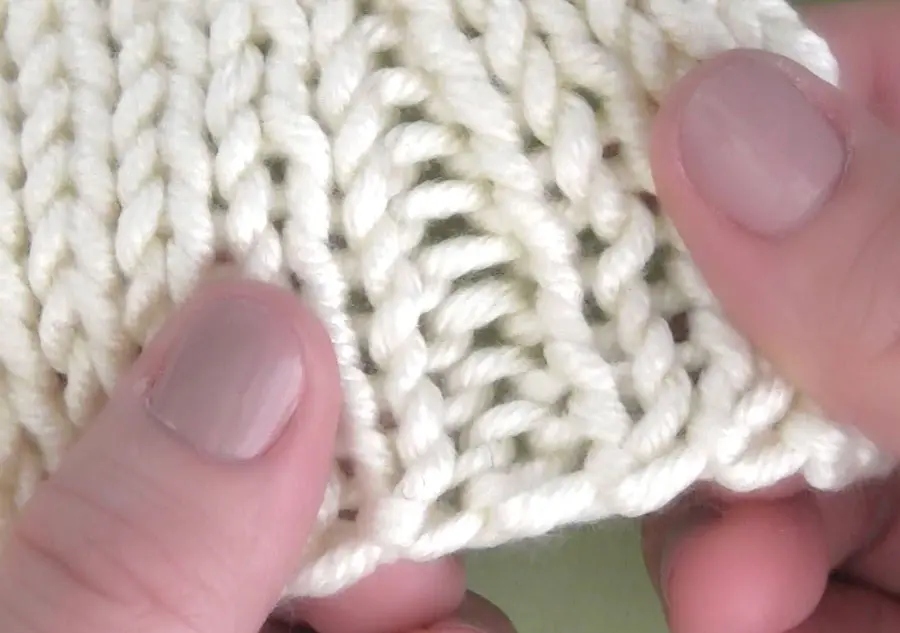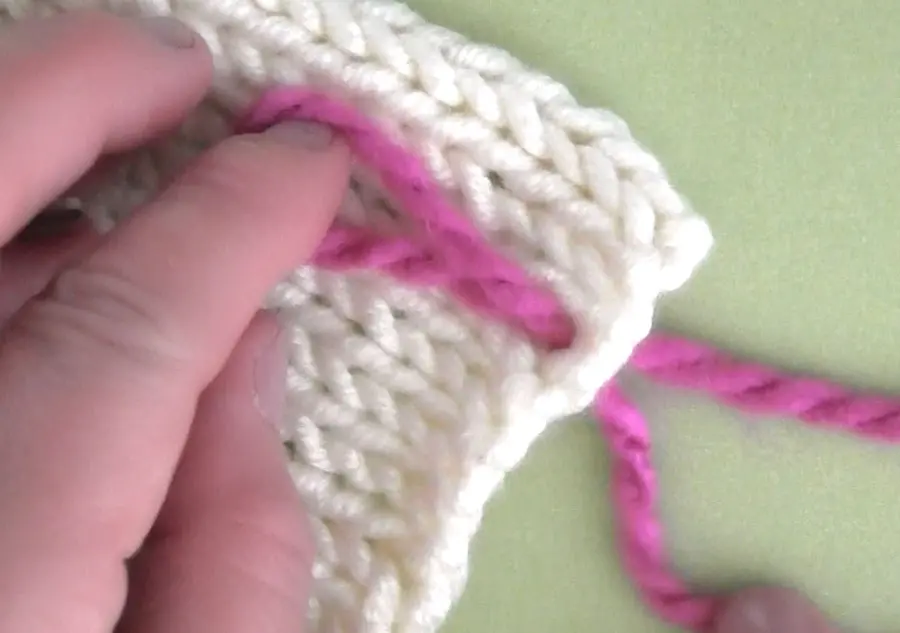 From here, I place my crochet hook down into the middle of the next stitch and bring the yarn up from the back of my work to the front.
Then make your crochet hook by threading the loop on your crochet hook through the loop from the previous stitch. Continue repeating this process of creating a crochet chain all the way up your knitted piece. Before the very last stitch, thread that loop into your tapestry needle again and bring it down through the last purl stitch to the back of your work.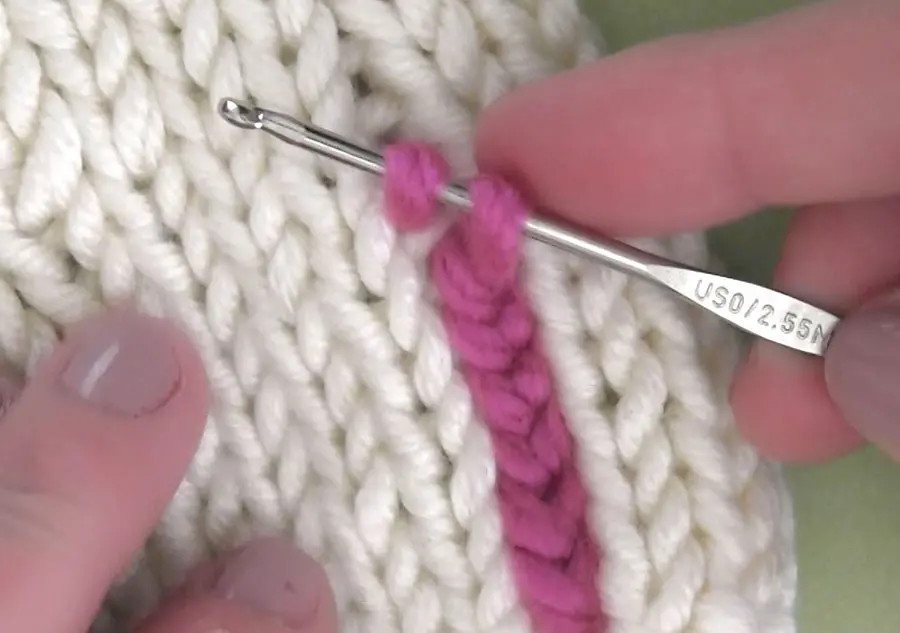 _____
STEP THREE: WEAVE IN YOUR YARN ENDS
Cut your yarn, then weave your yarn tail through the last loop of your crochet chain.
---
THANK YOU FOR VISITING STUDIO KNIT
I hope you are inspired to knit vertical stripes with confidence in your next knitting project. If you'd like even more great knitting ideas, please make sure you join my mailing list. Subscribing to my YouTube channel Studio Knit is another free and easy way for us to stay connected and help support my work.
Happy Knitting to You!