How to Knit a Necklace with Beaded Texture
Let's embark on a delightful journey to knit a necklace with a beaded texture! It's a cheerful, colorful, and whimsical gift idea for yourself or your loved ones. You won't need to purchase any extra materials like wooden beads or clasps because we will be knitting the bead shape texture ourselves. Get your hands on our printable pattern and video tutorial to start crafting your own unique necklace today!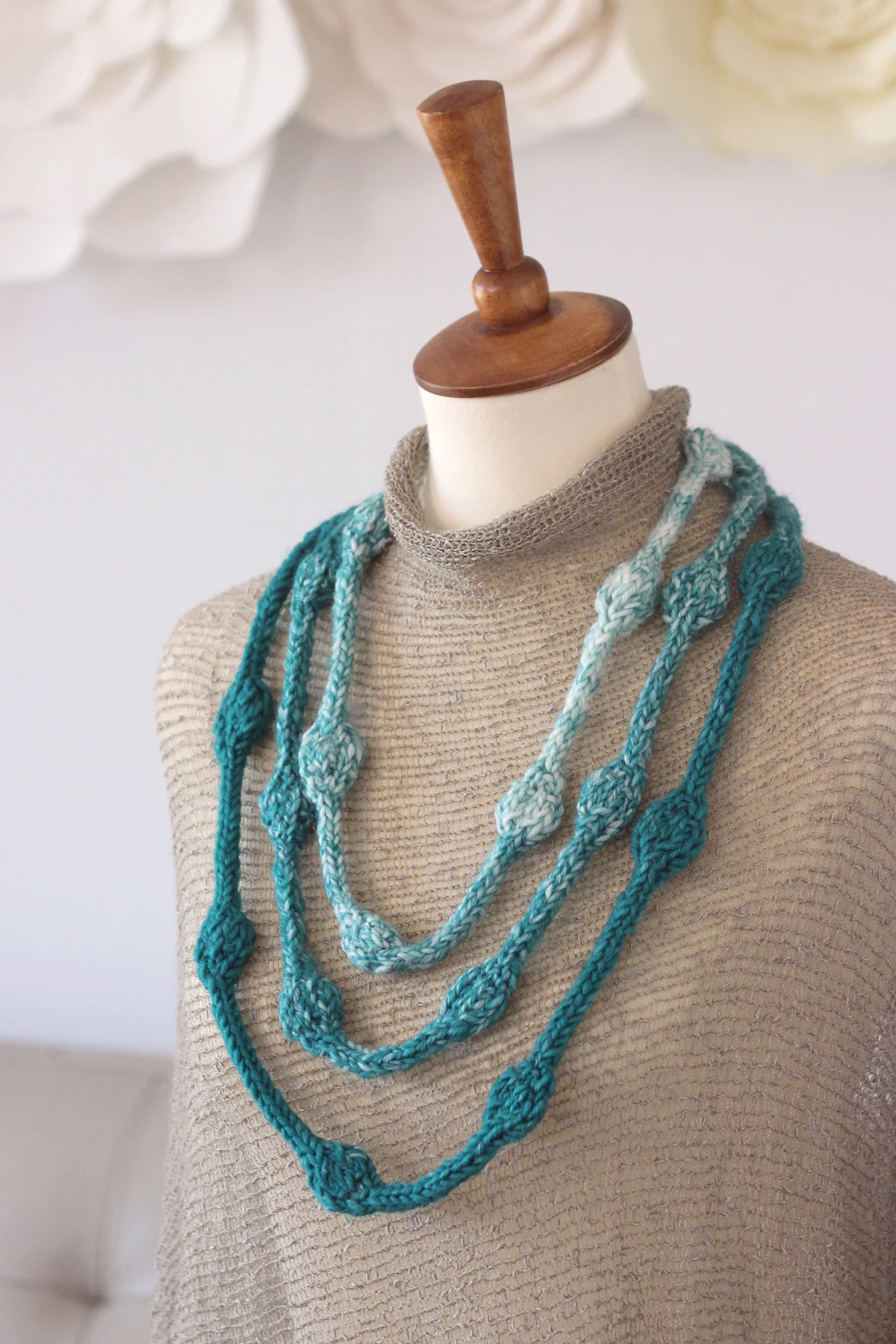 Table of Contents
---
Knitting an Easy Necklace
Create a delightful, quick-knit gift that your loved ones will proudly wear! Just like my mom, who still wears the beaded necklace I crafted for her on Mother's Day more than five years ago whenever we meet – it's truly heartwarming.
You have the freedom to knit your necklace in any length you fancy. For an extra special touch, consider making longer strands that you can double or even triple up, creating a one-of-a-kind statement necklace. The necklace in the picture was made at a length of 120 inches (305 cm). So, get your knitting needles ready and let your creativity shine!
Love small projects to easily knit in warm weather? Check out my entire Summer Knit Series!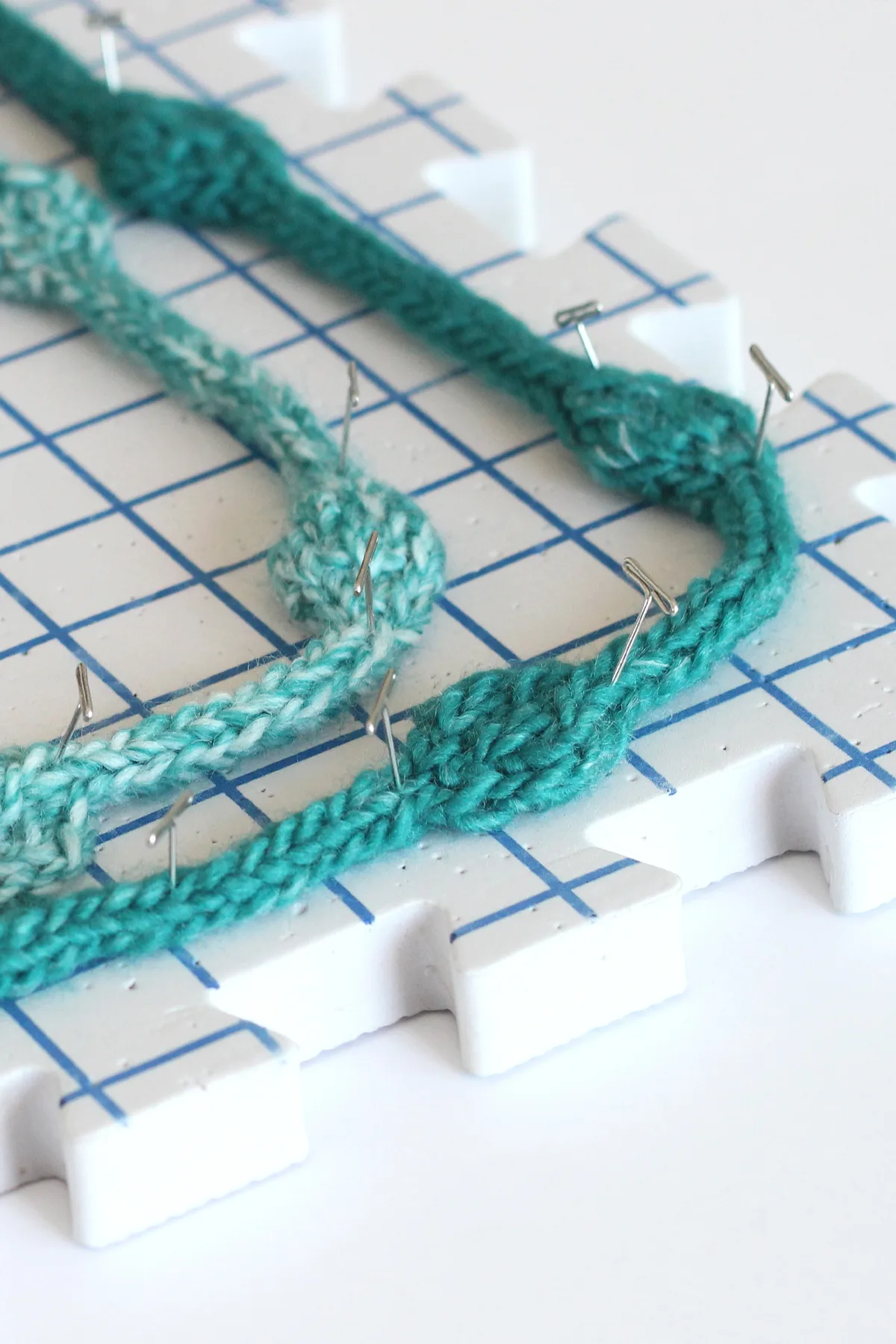 ---
Knitting Supplies
This is a very colorful, casual, whimsical project. I just love how versatile this necklace is when using multi-colored and self-striping yarns. No need to change yarn colors and weave in all those ends!
As an Amazon Associate I earn from qualifying purchases.
Yarn: Worsted Weight #4
Pictured: Lion Brand® Scarfie Yarn in Cream/Teal colors
Yardage: 100 yards (91 m)
I like knitting jewelry items with acrylic yarn because of its durability and washability. Plus, it has excellent stitch clarity and the colors retain their vibrancy throughout regular wear.
Feel free to select any fiber and colors of your choice.
Double-Pointed Knitting Needles: 8 US (5.0 mm) 7″ or shorter
Blocking Mats and T-Pins (optional)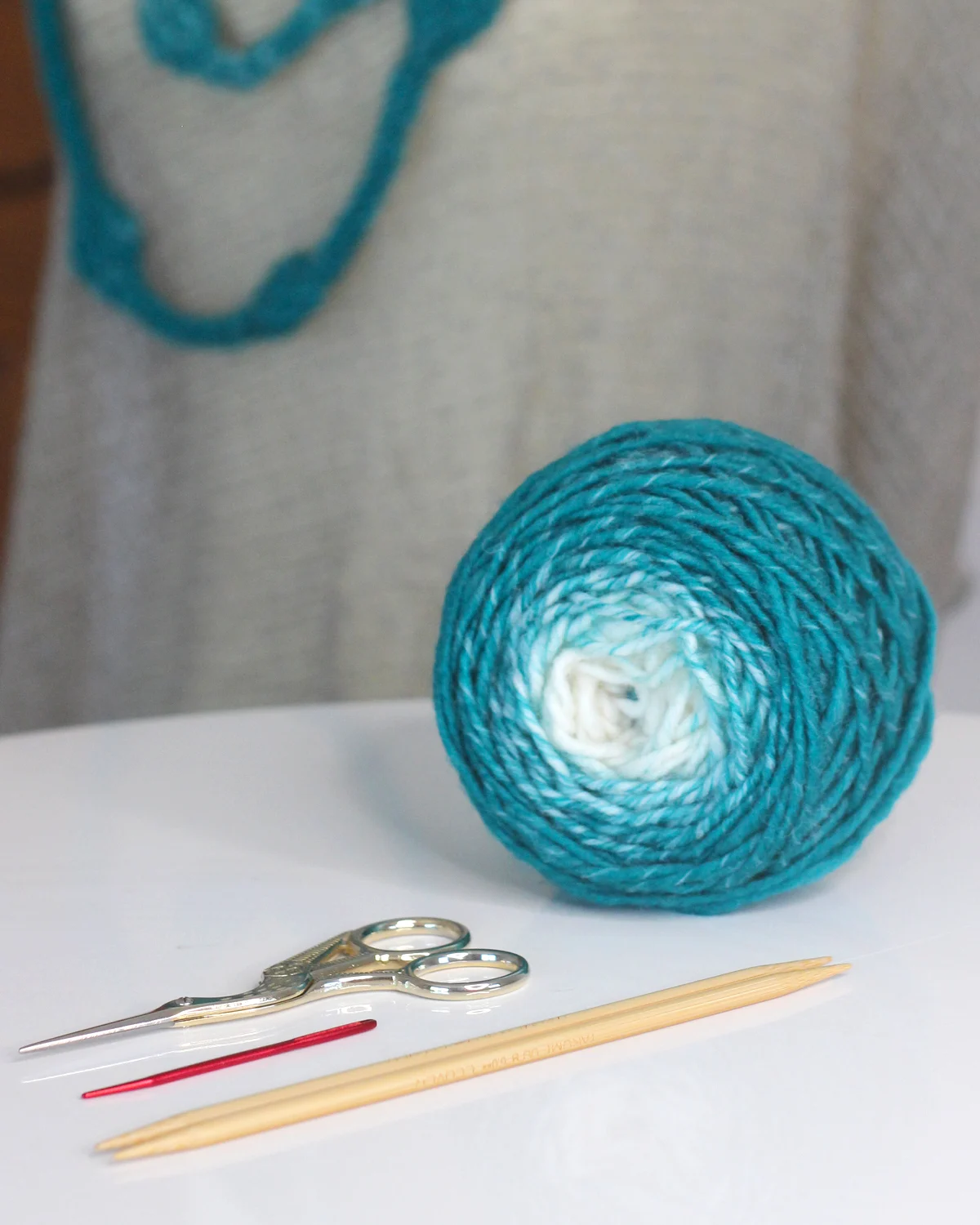 ---
Knitting Techniques
---
Another Fashion Project
My new Offshore Mesh Shawl knitting pattern creates a beautifully light and airy triangle-shaped design knitted with self-striping colored yarn, perfect for staying cool in warm summer weather.
Printable Knitting Instructions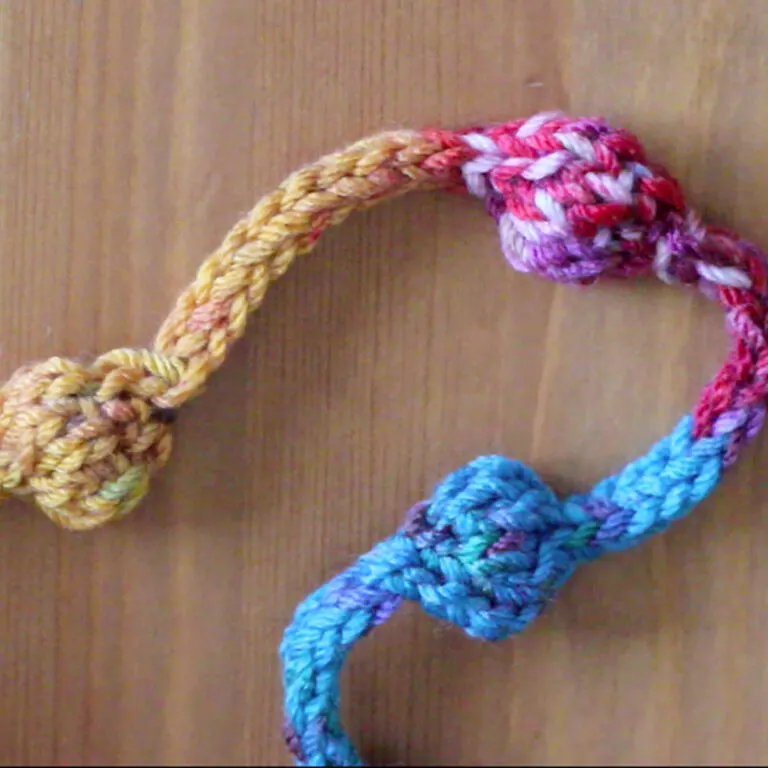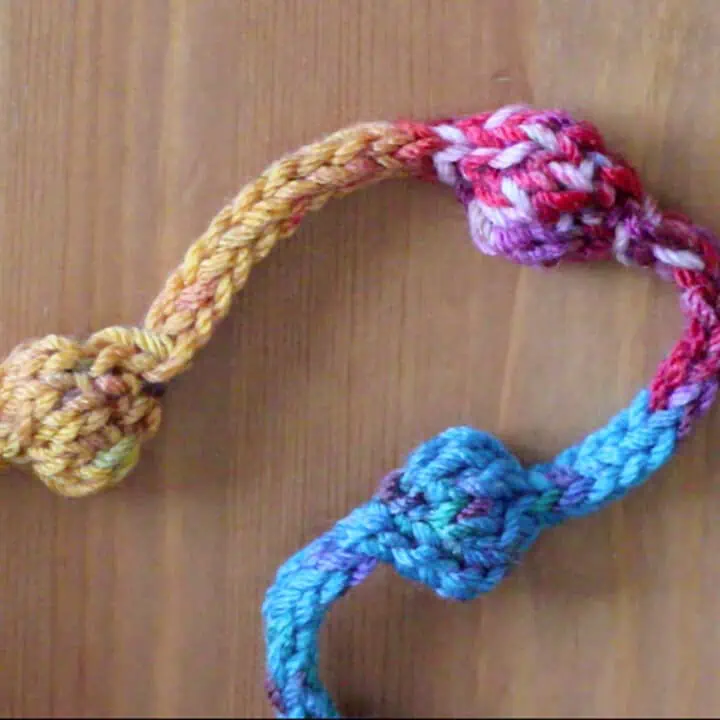 Printable Knitting Pattern
Learn to knit a necklace with beaded texture for a colorful, casual, and whimsical gift.
Makes:
Knitted Necklace with Beaded Texture
Additional Time:
10 minutes
Total Time:
1 hour
10 minutes
Tools
Double Pointed Knitting Needles (Size 7 US for Worsted)
Scissors
Tapestry Needle
Instructions
This Beaded Necklace is knitted in the I-Cord Technique on Double Pointed Needles.
Step 1: Cast On
Cast On 3 stitches onto one double-pointed knitting needle.
_____
Step 2: I-Cord
Knit an I-Cord for 12 Stitches
An I-Cord is a three-dimensional tube and may be best understood how to execute when viewing the video tutorial below.
With the 3 stitches cast onto your double-pointed needle, slide those stitches to the opposite end. With your other needle, knit those three stitches. Repeat.
_____
Step 3: Knitted Bead Shape
Row 1: KFB 3 times (6 Sts)
Row 2: P6
Row 3: K1, KFB 4 times, K1 (10 Sts)
Row 4: P10
Row 5: K10
Row 6: P1, P2Tog 4 times, P1 ( 6 Sts)
Row 7: K2Tog 3 Times (3 Sts)
Repeat Steps 2 and 3 and Two until your necklace is the length you desire.
_____
Step 4: Finishing
Bind Off 3 stitches.
Cut your yarn and weave through the last stitch with your tapestry needle.
For the best results, I encourage wet blocking your piece. Doing so allows the necklace to lay flat and display beautifully. Make certain to NOT use any steam or heat if your yarn has any synthetic, acrylic fibers. If blocking is new to you, I suggest reviewing this great tutorial on blocking wool knitting by Brooklyn Tweed.
Tack the two ends of your i-cord together with yarn.
Weave in all ends.
Notes
Knitting Techniques
I-Cord Technique
Slip Knot
CO = Cast On Long Tail Method
K = Knit Stitch
P = Purl Stitch
KFB = Knit Front and Back (increase)
K2Tog = Knit Two Stitches Together (decrease)
P2Tog = Purl Two Stitches Together (decrease)
---
Thank You for Visiting Studio Knit
I hope you are inspired to knit up this beaded necklace fashion accessory in your next knitting project.
If you'd like even more great ideas, please make sure you join my mailing list. It's a free and easy way for us to stay connected.
Happy knitting to you!