Learn to knit a necklace with beaded texture for a colorful, casual, and whimsical gift.
The entire necklace is simply knitting yarn. There's absolutely no need to purchase any extra wooden beads, clasps, or any other materials. We simply knit the bead shape texture!
I just love how versatile this necklace is, too, when using multi-colored yarn. Turn it around for a totally new look, new colors. This is definitely a very colorful, casual, whimsical necklace. It makes a great quick knit gift that your loved ones will wear with pride.
---
KNITTING MATERIALS
• Worsted Weighted Yarn – I'm using self-striping yarn… no need to change yarn colors!
• Knitting Needles in either Size 6 or 7
• Scissors
• Tapestry needle
---
KNITTING TECHNIQUES
• Slip Knot
• Cast On Long Tail Method
• Knit Stitch
• Purl Stitch
• Knit Front and Back
• Knit Two Together
• Purl Two Together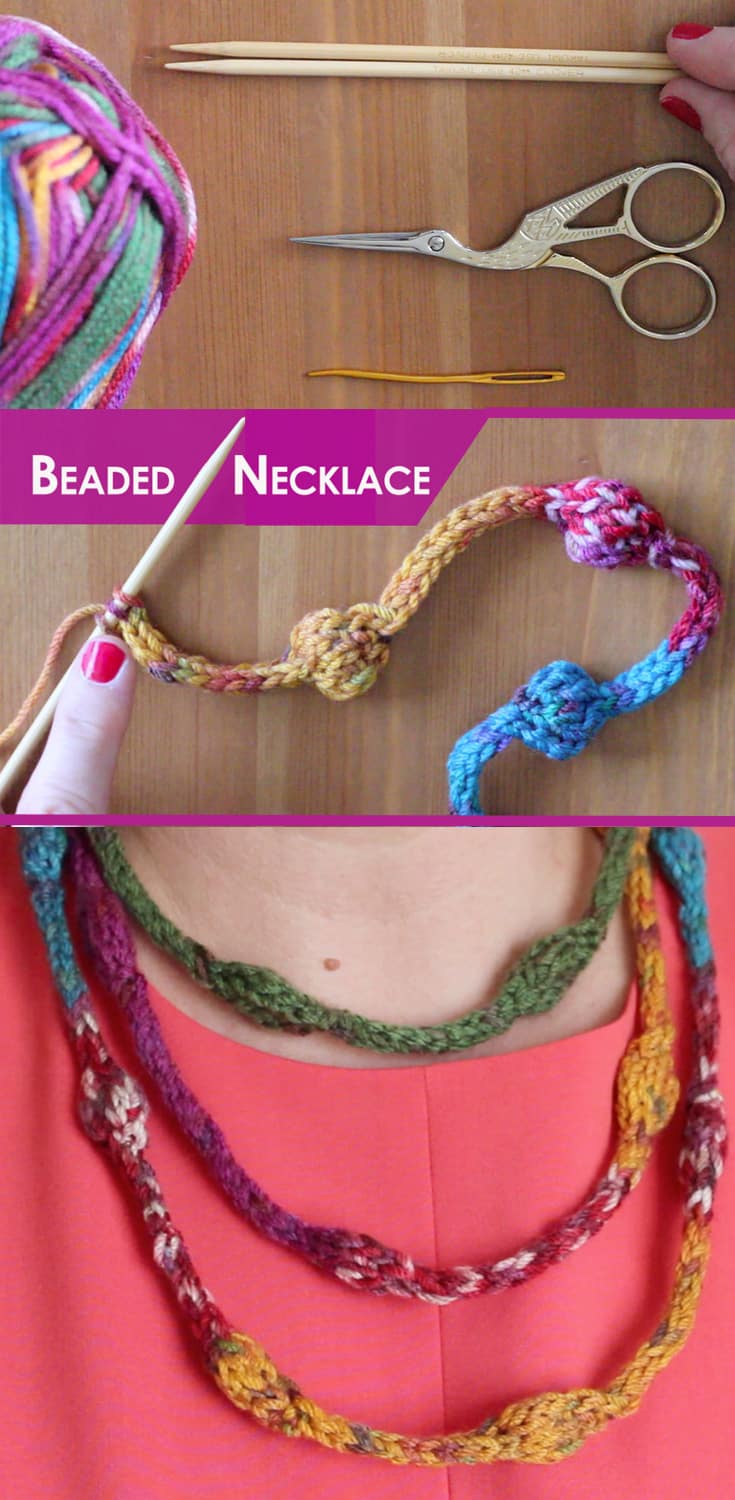 ---
KNITTING PATTERN
Cast On 3 Stitches
(We will be knitting the I-Cord Technique)
Row 1: KFB 3 times (6 Sts)
Row 2: P 6
Row 3: K 1, KFB 4 times, K1 (10 Sts)
Row 4: P 10
Row 5: K 10
Row 6: P1, P2Tog 4 times, P1 ( 6 Sts)
Row 7: K2Tog 3 Times (3 Sts)
Repeat Rows 1 – 7 until your necklace is the length you desire!
---
VIDEO TUTORIAL
For a complete step-by-step tutorial of this knitting pattern, you can watch my video below. Subscribe to my YouTube channel Studio Knit for more fun knitting ideas!
---
THANK YOU FOR VISITING STUDIO KNIT
I hope you are inspired to knit up this beaded necklace in your next knitting project. If you'd like even more great knitting ideas, please make sure you join my mailing list. Subscribing to my YouTube channel Studio Knit is another easy way for us to stay connected and help support my work for free.
Happy Knitting to You!