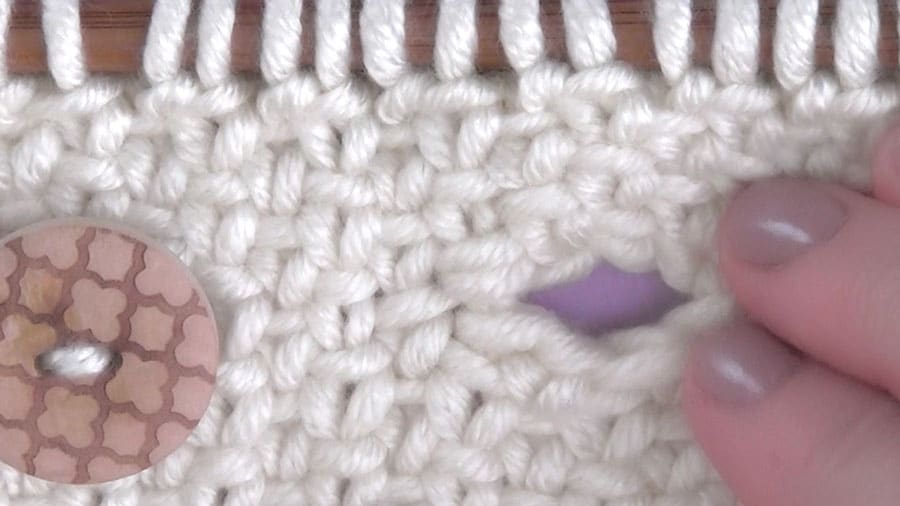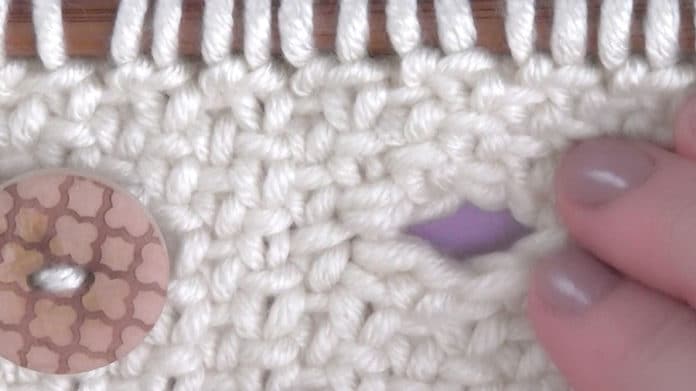 Today, we're knitting up the horizontal slits to create buttonholes in our knitted work.
My easy-to-understand 5-Step process guides you through every knit stitch and technique required to create knitted buttonholes in your creative project.

SAVE THIS TECHNIQUE TO YOUR KNITTING PINTEREST BOARD!
---
VIDEO TUTORIAL for HOW TO KNIT BUTTONHOLES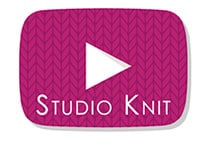 For a complete step-by-step tutorial of this knitting pattern, you can watch my video above. Subscribe to my YouTube channel Studio Knit for more fun knitting ideas!
---
PRINTABLE INSTRUCTIONS for HOW TO KNIT BUTTONHOLES
Download Free Printable Written Pattern > Click to Subscribe to my Newsletter

Once you confirm your subscription within your email account, you will immediately be directed to my knitting freebies page to receive this downloadable printable pattern and more!
Just want the knitting instructions on this page? You've got it, keep scrolling!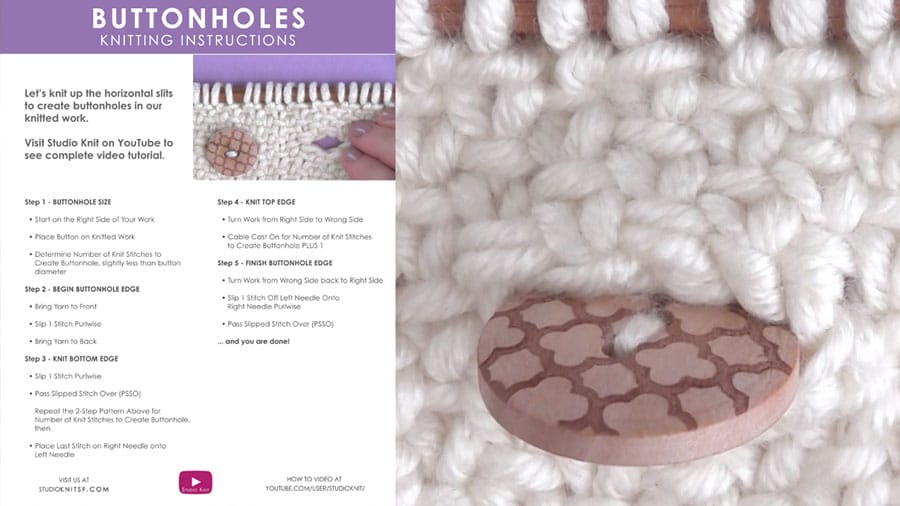 ---
MATERIALS in HOW TO KNIT BUTTONHOLES
---
WRITTEN INSTRUCTIONS for HOW TO KNIT BUTTONHOLES
Step 1 – BUTTONHOLE SIZE
Start on the Right Side of Your Work
Place Button on Knitted Work
Determine Number of Knit Stitches to Create Buttonhole, slightly less than button diameter
Step 2 – BEGIN BUTTONHOLE EDGE
Bring Yarn to Front
Slip 1 Stitch Purlwise
Bring Yarn to Back
Step 3 – KNIT BOTTOM EDGE
Slip 1 Stitch Purlwise
Pass Slipped Stitch Over (PSSO)
Repeat 2-Step Pattern Above for Number of Knit Stitches to Create Buttonhole, then
Place Last Stitch on Right Needle onto Left Needle
Step 4 – KNIT TOP EDGE
Turn Work from Right Side to Wrong Side
CABLE CAST ON knitting technique for Number of Knit Stitches to Create Buttonhole PLUS 1
Step 5 – FINISH BUTTONHOLE EDGE
Turn Work from Wrong Side back to Right Side
Slip 1 Stitch Off Left Needle Onto Right Needle Purlwise
Pass Slipped Stitch Over (PSSO)
---
---