My best knitting gift ideas will help you instantly find the perfect, coveted treasures for your favorite knitters. If you enjoy knitting yourself, this list is also a great way to share what YOU would like to receive from your loved ones, too. Shipping a thoughtful knitting gift is easy from my Studio Knit Amazon Shop. It's chock-full of my favorite ideas with some great deals, free shipping, and Prime items for you over there, too.
As an Amazon Associate and member of other affiliate programs, I earn commissions from qualifying purchases at no additional cost to you.

---
1 – Gift Certificate from Her Favorite Local Yarn Shop (LYS)
An incredibly thoughtful idea for mom is a gift certificate from her Local Yarn Shop. My favorite shop near my home in San Francisco is Imagiknit. When I visit for some yarn shopping, it's so exciting to know that my yarn budget has a little more wiggle room to splurge on those high-end yarns calling my name.
Not sure which shop is her favorite? Do a little sleuthing by asking a few "innocent" questions like, "Where do you find your favorite yarns?" Find the closest yarn shop yourself by searching this listing. Most shops will allow you to select any denomination to fit your budget.
---
2 – Knitting Books
Have you noticed her growing library of quality knitting books? Check out your friend's favorites, then gift her with a new addition. Here are a few of my must-have knitting resources all experienced knitters should have on their shelves. Make sure to see my entire list of suggested knitting books in my Studio Knit Shop on Amazon! Your thoughtful gift of new knitting inspiration will be greatly appreciated!


Knit Stitch: 50 Knit + Purl Patterns by Kristen McDonnell from Studio Knit. This printed Knit Stitch Pattern Book gives you 50 unique hand-knit designs. Easily understand exactly how to create each texture stitch-by-stitch with chart diagrams and written instructions to knit both flat and in the round.
Vogue Knitting – This is the beloved resource for knitters, now going on almost thirty years! The newest update in fifteen years was recently released.
Faerie Knitting: 14 Tales of Love and Magic by Alice Hoffman and Lisa Hoffman. Each of the 14 knitwear patterns designed by Lisa Hoffman in this book range in complexity and time. Each project is introduced with whimsical stories from celebrated author Alice Hoffman.
Knit Vibe by Vicki Howell – This book has interviews, patterns, and an in-depth look at the knitting community and the creative potential of knitting.
---
3 – Customized Knitting Labels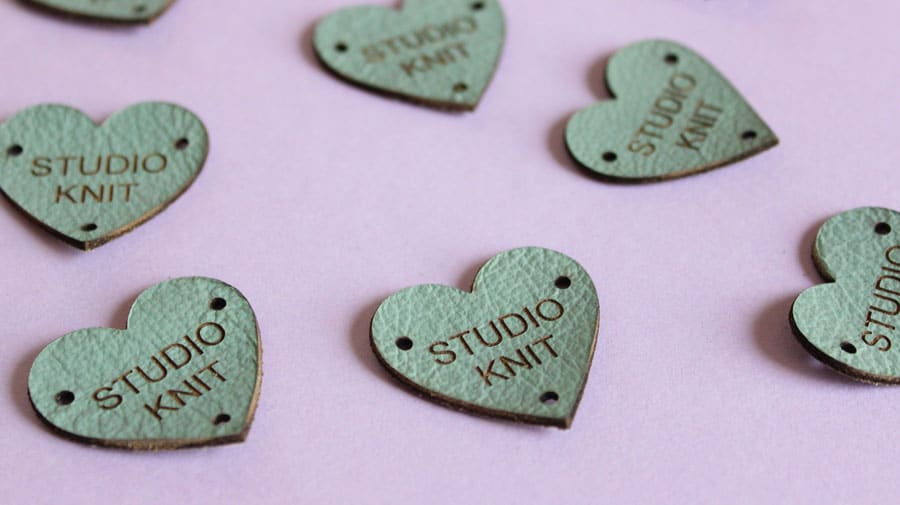 Show your knit-worthy side by ordering your very own set of customized knitting labels. I love shopping for new little tags to place along the seam or backside of my knitted work. Craftspeople on Etsy have a wide variety of clever labels to chose among. There are labels made in different fabric choices and even leather. Many of these little cuties are cut into unique shapes and come in a variety of fonts and colors, allowing to you essentially design the labels to mom's preferences! Shop for Customized Knitting Labels on Etsy.
My STUDIO KNIT labels pictured above were created by AllThisWood on Etsy. Love them!
---
4 – Lotion Bar Gift Set for Makers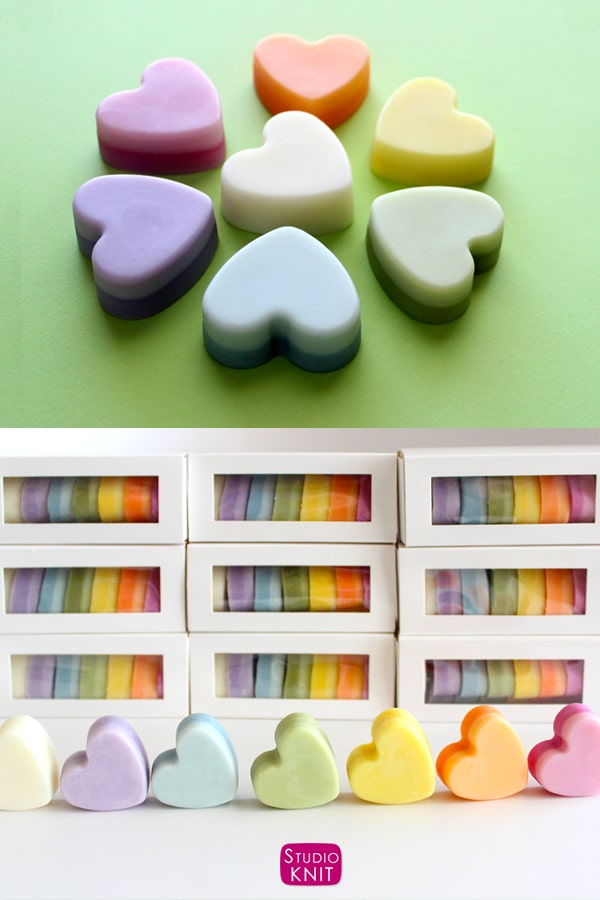 While formulating the perfect combination of premium natural ingredients to deeply moisturize my hands while knitting, I thought it would be fun to offer this limited collection of Lotion Bars to you, my Studio Knitters! Enjoy the ease of natural skincare by warming solid bars between your hands to soften and deeply moisturize. Additionally, each adorable little healing heart has been formulated, designed, and handcrafted personally by me, Kristen of Studio Knit. Enjoy them for yourself and as a thoughtful gift idea.

---
5 – Yarn Bowls

I love having yarn bowls featured throughout my home. They're a great way to display your favorite yarns, as well as current works in progress. With the beautiful and whimsical variety among each, it's easy to see that experienced knitters can never have too many yarn bowls! Visit my entire collection of favorite yarn bowls in my Amazon Shop.
---
6 – Yarn Swift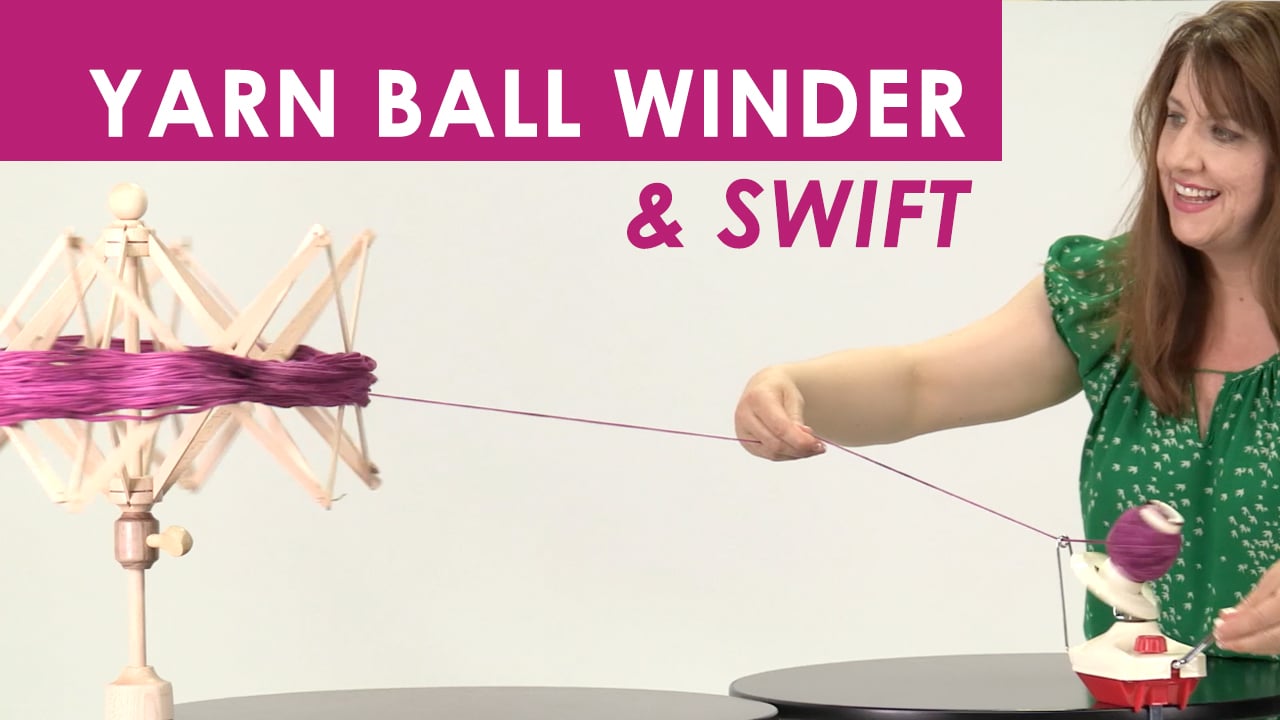 Help any room transform into a craft studio! Get the professional look with your own Yarn Swift! Many knitters spend time waiting their turn in line among customers to wind skeins of yarn into balls at the yarn store with the swift they provide. Having one's own is a really fun way to keep your yarn organized and pretty while saving valuable time. It instantly makes the craft or knitting room spring to life… a yarn shop at home!
---
7 – Mannequin Dress Form
My mannequin dress form with tripod stand is a new favorite! Display, style, and design your knitwear to turn an ordinary room into an immediate knitting studio!
Bonus: Get the free knitting pattern to make this Asymmetrical Knitted Shawl.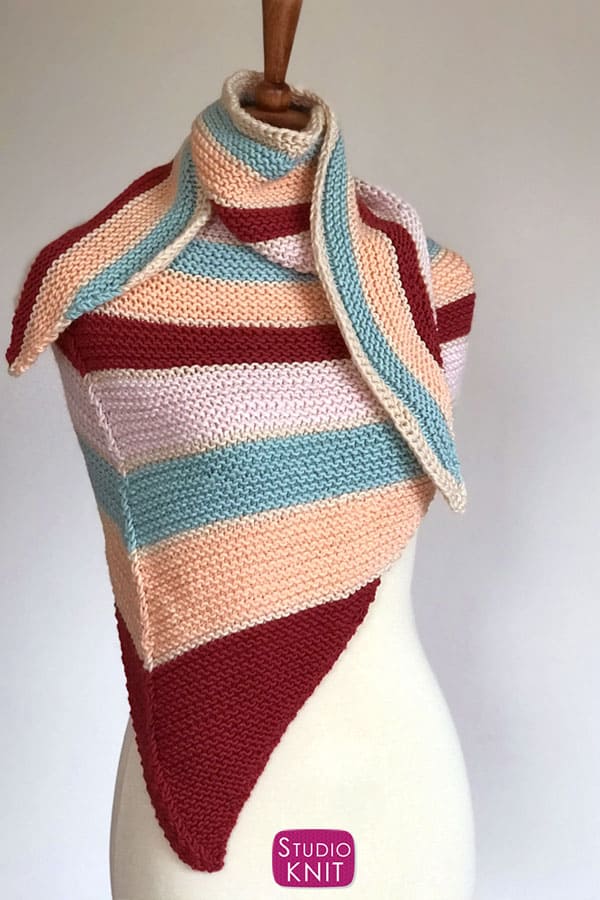 ---
8 – Interchangeable Circular Knitting Needle Set
My favorite interchangeable circular knitting needle set by Addi Click creates 24 different circular knitting needle combinations. The interior of the knitting needle case is lined in really pretty satin with a light pink and green graphic pattern design. A little flap of material is protecting our needles which are all held in place with a band of elastic. As a result, you can easily keep your knitting needles organized by taking them out and putting them right back in where they belong. The different knitting needle sizes included are placed from smaller to larger sizes. They range from US sizes 4, 6, 7, 8, 9, 10, 10.75, and 11.
---
9 – Caron X Pantone Yarns
My favorite yarn to knit up my popular Bubble Beanie Hat is the Caron X Pantone collection because one skein provides the exact amount of required yarn. Their color selection is so gorgeous, too! Check out all the gorgeous color selections of Caron X Pantone yarns in my Amazon Shop.
---
10 – Premium Large Knitting Tote Bag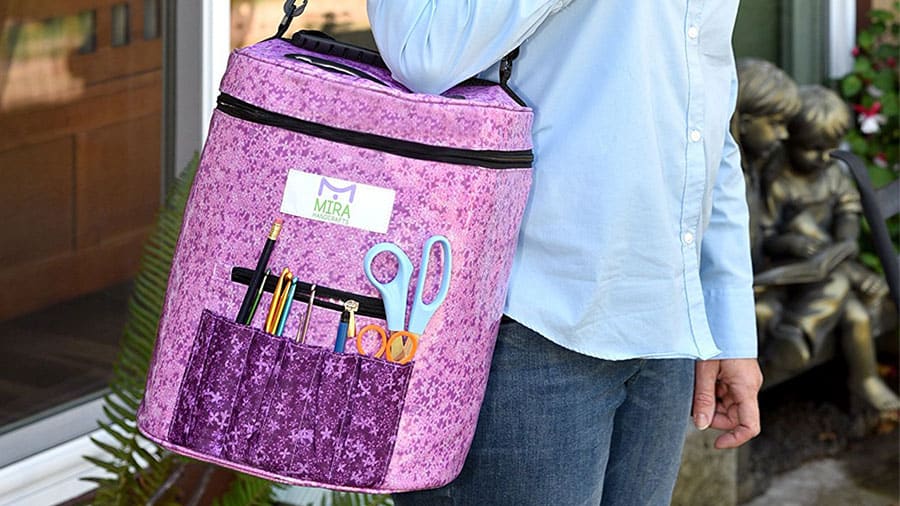 This large, sturdy knitting tote bag has been designed especially for knitters. It's so great to have an efficient tote organizer bag with lots of storage, big enough to hold multiple yarn projects. Because they hold all of my knitting essentials, even for large projects, I bring this bag from room to room while I'm knitting at home. It's also great for taking on road trips, keeping your knitting project and tools available and really well organized.


---
11 – Enamel Lapel Pins for Knitters
Enamel pins are so popular these days. Browse my curated Amazon Shop to find great deals on clever pins especially for knitters. That little knitting sheep is so cute and the llama is just too stylish!
---
12 – Knitting Needle Gauge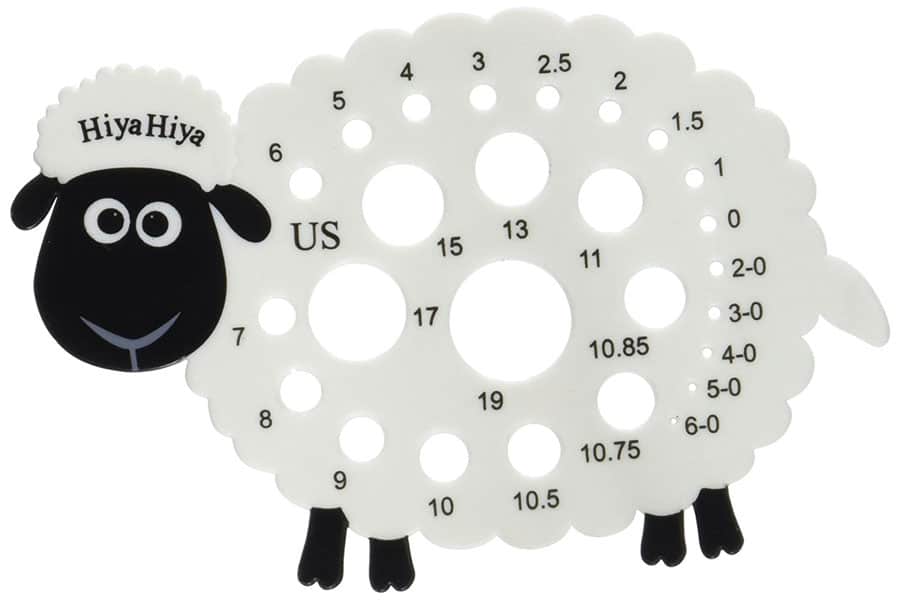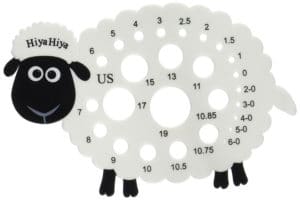 This totally adorable HiyaHiya Knitting Needle Gauge Sheep helps you check your knitting needle size once you've worn the lettering of your knitting needles. Never guess their size again!
---
13 – Addi FlexiFlips Double Pointed Needles
Addi FlexiFlips DPNs are a new revolutionary tool on the market helping knitters easily knit in the round! These specially designed 21cm circulars (3.5″ tips with 1″ cord) rest comfortably in the hand, and act as flexible double pointed needles. Easy to use, stitches are simply distributed over two needles, and then knit with the third – resulting in only two needle changes per row. You will always have the right needle when you need it. Overly versatile, FlexiFlips also make great cable needles.


---
14 – Yarn Sock Blocks
Knitters who love to make socks can never have too many yarn sock blocks! These wooden beauties are perfect for knitting, drying, and photographing wet socks. You can maintain the shape of handknit socks with these blocks, as well as use them when presenting knitted socks as gifts.

---
The perfect knitted garment must be lovingly blocked to shape. These knit blockers are great to interlock together to achieve the size necessary for your knitted project. Just fit the blocks together like a jigsaw puzzle in any configuration. This set comes with a grid design, 100 T-pins, and a storage bag to keep it all tidy for easy storage.
---
These little yarn ball stitch markers are super cute and stretchy, too. I love the yarn ball design! The colors really help you keep track of your knitting project, too. A cute and inexpensive little knitting tool she'll use daily.
---
The Laundress Wool & Cashmere Shampoo safely and effectively cleans the most prized knitted pieces in your wardrobe. With a fresh cedar scent, it keeps yarns soft and even repels bugs and moths!

---
A cute little set of cable needles is great for helping knitters work those complicated patterns, easily placing their yarn to the front and back as needed.
---
THANK YOU FOR VISITING STUDIO KNIT
I hope you are inspired to send some thoughtful gifts to your knitting friends and loved ones! If you'd like even more great knitting ideas, please make sure you join my mailing list. Subscribing to my YouTube channel Studio Knit is another easy way for us to stay connected and help support my work for free.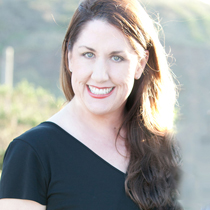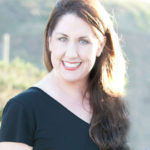 Happy Knitting to You!