How to Read a Knitting Chart for Absolute Beginners
Learn to read a visual knitting chart with confidence. My step-by-step lesson helps you easily understand all of the essential information to begin reading and knitting from a basic chart.
Review examples of knitting charts, find out which direction to begin reading, get a freshener on right and wrong sides of your knitting piece, translate chart symbols, and find out when to start pattern repeats.
To keep things simple, I am demonstrating how to read knitting charts for Knit Stitch Patterns with knit and purl stitches knitted flat on straight needles.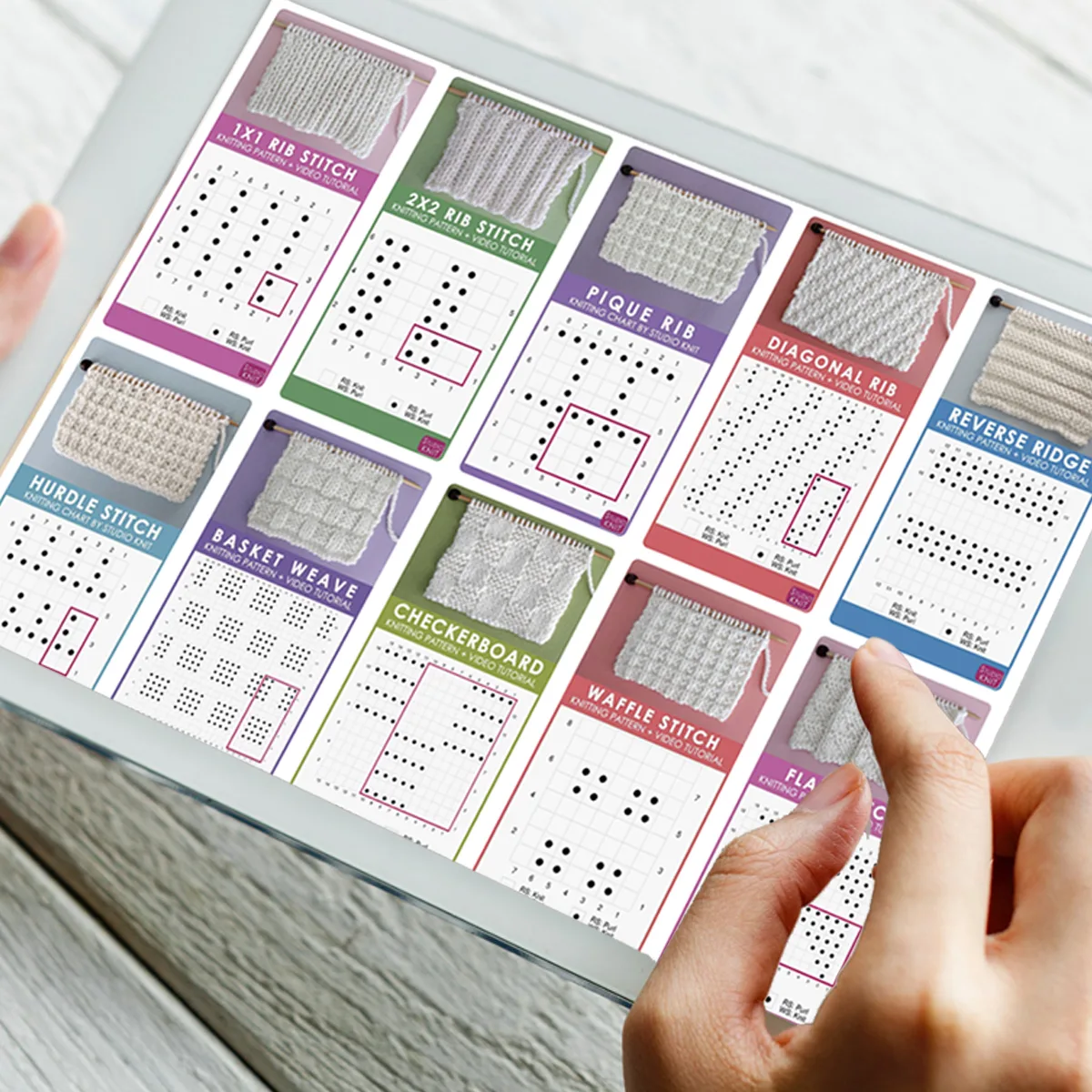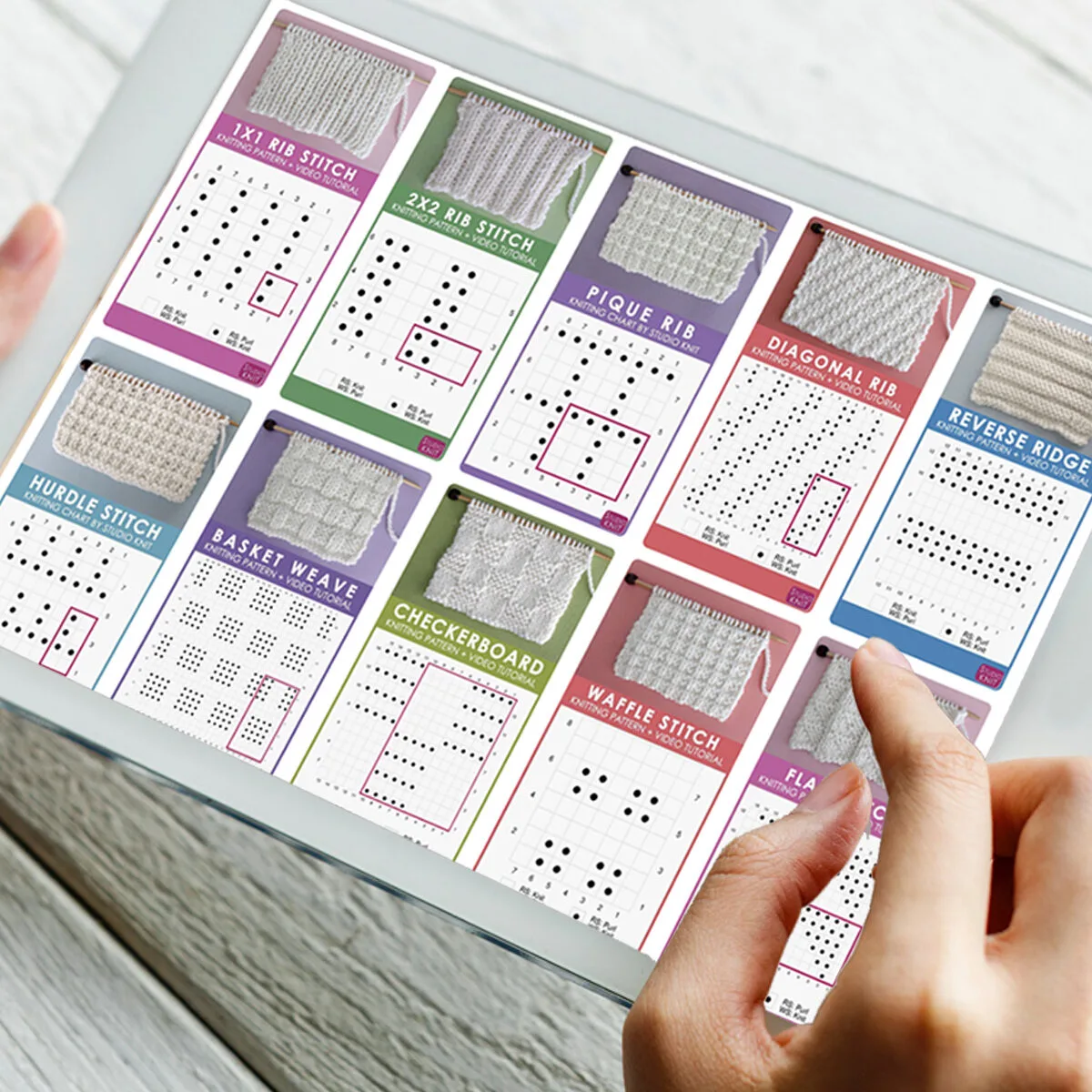 ---
EXAMPLES OF KNITTING CHARTS
Think of a knitting chart as a little extra help in visualizing and understanding your project overall.
The chart itself is laid out in a grid. That grid has little cells, like an Excel document or graph paper.
Each of those boxes represents one stitch on your needle. The entirety of the chart represents your knitting pattern.
Knitting charts are a tool to help you understand how to knit a stitch pattern. Most patterns, including my own, come with both the written knitting pattern instructions along with the chart. Hooray!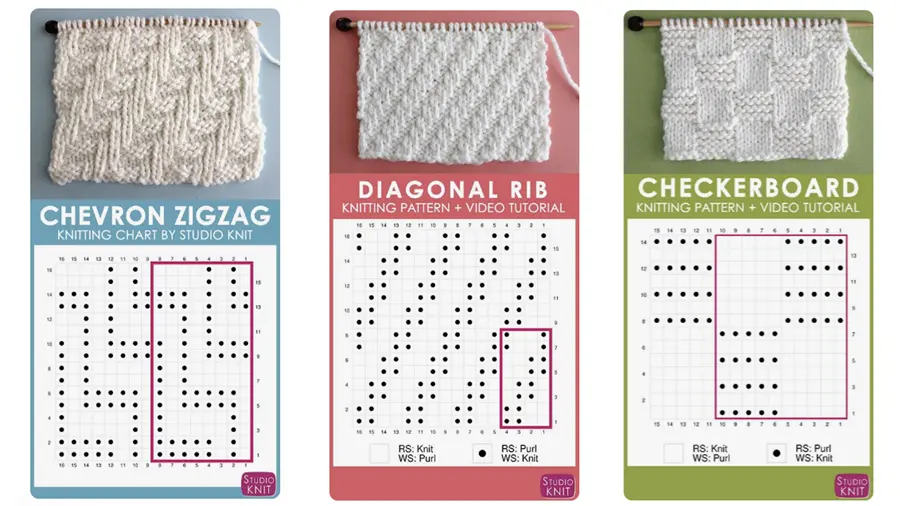 My basic beginner patterns include both the written instructions and the knitting chart. They can be accessed here on my website, as well as in my Knit Stitch Pattern Book available for purchase on Etsy.
Once you understand the overall structure of a knitting pattern, you'll find yourself eager to conquer even more complex patterns and textures, like cable knits. But let's not get ahead of ourselves. Onward!
---
WHICH DIRECTION DO YOU READ A KNITTING CHART?
This lesson is how to read charts on a flat piece of work. We have our stitches cast onto our needle. The very first stitch on your needle is on the right of your row of stitches. Therefore, we are starting from the bottom of our work and knitting it upward.
When you begin to read a knitting chart, you will start at the bottom right corner. At first, this might seem weird and random, but let's take a look at why this makes sense.
Each square of the knitting chart represents a stitch. The first stitch at the bottom right of our knitted piece is in the same location as the bottom right of our knitting chart, so you will knit it from right to left.
Once you have completed knitting row one, turn your work to the wrong side to knit row two. This time, you will read the chart from left to right. Continue knitting by reading the chart on the right side (the odd number rows) from right to left, then on the wrong side of the work (the even-numbered rows) reading your chart from left to right.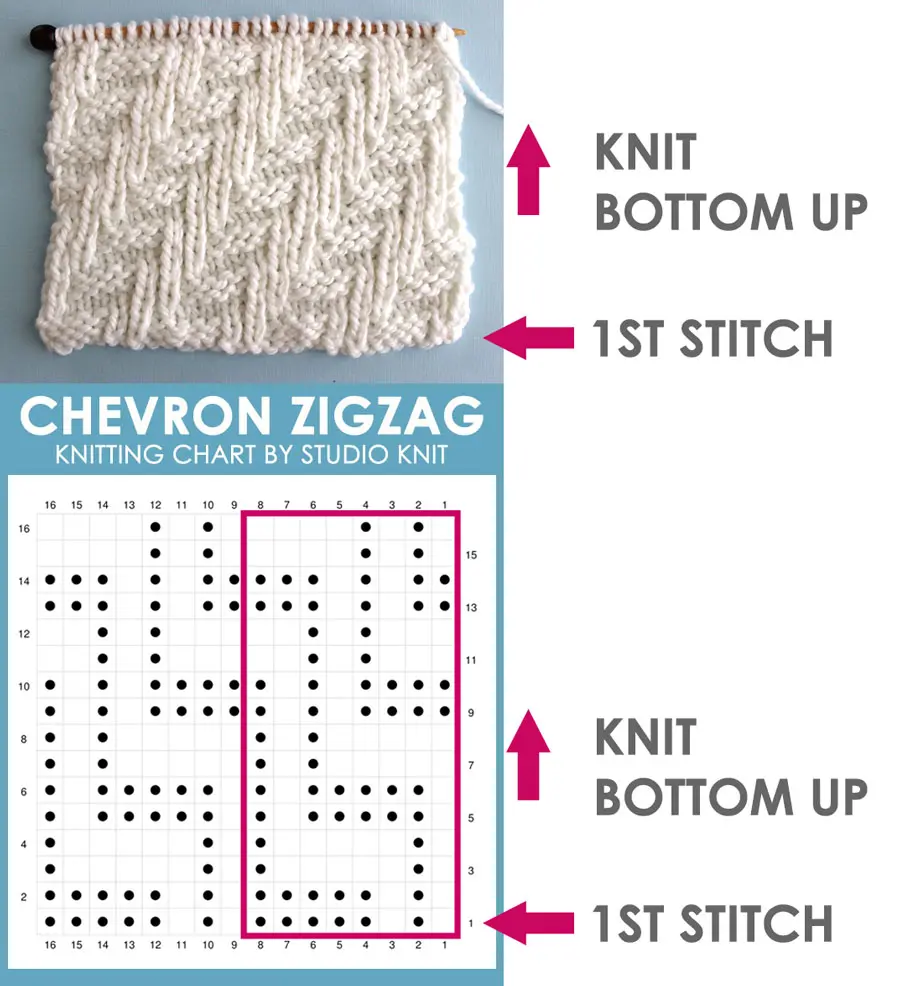 ---
IS THE FIRST ROW OF KNITTING THE RIGHT SIDE?
In this example, you see that our very first stitch in the chart is on the bottom right and we are knitting it from the bottom up. When looking at the swatch of this Zigzag Pattern, you'll see that it knits up following the direction of the chart, staring at the right and from the bottom up, as well.
We are knitting the first row and all odd-numbered rows on the right side of our work. The second and all even-numbered rows are knitting the wrong side of our work.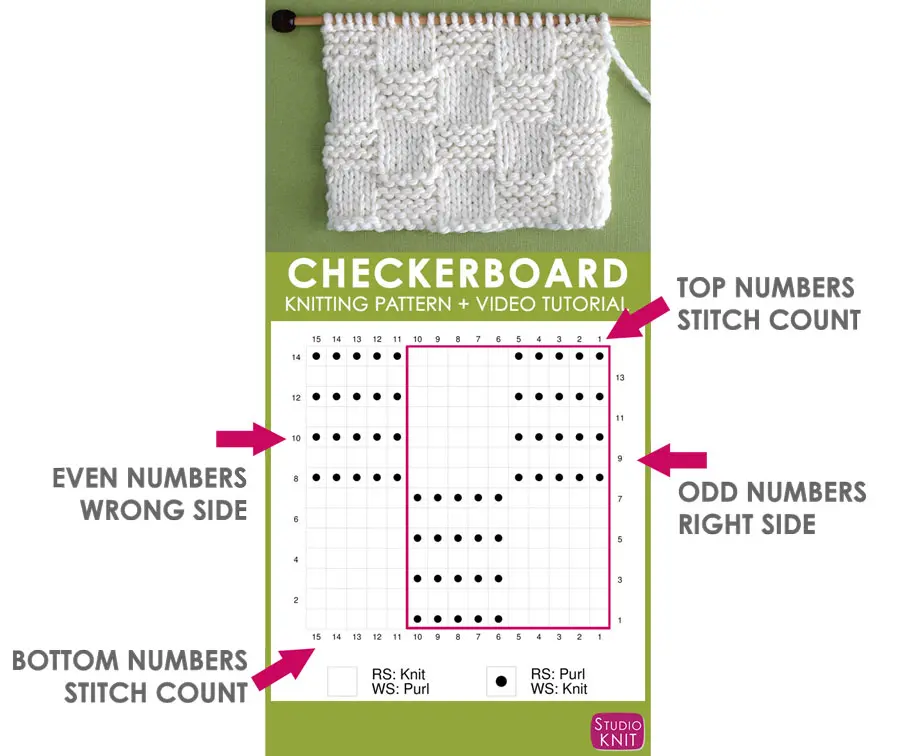 ---
WHAT DOES RIGHT SIDE FACING MEAN IN KNITTING?
Basic knitting charts begin with the first stitch on the right side of your work, which is the front side of your work. At the bottom right, that first stitch in Row 1 starts the right (or front) side of your work.
Conversely, when you are ready to knit Row 2, you are knitting on the wrong (or backside) of your work. If these concepts are new to you, you may wish to check out my helpful tutorial about the right and wrong sides of knitting.
---
WHAT DO THE NUMBERS ON SIDES OF A KNITTING CHART MEAN?
Odd numbers on the right side mark the knitting rows of the right side of your work;
Even numbers on the left side of the chart are the rows on the wrong side; and
Top and/or bottom numbers on your chart help you with the stitch count.
---
HOW TO READ KNITTING CHART SYMBOLS
Stitch Symbols are little drawings that represent the knitting technique to use on each stitch of your pattern. Since we are focused on knit and purl patterns in this lesson, each box will be filled with either the symbol for a knit or a purl stitch.
Stitch Symbol Example: Each box of your knitting chart grid has a different Stitch Symbol within it, helping you to know when it's time to knit and purl each stitch on your needle.

---
LEGEND KEY FOR KNITTING CHARTS
The Legend Key is where all of the Stitch Symbols for the pattern are listed. When you see a knitting chart, you'll want to scan the pattern Legend Key before you decide if this is a project you wish to tackle. It helps you quickly understand either the simplicity or complexity of a pattern.
If only Knit and Purl stitches are listed in the Legend Key, this is clearly a beginner level project and you've got this. However, if the Legend Key has knit stitch techniques with which you are unfamiliar, you can take a moment to determine if you wish to learn these stitches first or pass on this more complex pattern.
Legend Example: Here's an example of a more complex pattern of my Heart Cables. Depending on your level of familiarity with the stitch techniques listed in the Legend Key, you are able to quickly determine if this is a pattern you'd like to knit. If this one freaks you out, you'll quickly know it's a hard pass.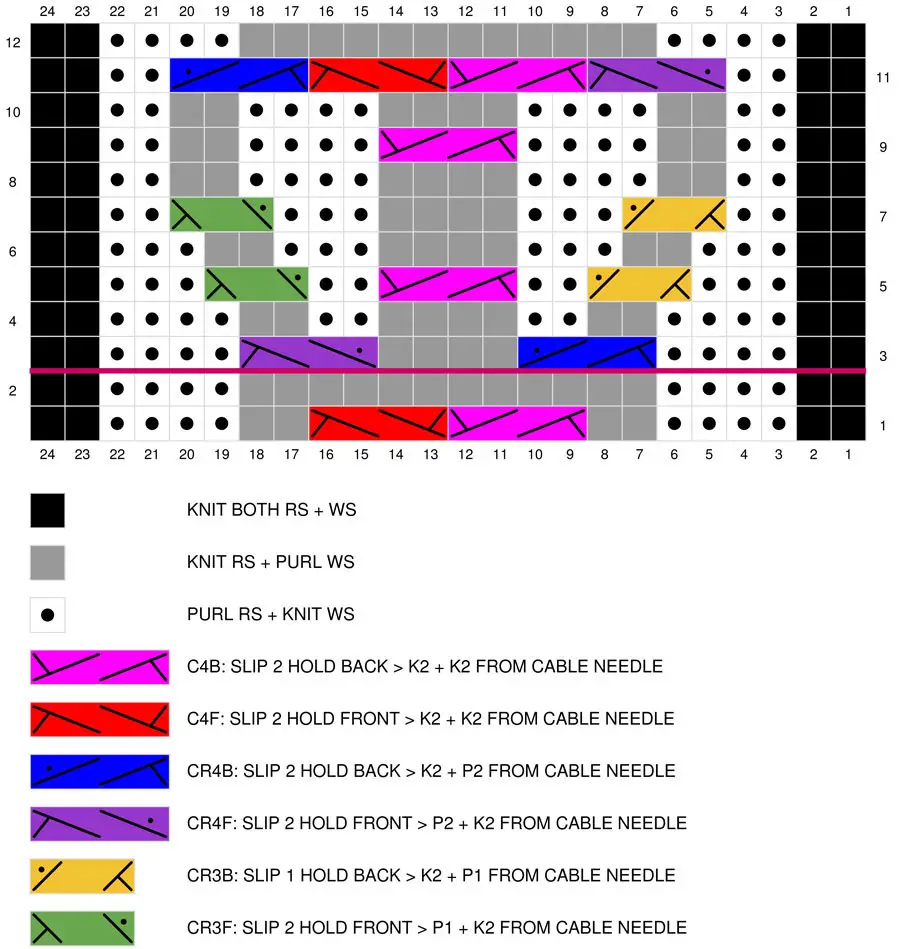 ---
WHAT ARE KNITTING CHART REPEATS?
The overall chart helps you to see how the pattern knits up and the repeat portion is highlighted. In my charts, I like to provide an overview with multiple repeats, to help you understand the project design in its entirety, and will also mark off the exact repeat area within highlighted lines.
Knitting Chart Repeats Example: In these knit stitch patterns, you'll see that the repeat portion is sectioned off within a highlighting box of lines. At a glance, you can see that the Flag Stitch is an 8-row repeat of 8 repeating stitches. And you can quickly determine that the Spiral Rib is an 18-row repeat of 6 repeating stitches.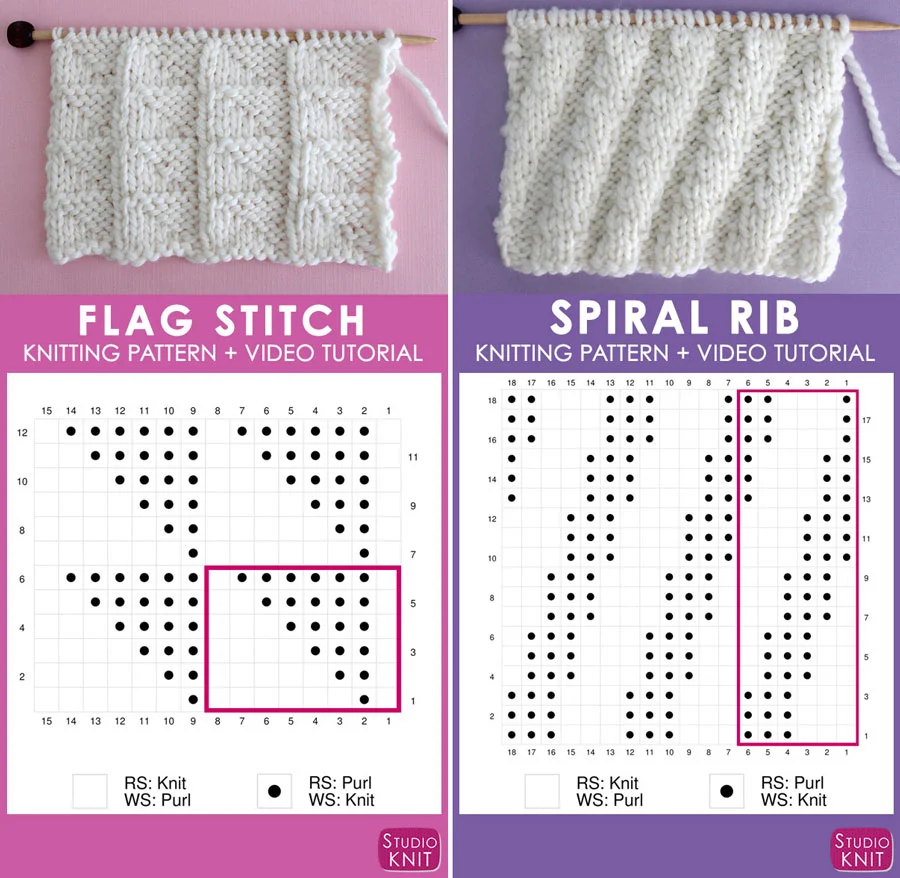 ---
KNIT STITCH SYMBOL SWITCH
This is a great time to take a look at that Legend Key again. Often, as in knits and purls, the symbols will switch for each technique based on the right or wrong side of your work.

You'll see that a Knit Stitch is just a blank white box on the Odd-Numbered Right Sides (RS) of our work. However, the symbol switches to a black dot representing a Knit Stitch when you're knitting on the Even-Numbered Wrong Sides (WS) of your work.
At first, this might seem like the chart is intentionally trying to be confusing. However, this allows to you visually see the textured pattern design of your overall chart.
---
THANK YOU FOR VISITING STUDIO KNIT
I hope you are inspired to begin reading knitting charts with confidence.
If you'd like even more great ideas, please make sure you join my mailing list. It's a free and easy way for us to stay connected.