Easily find knitting and crochet project ideas when searching for Ravelry Free Patterns.
Imagine an easy way to quickly find free patterns and make new friends. When I'm in the mood to discover new designs, Ravelry is my go-to knitting website. It is free to register, so make sure to get your account today.
Once you are in the wonderful world of Ravelry, it becomes an amazing resource for knitters and crocheters of all levels.
A lot of you have told me that you found it a bit intimidating, so let me share the easiest way to immediately fall in love with this platform.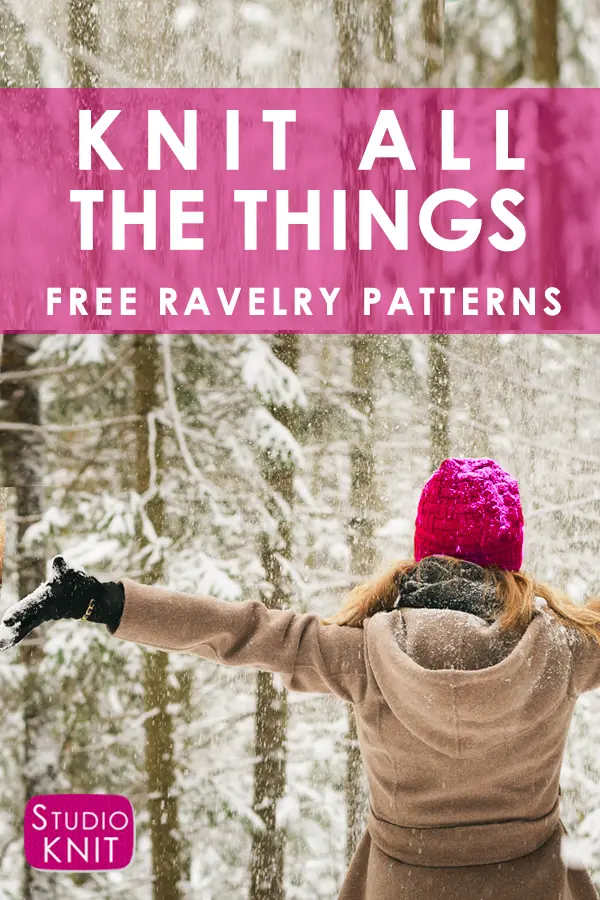 Table of Contents
---
What is the Ravelry Knitting Website?
Ravelry is my favorite free knitting resource website. It was first launched in 2007.
My best friend, who is both a knitter and librarian, introduced the site to me in 2009. She is my first Ravelry friend and I have had so much fun saving and sharing knitting patterns on the platform with her, as well as all the knitters I've met over the past twelve years.
Of course, I focus primarily on knitting here at Studio Knit. For those who are multi-talented in crochet, spinning, weaving, and yarn dyeing, this is a great source of ideas and inspiration, as well.
The content on the site is completely user-driven, resulting in a vibrant community. Members share projects, ideas, and even their yarn collection.
Oh, and in case you were wondering… This is NOT a sponsored post. Ravelry is my favorite knitting website and I'm excited to share it with you.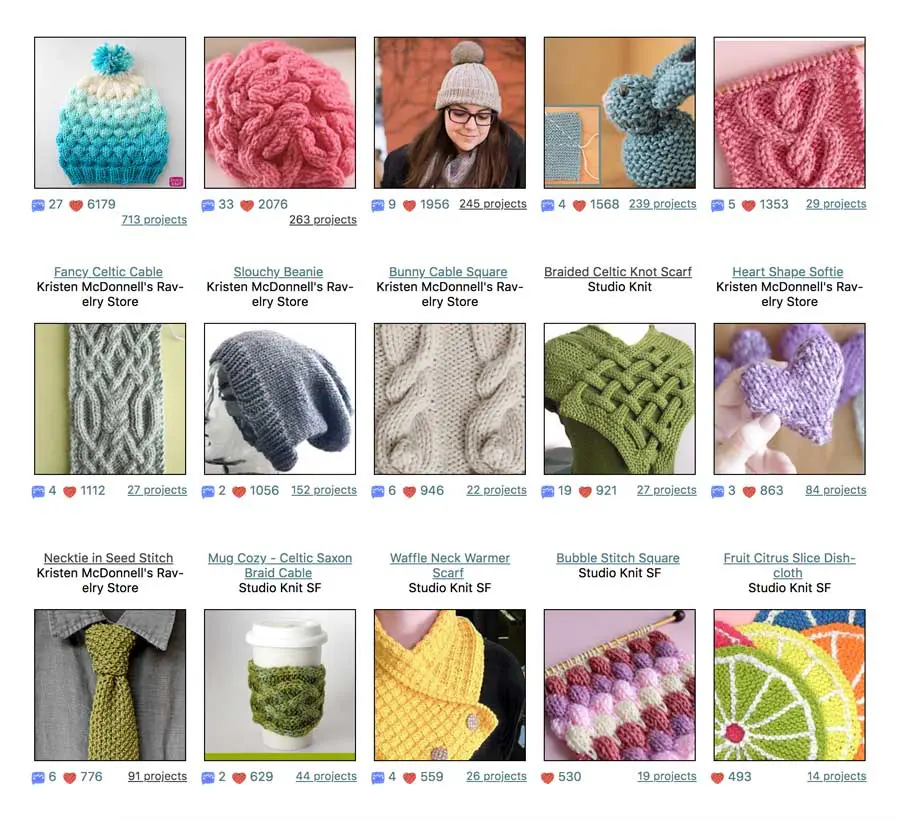 ---
How to Use Ravelry to Find Free Patterns
---
How to Join the Ravelry Knitting Community
To see all the wonderful offerings on the site, you'll first need to register on Ravelry.com. It's totally free to do so, too.
Visit Ravelry.com.
Click the "join now!" button.
Enter your email address to get a signup link. Your link will be sent to you in a few minutes. If you don't receive it soon, check your spam filters.
Open your email titled "Your Ravelry.com sign up link" and click the link.
Create your Ravelry account by picking a username, choose a password, confirm your password, then click the "Create my account" button.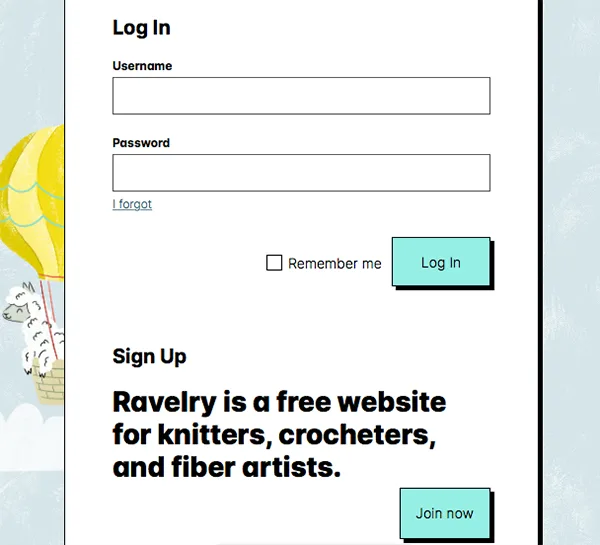 ---
Let's Become Ravelry Friends!
Once you have your free account, please find my personal account under the username "mossmermaid."
I created my account prior to starting this website, which is the reason I have a different username than Studio Knit.
In the upper left, click the button that says "Add to Friends." The next time I log-in, I'll friend you back!
I love going up to the Friends tab in the navigation to quickly see all of the recent projects you all have knitted up at a glance.
People are so nice and helpful on this platform and I get a lot of inspiration from the projects from the community. There are over 7 million Ravelry members, so this is a very big, welcoming, talented community!
---
How to Use Ravelry to Find Free Patterns
Free knitting patterns are so much fun to collect. This website makes it really easy to find projects filtered to your specific preferences.
In my video above, you will see that I quickly find a scarf knitting pattern based on the materials I already have in my home, allowing me to cast on and start knitting immediately.
Once you are registered, you may click on my quick links that will take you directly to their top 8 most popular search queries:
---
4 Steps to Search for Free Knitting Patterns
Here's an example pattern search for a knitted scarf. I want to find one that is free, has a photo, and uses the materials I have available in my stash.
Visit the Patterns tab in the top navigation
Enter a search term in the box (I typed in "scarf")
Filter your results by

craft ("knitting")
gender / age / size / fit
ravelry designer
availability ("free")
fiber, has photo ("yes), category
attributes, yardage, weight ("super bulky")
meterage
my notebook
pattern source type
rating
difficulty ("1 – piece of cake")
language ("english")
colors used ("1")

Scroll back up to the top of your page to see your filtered knitting project selections.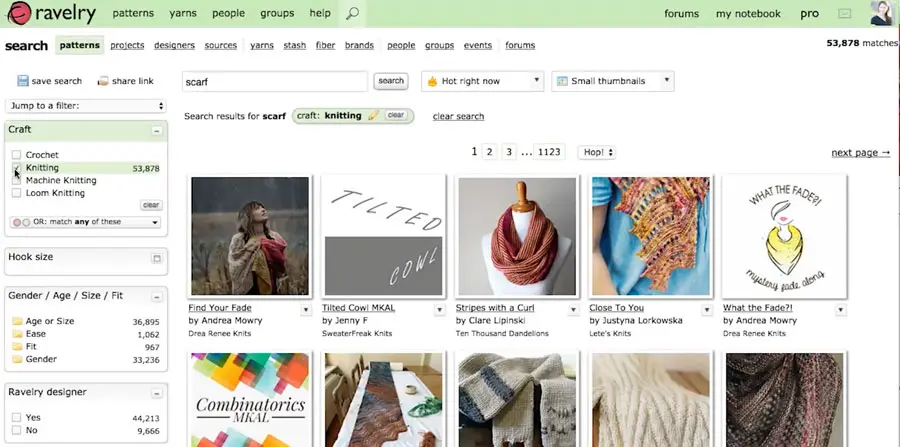 Using the above example, see the results of searching for beginner level knitted scarves that use my yarn, my needle size. These all are free patterns that you can start knitting right now. By filtering, we whittled down the results from 80,000 to 109, which is much easier to select among!
After you've knitted up your project, post photos of your knitted work onto your own Ravelry page. Your knitted work will give other knitters inspiration to knit up the same project themselves.
---
Does Ravelry Have an App?
Although Ravelry itself has not yet developed an app, independent third-party app developers have been allowed to access their database. iOS and Android users now may easily pull up favorite patterns on mobile devices.
RAVIT – Ravelry on the Hop: iOS iPhone, iPad, iPod Touch, and Mac.
Ravit really makes Ravelry shine on mobile! It shows patterns, projects, yarns in a clean and responsive interface, but also includes some of the more powerful features too, such as filters. Ravit is not affiliated with Ravelry. It is an independent app, developed by a husband and wife team company Enhancient.com.
Stash2Go – Ravelry on the Go: Android
Stash2Go allows you to use Ravelry on the go, on Android devices. It provides access to yarns, projects, patterns, and friends. Ravelry is the world's largest community for knitters and crocheters. Note that Stash2Go is not affiliated with Ravelry.
Ravelry's website does have a "mobile view" designed for small screens. The mobile option is found in pattern search, forums, and message box when using your phone in portrait mode.
I love searching for knitting pattern ideas on my iPhone. Pinterest's app is so user-friendly and you'll find me pinning "all the things" when in line at the grocery store or watching television.
Bonus: Check out my Studio Knit Pinterest profile! Yup, I've individually hand-pinned over 30,000+ ideas over there so far.
---
Thank You for Visiting Studio Knit
I hope you are inspired to sign-up for a Ravelry account and become friends with me. Find more knitting help with all of my technique tutorials.
If you'd like even more great knitting ideas, please make sure you join my mailing list. Subscribing to my YouTube channel Studio Knit is another free and easy way for us to stay connected and help support my work.
Happy knitting to you!