I'm in love with this knitted summer blanket and just have to share it with you!
During my recent trip to my family's beach house for our reunion in celebration of our parent's 50th Wedding Anniversary, I realized you would love to see this summertime blanket I knitted up for them, too!
I'm sharing this blanket as part of my Summer Knit Series. Make sure to check out all the fun projects we can knit up while it's heating up outside!

SAVE THIS SAND DOLLAR BLANKET PATTERN TO YOUR PINTEREST BOARD!
SAND DOLLAR BLANKET

This Sand Dollar Blanket was expertly designed by Daniel Yuhas.  It is a great example of a cleverly designed pattern using textures and shapes to reveal an exquisite creation.  It is a paid pattern (currently $6 US) and I have links below to where you may purchase it directly from the designer.
I first discovered this Sand Dollar pattern on Ravelry in 2013. Can you believe only 14 projects have been completed (to date)? I hope to inspire more knitters to purchase this pattern for their library. It's an heirloom piece that will gently challenge your knitting abilities and be proudly displayed for years to come!
Doesn't this blanket look phenomenal thrown over my mom's favorite adirondack chair? Throughout the year, it is featured on the back of their living room arm chair. During the day, I like to bring it outside, bringing a summery look to their deck overlooking the gorgeous Pacific Ocean.
Beginning in the center, this blanket is knitted in the round, continuing to developing its shape and texture as you knit.
The pattern suggests worsted weighted cotton yarn, which is perfect for a lightweight summer throw.
Revealed in the pattern is the star within a star. Eyelets help to distinguish the star shapes.
Knitting our blanket in the round outward, bobbles comprise the outer body of the sand dollar, giving it a beautifully textured dimension.
The finished dimension is 36 inches in diameter.
Although this pattern is considered to be a baby blanket, I personally do not recommend it for babies. It is indeed a great size for a baby blanket, but I always steer clear of open holes in knitwear for young children. Their fingers can get stuck inside those beautifully yarn-overed eyelets, dangerously causing unexpected harm. I would like to encourage you to consider knitting this pattern up as an adult throw.
---
VIDEO of Sand Dollar Blanket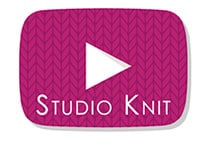 For more insight and information about this knitting pattern, you can watch my video above. Subscribe to my YouTube channel Studio Knit for more fun knitting ideas!
---
Can you believe I knitted this for them almost four years ago, it's been on display and in use daily, and it still looks freshly knitted!
---
BEACHY CRAFT IDEA
While my family recently gathered during the 4th of July holiday, we created these fun Patriotic Paint Stick Flags. I think everyone's favorite was the beach themed version, inspired by my beach-loving mother.  We used them as placemats, but they are also really cool as wall hangings for patriotic holidays.
Check out my full video tutorial of this fun craft family perfect for family members of all ages.

---
My Havanese Dog Roxie has taken a liking to this Sand Dollar Blanket, as well.  She can never pass up an opportunity to pose. I have quite the library of my pet Roxie modeling my knitwear!
MATERIALS
• Worsted Weight Yarn – Suggest Cotton
• Circular Needles – #10 US lengths
• 2 Straight Needles – #10 US
• Scissors
• Tapestry Needle
KNITTING PATTERN
Sand Dollar Baby Blanket by Daniel Yuhas
Purchase at Super Fun Knits or Ravelry
Currently Available for $6 US
• Slip Knot 
• Cast On Long Tail Method
• Knit Stitch
• Knit 2 Together
• Knit Front and Back (KFB)
• Purl Stitch 
• Bind Off
I hope you are inspired to knit up this Sand Dollar Blanket.