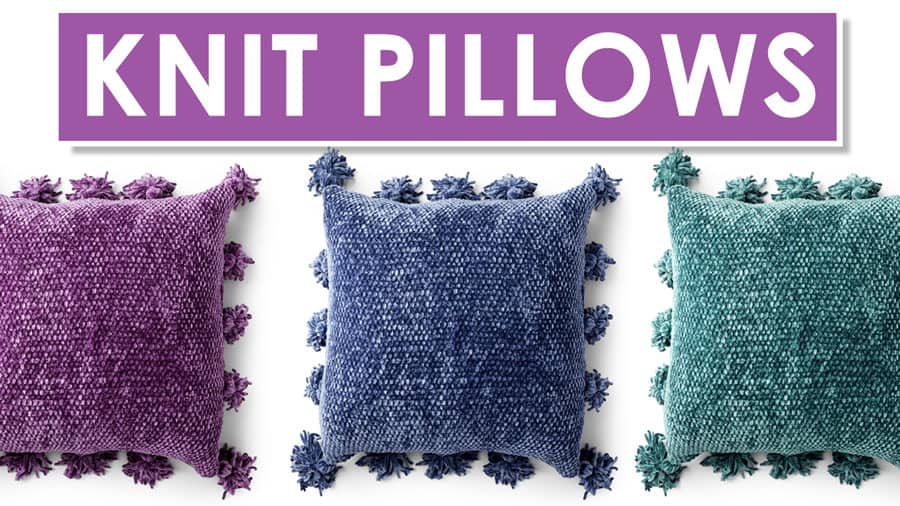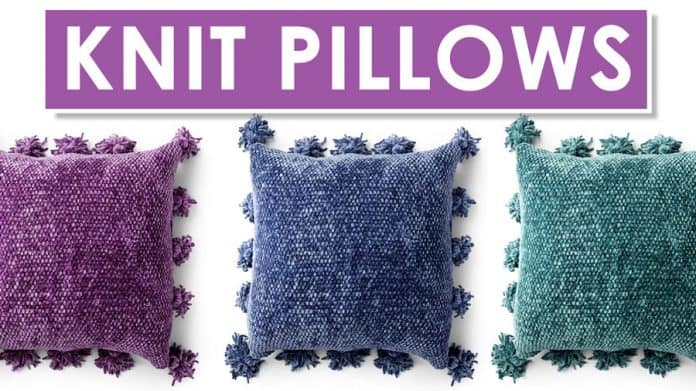 This Knitted Velvet Pillow is so soft and fun to make. I'm happy to share the Bernat Stitch Along knitting pattern and video tutorial with you. We begin by knitting up the Front Panel in the new silky soft Bernat Velvet yarn. Next, we add two overlapping Back Panels, then finish up by seaming our edges together and adding fun Tassels. I hope you join me and create this pretty pillow, along with the blanket and basket, during the 6-week KAL.
---
YARN AND TOOLS for KNITTED VELVET PILLOW
This Velvet Pillow knits up with one color of your choice in the newly launched Bernat Velvet yarn. It's a Bulky weight yarn and I'm going to use 2 balls of the new color Indigo Velvet. You will also want to pick up a 20″ x 20″ square pillow form.
---
TECHNIQUES + ABBREVIATIONS
KNITTED VELVET PILLOW
TECHNIQUES
_____
ABBREVIATIONS
Approx = Approximate(LY)
Beg = Begin(ning)
Cont = Continue(ity)
Pat = Pattern
Rem = Remain(ing)
Rep = Repeat
RS = Right Side
St(s) = Stitch(es)
WS = Wrong Side
---
KNITTED VELVET PILLOW
KNITTING PATTERN + VIDEO TUTORIALS
The free printable knitting pattern for this Textured and Tasseled Pillow is provided courtesy JOANN.
MEASUREMENT
Approx 20″ [51cm] square.
_____
GAUGE
If you want to check your gauge, your 4″ x 4″ square is knit with 12 stitches and 20 rows in the knit stitch pattern Seed Stitch with Bernat Velvet Yarn and Size 7 US knitting needles.
_____
PILLOW FRONT
Cast on 57 stitches (sts).
1st row: [Right side [RS]]. *Knit 1 [K1]. Purl 1 [P1]. Repeat [rep] from * to last st. K1.
2nd row: This row forms Seed St Pattern [Pat]. Continue [cont] in pat until work measures approximately [approx] 20″ [51 cm] from beginning [beg].
Cast off.
_____
PILLOW BACK
BACK (make 2 alike).
Cast on 58 stitches (sts).
1st row: (RS) *K2. P2. Rep from * to last 2 sts. K2.
2nd row: *P2. K2. Rep from * to last 2 sts. P2.
Rep 1st and 2nd rows until work from beg measures approx 1½" [4 cm], ending on a Wrong Side [WS] row.
Next row: K2tog. *P1. K1. Rep from * to end of row.
Next row: K1. *P1. K1 Rep from * to end of row.
This row forms Seed St Pat. Cont in pat until work from beg measures approx 15″ [38 cm].
Cast off.
_____
PILLOW FINISHING
Overlap Back pieces to match dimensions of Front, with ribbed sections in center to create opening to insert pillow form. Sew outer edge seams.
Tassels (make 16).
Cut a piece of cardboard 4″ [10 cm] wide. Wind yarn around cardboard 25 times. Break yarn leaving a long end and thread end through needle. Slip needle through all loops and tie tightly. Remove cardboard and wind yarn tightly around loops 1″ [2.5 cm] below fold. Fasten securely. Cut through remaining [rem] loops and trim ends evenly. Sew one tassel to each corner of Pillow, and 3 along each edge.
---

JOIN THE BERNAT STITCH ALONG
The Bernat Stitch Along creates a beautiful Afghan Blanket over the entire 6 weeks, as well as a bonus Pillow and Basket. These project designs are great for those of you who have completed my Absolute Beginner Knitting Series. There are a lot of cool ideas to intrigue those of you who are a little more advanced.
I reveal a new weekly Clue on my Bernat Stitch Along page on Mondays, starting September 17, 2018. The Clue will include a new video and a link to download a printable knitting pattern. Each weekly video will show you the finished versions of how my section knitted up that week. I'll also give you an overview by giving close-up knitting tips and techniques to help you fully understand that week's written pattern.
BLANKET AFGHAN MYSTERY CLUES
OVERVIEW ► Bernat Stitch Along Fall 2018
CLUE 1 ► Flying Geese
CLUE 2 ► Log Cabin
CLUE 3 ► Attic Windows
CLUE 4 ► Pinwheel
CLUE 5 ► Inner Borders
CLUE 6 ► Monday, October 22, 2018
---
THANK YOU FOR VISITING STUDIO KNIT
I hope you are inspired to knit up your Velvet Pillow in your next knitting project and join the Bernat Stitch Along.
If you'd like even more great knitting ideas, please make sure you join my mailing list. Subscribing to my YouTube channel Studio Knit is another free and easy way for us to stay connected and help support my work.


---