Today's Reclaimed Eyeglass Ornament craft project is inspired by The Girls with Glasses YouTube channel.
Together, we are participating in Kin's Holiday Ornament Exchange Collaboration. Make sure to check out all the other videos in the playlist, where you can see all the other ornaments that were gifted and find out how you can make them for yourself!

SAVE THIS CRAFT PROJECT TO YOUR PINTEREST BOARD
Since my ornament is inspired by The Girls with Glasses, I'm thinking eyeglasses, mod podge, vintage fashion, and of course glitter!
I'm starting with old reading glasses. Just a little twist of the hinges and off come the arms.
Using wire cutters, I'm simply scoring along the bridges and that separates each lens. It's so much easier than I thought it would be.
Online I found these glamorous, retro Vogue fashion magazine covers, which totally remind me of The Girls with Glasses and they all feature eyeglasses! Perfect!
---
VIDEO – Watch how easy these Eyeglass Ornaments are to make!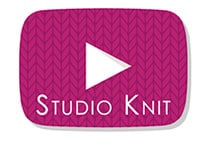 For a complete look at Knitting Gift Ideas, you can watch my video above. Subscribe to my YouTube channel Studio Knit for more fun knitting ideas.
---
How to Craft Eyeglass Ornaments
My lenses measure two by one inch, so I'm going to size and print the images and then cut them out in the shape of each lens.
The Girls with Glasses create lots of magic with just a little bit of Mod Podge, so let's brush some on both sides of our Vogue covers for a little decoupage action onto the back of our eyeglasses.
I'm loving the eyeglass shape and, you know, we could stop right here. But, this is the holidays andThe Girls with Glasses are always rocking the glitter. So, let's get to sprinkling. Brush on more Mod Podge, pile on lots of the glittery stuff. Once your ornament has dried, wipe away any stray glitter on your lenses. Just use a dry brush or even your fingernails works, too.
I'm making this simple ornament hanger with just some fishing line and a bit of hot glue. And that way they'll just float on their Christmas tree.
So glam! I really hope Brooke and Summer enjoy their holiday ornaments. Oh, and remember, stay GLASSY!
And I hope you are inspired to make totally original and customized holiday ornaments for your friends, too.
Please make sure to check out my other Kin Community friends. I know you will love them, too.
---
YARN ORNAMENTS BY MEG ALLAN COLE CRAFTS
Inspired by my channel, Studio Knit, I just received these really cool handmade holiday ornaments from Meg Allan Cole Crafts! I love her! She is one of my very favorite DIY channels.
These yarn ornaments are really great to make for your fellow knitting friends. Check out how to make these adorable ornaments on her channel here! Thanks so much, Meg! I love them!
---