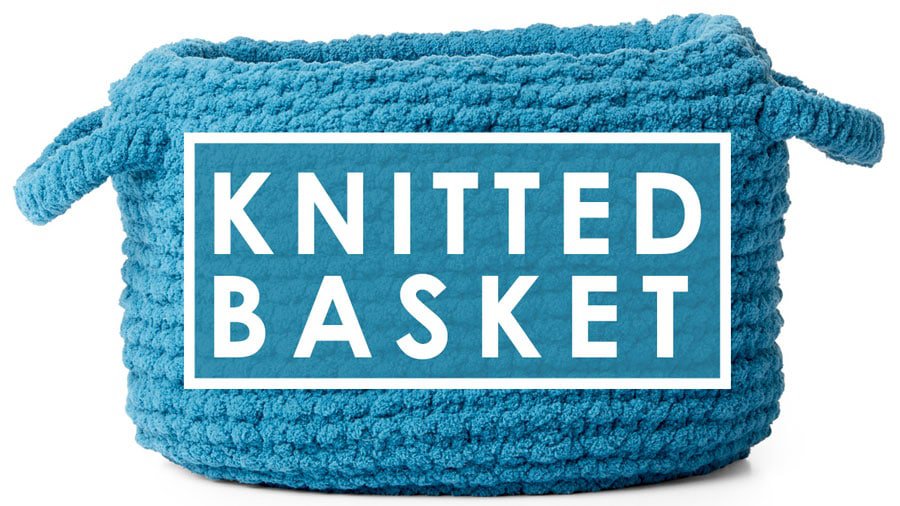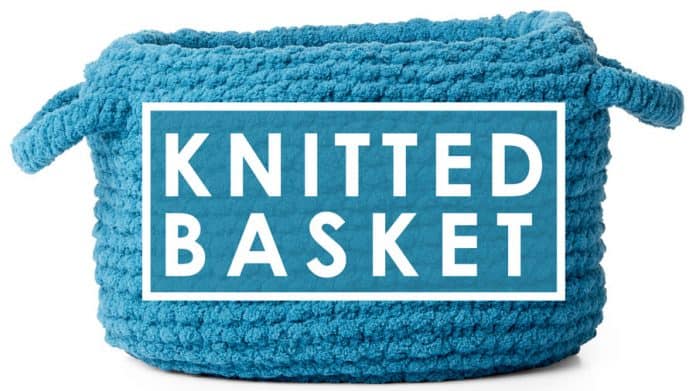 Get my Knitted Basket Pattern in three easy steps with my free written instructions and video tutorial! Begin by knitting the bottom base in the round with new jumbo weight #7 Bernat Blanket Extra yarn. Then we knit up the sides of our basket and finish by creating sturdy i-cord handles on each side. You'll love displaying your knitted storage basket in your craft room!
---
YARN AND TOOLS for KNITTED BASKET
Our Mystery Bernat Stitch Along Basket uses one color of your choice in the new Bernat Blanket Extra, which is a Jumbo #7 weight yarn. I've selected the color Teal, available exclusively at JOANN, to complete the look for my room. You'll need 4 Double Pointed Knitting needles size 10.5 US (6.5 mm). Your two circular knitting needles will be size 10.5 US (6.5 mm) and the lengths are 16″ and 36″. You'll also want to have scissors, a tapestry needle, and stitch markers on hand.
As an Amazon Associate I earn from qualifying purchases.
---
KNITTING TECHNIQUES + ABBREVIATIONS
TECHNIQUES
K = Knit Stitch
K2Tog = Knit next 2 stitches together
YO = Yarn Over
_____
ABBREVIATIONS
Alt = Alternate(ing)
Approx = Approximate(LY)
Beg = Begin(ning)
Cont = Continue
Rep = Repeat
Rnd(s) = Round(s)
RS = Right side
St(s) = Stitch(es)
---
KNITTED BASKET PATTERN + VIDEO TUTORIALS
The free printable knitting pattern for this Garter Knit Basket is provided courtesy JOANN.
_____
MEASUREMENT
Approx 12″ [30.5 cm] diameter x 9″ [23 cm] high.
_____
GAUGE

7 Sts and 12 Rows = 4″ (10cm) in Stocking Stitch
6.5 Sts and 13 Rows = 4″ (10cm) in Garter Stitch
_____
STEP ONE – BASKET BASE TO START YOUR KNITTED BASKET PATTERN
With set of 4 needles, cast on 6 sts. Divide evenly over 3 needles.
Join in rnd, placing marker on first st.
1st rnd: *Kfb. Rep from * to end of rnd. 12 sts.
2nd and alt rnds: Knit.
3rd rnd: *K1. Kfb. Rep from * to end of rnd. 18 sts.
5th rnd: *K2. Kfb. Rep from * to end of rnd. 24 sts.
7th rnd: *K3. Kfb. Rep from * to end of rnd. 30 sts.
9th rnd: *K4. Kfb. Rep from * to end of rnd. 36 sts.
11th rnd: *K5. Kfb. Rep from * to end of rnd. 42 sts.
13th rnd: *K6. Kfb. Rep from * to end of rnd. 48 sts.
_____
STEP TWO – BASKET SIDES
1st rnd: (RS). Knit.
2nd rnd: Purl.
Cont in garter st until work from beg measures approx 7″ [20.5 cm] from base, ending on a purl rnd.
Next rnd: *K2tog. yo. K10. yo. K2tog. K19.
Rep from * once more.
Cont in garter st until work from beg measures approx 9″ [23 cm] from base.
Cast off.
_____

STEP THREE – HANDLES TO FINISH YOUR KNITTED BASKET PATTERN
I-CORD HANDLES (make 2)
With pair of double-pointed needles, cast on 3 sts.
*K3. Slide sts to opposite end of needle. Rep from * until i-cord measures approx 18″ [46 cm].
Break yarn and thread end through sts. Fasten securely.
Thread i-cord through yarn-over eyelets on sides of Basket to form handles.
Knot each end of i-cord to secure.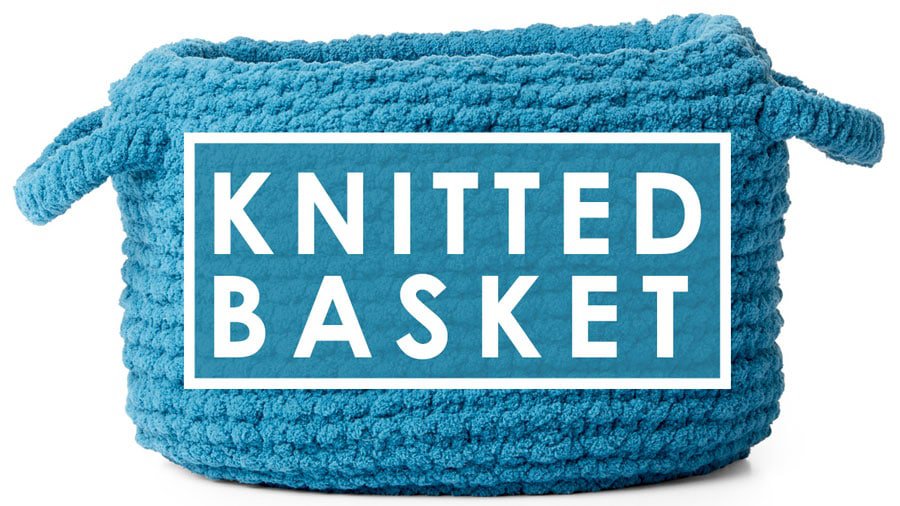 ---

JOIN THE BERNAT STITCH ALONG
The Bernat Stitch Along creates a beautiful Afghan Blanket over the entire 6 weeks, as well as a bonus Pillow and Basket. These project designs are great for those of you who have completed my Absolute Beginner Knitting Series. There are a lot of exciting ideas to intrigue those of you who are a little more advanced.
BLANKET AFGHAN MYSTERY CLUES
OVERVIEW ► Bernat Stitch Along Fall 2018
CLUE 1 ► Flying Geese
CLUE 2 ► Log Cabin
CLUE 3 ► Attic Windows
CLUE 4 ► Pinwheel
CLUE 5 ► Inner Blanket Borders
CLUE 6 ► Outer Blanket Borders
---
THANK YOU FOR VISITING STUDIO KNIT
I hope you are inspired to knit up your Knitted Basket in your next crafty project and join the Bernat Stitch Along. If you'd like even more great knitting ideas, please make sure you join my mailing list. Subscribing to my YouTube channel Studio Knit is another free and easy way for us to stay connected and help support my work.