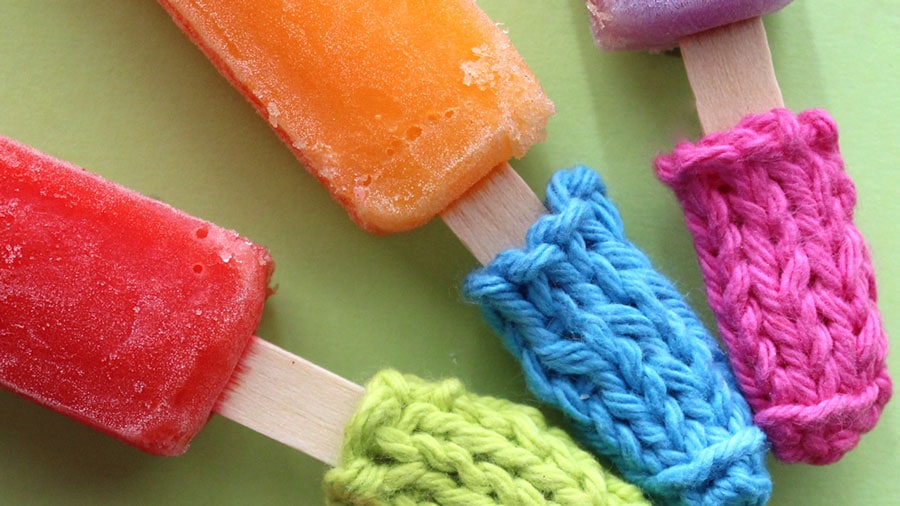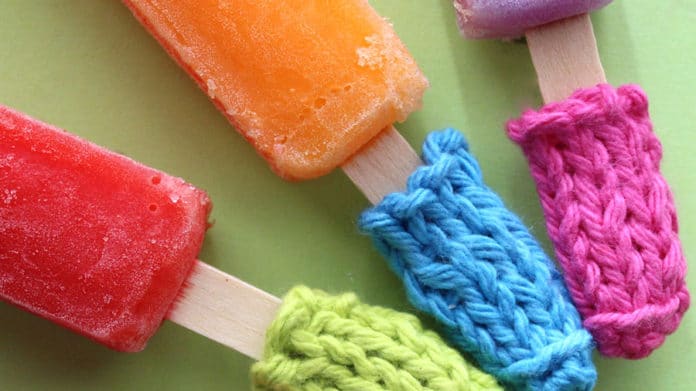 Today, we are knitting up colorful Popsicle Cozies!
Are you sick of and tired of the frustration of wrapping paper towels around your summery popsicle sticks? With you new Popsicle Cozies, you can stay cool, calm, and collected.
This is a fun, super quick knit that I thought would be perfect for summer. It's a little bit silly, but it also is kinda cool.

SAVE THIS PATTERN TO YOUR PINTEREST BOARD!
Measuring at 3/4 inches long and 1 3/4 inches tall, this is actually smaller than my pinky finger. I can't even fit my pinky on the inside. So that shows you how tiny it is and this knits up really quickly.
I think it is the fastest little thing I have going on on this channel. It's just a tiny little tube that fits our popsicle stick perfectly.

KNITTING MATERIALS
• Yarn in cotton worsted weight – I knitted mine with Sugar N Cream in colors Hot Pink, Hot Orange, Hot Blue, and Hot Green. This yarn is perfect because it is absorbent, lightweight, and easy to wash out the popsicle drippings.
• Knitting Needles, size 7 US
• Scissors
• Tapestry Needle


• Slip Knot 
• Cast On Long Tail Method
• Knit Stitch 
• Purl Stitch 
• Bind Off
VIDEO TUTORIAL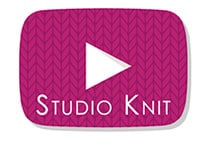 For a complete step-by-step tutorial of this knitting pattern, you can watch my video above. Subscribe to my YouTube channel Studio Knit for more fun knitting ideas!
---
KNITTING PATTERN Popsicle Cozy
Download Free Printable Written Pattern
Click here to Subscribe to my Studio Knit Newsletter
Once you confirm your subscription within your email account, you will immediately be directed to my knitting freebies page to receive this downloadable printable pattern and more!
Just want the knitting instructions on this page?
You've got it, keep scrolling!

KEEP IT COOL THIS SUMMER WITH POPSICLE COZIES!
KNITTING INSTRUCTIONS for Popsicle Cozies

• Cast On 6 Stitches
• Rows 1, 3, & 5: Knit All
• Rows 2, 4, & 6: Purl All
• Bind Off
• Fold Wrong Side Together with Right Side Facing Outward
• Seam with Yarn & Tapestry Needle Along Bottom and Side
• Weave in Ends, Cut Yarn
I HOPE YOU ARE INSPIRED TO KNIT UP YOUR NEW POPSICLE COZIES THIS SUMMER!