Let's Knit the POOP Emoji with an I-Cord! I've been receiving a lot of requests for knitted emojis and which is the favorite emoji of all time? It's the POOP Emoji!
So, what can we use him for? Create your emjoi as embellishments, ornaments, little patches, to be placed on the back of your computer, make a magnet and put it on your locker or your refrigerator. If you make a little emoji, where would you like to put him?
---
• Slip Knot
• CO = Cast On Long Tail Method
• K = Knit Stitch
• I-CORD
• BO = Bind Off
---
KNITTING MATERIALS
As an Amazon Associate I earn from qualifying purchases.
For our materials, we are using worsted weighted yarn, brown and a little bit of black. Double-pointed needles, mine here are size 8 for our i-cord. Scissors, a tapestry needle, a glue gun with glue, a little bit of felt here to fabricate the mouth and the eyes, a toilet paper roll. And this is a great stash buster, so I'm using my finest merino wool.
• Worsted Weighted Yarn, brown & black
• Double Pointed Knitting Needles (for I-Cord) – I used Size 8US
• Scissors
• Tapestry Needle
• Glue Gun with Glue
• Toilet Paper Roll
---
VIDEO TUTORIAL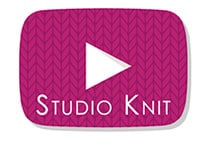 For a complete step-by-step tutorial of this knitting pattern, you can watch my video below. Subscribe to my YouTube channel Studio Knit for more fun knitting ideas!
---
BAKE UP POOP EMOJI CUTENESS
NEW: Rosanna Pansino from YouTube's Nerdy Nummies just came out with her own line of bakeware with Wilton.
Her new Silicone Poop Swirl Treat Molds are the cutest, aren't they!
---
KNITTING PATTERN
To begin, we create our beloved slip knot and we are going to cast on 5 quick stitches here, slide it down to knit our i-cord.
I hope you are inspired to knit up this poop emoji!
Casting On
To begin, we create our beloved slip knot and we are going to cast on 5 quick stitches.
Knit an I-Cord
If you are not familiar with knitting an i-cord, please check out my full tutorial. I-cords come in really handy and they're super fun to knit up. And we are going to continue knitting our i-cord until it's the length that we desire.
In my example I have knitted an 18 inch long I-Cord.
Finishing
Bind off to finish up our i-cord right here. And once we are done, we cut our yarn, using the tapestry needle go ahead and just thread it through the loop right there to finish it off.
We're going to use the toilet paper roll sort of as a guide to get the sizing of the base of our emoji. And then we can remove the toilet paper roll. Using our tapestry needle just go ahead and wind your i-cord around and just sort of attach the top and the bottom. Then keep wrapping it your cord around until it is the shape you desire.
I'm sort of forcing that cute little top curly-cue by tacking the bottom and the side of the end of our i-cord to sort of help it stand up little bit. Now it's currently sort of 3-dimensional, which that really could work, but I'm thinking I want mine to be flat.
Let's just tack it together and to keep him nice and flat.
Making the Emoji Face
Now using our felt, go ahead and cut out the shape of the mouth and now just using a glue gun I'm going to quickly attach his little mouth and for the pupils of the eyes, I'm just going to knot up a little bit of black yarn and glue gun it.
You might have a different technique, but this is kind of a quick little way that I could think of to get his eyes on and finish up our adorable emoji.
---