Today, we are going to be making this special Flower Girl Pomander Wand. As I create my own DIY special touches for my big day, I thought it would be really fun to share them with you.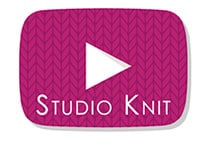 VIDEO TUTORIAL
For a complete step-by-step tutorial of this wedding craft project, you can watch my video below. Subscribe to my YouTube channel Studio Knit for more fun knitting ideas!
This is a great wedding diy project to do for yourself or for any friends and family who are getting married.
More Wedding DIY Crafts >

Thumbprint Wedding Guest Book
Bridal Shower Party Chairs
Paper Crane Origami Wedding DIY
Pantone Greenery: Color of the Year in Your Wedding
I'm Engaged! Announcement Video

Follow My Pinterest Wedding Inspiration Board >
MATERIALS for FLOWER GIRL POMANDER WAND
• 2 foot long wooden dowel
• 16″ diameter styrofoam ball
• Scissors
• Hot Glue Gun
• Ribbons
• Flowers – Real, or not!
Starting with our dowel, we simply hot glue our ribbon all the way down, I'm angling it here at a diagonal. And add a touch of hot glue as you go to keep it securely in place.
Then we can glue our floating ribbons to the top, as well.
Simply push the Styrofoam ball onto your wand and it will stay in place.
The top rounded flower area is commonly called a pomander.  Now for my favorite part, add your flowers to make the pomander! They just stick right into your ball, and you can add more hot glue, if needed.
We're using artificial flowers now so that she can practice and during the wedding this will be replaced beautiful, in-season florals that will be matching our colors in the wedding as well as her flower crown, which is going to be so adorable. And then, after the wedding, we can replace it with the artificial flowers again so she can use this as a toy, dress-up, a keepsake and it will last forever.
On our wedding day, our Flower Girl felt so special and looked absolutely adorable!