Closet Organizer DIY Hangers: New Year New You Collaboration
Fabric Wrapped, Yarn Bombed, & Knitted Hangers
This project helps us get more organized, which reduces stress. We will learn a new crafty skill, recycle our old clothes, and save money by making it ourselves!

For our hanger, I cast on five stitches and then just knit a really long piece in Stockinette Stitch. Seam it together with your tapestry needle and yarn around your hanger. For our rings, you could do the same, or create an I-Cord and slip your ring through it. For my I-Cord, I also cast on five stitches.
Decide how you would like to arrange your rings. Then just either attach them together with yarn or fabric in whatever formation you chose.
It looks so polished, clean, and ready to help you stay organized. I hope you give this fun DIY project a try.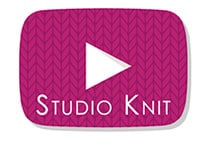 VIDEO TUTORIAL
For a complete step-by-step tutorial of this knitting project, you can watch my video below.  Subscribe to my YouTube channel Studio Knit for more fun knitting ideas!
MATERIALS
• Clothes Hanger
• Rings – I used some old plastic bracelets.
• Fabric Wrap: Fabric from old clothes or linens, Glue Gun, Scissors; or
• Yarn Bomb or Knit: Yarn, Size 8 Knitting Needles, Scissors, and a Tapestry Needle.
KNITTING TECHNIQUES for Knitted Hangers
• Slip Knot
• Cast On Long Tail Method
• Knit Stitch
• Purl
• Stockinette
• I-Cord
• Bind Off
---
NEW YEAR NEW YOU | A Kin Community Collaboration #KINsNewYear
Check out all of the other inspirational videos in the playlist from my favorite DIY YouTube Channels!
Studio Knit is a proud partner of Kin Community, the number one online video channel for women.
DIY Organization Projects
Tanner Vlogs
DIY Cork Chalkboard Weekly Planner
Sea Lemon
DIY Running Motivation Board – New Year, New You
Lauren Fairweather
DIY COLD REMEDIES! DIY Cough Drops + Tea for Sore Throats + DIY Get Well Soon Jar!
AprilAthena7
7 Ways to Keep Weight Off! | New Year, New You Collaboration
Elessa Jade | Pursebuzz
Easy Healthy Snack Idea
Cristeen Olley
Vegan Salted Caramel Dip: A delicious snack with no refined sugar – One Hungry Mama
Stacie Billis
Vegetarian Black Bean Soup | New Year, New You Collab
The Domestic Geek
Crazy Healthy Smoothie – New Year New You – Weelicious
Weelicious
Healthy Cranberry Salsa: New Year, New You Collaboration
The Gray Boxwood
How To Budget a Trip
soniastravels
Top 5 Makeup Tips
Nikkia Joy
NEW YEAR – NEW YOU! TELL ME…
gossmakeupartist
"NEW YEAR, NEW YOU" Kin community. NKD Body skin care product review.
EbonyMaizeMakeup
Clear Skin New Year New You
AllNatural28
Gaby's Favorite Green Juice
What's Gaby Cooking
Declutter For Good: #31Days2GetOrganized Day 2015 Day 13
Peter Walsh
Portable Lunches In A Jar – Mind Over Munch Kickstart Series
Mind Over Munch
3 Easy Ways to Transform Your Bedroom
Robeson Design
New Year New You – Preventative Care – Neti Pot
Yoga With Adriene
The Perfect Workout Before You Shower
Lauren Hefez
How to Meditate at Night – Lose Weight, Reduce Stress, Sleep Better – BEXLIFE
Rebekah Borucki
3 Lavender DIYs | New Year New You Collab
Coral TV
No-Bake Healthy Granola Energy Bites Recipe (Peanut Butter Chocolate)
Divas Can Cook
Beth's Cheesy Pizza Pasta Bake (Great for Picky Eaters!)
Entertaining With Beth
Stop Binge Eating in 2015: New Year, New You Collaboration
Sarah Fit
DIY Necklace Organizer
Robeson DIY
Makeup Collection & Work Station Organization! – New Year New You!
Carah Amelie
Life Planning & Getting Organized (My Agenda, Filofax & More)
Rachel Talbott